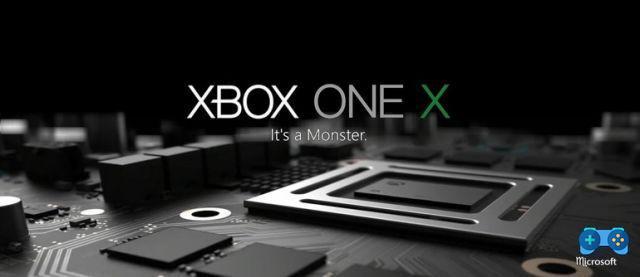 Microsoft summarizes the entire lineup of Xbox games presented at E3 2017, including exclusives, "best" titles on Xbox One X and total backward compatibility
According to almost all of the commentators it was a conference between light and shadow that of Microsoft last night: fantastic from the point of view of the rhythms and the show, but perhaps lacking that absolute exclusivity that could and should have overturned the fate of the console war. . In the long press release that you find below, Microsoft summarizes what has been announced and at least judging by the numbers, the Xbox platform seems more alive than ever with "42 games presented including 22 exclusives on consoles "and a new console, the most powerful in history, to be supported for the launch scheduled for 7 November 2017.
What do you think?
Microsoft premieres Xbox One X, the world's most powerful console
Xbox presents a unique line-up in E3 history with 42 new games including 22 console exclusives
LOS ANGELES, 11 JUNE 2017 - This Sunday's Xbox E3 Briefing marked a milestone for Microsoft as it unveiled the most powerful console in the world, Xbox One X (formerly codenamed Project Scorpio), along with the largest and most diverse lineup of games in E3 history.
First broadcast in 4K UHD on Mixer, the conference set a record for 42 games presented including 22 exclusives on consoles, developed by large and small publishers. Xbox One X will be available in the Xbox One markets starting November 7 at a price of 499 euros.
Xbox One X was developed to be the best console to create and play games with, putting the best graphics quality in the hands of the best game developers in the world to create native 4K titles. Phil Specer, Head of Xbox, stressed that each title will run beautifully on all consoles in the Xbox One family: Xbox One X will in fact give a new gaming experience even on titles already in the player's libraries thanks to more intense colors and shades. and brighter, smoother framerates and faster load times.
"Xbox allows developers of any size to create different types of games for all types of players," he commented Phil Spencer, Head of xbox, "Not only do we offer the greatest cross-platform titles on Xbox, but we've scoured the world to bring our players exclusive content made by artists that capture the imagination."
Xbox One is the only console system designed to run the best games of the past, present and future. The Xbox One games and accessories currently available on the market are compatible with Xbox One X, for those who are an Xbox gamer this means they already have a library of titles that will enjoy an enhanced gaming experience on Xbox One X.
Spencer announced that Xbox will expand the library of backwards compatible titles with over 400 popular Xbox 360 games including Xbox classics such as Crimson Skies. Xbox also announced that Gears of War 4, Forza Horizon 3, Minecraft, Resident Evil 7, Final Fantasty 15, Tom Clancy's Ghost Recon Wildlands, Rocket League and dozens of other popular Xbox One titles will receive free updates to make the most of the power. Xbox One X. Several of these titles will be upgraded to native 4K, and many will be available at the launch of Xbox One X.
Xbox One X
Xbox One X was built to deliver uncompromising power, maximum compatibility and an attractive design. It is the smallest and most powerful Xbox console ever built.
Xbox One X. Games perform better and are more realistic on Xbox One X; the most powerful console in the world will be available in the Xbox markets starting November 7th. With 40% more power than any other console, an immersive experience in native 4K gaming when paired with a 4K screen such as the Samsung QLDEV TV, Xbox One X enhances titles already in gamers' libraries with color and deeper, brighter shades, smoother framerates, and faster load times even on a 1080p TV. The Xbox One X also offers the ultimate in 4K entertainment with 4K Ultra HD for Blu-ray X and streaming content, HDR for games and videos, and Dolby Atmos support. Xbox One X will join the Xbox One family of devices and coexist with Xbox One and Xbox One S, offering compatibility with all Xbox One games and accessories.
The power of Xbox for developers around the world
Xbox allows developers around the world to create different types of games for all types of players. With the unveiling of 42 titles on stage at E3 with 22 console exclusives, Xbox has announced a broad line-up of games created by developers big and small around the globe, all of which will perform better on Xbox One X.
ANTHEM (ELECTRONIC ARTS). Anthem is a shared-world action RPG, where Freelancers challenge the savages beyond the wall, exploring a vast monster full of ferocious beasts and ruthless marauders, but also full of advanced technologies and hidden treasures. Players will be able to team up with their friends to unravel the mysteries of the world and defeat the forces plotting against humanity. Throughout their journey, gamers will be able to equip their Freelancers with powerful Javelin exosuits, each featuring unique weapons and abilities. Freelancer's Javelins can be customized with equipment earned or assembled during the adventure and leave an indelible mark on the world.
THE ARTFUL ESCAPE OF FRANCIS VENDETTI (EXCLUSIVE FOR CONSOLE). The Artful Escape of Francis Vendetti is a video game about great aspirations: famous folk singers, lingering shadows, space gods, hallucinogens, individuality, reptile shops and a vibrant imagination. It is a narrative-driven action, adventure, exploration game featuring a musical aspect reminiscent of the battles of lights and lasers, and the debut title of BEETHOVEN & DINOSAUR.
ASHEN (EXCLUSIVE FOR CONSOLE) In this role-playing action game, players take on the role of a wanderer looking for a place to call home. There is no sun and the only natural light comes from the eruptions that cover the earth in ash. This is a world where nothing lasts, no matter how firmly you grasp it. The deep meaning of Ashen is the need to create relationships. Players will be able to guide people they trust to their court. Together they might have a chance.
ASSASSIN'S CREED ORIGINS (UBISOFT - WORLD PREMIERE). A journey to ancient Egypt, the most mysterious place in history, during a pivotal period that will change the world. Players will be able to discover the secrets beyond the Great Pyramid, the forgotten myths, the last pharaohs and the origin of the Assassin's Brotherhood. Over the past four years, the team behind Assassin's Creed IV Black Flag have created a fresh start for the franchise. Players will discover a new way of fighting where they can switch between melee and long range weapons, and face multiple enemies at the same time. There will be the opportunity to choose the Assassin skills while exploring the entire territory of Ancient Egypt, experiencing multiple adventures and engaging stories during a journey that will change the course of civilization.
BLACK DESERT (EXCLUSIVE FOR CONSOLE) Black Desert is an MMO sandbox that includes next-gen graphics, pure action combat, and a huge, seamless world full of adventure and danger. Players will be able to travel the lands in search of treasures and go through countless ups and downs or become one of the best artisans of the place, tracing trade routes, breeding horses or fighting with other corporations in epic sieges.
CODE VEIN (BANDAI NAMCO ENTERTAINMENT AMERICA INC. - WORLD PREMIERE). A mysterious cataclysm has brought the world to collapse. Deep beneath the ruins lies the abandoned society of the Revenants. Because they have lost their previous memories, the Revenants must submit to their bloodlust to maintain the last shreds of humanity. Without blood, they would turn into insane demons called Lost. These relics of the former Revenants roam the earth, deformed and insane, enslaved by their own bloodlust. Players will be able to team up with others and embark on a journey to hell to discover their past and escape their nightmare in CODE VEIN.
"CRACKDOWN 3" (XBOX ONE AND WINDOWS 10 EXCLUSIVE). Featuring Terry Crews as Commander Jaxon, Crackdown 3 introduces itself to the world by showing its gameplay. It's a sandbox where players fight crime as a super-powered agent in a world filled with chaos and destruction. Developed by Microsoft Studios in collaboration with Sumo Digital and Reagent Games, Crackdown 3 allows 4-player co-op for the campaign, also introducing a revolutionary multiplayer mode2 where destruction is the most advanced weapon offered by the Microsoft Cloud. Available worldwide November 7 as an Xbox Play Anywhere title, alongside the launch of Xbox One X.
CUPHEAD (XBOX ONE AND WINDOWS 10 EXCLUSIVE). Cuphead, finally available starting September 28, 2017 as an Xbox Play Anywhere title, is a classic run and gun action game focused primarily on boss battles. Inspired by 30s cartoons, it features carefully curated graphics and audio to respect the same techniques of the time, namely traditional animation with hand drawings, watercolor backgrounds and original jazz recordings. Players will be able to take on the role of Cuphead or Mugman (in single player mode or local co-op) and traverse strange worlds, collect new weapons, learn powerful special moves and discover hidden secrets as they try to pay their debt to the devil. !
THE DARWIN PROJECT (EXCLUSIVE FOR CONSOLE). The Darwin Project takes place in a post-apocalyptic dystopian setting in the Canadian Rockies. In preparation for the upcoming Ice Age, a project is started, halfway between a scientific experiment and a reality show. The project is called The Darwin Project and requires participants to survive the cold and fight to the death in a treacherous arena. The Darwin Project offers a third person survival multiplayer experience by introducing a major gameplay innovation: the manhunt. On his path to victory, the player will have to survive extreme environmental conditions, keep opponents in check and set traps.
DEEP ROCK GALACTIC (EXCLUSIVE FOR CONSOLE). In Deep Rock Galactic, players will be able to join a team of fearless space dwarves in a fantastic first-person shooter, in both single player and co-op mode for up to four players. Enthusiasts will have to fight, dig and find their way through huge systems of intricate caves and discover treasures, all while staying alive.
DRAGON BALL FIGHTERZ (BANDAI NAMCO ENTERTAINMENT AMERICA INC. - WORLD PREMIERE). One of the most famous and beloved anime franchises in history returns to its origins with the 2D fighting game DRAGON BALL FighterZ in early 2018. Developed by Arc System Works, one of the creators of the most beloved titles in the category, the game brings an experience explosive and full of action that combines the graphics of classic 2D fighting games with the most advanced graphics that recall the reality of the DRAGON BALL anime series.
FORZA MOTORSPORT 7 (XBOX ONE WINDOWS 10 EXCLUSIVE - WORLD PREMIERE). The best-selling racing video game of this console generation3 returns with Forza Motorsport 7. Discover the danger and beauty of racing at the limit with the most comprehensive motor racing game ever. Drivers will enjoy stunning native 4K graphics at 60fps, lifelike HDR resolution in 30 popular locations with racing conditions that vary each time players return to the track. Whether you are a novice or a professional, enthusiasts can collect over 700 Forzavista ™ cars, including the fantastic 911 Porsche 2 GT2018 RS cover car and the largest assortment of Ferraris, Porsches and Lamborghinis ever. The Xbox One X experience will premiere worldwide as an Xbox Play Anywhere title in October 2017.
THE LAST NIGHT (EXCLUSIVE FOR CONSOLE). Explore a two-dimensional cyberpunk open world, created with four exclusive districts each with their own distinct architecture, culture and activities. As in the great tradition of cinematic platform titles, players will be able to discover action-based gameplay and infiltration tactics, traveling between the districts by taxi, ferry or monorail, always trying to keep a low profile so as not to be discovered. Players will be able to meet a diverse cast of complex characters to interact with through meaningful dialogue, enjoy the great variety offered by the game and drive on fantastic highways, piloting drones and hacking droids to do the dirty work.
LIFE IS STRANGE: BEFORE THE STORM (SQUARE-ENIX - WORLD PREMIERE). Life is Strange: Before the Storm is an independent three-part game set three years before the award-winning title at the BAFT Awards. Life is Strange: Before the Storm stars Chloe Price, a XNUMX-year-old rebel who develops a strange friendship with Rachel Amber, a beautiful and popular girl destined for success. When Rachel's world is turned upside down by a family secret, the bond between the two girls strengthens, giving both of them the strength to defeat their own demons.
METRO EXODUS (DEEP SILVER - WORLD PREMIERE). Metro Exodus is an epic narrative first person shooter created by 4A Games, which combines deadly combat, stealth exploration and horror survival in one of the most immersive worlds ever created. Players must escape the ruins of a decaying Moscow and embark on a fantastic transcontinental journey through post-apocalyptic Russia in the greatest Metro adventure ever created. It will be possible to explore rural Russia far and wide, between non-linear levels and follow a thriller inspired by the novels of Dmitry Glukhovsky that covers the time span of one year passing from spring to summer, to autumn and to the depths of the nuclear winter.
MIDDLE-EARTH: THE SHADOW OF WAR (WARNER BROS. INTERACTIVE ENTERTAINMENT). In Middle-earth: Shadow of War, players wield a new Ring of Power and must confront even more deadly enemies, including Sauron and his Nazgul, in a monumental battle for Middle-earth. The new open world action RPG is born from the expansion of the award-winning Nemsis System. The advanced level of customization present in Middle-earth: Shadow of Mordor is now applicable to the entire world where environments and characters are shaped by the actions and decisions of the players, creating a unique and personalized space for each experience of game. Available for Xbox Play Anywhere starting October 10, 2017.
MINECRAFT (UNIFICATION, BETTER TOGETHER UPDATE, SUPER DUPER GRAPHICS PACK). Mojang and Microsoft have announced a new version of Minecraft this summer that will offer the full gaming experience to all players on console, mobile, VR and Windows 10 PC. The unification of Minecraft between platforms will transform the experience everywhere. game-to-platform Minecraft, providing simplified access to large community servers, community-created works on the Minecraft Marketplace, Realms, dedicated servers, and more. The team also announced the Super Duper Graphics Pack, a new optional update that will allow the game's internal graphics to be displayed in stunning native 4K HDR level.
ORI AND THE WILL OF THE WISPS (XBOX ONE AND WINDOWS 10 EXCLUSIVE - WORLD PREMIERE). From the writers of the award-winning Ori and the Blind Forest comes the highly anticipated sequel: Ori and the Will of the Wisps. Players will embark on an all-new adventure to uncover the mysteries of the Nibel Forest, uncovering the hidden truths of the lost and revealing Ori's true destiny.
PLAYERUNKNOWN'S BATTLEGROUNDS (CONSOLE EXCLUSIVE). PLAYERUNKNOWN'S BATTLEGROUNDS is a tactical shooter to the death developed based on feedback from the community, in which players must fight to find weapons and supplies on a large 8 × 8 km island, until only one survives.
SEA OF THIEVES (XBOX ONE AND WINDOWS 10 EXCLUSIVE). Developed by Rare, the legendary creators of Perfect Dark and Banjo-Kazooie, Sea of ​​Thieves is an immersive adventure game set in a shared-world filled with pirates, unexpected dangers and loot to steal. Players will be able to explore, fight and live the life of a pirate in a unique co-op experience that combines the thrill of an adventure with friends with the unpredictability of the ocean and its threats, coming from other players and the world itself. Available as an Xbox Play Anywhere title in early 2018.
STATE OF DECAY 2 (XBOX ONE AND WINDOWS 10 EXCLUSIVE). State of Decay 2 is the ultimate zombie survival fantasy game, where players must create a community capable of surviving in an open world filled with hostile zombies, human enemies, and the means necessary to keep the community alive. Playable alone or with up to three friends in co-op multiplayer mode, the goal is to overcome difficulties and survive as a group by writing your own exclusive story. The choices of each will characterize the identity of the community, without forgetting that the loss of a survivor will be irreversible due to the return of permanent death within the game. Available worldwide as an Xbox Play Anywhere title in Spring 2018.
SUPER LUCKY'S TALE (XBOX WINDOWS 10 EXCLUSIVE - WORLD PREMIERE). Developed by Playful Corp., Super Lucky's Tale is a fantastic platformer for all ages that follows Lucky, the lovable hero always upbeat and energetic, in his quest to find his inner strength and help his sister recover the Book of Ages. Along the way, players will encounter a fun cast of friends and opponents. Available worldwide November 7 as an Xbox Play Anywhere title along with the launch of Xbox One X.
TACOMA (EXCLUSIVE FOR CONSOLE). The second game from Fullbright, authors of the acclaimed Gone Home, Tacoma puts the player in the shoes of Amy Ferrier, an independent collaborator sent to the Tacoma Lunar Transfer Station to retrieve sensitive data. As she explores the station, Amy unearths why the previous crew of six were evacuated, uncovering clues as to what went wrong. Like Gone Home, it is a game where you get details about the story from the environment, both physical and digital. Tacoma is a story of people and relationships, albeit in the isolation of space. Available from 2 August on Xbox One and Windows 10.