Riding dragons with Dragonborn.
Xbox 360 tested version.

The Elder Scrolls V: Skyrim is one of those titles that manages to capture the gamer, managing to spend hundreds of hours to visit each of its darkest ravines, or just to explore the immense lands of Tamriel.
After bringing out Heartfire and Dawnguard, here's that Bethesda honors the popular adage "there is no two without three" by putting his latest work on the DLC market: Dragonborn.
Here is our review.
There is a new Dragonborn in town
The plot that will guide us during the completion of the main quest is well written and scripted. To be activated, however, you will need to have completed a main Skyrim quest, namely "The Horn of Jurgen Windcaller"; satisfied this fundamental requirement, it will be enough to reach any town or wait a few minutes to be attacked by two adepts of a sect worshiping the Dragonborn and discover, once freed from our attackers, that a man named Miraak is pretending to be true Dragonborn. Searching their corpses we will find a letter stating the place where the instigator of our attempted murder resides, the island of Solstheim. This will set the tone for our investigation of why Miraak craves that we only talk about us in the past tense.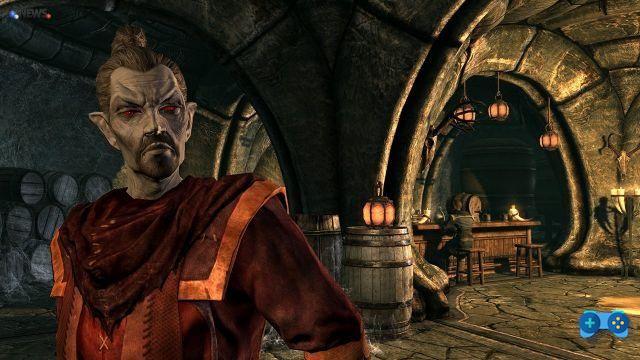 Return to Morrowind
The new location will welcome players with an architecture and a design that winks at what was seen in Morrowind, thus temporarily abandoning snowy expanses to make room for desolate and ashy woods or perennial glaciers. Obviously there is no shortage of villages, with their own design dedicated to the worship of the Dragonborn Miraak. However, we cannot fail to inform you that the dungeons present in this expansion present numerous elements already seen and revised in Skyrim, therefore giving an unpleasant sense of recycling.
Winning gameplay doesn't change
The gameplay has remained almost unchanged as regards exploration and combat; the plot of the DLC is divided into two main sections, the main quest is to hunt down Miraak, and it is interesting to note the strange influence that this shady figure is able to exert on the inhabitants of Solstheim; in fact they react deliriously at the mere mention of his name. The negative influence it has on the population is denoted by observing how temples and buildings in general are dedicated to him in a maniacal way.
The secondary quest, seasoned with other missions designed to lengthen the DLC experience, will see us at work in eradicating a threat of the undead that threatens the quiet life of the inhabitants of the island. The two quests will intertwine in a credible and interesting way. The new location created specifically for this new experience in Skyrim will not be an end in itself, but will offer adventurers new weapons, new armor, new forging materials and herbs. Anyone who has tasted Morrowind in the past will no doubt recognize some of those available.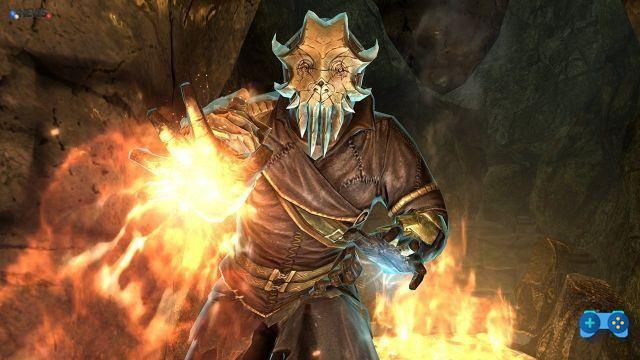 The present bestiary has been enriched by new and terrible enemies, monsters never seen before and above all pissed off like never before. Just to make you understand, to complete the main quest you will struggle a lot even at level 40.
Bethesda has also included new screams in this DLC and upgrades for screams already acquired in the game. One of these powers will allow you to ride dragons. While this possibility may titillate you quite a bit, we must warn you that it has been implemented in a rather embarrassing way. Once the relative scream has been launched and the winged beast tamed, we will not be able to direct the dragon as we wish, but it will be he who will execute routes pre-calculated by the CPU.The player will only be able to look towards the ground, aim at the enemies and have them attacked by the dragon.
Unfortunately, his attacks will not prove to be as effective as one might expect. Another flaw is that the fire-breathing beasts will not be able to be used outside the borders of Solstheim, really an inexplicable choice.
A successful restoration
From a technical point of view, this DLC does not differ from what has already been seen and appreciated in Skyrim, apart from some inexplicable drop in frame rate. To underline the excellent views made inspired by Morrowind, in honor of the good old days. Excellent care was taken in the creation of this additional content, which offers a gaming experience well above that offered by adding up the previous DLCs.
The main quest takes about 6 hours to complete; if we wanted to flesh out the entire dish offered, you should know that it will take at least thirty hours to fully enjoy all that Dragonborn has to offer the player. Once the main adventure is over, we will unlock a really tempting feature: the ability to reset the skills of our character, in case we made some mistake while leveling up.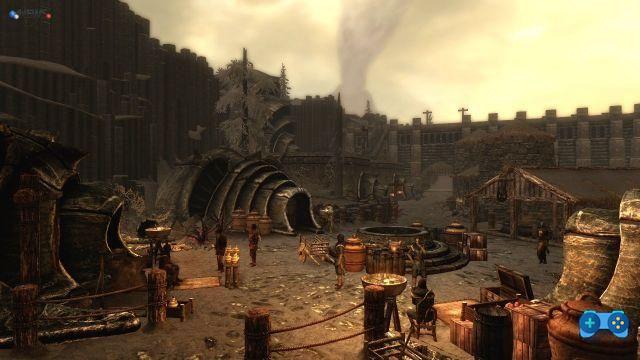 Final comment
Dragonborn is a rich, well-assorted DLC that manages to reinvigorate an already immense title such as The Elder Scrolls V: Skyrim. The price-quality ratio of the DLC is very good; it is worth all the money spent so we feel we can highly recommend Dragonborn to anyone who has played Skyrim. You won't be able to spend 1600 microsoft points better in your life; may the true Dragonborn finally be revealed!
Overall rating 83
For
- New abilities, new screams, new items, new enemies and more
- Excellent storyline and many hours to complete it all

Cons
- Riding dragons is a waste of time
- The price may not go down at all

The DLC is available from December 4, 2012 on the Xbox 360 platform.