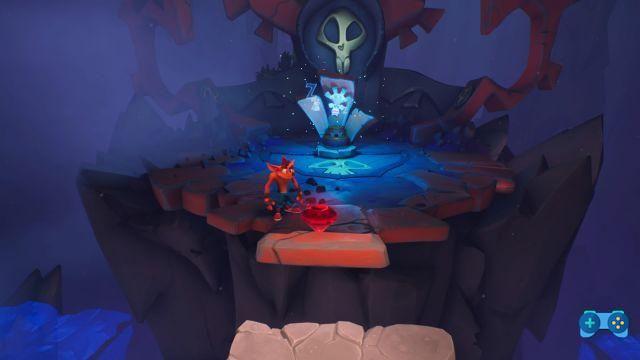 Let the Gem Hunt begin!
Crash Bandicoot 4: It's About Time is the latest videogame iteration dedicated to the cute marsupial we all love since 1996 (here the special dedicated to him). The new title, created by the boys of Toys For Bob, has combined the historic style of the series with a series of new mechanics, able to satisfy even the most experienced gamers.
Like every title in the series, this time too, you won't be limited to smashing crates and jumping from platform to platform. In fact, to 100% complete the game you will have to collect a series of hidden objects. In this case we are talking about Colored gems, objects useful for creating alternative paths within 38 levels of play.
You might be interested in:
Tips for getting started
How to get the Green Gem
How to get the Blue Gem
How to get the Yellow Gem
Today, let's find out together how to get the Red Gem and get the trophy / objective Ruby red.
Map: N.Sanity Island - Level: N.Sanity Peak
Advance through the level until you get to the box Checkpoint, on your right, you will notice a bizarre drawing depicting a precious stone together with some arrows. These are the instructions to reach the Red Gem.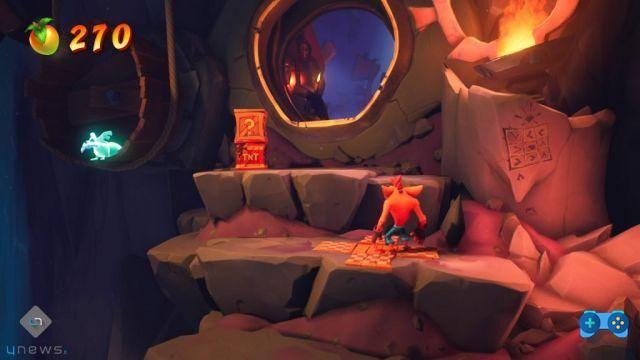 Walk through the door and you will find yourself in front of the dozing Lani-Loli maskHowever, before reaching it it will be necessary to jump on a series of platforms that appear and disappear rhythmically.
Do not be in a hurry to finish the level, in fact, the indications drawn on the rocky wall above will come in handy in this area. So, start at the bottom left platform and proceed counterclockwise, until you reach the center.
Once unlocked, you can retrieve the coveted Red Gem in front of the Quantum Mask. In any case, if you prefer a visual approach, we leave you the video tutorial below.
Let us know in the comments if you have already got the Gem in question and if you are having fun in the company of Crash Bandicoot 4: It's About Time.