Best wireless network card. A buying guide on PCIe Wi-Fi cards with the fastest transfer speeds.
If you're not a fan of wiring or just want to have wireless functionality on your PC and your motherboard doesn't support it, you need a Wi-Fi card. These devices are usually not too expensive and come in a variety of options. However, the entire search process of the best wireless network card it is often complicated by too many options which usually lead to confusion.
A few tips on which wireless card I am sure will make everything easier and help you find the best solution.
How to choose the best wireless network card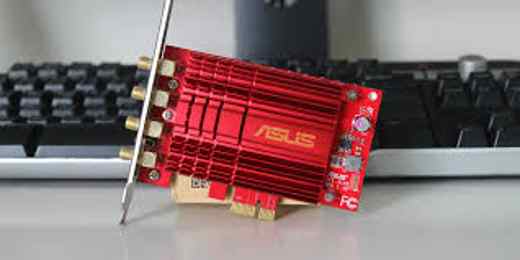 When it comes to PC wifi cards, there are some distinguishing features to look out for and they need to include the following options.
Data transfer rate and bandwidth
The most important aspects of any WiFi card are the supported data transfer rates and bandwidth. Some cards support mediocre speeds of around 300 Mbps in just 2,4 GHz, while others support both 2100 Mbps in the 5 GHz band and 1000 Mbps in the 2,4 GHz band, or 3100 Mbps in total.
Of course, for most users, the dual-band card with a combined speed of up to 1300 Mbps is more than enough, while the frequency of 3000 Mbps is overkill unless you're a gamer or streamer.
Number of antennas
Although it may seem unimportant, the number of antennas it is actually quite important for proper signal reception. More antennas provide a better wireless connection, because they can be positioned in more directions, and as a result, the more signal coverage you will have.
Cooling
The last thing you need is for your PC or one of its components to get too hot. That is why you will need to make sure that the heatsink of Wi-Fi cards offers good heat management before purchasing.
Operating System supported
Most WiFi cards support multiple operating systems. Unfortunately, they never support all versions of a given operating system. For example, they support Windows 7 and 10, but not Vista or XP.
To conclude it is the case that you study these elements well, in order to understand which of the best wireless network cards could be right for you.
Best wireless network card
Below you will find a selection of the best WiFI cards specially tested to give you the possibility to choose the best.
1. ASUS PCE-AC88 AC3100
One of the fastest Wi-Fi cards available.
For
Super fast
Long range reception
Highly efficient heat sink
Cons
Expensive
Driver problems
If you are looking for the super-fast Wi-Fi card, with amazing reception, ASUS PCE-AC88 AC3100 is the card for you. While expensive, its excellent speeds of 2100 Mbps in the 5 GHz band and 1000 Mb in the 2,4 GHz band outperform all the competition. In other words, you get not only the best possible performance, but also a future-proof product, which partly explains its high price.
ASUS PCE-AC88 AC3100 comes with a one-year warranty, supports Windows 7 and 10 (sadly only their 64-bit versions), and best of all, comes with a custom heatsink which proves to be very efficient in heat dissipation .
Beyond this, it is equipped with four R-SMA antennas which have a magnetic base, which allows for high flexibility, and MU-MIMO functionality, which supports up to four high-bandwidth connections.
Overall, if you want the best PCIe Wi-Fi card available, ASUS PCE-AC88 AC3100 should undoubtedly be the first option.
Buy on Amazon
2. TP-Link AC1300 PCIe Wireless Wi-Fi PCIe Card (Archer T6E)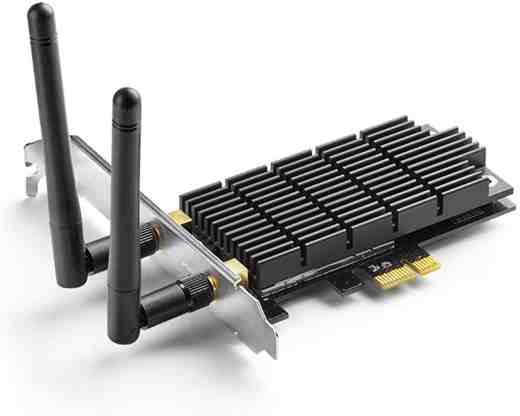 An affordable and highly efficient wireless PCIe card.
For
Long range reception
TurboQAM that increases speeds
A quality sink
Affordable
Cons
Not compatible with Linux
Good performance, followed by long range signal and affordable price, are the first things that come to your mind when you think about the wireless Wi-Fi PCIe card PCI-AC1300 PCIe (Archer T6E).
This adapter, with its speed of 867 Mbps in the 5 GHz band and the speed of 400 Mbps in the 2,4 GHz band, is highly suitable for both gaming and 4K video streaming, while its two external antennas guarantee a excellent long range reception making it ideal for large homes or offices.
In addition, the PCI-TPe Link AC1300 (Archer T6E) wireless Wi-Fi wireless card is equipped with an efficient heatsink which will keep the device cool, but most importantly it supports QAM technology (16 QAM, 64 QAM and 256 QAM) which accelerates and allows prioritization of data transfer.
It comes with Windows support, but unfortunately it is not compatible with Linux systems. It's easy to install and offers a modest two-year warranty, which is quite acceptable for the price.
Overall, the TP-Link AC1300 Wireless Wifi PCIe Card (Archer T6E) is one of the best Wi-Fi cards for gaming and is a steal considering its great value for money.
Buy on Amazon Buy on Amazon
3. Gigabyte GC-WB867D-I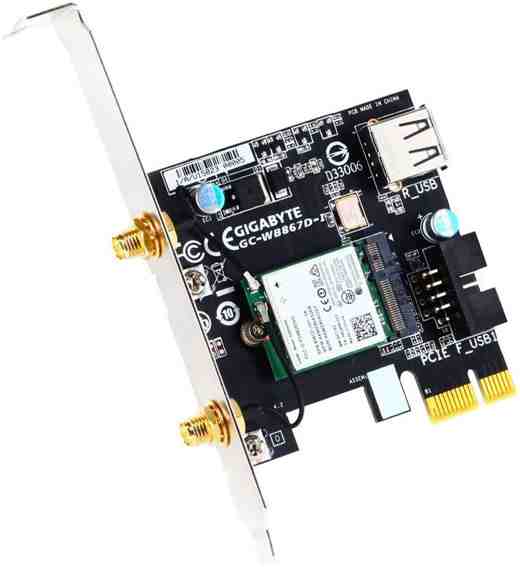 Good performance and practicality.
For
A quality Bluetooth functionality
Speed ​​of 800 Mbps
Powerful antenna
Cons
If you are looking for the best wireless network card that provides both decent speeds and lag-free performance, with good gaming experience, Gigabyte GC-WB867D-I it should be at the top of your list.
This network card is equipped with two detachable antennas, connected by a cable that facilitates placement, while the base of the antennas is made with a magnet that allows for quick assembly.
Gigabyte GC-WB867D-I is a dual-band card with speeds of up to 875Mbps in the 5GHz range and up to 433Mbps in the 2,4GHz range, which is more than enough for a smooth gaming or movie watching. In addition, it is equipped with a Bluetooth 4.2 connection that allows easy pairing with compatible devices. However, its use requires a USB connection between the board and the motherboard, which could be a problem for many.
Long-range reception offers an opportunity for use in various spaces and locations, while its solid performance makes it arguably one of the best wireless cards on the market and a great buy for a whole range of users.
Buy on Amazon
4. Fenvi PCIe Wi-Fi Card AX200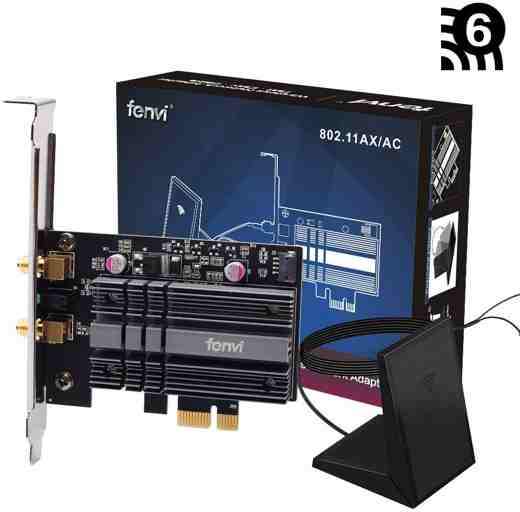 A super-fast PCIe Wi-Fi card, ideal for gaming enthusiasts.
For
Detachable antennas
Great speed
Cons
Difficult installation
Speeds aren't always consistent
The PCIe Wi-Fi card Fenvi AX200 is a one-of-a-kind device that delivers blazingly fast speeds and allows for a hassle-free gaming show in the comfort of your home. It is undoubtedly the best wireless card for games. It features latency-free performance, with jaw-dropping speeds of up to 2400 Mbps in the 5 GHz range and slightly more modest speeds of 574 Mbps in the 2,4 GHz range. In other words, all you need is to plug it into a gaming router and the fun can begin.
While it offers great speeds, they are not always consistent, especially in the case of large downloads, which can be a problem for many. However, these speed reductions are not smooth and do not drastically affect overall performance.
There is also compatibility and support for Chrome OS, Linux and Windows (also XP) and Bluetooth 5.0, but also connection with compatible devices, such as headphones, keyboards or mobile devices. It supports MU-MIMO technology and Beamforming, while, thanks to OFDM modulation, it provides lag-free performance, as mentioned earlier.
In conclusion, the Fenvi AX200 PCIe Wi-Fi card comes with a one-year warranty and comes with two detachable cable antennas.
Buy on Amazon
5. ASUS PCE-AC56 PCI Wireless Express Adapter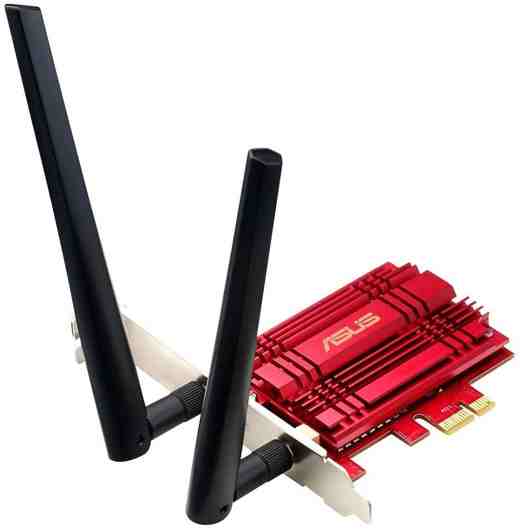 A decent performance Wi-Fi card for users who respect great reliability.
For
Data transfer priority
A long-range welcome
Cons
It does not support Linux
The PCI Express Express adapter ASUS PCE-AC56 it is the best wireless network card that can offer decent performance and reliability. It features dual band operations and supports speeds up to 876 Mbps in the 5 GHz range and 400 Mb in the 2,4 GHz range. In addition, it supports various modulation technologies such as OFDM, CCK, DQPSK, DBPSK, 64 QAM and 16 QAM which drastically improve its performance and allow you to prioritize data transfers.
Thanks to its external antenna, it manages to discover the perfect position where the strongest signal can be reached, and its long-range reception makes it ideal for large spaces.
The ASUS PCE-AC56 PCI Express Express Adapter installs easily and is compatible with Windows (even XP), but unfortunately it does not support Linux. It features a quality heatsink that offers good heat management and overall makes for a good wireless solution, with plenty of features.
In other words, if you have a reliable connection and decent FPS rates, the ASUS PCE-AC56 is a great deal and among the best PCIe Wi-Fi cards available.
Buy on Amazon
6. FebSmart (FS-AC85BT)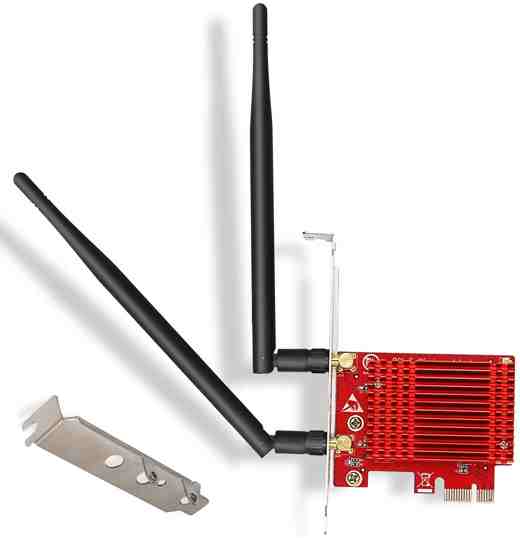 Excellent value for money.
For
Versatility
Solid performance
Great feature set
Cons
Problems with the driver on Windows 7 32-bit
FebSmart (FS-AC85BT) it is a device that, above all else, offers great value to the user. It has dual-band Wi-Fi that supports speeds of 876 Mbps in the 5 GHz range and 300 Mbps in the 2,4 GHz range, supports Linux, Windows 7, 8 and 10, and has plenty of features for advanced performance such as Beamforming, 2X2 MU-MIMO, etc.
In addition to all the features described above, it is also equipped with Bluetooth 4.1 for easy pairing with compatible devices and custom heatsink.
The adapter itself is easy to install and is generally a good option for multiple uses, such as browsing the internet or streaming audio, but also more complex tasks such as online gaming or 4K streaming.
All in all, while its performance doesn't surprise, the affordability of FebSmart (FS-AC85BT) combined with great features and compatibility make it one of the best PC Wi-Fi cards with great value for money.
Buy on Amazon
7. TP-LINK TL-WN881ND Wireless N300 PCI Express Adapter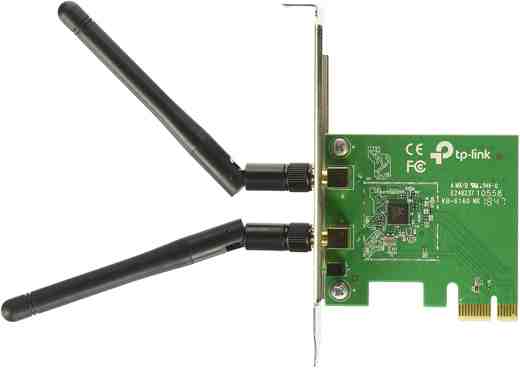 Device of unique simplicity.
For
Good compatibility
Easy installation
Economic
Cons
Below average performance
Sometimes, good usability followed by a low price is all a customer needs and the network card Wi-Fi TP-LINK TL-WN881ND was created for this reason.
This adapter doesn't offer mind-blowing features or excellent speeds. It supports the modest speed of 300 Mbps in a single range (2,4-2,48 GHz) and offers a limited number of features, such as support for 2T2R MIMO and numerous modulation technologies which, among others, include 16-QAM, 64-QAM, CCK, OFDM, etc.
As mentioned, its performances are not spectacular; however, it is still better than most of the best USB Wi-Fi adapters, which, given its extremely low price point, makes it a very attractive option for any non-fussy user.
TP-LINK TL-WN881ND offers great compatibility and support for various versions of Windows, including XP, but also Linux, making it suitable for a wide range of users.
Overall, while this card isn't among the best PCIe Wi-Fi cards based on its performance, its great usability, followed by great compatibility and low price is what makes this device one of the best offerings on the market right now.
Buy on Amazon
Best selling network cards on Amazon
Here is an always up-to-date list of PC wifi cards most demanded by consumers on the world's most popular shopping site.