Il best wireless charger it is the one that uses the Qi standard that can wirelessly charge any modern iPhone, Samsung phones, Google Pixel 4, OnePlus 8 Pro and all major smartphones that support wireless charging.
Helping you choose among the best wireless chargers isn't easy. They all have different designs, prices and power delivery specifications.
That's why we have thought it best to test the best products on the market to find out the ups and downs of each and, together with our personal advice, give you immediate answers on which charger to choose.
Read also: Best Powerbank on the market
Best wireless charger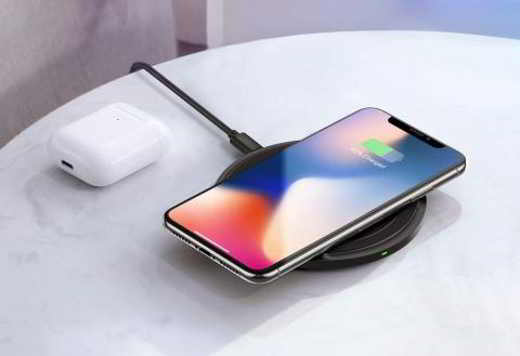 By purchasing a new smartphone with Qi recharge it does not mean that you will find an original wireless charger in the box. You will necessarily have to buy one and aside from Samsung, none of the major phone manufacturers make one of their own.
To make it easier for you to find the best wireless charger Below you will find a list of reliable third-party brand chargers, such as Belkin, Anchor, Mophie and other recognizable names, along with others you may not have heard of. Most of them don't charge your devices as fast as battery charger wired, but they are useful if you are tired of plugging in your phone or want to get rid of messy cables.
Before you buy one, make sure your phone can actually use wireless charging, as some older phones, especially those with metal backs, probably don't. Happy reading!
Belkin BoostUp (10W power)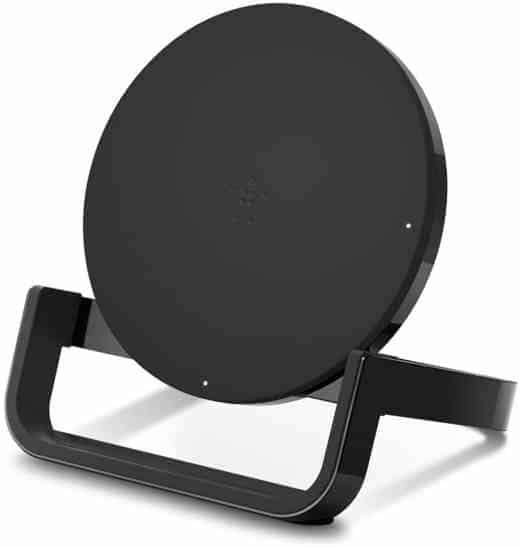 Beautiful, comfortable, simple.
For
Quality matte rubber + glossy plastic
Cons
It is not the fastest charging
Il Belkin 10W it is a step forward in design and charging power over the competition. It comes with a revised glossy plastic with matte rubber for the flat charging surface. It has "arms" that prevent the phone from sliding off the surface. It feels tangibly superior in quality and, in solid black color, even slightly more refined than cheaper chargers.
Of this device, you like the usefulness of holding your smartphone in an upright position, which is useful for allowing you to check the time and scroll through notifications. However, it only charges phones, no smartwatches or tablets.
No products found.
Anker PowerWave 15 with Quick Charge 3.0 (Power 15W)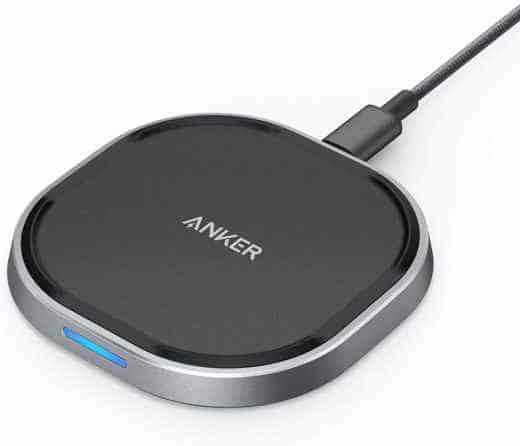 A more elegant wireless pad-style charger.
For
Elegant metal pad + braided cable
Charging faster than 15W
Cons
THEAnchor 15W it's one of the fastest wireless chargers on our list, plus it's offered at a really cheap price.
It looks a bit more industrial than most of its peers, with a metal casing and rubber foot. He is one of the few to give up plastic in favor of refined and pleasant materials.
Like other pads, you'll have to leave the device lying down without being able to use it, although the fast charge rate should ease the hassle of leaving it to time out.
Buy on Amazon
Aukey wireless charger (10W power)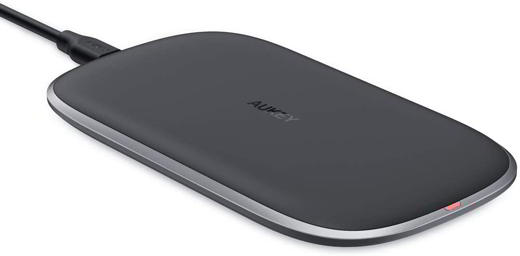 High speeds with the right plug.
For
Essential design
10W charging capacity
Cons
This affordable wireless charger can recharge i Samsung phones compatible with 10W power. iPhones will have to make do with 7,5W instead, although it's still faster than the 5W wired charger that comes with all iPhones except the 11 Pro.
Its design means you don't have to worry about how to place your phone, as the soft TPU coating won't let it slip. The low-profile black rubber look blends seamlessly into any desk, kitchen counter or nightstand. Unfortunately the small LED, present in many wireless chargers and which signals the charging status, may not like it especially if you decide to place the charger next to the bed.
No products found.
Anker 10W Wireless Charger Stand (Power 10W)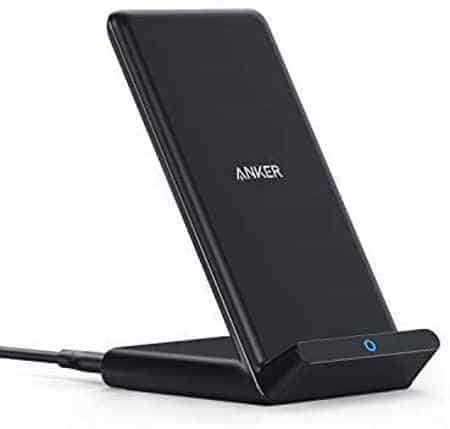 Simple, cheap, vertical.
For
Cheap
It can see your phone while it charges
Cons
Wireless charging doesn't have to be complicated or expensive and the charger stand 10 W Anker it's a cheap, no-nonsense model to start with.
The Anker 10W does not quickly charge the phone even if putting it on the table or next to the bed, you will be able to read the notifications and continue to use the phone even during the night.
Buy on Amazon
Mophie Powerstation Hub (Power 5W)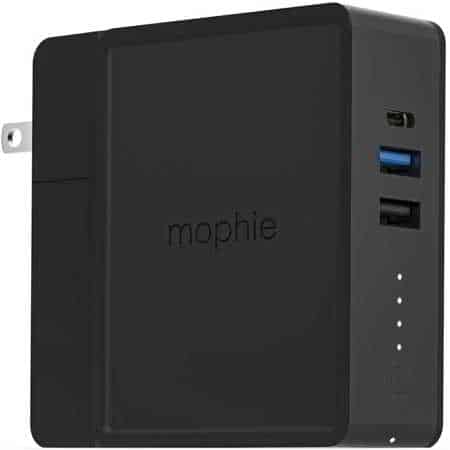 Wireless charging on the go.
For
Charges up to four devices simultaneously
Cons
Il Mophie Powerstation Hub It's a unique charger limited by its capacity, although its own ability to wirelessly charge on the go makes it a versatile (albeit expensive) solution.
Powerstation Hub wirelessly charges up to 5W, which isn't very fast, but it can charge up to 3 devices at the same time. The other ports include each of the USB 1.0, USB 3.0, and USB-C slots.
It plugs directly into a wall socket to recharge and is particularly convenient for those who travel a lot. This versatility unfortunately makes it very expensive and inexpensive for most people.
Buy on Amazon
Belkin Wireless Charging Dock (Power: 7,5W)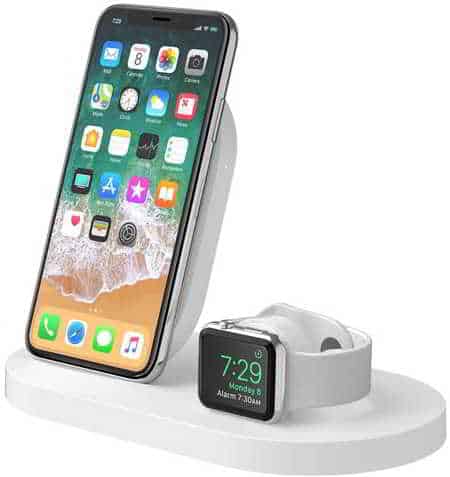 Best wireless charger for iPhone and Apple Watch.
For
Nice design
Convenient option for Apple Watch owners
Cons
The wireless charging dock Belkin is a rarity in the world of wireless charging: it can charge both the phone and an Apple Watch at the same time. Most chargers cannot support Apple's smartwatch and this product also includes a standard phone / device charger.
While the Apple Watch part charges at 5W / 1A, the speed of the official Apple charger, the phone part only charges at 7,5W. While this is certainly a lower rate than other units on this list. , that might be enough for iPhones: given Apple's reluctance to reveal its specs.
This means you may want to look elsewhere for a faster charger if you own an Android phone with a faster wireless charging speed. But if you have an Apple Watch, chances are this device might be right for you.
Buy on Amazon Buy on Amazon
Best Fast Charge Wireless Chargers on Amazon
Below are the most requested QI wireless chargers on Amazon. The list is always up to date and the prices are really cheap.
Other useful articles