Best WiFi repeater to boost your network. Here is a roundup of Wifi extenders whose purpose is to make sure your network reaches every corner of your home or office.
I best WiFi repeaters they can make a difference in case your devices tend to suffer from slow network connections or even dropped connections. Thanks to the Wifi amplifier, today it is possible, without having to spend a fortune to resort to routing network cables, to have a safe and reliable connection to the Internet.
WiFi repeaters work by covering areas where the WiFi network begins to fail. They connect to the original network and extend the signal for greater wireless coverage.
How to choose the best Wifi repeater

1. Before buying a Wi-Fi Extender or Wi-Fi repeater, it is good to consider the characteristics of your router. First of all you need to check the compatibility with frequency bands, for sure your router will be compatible with one of these three standards: 802.11g, 802.11n e 802.11ac. In addition, the peripherals with more advanced standards are certainly backwards compatible and will also work with 802.11n or 802.11g routers; However, if the transmission speed of your router is up to 600 megabits per second, even the use of a repeater capable of transmitting up to 1,3 gigabits per second will not lead to improvements, as the maximum connection speed will be that of the older standard.
2. If you own a router dual band I recommend you buy a access point no single band but dual band, in order to enhance the signal.
3. When buying a Wifi repeater check not only the connection speed and frequency bandsbut even if they offer one standard of protection. Check that the Wifi Extender you want to buy supports the security standard WPA2-PSK (AES).
4. If you have a router that supports the mesh networking (mesh networks) the choice of compatible wifi repeaters is considerably reduced. If you find the compatible access point, it will be possible to extend the Wifi signal quickly and easily, since the access points themselves will automatically establish a connection between them.
5. Wifi repeaters, depending on the expense you intend to incur, also offer other features, which are: Ethernet ports additional (for wired connections), USB ports to share data from a WiFi network pendrive o External hard disk. Finally you support the streaming audio with possible connection of speakers, also via cable, to obtain a high quality audio system.
Which Wifi repeater to buy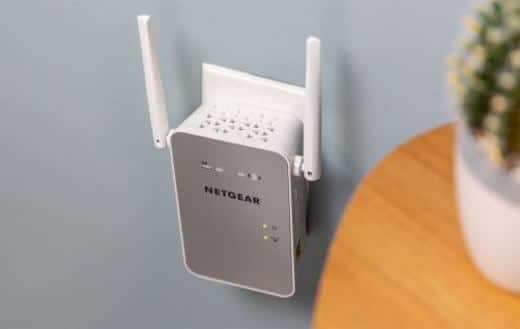 After having indicated the characteristics to consider before venturing into the purchase of a Wifi repeater, below you will find a valid selection of the best Wifi repeaters on the market, cheap and not, and above all suitable for any need.
The signal amplifiers on this list are worth considering for anyone who lives or works in a large apartment, as you will find that your WiFi network can weaken or disappear altogether in the most remote areas of the building.
Best cheap WiFi repeaters (max 30 euros)
Xiaomi Mi Wi-Fi Range Extender Pro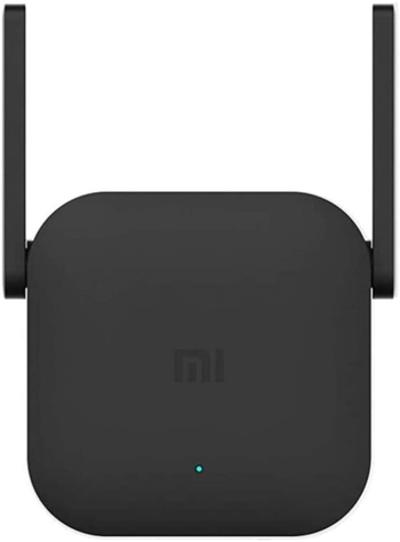 Best Cheap Wifi Repeater.
Gang: 802.11n, 802.11b, 802.11g | Connectivity : Wi-Fi | Features: data transfer rate at 300 Mb per second and two adjustable antennas and reset hole on the bottom. Double band.

For
Small and light
It takes up little space
Easy to set up
Great coverage
Economic
Cons
Requires the Xiaomi Home app download and registration
Not excellent signal quality
Lo Xiaomi Mi Wi-Fi Range Extender Pro is a repeater with 2 antennas to extend the WiFi signal quickly and easily. To set it up, you just need 3 steps. Enhance Wi-Fi range with a speed of transfer up to 300 Mbit / s. It supports a maximum of 64 devices connected simultaneously and shares content with all family members.
It is small and light, takes up little space and is available in both wireless and Ethernet.
Buy on Amazon
TP-Link TL-WA850RE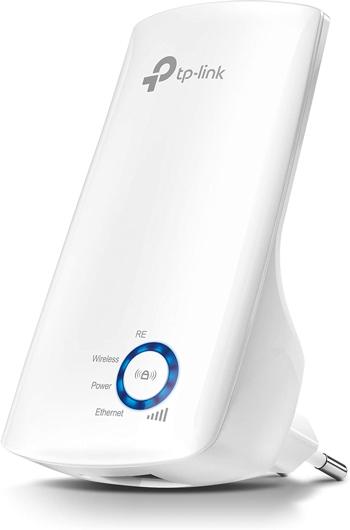 Gang: 802.11n, 802.11b, 802.11a, 802.11g | Connectivity : 1 Ethernet port | Features: Transmission speed up to 300 Mbps with 2.4 Ghz frequency. Single band, WPS button. 2 external antennas. Covers up to 90㎡.
For

Signal LED for very useful positioning
Price
WPS button avoids entering passwords or codes
Easy to set up
Cons
It loses the signal easily
Il TP-Link TL-WA850RE is a powerful and compact extender that allows you to reach those gray areas in the connection that the router cannot cover. You can place it anywhere following the directions in the LED signal to extend coverage in your apartment or office. Plug this repeater into a power outlet and set it up. Thanks to speed of 300 Mbps you can enjoy streaming movies and voip calls with peace of mind.

By pressing the WPS button of the router and that of this TP-Link extender you can quickly configure the network security encryption. Finally it is compatible with all routers that support the standards 802.11 b / g / n and thanks to the app Tether App you can manage both the router and this extender even from smartphones and tablets.
Buy on Amazon
AVM Fritz! WLAN Repeater 310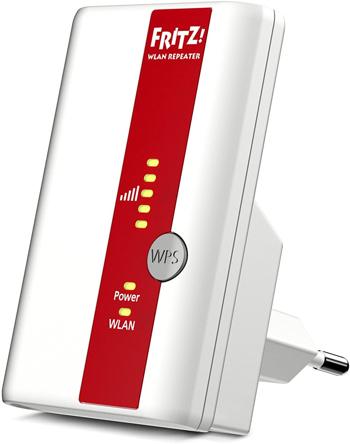 Gang: 802.11n | Connectivity : N / A | Features: Transmission speed up to 300 Mbps with 2.4 Ghz frequency. WPS button.
For
Resistant
Cheap
Small
LED indicators show the signal strength
Advanced security protocol
Updated firmware
Easy to install
You can add other repeaters
Cons
It has no LAN ports
It is not compatible with 5 GHz
AVM Fritz! WLAN Repeater 310 is a Wi-Fi extender compatible with Fiber and ADSL. It constantly receives updates to ensure a high level of security but also to take advantage of the other functions that characterize it. For example, you can integrate it into one Mesh network to make your home even more domotic.
It is compatible with all routers on the market thanks to the standard Wi-Fi n/g/b. Allows the data transfer up to 1 300 Mbit / s on the 2,4 GHz band favoring fast navigation. You can install it easily thanks to the WPS technology and compatibility with the IPv6 protocol.
epeater 310, like all AVM products, receives constant updates, which allow not only to ensure a high level of safety, but also to take advantage of various functions that are gradually added in order to keep the device up to date with the times and current technologies. For example, you can integrate the FRITZ! Repeater 310 in a Mesh network, an excellent solution to make your smart home efficient.
Buy on Amazon
TP-Link TL-WA860RE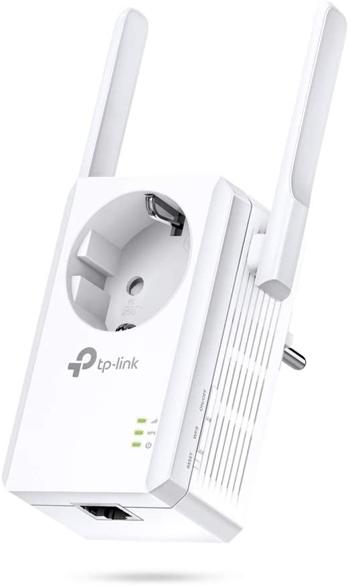 Gang: 802.11b | Connectivity : 1 Ethernet port | Features: Transmission speed up to 300 Mbps with 2.4 Ghz frequency. WPS button and Access Point mode. 2 external antennas.
For
Led indicators to indicate signal strength
Dual band 2.4GHz/5GHz
ACCESS POINT mode
Design and quality
Cons
Not perfect signal
Not good range
Not easy to install
Il Range extender 300MbpsTL-WA860RE easily reaches the speed of 300 Mbps and extends the coverage of your wireless network by covering the areas where the modem signal does not reach. The LED indicates signal strength to help you find the best location (green light good connection, red light annoyed and distant connection). To configure it, just press the WPS button on the modem and the one on the Range Extender.
It is compatible with all wireless routers and all operators TIM, Fastweb, Wind, Vodafone, Tiscali, etc. The LAN port can be used to connect with wired devices such as: smart TV, Playstation and so on. In the end you can change the Wifi Extender mode in Access Point and vice versa.
Buy on Amazon
Best mid-range WiFi repeaters (30-60 euros)
Netgear AC1200 WiFi Range Extender EX6150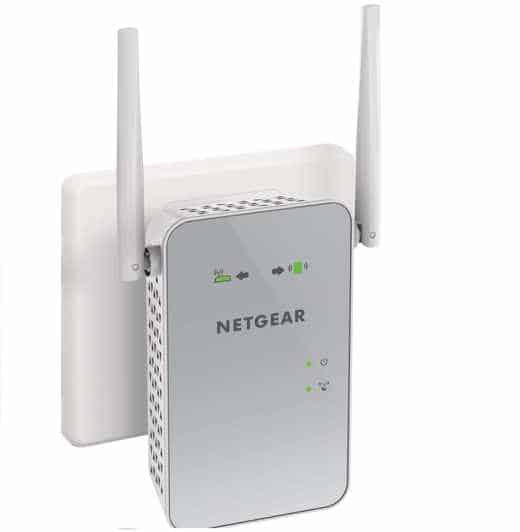 High speeds throughout the house.
Gang: 802.11ac 5GHz e 2.4GHz | Connectivity : 1 Gigabit Ethernet port | Features: Wi-Fi Protected Access (WPS), Extender / Access Point Mode Switch, Power Button.
For
Simple installation
Compact design
Cons
Expensive
Only one Ethernet port
In the last few years, Netgear has become a household name in the networking world. For this reason he was able to put all his experience with the range extender to good use EX6150 Wi-Fi AC1200. This is an excellent repeater that is easy to set up. that you can clearly plug into any electrical outlet. It is definitely the best Wifi repeater. whose advantage consists in quick and easy installation, and reliability in covering the entire home and office network.
Buy on Amazon
D-Link Wi-Fi Dual Band Range Extender DAP-1620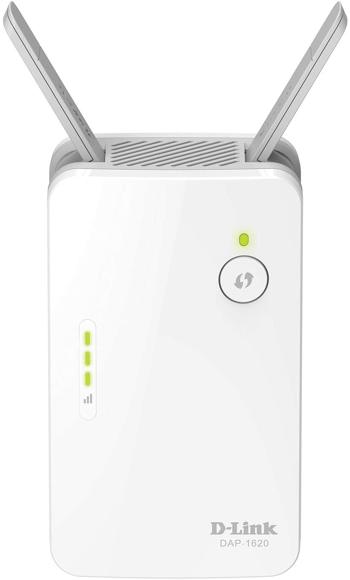 Compact solution.
Gang: 802.11ac 5GHz e 2.4GHz | Connectivity : 1 Ethernet port | Features: Wi-Fi Protected Access (WPS), two external antennas.
For
Cons
No Ethernet
Basic functions
The Dual Band Range Wifi signal amplifier D-Link (DAP-1620) in addition to improving your Wifi network in your home and office, it is small and inconspicuous; hence, although it has extremely robust performance, it will be practically invisible wherever you put it.
The design is unpretentious and has inherent problems. Has an Ethernet port to extend a wired connection and like i best to extend WiFiHas 2 external antennas which will allow you to increase the coverage of your wireless network. In conclusion, it is still one of the best wi fi repeaters on the market.
Buy on Amazon
TP-Link RE365 AC1200 Wi-Fi Range Extender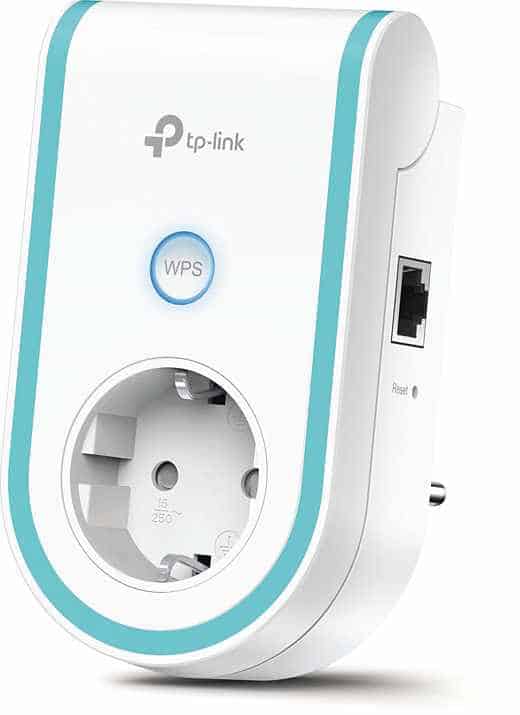 Simple and easy to use.
Gang: 802.11ac 5GHz e 2.4GHz | Connectivity : 1 x Ethernet | Features: Wi-Fi Protected Access (WPS), LED shows connection strength for easy positioning.
For
Ethernet connection
The LED showing the connection strength facilitates installation
Cons
TP-Link is a Chinese networking company that is gaining more and more popularity in the West, and with good reason. With devices such as the range extender Wi-Fi TP-Link RE365 AC1200, it's easy to understand why: this wifi transmitter - among the best WiFi repeaters around - does its job well and is above all economical. It may not be the fastest TP-Link Wi-Fi repeater in the world, but the range it offers and the price make it a steal. Finally, thanks to an LED indicator on the front, installation is a breeze.
Buy on Amazon
D-Link DAP-1320 Wireless N300 Range Extender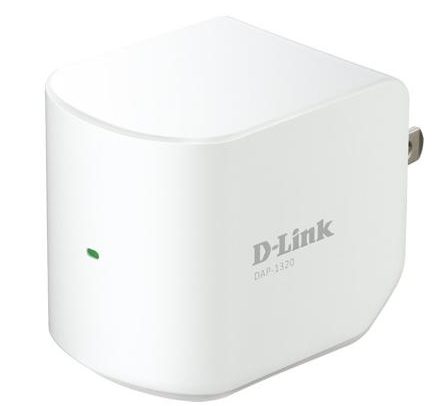 Very small.
Gang: 802.11n 2.4GHz | Connectivity : N / A | Features: WPS, internal antenna.
For
Cons
No Ethernet
It's not the fastest Wi-Fi
If you are looking for an affordable way to beef up your Wi-Fi network and want performance and functionality at the same time, then the wireless range extender N300 D-Link DAP-1320 it just might be one of the best wireless repeaters for you.
This small device has no Ethernet ports and does not have dual band or 802.11ac, which is currently the fastest form of Wi-Fi. However, it's designed well and built to last. It's a quick, easy, and inexpensive way to bolster your Wi-Fi network, but don't expect excessive network traffic.
Buy on Amazon
Best high-end WiFi repeaters (over 60 euros)
Netgear EX7300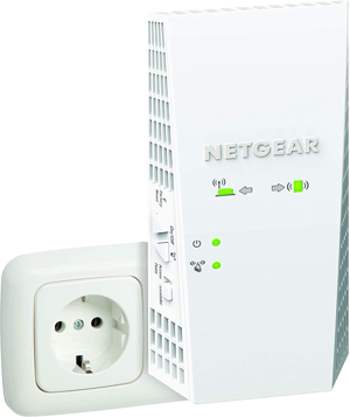 Gang: IEEE 802.11 b/g/n 2,4 GHz; IEEE 802.11 a/n/ac da 5 GHz; | Connectivity : 1 porta Gigabit Ethernet da 10/100/1000 Mbps | Features: Delivers blazing WiFi speeds of up to 2,2Gbps over a coverage area of ​​up to 10.000 ft2. Wireless speeds of up to 1750 Mbps for uses such as gaming and HD streaming.
For
Easy to use
Quick setup
WPS technology
Power ON / OFF button
Connection stability
Cons
It does not have a mac address block
Price
Netgear EX7300 is a powerful extender that increases coverage up to 930 m² MU-MIMO. Boost the speed of traditional Wi-Fi and improve performance by taking advantage of both Wi-Fi bands. The internal antenna and the aHigh power amplifiers increase coverage. It is compatible with devices that support the technology WPS. It may not be compatible with routers or gateways whose firmware has been changed.

Finally, check access to WiFi and set schedules according to the device, using the app Netgear WiFi. Finally, it minimizes interference by optimizing the speed of at least 20 smart wireless devices.
Buy on Amazon
Linksys RE6500 AC1200 Dual-Band Wireless Range Extender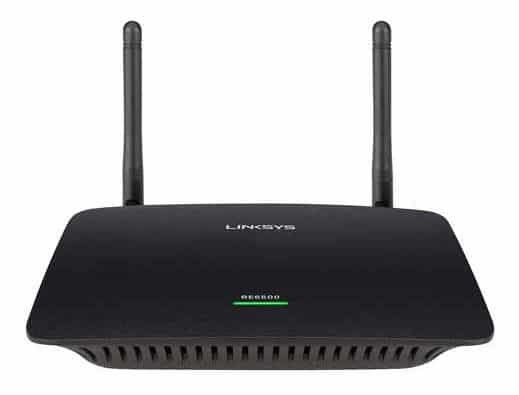 Another powerful choice.
Gang: 802.11ac 5GHz e 2.4GHz | Connectivity : 4 x Ethernet, jack audio | Features: Linksys Spot Finder technology, music streaming, easy setup.
For
Audio streaming capability
Powerful
Cons
Linksys RE6500 AC1200 is another WiFi signal booster that looks more like a router. This more robust design allows Linksys to include four Gigabit Ethernet ports, which essentially allows you to expand your network on internet-connected devices that need an ethernet connection. It also has an audio-out jack to connect to an audio system and stream digital music from your PC to the audio receiver. It is robust and versatile enough device to be counted as the best most interesting WiFi repeater.
Buy on Amazon
Linksys Velop Wi-Fi extender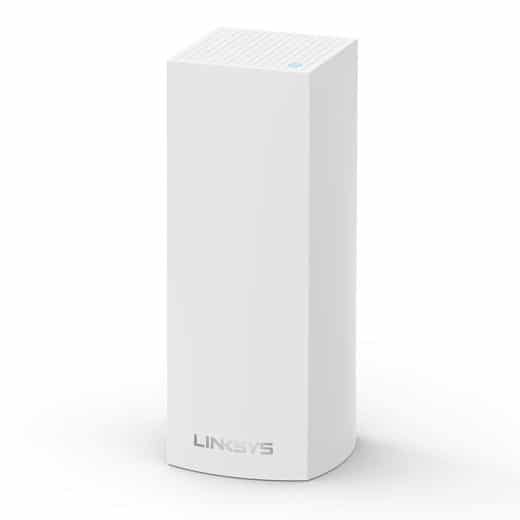 Gang: 802.11ac 5GHz e 2.4GHz | Connectivity : 2 x Gigabit Ethernet per unit (1 WAN and 1 LAN each) | Features: app-based configuration; dual-stream network (2 × 2), 802.11ac; 7 MHz quad-core ARM Cortex A716 processor, beamforming.
For
Modular mesh network
Not too flashy design
Cons
Expensive
Performance is too dependent on location
Linksys Velop it is a valuable element in the ease of installation of a wireless mesh network. The Velop comes into play at a time when both Google and Netgear are trying to put aside routers and range extenders, which are now considered obsolete. The primary way Linksys hopes to differentiate its device from its rivals in the wireless mesh network space is with an intuitive smartphone-based setup. With a visit to the App Store or the Google Play marketplace, you will have the Linksys Velop up and running within minutes. It's definitely a worthy addition to our list of the best WiFi repeaters.
Buy on Amazon
Netgear Nighthawk EX7000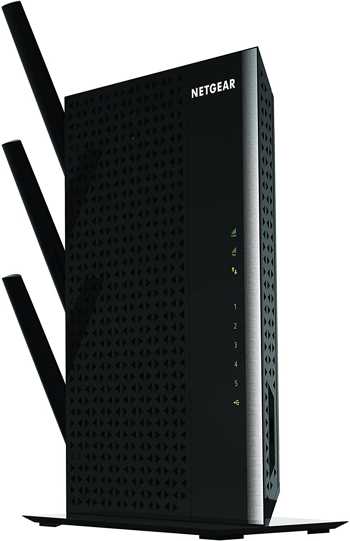 Gang: 802.11n, 802.11b, 802.11g | Connectivity : 5 Gigabit Ethernet ports | Features: 1 GHz dual core internal processor and 3 external antennas to increase performance.
For
Easy installation
WEP functionality
WPA / WPA2 wireless security protocols
5 Ethernet ports
Cons
Supplied manual is not in Spanish
As power lower than the EX7300
Netgear Nighthawk EX7000 is a Wifi Mesh repeater with speed till to 1900 thanks to tech AC. Monta powerful antennas external and 1 GHz Dual Core processor that helps maximize Wi-Fi performance. It is compatible with any router and is perfect for it HD streaming and Gaming.
Increase the coverage up to 130 square meters and allows connect up to 25 devices. By using the same network name as your router, you can have stable connections even when moving from room to room. The functionality Mesh it is enabled with modems fiber, ADSL e Access Point. It also supports security protocols WPA / WPA2 and functionality WEP.
Buy on Amazon
TP-Link RE650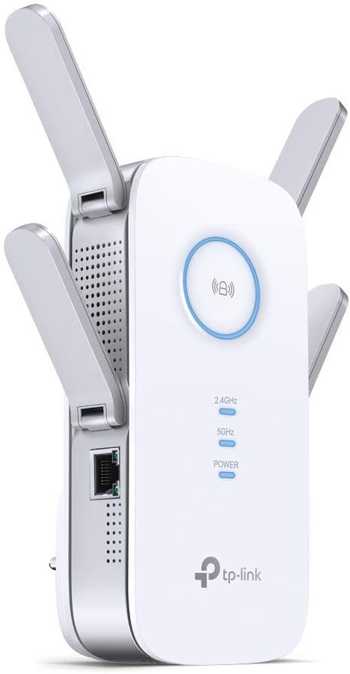 Gang: 802.11n, 802.11b, 802.11a, 802.11ac, 802.11g | Connectivity : 1 Ethernet port | Features: also works as a dual band access point. It transfers data at speeds of 800 Mbps on the 2,4 GHz band and 1733 Mbps on the 5 GHz band. 4 antennas. 4 x 4 MU-MIMO technology.
For
Tecnologia MU-MIMO 4 x 4
It also acts as an Access Point
Combine both 5GHz and 2.4GHz to create a single faster connection
Cons
The plug of the product is placed horizontally and is fixed.
By placing the product horizontally, the antennas will fall horizontally limiting the coverage range
There is no button to turn it off when not in use

It heats a lot
TP-Link RE650 is a universal Wifi repeater that connects to the router wirelessly to strengthen the signal in unreachable areas with a speed of 800 Mbps on 2,4 GHz band and 1733 Mbps on the band from 5 GHz. Thanks to technology MU-MIMO serves up to 4 devices simultaneously making the most of your network to enjoy streaming movies and games without latency.

It has a smart signal indicator to help you better position it. By plugging the Ethernet cable into the appropriate port, you can turn this device into a access point wireless dual band.
Buy on Amazon
AVM FRITZ! Repeater 2400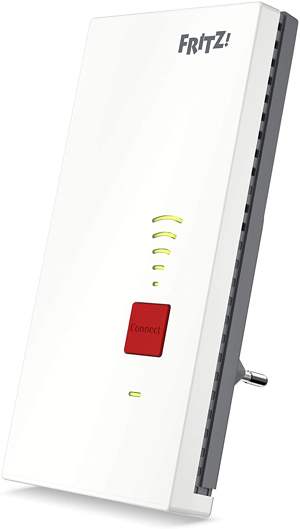 Gang: 802.11ac/n/g/b/a | Connectivity : 1 Ethernet port | Features: Wi-Fi AC+N fino a 1.733 MBit/s (5 GHz 4 x 4) e fino a 600 MBit/s (2,4 GHz 4 x 4).
For
It transmits on two radio frequencies: 2,4 GHz and 5 GHz
Modern design
Better positioning with the help of the app
Stable and secure connection
Possibility of associating it to the Mesh network of the Fritz Box router / modem
Quick and easy setup at the push of a button
Already updated to the latest firmware available
Cons
Plastic material
Price
Not very powerful
FRITZ! Repeater 2400 transmits on two radio frequencies (2,4 GHz and 5 GHz) which are used in parallel. Through automatic band selection, the repeater always selects the most efficient path to the router and the connected wireless devices, so that all connections in the local network achieve high data rates.
Furthermore, with the help of FRITZ! App WLAN, the optimum location for its location can be determined.
Buy on Amazon
Best Mesh Wifi systems
After having listed the best wifi repeaters on the market, to be taken into consideration before your purchase phase, below you will find an always updated list of systems Mesh Wifi cheaper.
These are systems consisting of various routers: a main one to connect to your ADSL modem and the others to use as satellites to broadcast the wireless signal. They have a unique SSID it's a'single protection key and provide ample coverage.
Buy on Amazon Buy on Amazon Buy on Amazon Buy on Amazon Buy on Amazon
If, on the other hand, you are looking for a good router, these buying guides could be useful: Best Wifi routers for home and office and Best gaming routers.