Here is a selection of the best VPN routers. In this guide, you will find the best router that can easily connect to the internet via a virtual private network (VPN).
There are several reasons why you should choose one of the best VPN routers from this list, but the number one reason is that VPNs can help you browse the internet securely and anonymously.
In this regard, I recommend you read this guide: The best VPNs.
Best VPN routers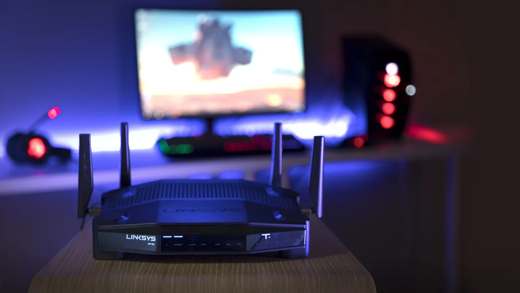 The choice of the best VPN routers was made not only because they are compatible with VPNs, but because they facilitate and speed up the installation and configuration of the VPN. Many people may think that using a VPN router is only for advanced users, but the best VPN routers on this page allow anyone to set up a VPN in minutes.
The VPN routers you will find below can be used regardless of which VPN service you sign up for. Furthermore, they avoid impact on internet speed even when network traffic passes through a VPN.
1. Linksys WRT 3200 ACM router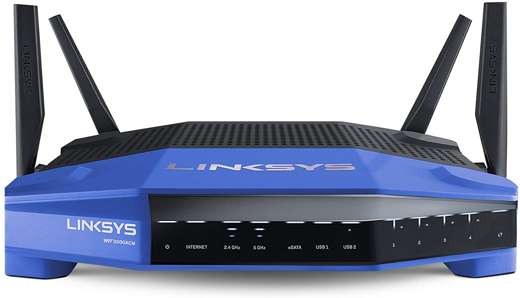 The best VPN router on the market.
Speed: 802.11ac: 3x 867 Mbps, 802.11n: 600 Mbps | Connectivity : 4x Gigabit Ethernet, 1x USB 3.0, 1 x ESATA / USB 2.0 | Features: Tri-Stream 160, 1,8 GHz dual core CPU, 512 MB of RAM, 256 MB flash memory.
For
Supporto firmware open source
Excellent features
Cons
Sometimes unpredictable coverage
More suitable in an office than in a home
Linksys WRT 3200 ACM is definitely the best VPN router of the year. Its no-nonsense design hides a remarkably versatile and powerful router that is a great choice for VPN use. DD-WRT firmware can be installed for VPN compatibility, and it comes with four antennas and three bands for fast, wide-range network speeds. It also has four Gigabit Ethernet and USB 3.0 ports, making it an excellent router in its own right, even without a VPN.
Buy on Amazon
2. Asus RT-AC86U router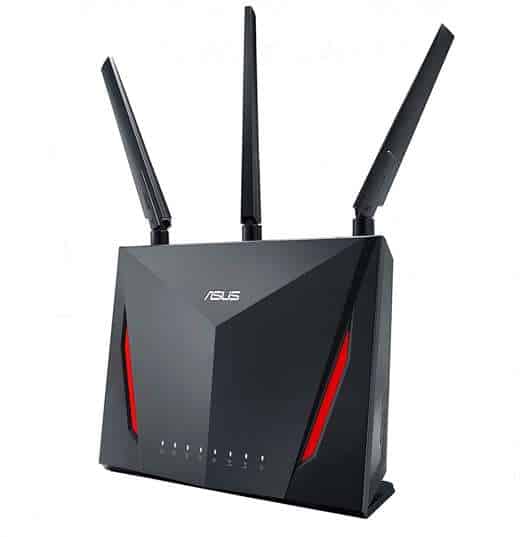 Strong performance like design.
Speed: 802.11ac 1734 Mbps in basso | Connectivity :: 5 x Gigabit LAN, 1 x USB 2.0, 1 x USB 3.0 | Features: MU-MIMO, traffic analyzer, WTFast QoS adaptive player private network.
For
Extensive firmware
Great speed and coverage
Cons
Anyone familiar with Asus, and particularly its more gamer-centric products, will have heard of the Asus RT-AC86U router, especially its design. However, if you are not a gamer and are just looking for the best VPN router, I need to know that this router has excellent VPN features that make it a fast performing device even while using the VPN. You can also install third party firmware if you want more choice.
Buy on Amazon
3. Asus RT-AC5300 router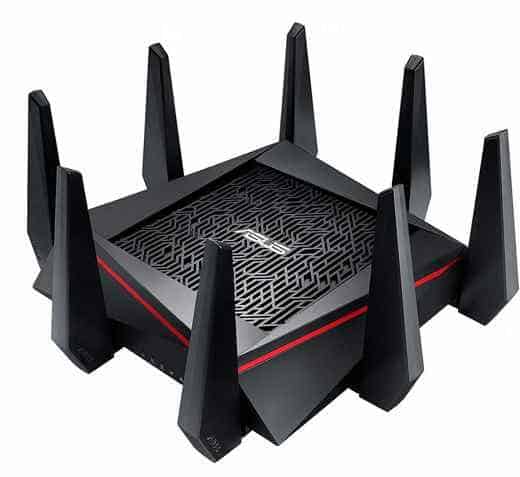 A high-powered router that's perfect for VPNs.
Speed: 802.11ac: 2.167 Mbps, 802.11n: 600 Mbps | Connectivity : 4 x Gigabit Ethernet, 1 x WAN, 1 x USB 2.0, 1 x USB 3.0 | Features: support MU-MIMO, Link Aggregation, traffic analyzer, WPS, 512MB RAM, 8 external antennas.
For
Excellent Wi-Fi coverage
Powerful gaming features
Cons
Requires space
Single USB 3.0 port
THEAsus RT-AC5300 is one of the best high-end gaming routers that comes with a host of advanced features to make online and network gaming smooth, without lag and frustration. This device is also a brilliant VPN router. The spider-like design won't be to everyone's taste, but the eight antennas serve a purpose, as they can be used to direct the Wi-Fi signal throughout the home, giving this router an excellent range.
Buy on Amazon
4. Linksys WRT32X Gaming Router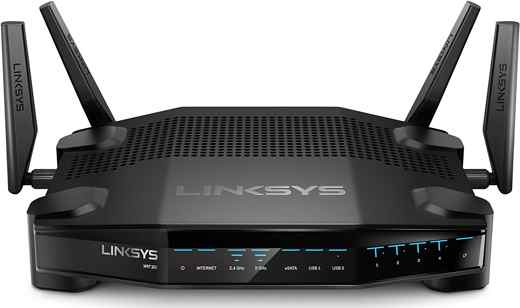 A gaming router with backup performance.
Speed:: AC3200 | Connectivity : 1 x Gigabit WAN, 4 x Gigabit LAN, 1 x USB 3.0, 1 x eSATA / USB 2.0 | Features:: Killer Prioritization Engine, Firmware personalizzato, CPU Dual-Core da 1,8 Ghz, MU-MIMO.
For
Great Wi-Fi speed
Easy to use firmware
Cons
At first sight, the WRT32X Linksys may not look that different from Linksys heavy-hitter, the WRT3200. And, well, it's not that far off. WRT32X takes all the hit components of that highly regarded router and plugs them into a router with custom firmware that is extremely easy to navigate and a very discreet and eye-catching visual design, making it one of the best VPN routers you can buy. you are looking for reliable ping performance required by online games, Linksys WRT32X fits your needs perfectly.
Buy on Amazon
5. D-link DIR-885L / R router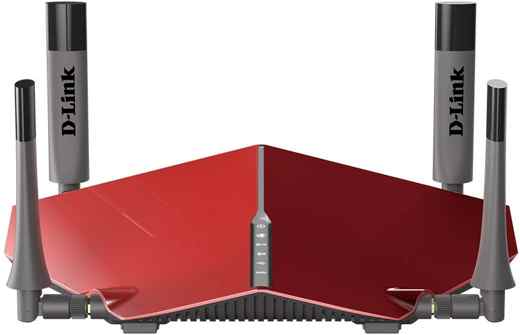 A great all-rounder.
Speed: 802.11ac | Connectivity : 4x Gigabit Ethernet, 1x USB 3.0 | Features: MU-MIMO, beamforming AC wireless avanzato, SmartConnect.
For
Good selection of features
Good performance
Cons
If you are looking for a reliable mid-range VPN router that combines speed with a wide range of Wi-Fi and gaming-oriented features, I recommend that you consider the D-link DIR-885L / R. It has a good selection of ports and the user interface for installing and configuring the router is well designed and easy to use. It also supports DD-WRT open source firmware, making it a flexible and powerful VPN router that you can customize according to your needs.
Buy on Amazon
6. Netgear Nighthawk X4S VDSL/ADSL Modem Router D7800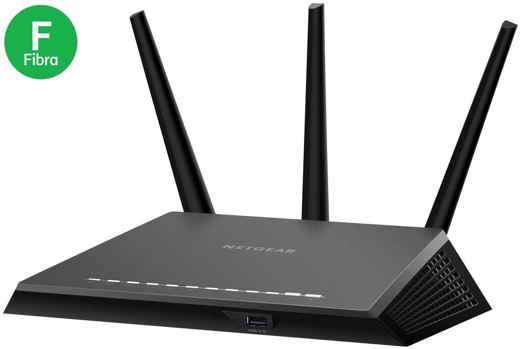 The built-in VDSL modem and 4 × 4 wireless speeds make it a true all-rounder.
Speed: 802.11ac: 1733 Mbps, 802.11n: 800 Mbps | Connectivity : 5x Gigabit Ethernet, 2x USB 3.0, 1x eSATA | Features: modem VDSL 2.
For
Great wireless performance
Modem VDSL 2
Cons
Manca 1024-QAM
Requires special hardware for the fastest speeds
It router VPN Netgear D7800 it comes with a nice design but also offers high performance. It is lightning fast and has been enhanced with the inclusion of a pair of USB ports paired with an eSATA connector. The real centerpiece, however, is the VDSL 2 modem built into the Nighthawk X4S D7800, which negates the need to buy or rent one separately. The supplied software isn't too bad either; a simple Dynamic QOS system makes it super easy to manage a multitude of devices on a single home network.
Buy on Amazon
Best VPNs to use with your router
Here are some recommended VPNs to take advantage of and use with your router to protect your privacy.
1. NordVPN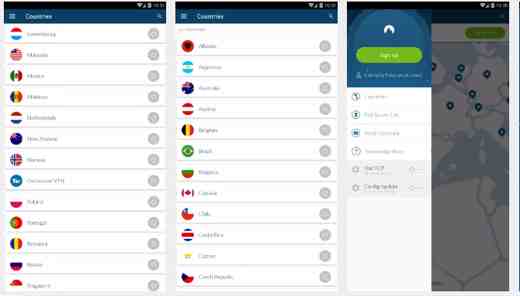 Ultra-safe.
Number of servers: 5.300+ | Server locations: 60+ | IP addresses: N / A | Maximum number of supported devices: 6.
Quality mobile and desktop clients
Up to six connections
Good performance
No live chat support
NordVPN is a VPN app that will allow you to connect to a secure network wherever you are. With its user-friendly interface you can navigate a world map and touch the country that interests you most to connect to it.
There is also a function SmartPlay fast and intelligent DNS-like that can be used to bypass geo-restrictions and unblock large numbers of streams and other services.
To use NordVPN you must first have a user account and take out a paid subscription. Without a subscription you will not be able to use this VPN.
Subscription plan: 36 months - $ 2,99 per month ($ 107,64 total cost).
2. Surfshark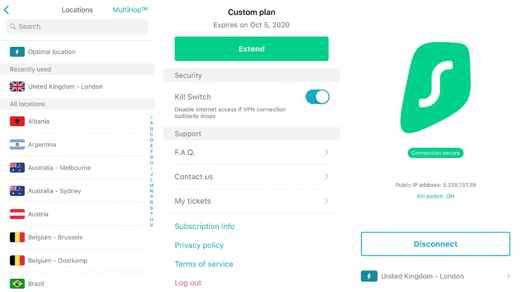 One of the fastest VPNs.
Number of servers: 800+ | Server locations: 50+ | Addresses IP: N / A | Supported Devices: Unlimited.
Unlimited devices covered
Fast connections
Reasonable price
Sometimes unstable Android app
Surfshark is a VPN service that makes it possible to replace the IP address of the user's machine with that of a remote server. It bypasses geo-restrictions by offering different countries to connect to the user, including France, the United States and Japan. In total, about twenty countries are proposed.
Surfshark promises a fast connection to its users and is cross-platform. You can also connect multiple devices (Android, Mac, Windows or iOS) via Surfshark VPN with a single account. The service does not register on the use of its software and on the user's activity. The only information Surfshark collects is the user's email address and the data required for billing.
Include OpenVPN UDP e TCP, security protocols IKEv2, encryption AES-256 and a kill switch ready to shut down your data if your connection fails. It supports P2P for torrenting but not port forwarding. It is definitely among the best VPNs.
Subscription plan: 24 months - $ 1,99 per month ($ 47,76 total cost).
Best Selling VPN Routers on Amazon
Below are the Amazon bestsellers on VPN routers most demanded by consumers. The list is always up to date. I hope you can find the best VPN router that best suits your needs.