Best VoIP Phone for your company. A buying guide to help you buy a phone that uses the VoIP (Voice over Internet Protocol) system.
Even in a world of personal mobile devices, businesses can benefit from voice-over-IP (VoIP) phone solutions for high call quality and added convenience.
But what does it mean Voice Over Internet Protocol? It is a technology that allows you to make a call using the Internet connection instead of the normal telephone line. For several years, most national voice and ADSL providers have been transmitting using Voice Over IP. This means that we are faced with a technology that is easy to use and has significant advantages. Suffice it to say that among the most famous services that make use of this technology we find Skype.
Other advantages of using a VoIP phone are thecost reduction for international conversations, but also for the local calls e long distance. Without considering the incredible management of different telephone numbers on a single device, the saving of voice messages and the ability to call users of the same network for free.
Best VoIP Phone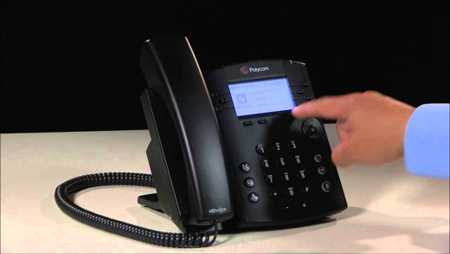 In this article we will analyze VoIP phones with altoparlanti e microphones, some of which even offer one screen to manage video calls, call transfers, voicemail and much more.
Read on to discover our picks that will help you identify the best VoIP phone for small businesses and for working from home.
Also take a look at our selection to find the best conference phone.
1. Polycom VVX300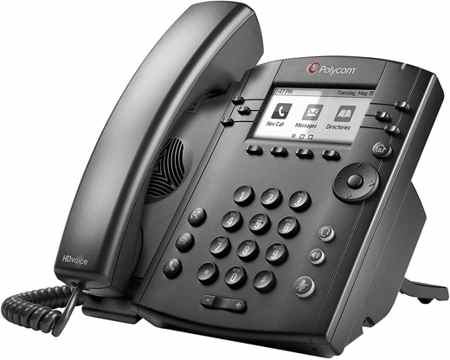 The best voip phone on the market.
Category: Wired | Main features: 6 lines, Polycom Zero Touch provisioning, web-based configuration, integration with third-party UC applications and open APIs.
For
Cons
Economic
Monochrome display
The phone Polycom VoIPVVX300 has been designed to be the simplest, offers good call quality for everyday communications, six speed dial keys and a 12-key keypad for basic functions such as mute the headset, put someone on hold and mute the call.
Buy on Amazon Buy on Amazon
2. Grandstream GXP2130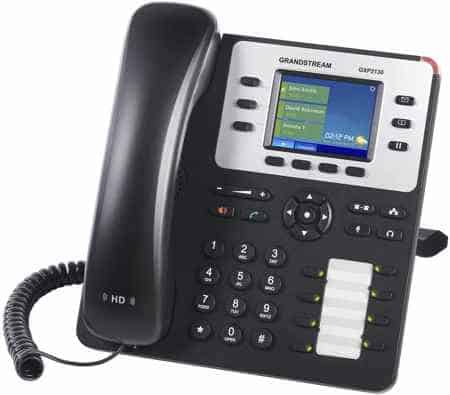 Smart multitasking with touchscreen.
Category: Wired | Main features: Supports 3 lines, 3 SIP accounts and 4-way voice conference; 8 quick selection keys; 2,8 inch LCD screen; HD audio speakerphone.
For
Excellent call quality
Large bright LCD touchscreen
Cons
This VoIP phone's Grandstream offers dedicated landline and SIP features that you would expect to find in a good VoIP phone. The 8 speed dial keys allow you to quickly and easily contact your main contacts efficiently and the HD audio means that the sound must be clear through both the handset and the speaker. 4 XML programmable keys allow for 4-way voice conferencing and with Bluetooth support you can easily switch between phones as needed.
Buy on Amazon
3. Grandstream GXP1625 HD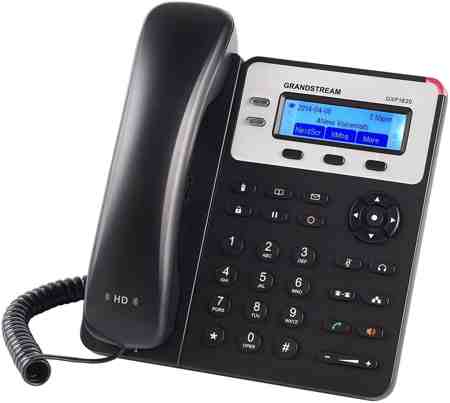 A VoIP phone for small businesses.
Category: Wired | Main features: VoIP phone and VoE device, programmable keys, 3-way conference call, HD broadband audio, TR-069 / SRTP / TLS advanced security protection.
For
Cons
Seems cheap
Not suitable for wall mounting
An affordable entry-level VoIP phone for SMEs, the GXP165 it is able to make calls of excellent quality and has a graphic LCD display operated by three buttons. It offers wideband HD audio for hands-free full duplex speakerphone and is designed for use in larger offices thanks to the echo cancellation feature. Its large address book can store up to 500 contacts and 200 records, and it has a built-in web configuration that can retrieve the phone's IP directly from the LCD for IT support.
Buy on Amazon
4. Yealink SIP-T46S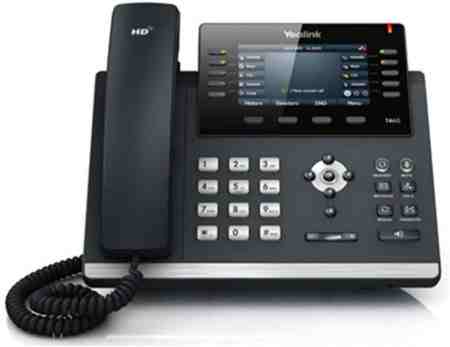 A mid-range VoIP phone with a useful display.
Category: Wired | Main features: up to 16 SIP accounts, 4,3-inch color display, dual-port Gigabit Ethernet, 802.3af PoE
For
Fantastic call quality
Wall mountable
Cons
No built-in WiFi (requires a dongle)
No power supply included
This VoIP phone Yealink it's a great option if you're looking for a phone with a large display and responsive buttons. It offers excellent call quality, houses a dual port Gigabit Ethernet port on the back and can work with up to 16 SIP accounts. Unfortunately, it doesn't have Wi-Fi built into the phone and requires a dongle for that functionality. It does not come with a power supply due to the presence of POE (power-over-ethernet) in the unit.
Buy on Amazon
5. Cisco CP-8865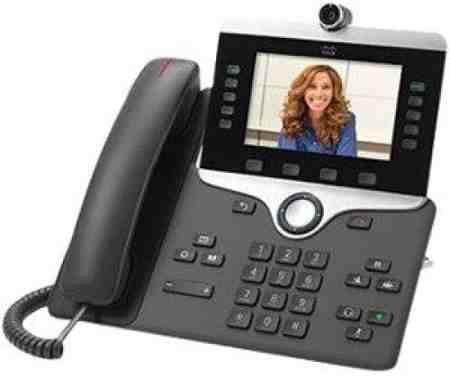 A great option for video calling.
Category: Wired | Features main: 720p HD video call, programmable line and function keys, 10/100/1000 integrated switch, 720p HD video, webcam.
For
Large display for video calls
Excellent call quality
USB ports
Cons
The webcam sticks out a little too much
Il CP-8865 is an affordable SIP phone designed for video calling that features a large 5-inch display operated via buttons placed on either side. It offers exceptional call clarity and video conferencing extends to 720p HD, and it all looks clear and crisp on its small display. There are also function keys that can be customized for use with a variety of distribution options, including Cisco local hosted calling, Webex Calling, and other third-party alternatives. To complete the package, this unit has USB ports for charging Bluetooth smartphones or headphones.
Buy on Amazon Buy on Amazon
6. Grandstream GS-GXP2170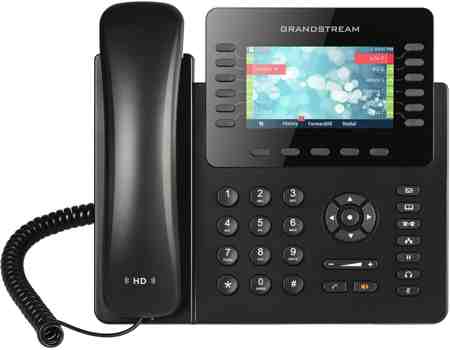 An affordable VoIP phone with high-end features.
Category: Wired | Main features: 12 lines, 6 SIP accounts, 5 soft keys, 5 voice conferences, 48 ​​customizable BLF dial keys on screen.
For
Excellent sound quality
Smart design
Cons
Some noticeable latency
No video calls
This unit Grandstream It features a sleek dark design with a large colorful display to give a modern feel, although we found that the display suffers from slight latency when navigating its menus. Considering the price, the device is a great deal - the unit itself has a high-end feel that belies its affordable price. In terms of functionality, it features Dual Gigabit ports, built-in PoE and the ability to quickly call up to 160 contacts (48 can be displayed on the screen for dialing).
Buy on Amazon Buy on Amazon
7. Cisco SPA525G2 5-Line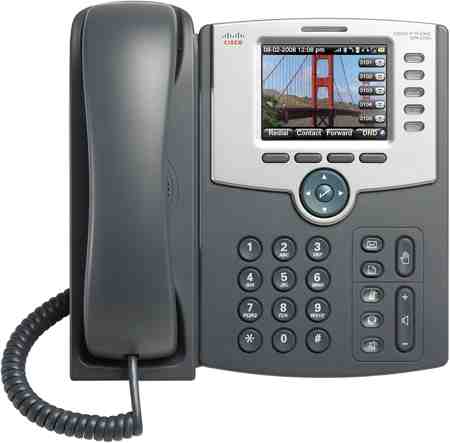 The built-in Wi-Fi is its main selling point.
Category: Wired | Main features: 5-line business IP phone with enhanced connectivity, 320-inch 240 x 3,2 QVGA color display, 802.11g Wi-Fi, VLAN-enabled dual-switch Ethernet ports, advanced Bluetooth integration, Cisco Monitor View support.
For
Colorful display
Smart features
Wi-Fi built-in
Cons
The Wi-Fi drops occasionally
Cisco calls this model a phone "as smart as any smartphone". However, it's one of the most feature-rich on the list, with built-in Wi-Fi without the need for a dongle. SPA5252G it can also transfer calls to a smartphone to easily make a call out of the office. Very impressive support for Cisco MonitorView, which allows it to stream video to its 3,2-inch color display from a remote IP camera.
Buy on Amazon Buy on Amazon
8. Grandstream DP720 Dect Cordless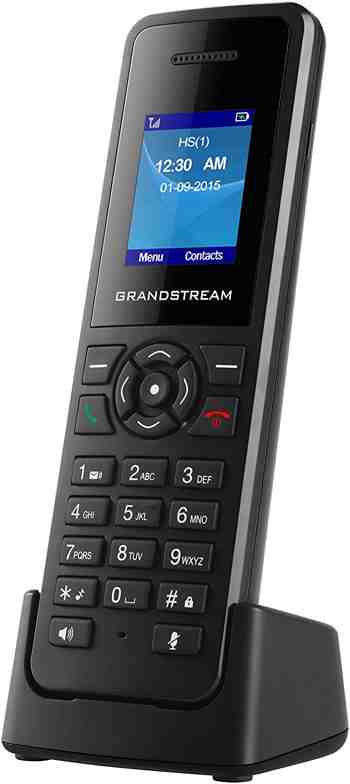 It offers better call quality than many landline phones.
Category: Cordless | Main features: Supports up to 10 SIP accounts per phone, 300 meters (external) or 50 meters (internal) from the handset, Full HD audio on speakerphone and headset, DECT authentication and encryption.
For
Cons
Cannot turn off the charging sound
The base station is inexpensive
Regarding call quality and range, Grandstream has seen fit to put the phone into production DP720. It looks like a simple black phone that fits into a flimsy and functional base, but is ideal for workers who want a cordless phone that can be picked up and taken out of the office - up to 50 meters away, while staying indoors. It supports up to 10 SIP accounts per phone, instantly displays caller ID between the first and second rings, and can handle multiple calls with broadband voice quality.
Buy on Amazon
Best selling VoIP phones on Amazon
Below is a selection of the best most popular phones on the most famous store in the world. Please also pay attention to the reviews of users who have already purchased the product that interests you most and also read the 1-star ratings.