Best video calling programs. Do you want to make free video calls? If you are looking for alternatives to Skype and cercgu programs to make group calls or video calls, read on I am sure you will find the software that best suits your needs.
With the current spread of the coronavirus (Noto anche come COVID-19), many companies are already trying to make arrangements to accommodate remote work and help reduce the spread of the coronavirus while limiting the negative impacts on productivity.
In this article we want to introduce the best video calling programs who will be able to help you in your work from home to have the opportunity to collaborate daily with your office colleagues.
Read also: Best programs to connect to the PC remotely
Best video calling programs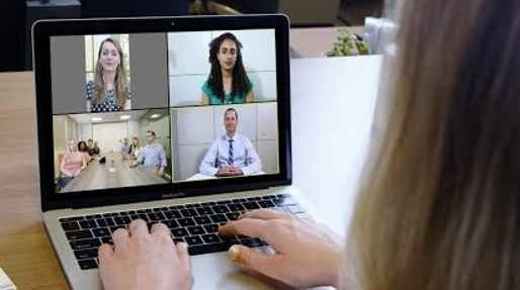 Advances in technology have meant that videoconferencing has over time become reliable, accessible and affordable to easily support modern business.
This has become important for a number of reasons, not least, both to allow company employees to work flexibly remotely from home, and to make it easier for them to travel to the various offices of the company or to the customer.
With videoconferencing, meetings can be held online without worrying about technical issues, accessibility or costs. Consider how much a company should spend annually to allow its employee to travel and meet with any collaborators or customers.
Normal consumer offers of free video conferencing programs, such as Skype and Zoom Meeting, have made video communications a standard part of the conversation process, and the expectation is that businesses will increasingly embrace this technology, simply because it offers incredible benefits. .
Here is i best video calling programs In circulation.
Zoom Meeting (100 participants, free)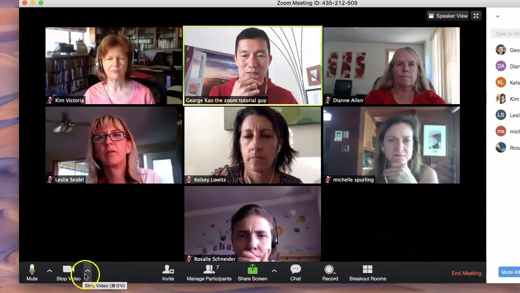 It is the best feature rich free video calling program with secure encryption.
Up to 100 participants
256-bit TLS encryption
40 minute limit for larger meetings
Unlimited one-to-one meeting
You can record the meeting
Available for Mac, Windows, Linux, iOS e Android, Zoom is definitely among the best video calling programs. You can choose between the free or paid version, but also in the free version you can hold one-to-one meetings or group meetings with up to 100 people but with a time limit of 40 minutes.
There are some elements like desktop and application sharing, whiteboarding and annotations, and some paid features, like recording meetings in MP4 or M4A format.
256-bit TLS encryption ensures that the meetings you hold and the files shared within them are secure. Are available plug-in to Microsoft Outlook e Chrome which can be used for meeting scheduling and the administrator can have great control over the meetings and chat rooms. Zoom meeting it can also be used as a basic chat tool, but if you need other features, such as support for multiple participants, various packages are available at a good price.
Microsoft Teams (100 attendees, free)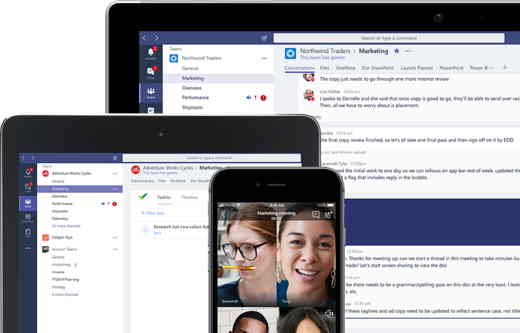 Excellent free video calling program integrated with Microsoft 365.
If you integrate with Microsoft 365
The free version allows meetings for up to 100 participants
Unlimited meeting duration
Allows you to schedule invitations
Inserting subtitles
Blurs background images
Microsoft Teams allows all users who use it to schedule video or audio meetings with one person or even a team. Tool administrators can host webinars or larger meetings with up to 10.000 attendees.
By fully integrating with Microsoft 365, you'll be able to schedule calls and share invitations quickly and easily for your entire organization, while external guests can join from their web browser without having to download any other software.
Microsoft Teams offers everything you need for high-level conferencing, such as screen sharing and call recording, real-time subtitles, background blurring technology, and chat features.
The platform's video conferencing software features hardware options that allow users to join calls from virtually anywhere. Whether you're working on the go or on your own, mobile devices, desktops, and Bluetooth conferencing headsets can maximize communications.
Even if your 365 suite subscription plan does not include it, you can use the free version, which offers the ability to create conferences up to 300 participants. In addition to treating yourself 10 GB of storage space For files you exchange with colleagues, Microsoft Teams allows you to collaborate using Word, Excel, Power Point e OneNote. You can share files and screen and schedule meetings with Outlook.
In conclusion, Microsoft Teams is the ideal tool for companies that already use Microsoft 365 or that aim to enhance the collaboration and online communication of their organization.
Read also: How to see all attendees on Teams
Google Meet (100 attendees, free)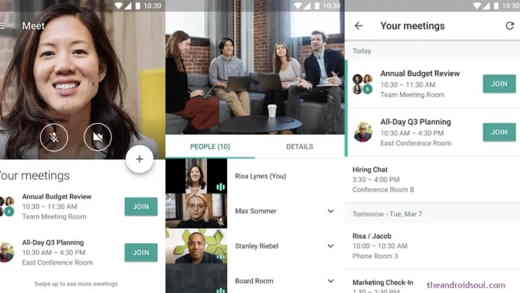 Best Cloud Video Conferencing Program.
It integrates seamlessly with G Suite
It is simple and accessible
Competitive prices
Maximum duration 1 hour in the free version with 100 participants
You can organize meetings for up to 250 people
Google Meet, also known as Google Hangouts Meet, is part of the G Suite platform. Its purpose is to offer a high level conference service.
This video conferencing program was developed for business needs and is capable of handling a large number of users at the same time. Plus, it reduces waiting times with smart join features and a quick interface.
It has become one of the many tools offered to anyone with a Google account, such as Drive or Gmail, without the need to register a paid professional account GSuite Business or an educational profile.
Among the options available in the free version are screen sharing and the system machine learning to filter out background noises. To register the conferences it is necessary to pay, moreover starting from 30 September 2020 the duration of each meeting cannot exceed one hour.
Google Meet is one improved version of Google Hangouts and aims to simplify the user experience by offering a web app, without the need to download software, it is the possibility for employees of the same company to join, with quality and without interruptions, to meetings even while they are in movement.
In addition to the downloadable app on Android e iOS, Google Meet is also compatible with existing conferencing hardware. The only requirements are the use of the SIP and H.323 standards for Skype for Business users. This also applies to Cisco, Lifesize, and Polycom, with the ability to join Hangouts meetings via Pexip Infinity.
Another benefit is its integration with the G Suite platform. This allows the use of other applications, such as Google Calendar, great for planning meetings or events.
Google promises to offer a good level of privacy and security. It does not use meeting data for advertising purposes and the information flows of the meeting are encrypted.
Other strengths are the price and the fact that it does not require substantial investments in hardware.
Skype (50 participants, free)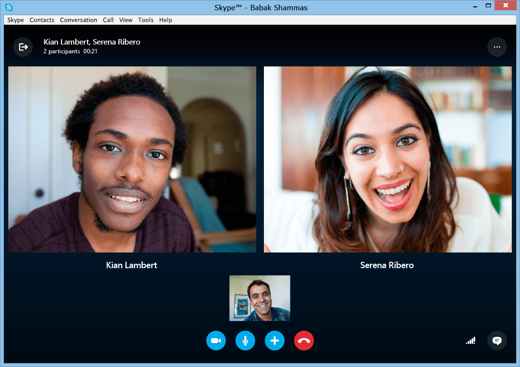 Best free video calling program.
Multi-platform support
It can be used in the web browser
Sottotitoli live
Limit of 50 participants
Skype is a very familiar name for Windows owners. This videochat tool by Microsoft it's often seen as little more than a way to keep in touch with friends and family, but if you don't know it supports them too group video calls for up to 50 people.
It can also be used in a browser, which is great for chatting with people without the app installed - in fact, you can simply invite them to join using their email address.
There is a screen sharing option and to make it easier to focus on who you are talking about, there is the option to automatically blur backgrounds. Other useful features include the subtitling live conversations and the possibility of record chats.
If you need to organize video conferences involving several people, Skype for Business it is a paid upgrade. For a low monthly cost per user, you get support for chats with up to 250 participants, Office integration, and more effective security options.
Read also: How to record our Skype conversations
GoToMeeting (150 participants, for a fee)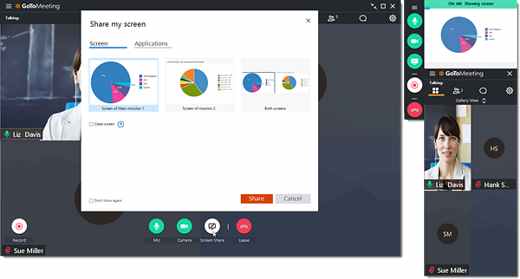 Videoconferencing optimized for mobile devices.
Mobile friendly
Good app
VoIP upgrade
The Enterprise plan guarantees up to 3 participants
GoToMeeting is the autonomous webconferencing service provided by LogMeIn. As expected, it provides audio and video conferencing as well as screen sharing.
One of the distinguishing features GoToMeetings is its ease of mobile communication: You can set up and start a conference from your smartphone, which some major brand software could hardly do. There are also settings for maximize the quality of calls and imagesas well as one-touch invitations to join meetings and chats.
Mobile apps are provided separately for Android e iOS and both have high positive review volumes, which once again makes a difference to other providers struggling to balance quality and usability with mobile use.
In terms of pricing, almost all standard features are available in the Professional plan, priced at € 10,75 per month with a limit of 150 participants.
The Business plan, on the other hand, is available at a price of 14,33 euros per month with a limit of up to 250 participants and includes some administration features as well as mouse drawing and sharing tools. There is also an Enterprise plan that can even accommodate up to 3.000 participants.
However, while there are many positive things to say about it GoToMeetings, if you are looking for a business VoIP solution, GoToConnect offers both a cloud-based phone system and GoToMeetings integration as part of the package. For this reason it might be cheaper to sign up.
FreeConference (5 participants, free)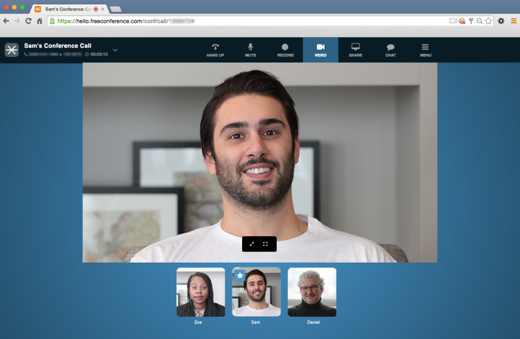 Excellent free video conferencing program for small international meetings.
No desktop software needed
International dial-in available
Maximum five participants
Freeconference it makes things wonderfully simple for users by not requiring any software to be installed. Mobile apps are available, but you can join a video conference session from any device that has a web browser installed. You can participate in text or video chats and use features such as screen and file sharing, even if FreeConference does not is free of limitations.
The maximum number of conference participants is five, which rules it out as a tool for many small businesses that may want to host meetings for multiple people on a regular basis.
There are several international call numbers available for conference calls, and you can if you wish record calls. Setting up, managing and scheduling meetings is very simple with FreeConference - even from Outlook - and there are some useful options, such as the ability to hold recurring meetings. It's a shame that features like advanced security, video recording, and transcripts are only part of the Premium packages, but it still has to be said that the free version is remarkably powerful.
Cisco Webex Meetings (100 attendees, free)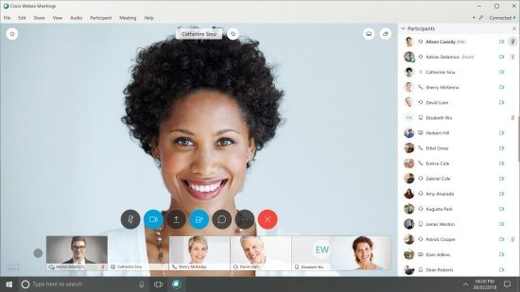 Best video calling program with premium features.
Includes 1 GB of cloud storage
Up to 100 participants
Maximum duration 50 minutes in the free version
Sharing your screen
With a name like Cisco behind them, expectations for WebEx meetings are understandably high and don't disappoint. While there are various plans available for Webex Meetings, in most cases the free version should be fine. This allows you to hold HD video meetings with up to 100 participants and take advantage of options such as screen sharing and private chat rooms.
When you register for an account, you are assigned a personal URL that can be used to manage all meetings, schedule video conferences and access your registration.
When it comes to holding a video meeting, you can choose whether to use the app Webex Meetings or just stick to the website, although it could be argued that desktop apps offer a smoother experience. Mobile apps are also available.
The free package includes 1GB of cloud storage, unlimited meetings of unlimited duration, and the ability to make MP4 recordings. Security is handled by TLS 1.2 and AES 256-bit encryption and backed by Cisco's networking know-how, so the performance is impressive.
CyberLink U Meeting (25 participants, free)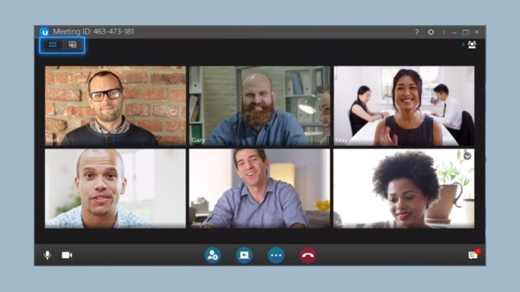 Browser-based video conferencing ideal for small businesses.
Free version
No download required
Packed with features
CyberLink U Meeting it is among the best videoconferencing programs of the company and consists of four tariff plans.
Il "Basic" plan is free. Includes up to 25 attendees and 30 minutes per meeting.
"Pro 50"Costs 29,99 euros per host per month. Includes up to 50 attendees, 24 hours per meeting, administration tools and PerfectCam.
"Pro 100"Starts at € 49,99 per user per month. This all includes various features, plus up to 100 attendees.
Plan "Business functionality"Includes all other tier offerings in addition to meeting analytics, premium customer support, and end-to-end encryption.
"PerfectCam"Is an almost random feature. Users can add computer-generated makeup to their faces with the company promising to "create a truly professional look".
U Meeting is entirely web based. This may discourage some users, but it can be an advantage as you won't need to download any additional software to use it. It also does not offer video recording or the ability to join meetings using VoIP systems.
LifeSize (8 attendees, free)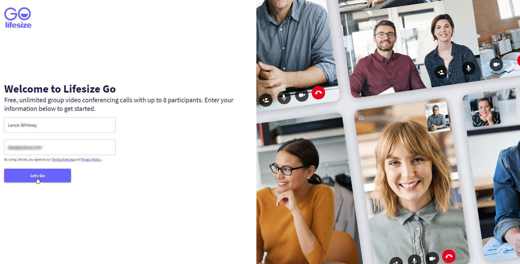 Bring your remote meetings to life with this handy tool.
Hardware devices included
Free version
Supporta video 4K
Lifesize was founded in 2003. The company's main branches are located in Austin, Texas, and Munich, Germany. Lifesize provides high-definition video conferencing endpoints, touchscreen conference room phones, and a cloud-based video collaboration platform.
Offers a free version called Lifesize Go, browser-based and that allows users to host an unlimited number of video calls (plus desktop screen sharing) with up to 8 participants, with no limits on meeting length and no app downloads.
There are three subscription plans:
Lifesize Standard is designed for small teams and costs $ 16,95 per host per month and offers unlimited meetings for up to 100 attendees, along with single sign-on (SSO) support, personal meeting support, as well as solitary chat and support.
Lifesize Plus is aimed at small and medium-sized businesses, offers more features but a minimum of 15 hosts, and costs $ 14,95 per host per month. This allows for up to 300 attendees, includes Microsoft integrations, with real-time meeting insights, phone and email support, as well as 1 hour cloud recording per host.
Lifesize Enterprise costs $ 12,95 per month with a minimum of 50 hosts. This plan allows live streaming of up to 1.000 viewing events, unlimited audio calling, branding and personalization, premium support, and unlimited video recording.
Outside of the free version, Lifesize's pricing might seem a bit high compared to the others best video calling programs. This is more than offset by the inclusion of its own hardware in the mix. Users receive numerous devices in each floor, freeing them from not having to rely on their own integrated camera systems. Lifesize also supports 4K video conferencing.
Jitsi Meet (35 participants, free)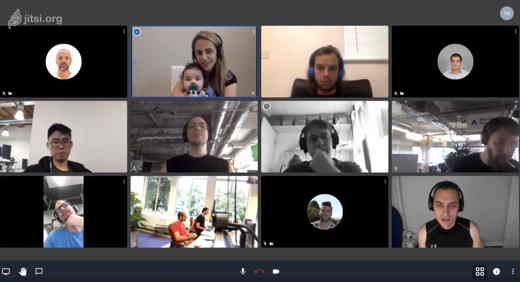 An open source video calling software.
Unlimited participants
Up to 35 participants to have the guarantee of good performance
Protects the privacy of attendees
Jitsi is an open source solution that you can install on a corporate server or use the web or mobile version. In this case it is called Jitsi Meet and requires no registration.
The number of meeting participants is unlimited, supports screen sharing, and integrates with other smart working apps, such as Stack or Microsoft 365 programs or YouTube streaming. It does not support end-to-end encryption but is still a very privacy-conscious and meeting security application.
For example, virtual meeting rooms are created when the first participant joins and destroyed when the last one leaves. When someone new joins a meeting that is already in progress, the meeting is moved to a new room to avoid malicious interception of the video conference. There is a random name generator to allow you to protect the user's participation in the meeting and a password generator to apply to join the meeting. All data (emails, texts, files and more) are destroyed upon completion.
Other video calling programs
Below are other programs for group videoconferencing, especially in cases of smart working.
FaceTime: it is a valid solution for video calls with the operating systems of Apple. It is therefore only available for iPhone, iPad and Mac. It supports up to 32 participants at the same time but it has fewer features than Skype. On the other hand, it does its job well but it is necessary that people who want to make a group call are equipped with Apple devices, because it does not work with Android, Windows or Linux.
Google Duo: is another app for making group video calls. It is already pre-installed on all mobile devices Android, if not, you can download it from the Play Store or from the App Store, if you have a iPhone. There is also a web version that you can use on your computer. It allows connection with 8 people at a time and you cannot add other participants during the call.
Whereby: is a video calling software in which you can involve a maximum of 4 participants. The free version allows for screen sharing, good audio and video quality and requires no installation. To get people to participate, all you have to do is send a link without the need for a PIN or registration. It integrates most calendars and allows you to work in a team with smart working tools, such as YouTube, Trello, Miro e Drive.
Telegram: in August 2020 video calls also arrived on this application. It is possible to start videoconferences from the profile page of one or more contacts and to turn on or off the camera during the voice call. Video calls support picture-in-picture mode to scroll through chats and be multitasking. The technology offered for video calling is of type end-to-end, moreover, the attachments are stored for a long time on its servers. There version desktop at the moment it does not allow video calls but only voice calls. You can download it for Android and iOS.
WhatsApp: is the most popular messaging app in the world and allows you to make free video calls with friends or a group of friends. It offers a simple and intuitive interface. With a couple of taps you can switch to group video calls by starting to call a contact and then select other friends to add to the conversation. The limit is 8 people for video calls between friends. If, on the other hand, you are part of a group, you can start the call directly from there and involve in one group meeting a maximum of 256 participants. To learn more, read also: How many group video calls can I make with WhatsApp. You can download it for Android and iOS.
Do not underestimate these other solutions for group video calls: Instagram e Facebook Messenger.
Other useful articles
Programs similar to Whatsapp
Can I make phone calls with iPad?
Best Webcams for PC