Best USB WiFi Adapter. A buying guide on the best USB WiFi adapters that are easy to install on any operating system.
The USB WiFi adapters, in addition to being easy to install, allow access to wireless networks, after knowing the wireless password. Today, most of the fixed PCs and notebooks have an integrated WiFi module, in case it is missing on a fixed PC the best solution could be to provide an ethernet card with a PCI network adapter with integrated Wi-Fi module, while for laptops , if they have a PCMCIA slot, a PCMCIA Wi-Fi card may be fine.
However, if you do not feel confident in carrying out the operations described above, the ideal solution for both devices, both PCs and laptops, is to rely on inexpensive and functional USB WiFi adapters.
To connect the best WiFi adapter to your PC, just use your computer's USB port and download the drivers, if your operating system doesn't include them.
How to choose the best USB WiFi adapter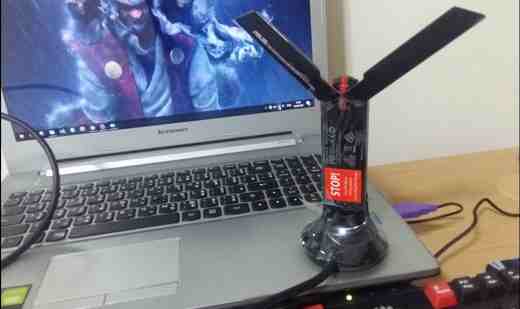 Before buying a USB WiFi adapter, it is good that you know the features you need to take into account. In general, WiFi adapters are developed with the 802.11ac Wi-Fi standard. This uses both the 2.4 GHz (802.11b and 802.11g) and 5 GHz (802.11n) bands.
Types of Antennas
The USB WiFi adapters can be divided according to the antennas, which can be:
Directional: Transmission occurs in one direction only
Omnidirezionali: Transmission and reception take place in all directions
External or internal antenna
The antenna has a strength expressed in dB (decidel) and in a USB Wi-Fi adapter it can be internal or external.
That Outdoor it is advisable when there are obstacles that interfere with the signal of the router that does not have a good position. Also if you choose a 5 GHz signal for the Wi-Fi connection, but this is not strong, an adapter with an external antenna will make it usable, as the 5 GHz frequency has more difficulty than the 2.4 GHz in penetrating obstacles. The disadvantage of the external antenna is that in addition to being bulky, it protrudes from the USB port.
That sustainability it is recommended where the signal strength is strong.
USB Wifi adapters are usually sold with their drivers and software to manage the networks and their WEP, WPA and WPA2 passwords.
USB extension cable
In some cases, especially for fixed PCs, it is good to have a USB extension cable that by connecting it to the USB port allows you to position the adapter away from the case and towards the router. This is useful for gaining signal strength and when the adapter is not in an optimal position to maximize the signal.
Best USB WiFi Adapter
A day without the internet seems to be a global disaster, and if your computer doesn't have access to the web, it's definitely a daunting prospect. Fortunately, there is a way out of this terrifying situation, and it is with the best USB WiFi adapter. This device allows you to connect your devices to the Internet whenever and wherever you want.
Here is a list of the best USB WiFi adapters to help you make the right choice.
1. ASUS USB-AC68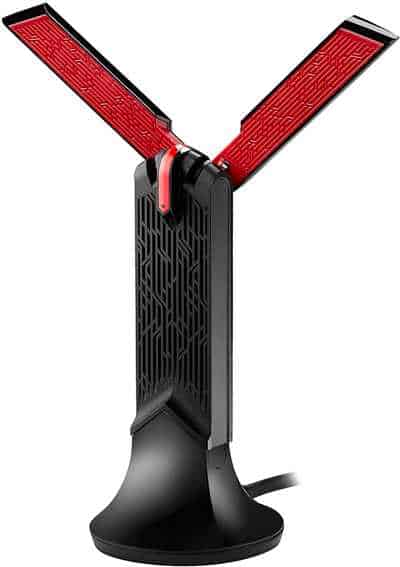 The best 5 GHz wireless adapter for gaming.
For
Fast dual-band network connection
USB 3.0
Easy to install
AirRadar Beamforming Technology
Cons
It is common to believe that the best USB Wi-Fi adapters are very slow. Wrong! Modern adapters offer incredible data transfer speeds and ASUS USB-AC68 proves it.
There is a 3 position external antenna and a double internal one. Together, these antennas are capable of producing powerful dual-band AC1900 Wi-Fi that delivers higher range and excellent coverage for both laptops and desktops.
These antennas are foldable, so it's a big plus for laptops that usually need them. In addition, they provide powerful reception for laptops when they are open. ASUS USB-AC68 has a USB 3.0 socket and offers some additional positioning options to optimize desktop coverage.
With the exception of the improved 3 × 4 MIMO design, we also find ASUS AirRadar Beamforming. As a result, you get up to 300% faster Wi-Fi speeds than previous N900 adapters. ASUS AirRadar focuses on stability. Makes wireless connectivity more powerful and reliable with Beamforming technology, ASUS unique RF fine-tuning, and high-power amplification.
You will also be allocated 600 Mbps on the 2,4GHz band and 1300 Mbps on the 5GHz band. So, don't be afraid of bandwidth-intensive tasks along with ASUS USB-AC68, whose combined data rate goes up to 1900 Mbps. And if you have the best gaming PC, we recommend that you choose this product as one of the best 5 GHz wireless adapters for gaming.
Buy on Amazon
2. Edimax EW-7811Un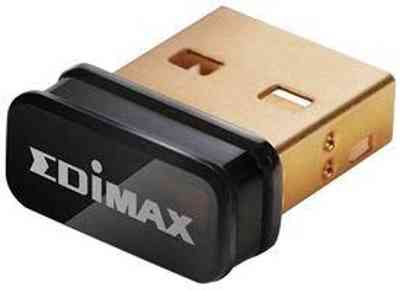 The best budget wireless adapter for PC
For
Economic
Energy saving design
Cons
This little device is the best USB WiFi adapter for those who want to save money and get a good variety of low-priced options. L'Edimax USB Wi-Fi adapter It is capable of delivering 802.11n 150 Mbps wireless data rate that ensures the farthest range with the widest coverage. In a word, 802.11n speed is 6 times faster than 802.11b. However, it is also backward compatible with 802.11b / g.
Also like its energy-saving design to support intelligent transmission power control and automatic idle state adjustment. Another thing that cannot fail to be mentioned is that Edimax EW-7811Un is compatible with the standard WMM. It means you will have better streaming of real-time data (Skype, Video, Music, etc.).
Speaking of ports, this wireless PC adapter has a USB 2.0 (Type A) port and data rates of up to 150 Mbps. As for the frequency band, it ranges from 2,4GHz to 2,4835GHz. There it is also an internal chip antenna. By the way, this Edimax adapter has the configuration wizard EZmax and supports multiple languages.
Buy on Amazon
3. TP-Link AC1900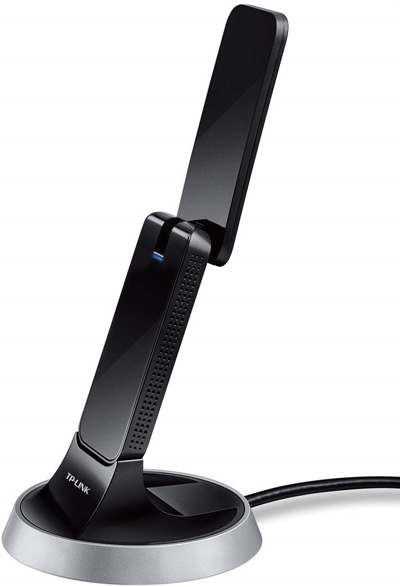 Great wireless desktop adapter.
For
Dual-band connectivity
High gain antennas
WPS button
3.0 USB port
Cons
Another example of the best wireless adapter for your desktop is TP-Link AC1900. While not as cheap as the Edimax product mentioned, TP-Link AC1900 is reasonably priced and some useful options every top-notch USB Wi-Fi adapter must have.
TP-Link AC1900 has 600 Mb on the 2,4 GHz band or 1300 Mbps on the 5 GHz band. It supports 802.11ac wireless data rate and also has backward compatibility.
In addition to the ASUS USB-AC68, this 5 GHz wireless adapter features the Beamforming technology. The other thing to keep in mind is TP-Link's final range - there are high gain antennas that add stability and better range to its overall performance.
What really likes about this wifi adapter is its button WPS. It's always best to have additional wireless security encryption, and when you get it with just the push of a button it's pretty awesome. TP-Link AC1900 also has a fast USB 3.0 port.
Buy on Amazon
4. Linksys WUSB6300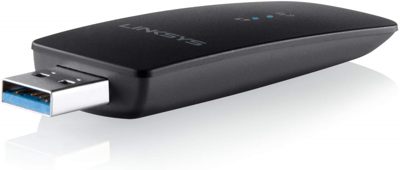 Excellent wireless adapter for PC with Windows operating system.
For
Great speed
Easy to install
128-bit data encryption
Good customer support
Cons
Connection interruptions
A little bulky
This best USB WiFi adapter it is the perfect choice for PCs running Windows. Linksys WUSB6300 It is compatible with Windows XP / Vista / 7/8/10, as well as all the best routers, best extenders and 802.11ac wireless AC access points provided by Belkin and Linksys. You won't have any problems with its installation, as this Wi-Fi adapter comes with the CD setup wizard in case you need any help. You definitely won't need it, as all you need to do to install this adapter is plug it into your router and get the app Smart Wi-Fi Free.
The Linksys WUSB6300 also has a portable design, so it can easily travel with you tucked away in a purse or even in your jeans pocket. Plus, thanks to 128-bit encryption, all your data will be protected.
Its high speed allows users to enjoy high quality HD video streaming or browsing. It is also perfect for games. This Linksys Wi-Fi Adapter can reach up to 867 Mbps on the 5 GHz Wireless-AC band and 300 Mbps on the 2,4 GHz Wireless-N band.
Buy on Amazon
5. Edimax EW-7833UAC AC1750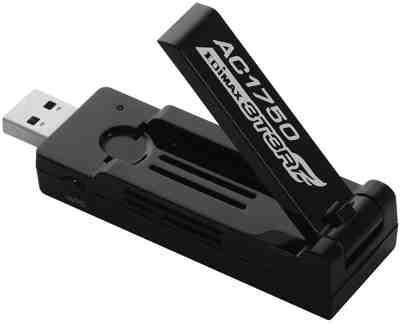 The best wireless adapter for Linux OS.
For
Supports Linux operating system
Beamforming technology
Dual-band connectivity
High level of security
Cons
It doesn't work well on Mac OS
Edimax is full of wireless Wi-Fi adapters, among the best we cannot fail to mention EW-7833UAC AC1750. This adapter is liked because it is highly compatible with operating systems including not only Windows but also Mac and Linux.
Her Beamforming technology ensures reliable connections and coverage, so you don't have to worry about wasted signals. This Edimax model has fast 11ac Wi-Fi speeds thanks to AC1750 generation Wi-Fi for HD streaming and gaming. The speed is flexible, so both 450 Mbps (2,4 GHz) and 1300 Mbps (5 GHz) bands can be used.
Another thing that helps Edimax EW-7833UAC AC1750 to provide high-level performance is the tech MIMO 3T3R. This wireless adapter has three transmitting antennas and three receiving antennas that optimize its operation. In addition to this, there is a USB 3.0 port and 2/64 bit WEP, WPA and WPA128 encryption to increase the level of security.
Buy on Amazon
6. NETGEAR Nighthawk AC1900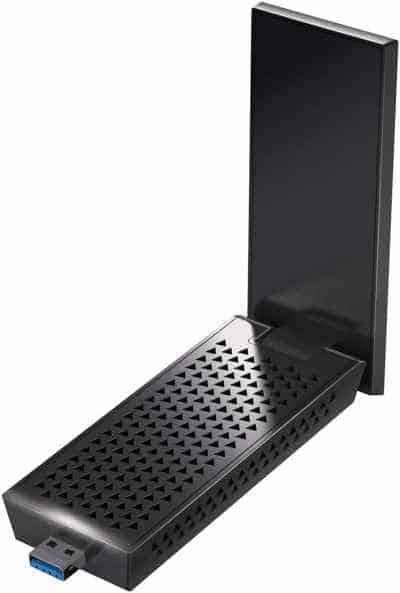 Best 5GHZ wifi adapter.
For
Dual-band connectivity
Design MIMO 3 × 4
Beamforming technology
Great speed for games
Cons
The large size can damage adjacent doors.
NETGAR Nighthawk it is one of those best fast and effective WiFi adapters. AC1900 Wi-Fi assumes speeds of up to 600Mbps on 2,4GHz and 1300Mbps on 5GHz.
It supports operating systems such as Microsoft Windows (7/8/10), Mac OS (X 10.8.3). However, if your PC has Linux, you will need to spend more time installing additional drivers.
There is a modern 3 × 4 MIMO design for better bandwidth capacity. It plays a crucial role when downloading and uploading data to and from a wireless network. Beamforming and magnetic stand are also included.
Add a USB 3.0 port and you will get an adapter with great performance speed. Note that a combination of these options will allow you to enjoy online gaming and HD streaming. So, just grab a joystick, the best PC steering wheel and have fun.
Buy on Amazon
7. TP-Link Archer T3U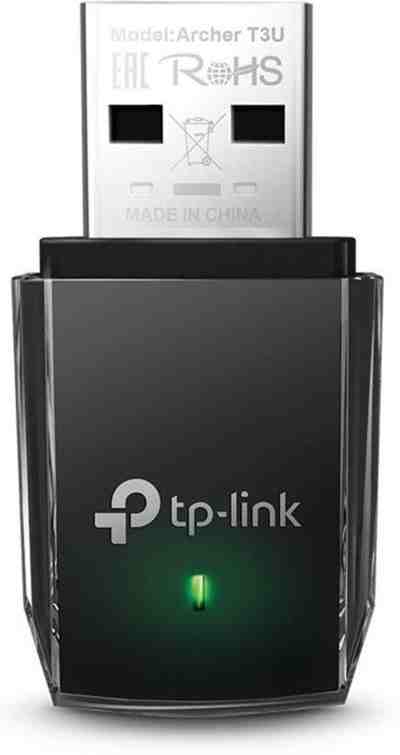 Solid performance.
For
Small and light
Excellent value for money
Features MU-MIMO, 2.4G / 5G Dual Band Wireless technology
Cross-platform compatibility including Windows 10, 8.1, 8, 7, XP / Mac OS X 10.9-10.14
Solid driver support and easy to install
Cons
None really at this price
If you are looking for a mini Wi-Fi adapter for your PC desktop or just looking to get better Wi-Fi performance on your notebook, TP-Link Archer T3U it is a solid choice, as it is small, consumes less (battery) and at the same time offers solid performance at a decent price. This little Wi-Fi adapter really does its job with zero drama, and what's more, it offers extensive driver support, meaning it works well on Windows PCs, Macs, and Linux machines.
Buy on Amazon
8. NET-DYN AC1200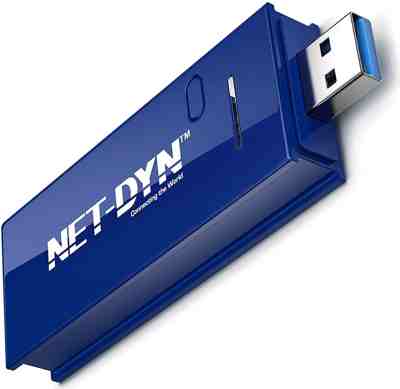 Reliable and economical USB wireless adapter.
For
Affordable price
Dual-band connectivity
Highly compatible with routers
Cons
Net-Dyn seeks to combine reasonable price and quality in their products in order to not only be affordable for a large share of the market, but also to make their life easier and their virtual travels more enjoyable.
This wireless adapter has dual band, so you will be assigned both 2,4GHz and 5,0GHz connectivity. By the way, its range has more than 90 meters. Such a great distance means that you will not be a prisoner of your Wi-Fi and there is a chance to enjoy surfing the net away from your study, bedroom or any other place where you have a wireless router. Apart from this, Net-Dyn AC1200 it is compatible with all WLAN routers including WPA, WPA2 and WEP.
Installation is simple and all you need to do before you start using this USB Wi-Fi adapter is plug it in, install the drivers and that's it. The Net-Dyn adapter is compatible with most operating systems, so there will be no problems if you have a Windows or Mac operating system. However, Linux owners will have to spend more time installing additional drivers.
Buy on Amazon
9. BrosTrend 1200Mbps WiFi Adapter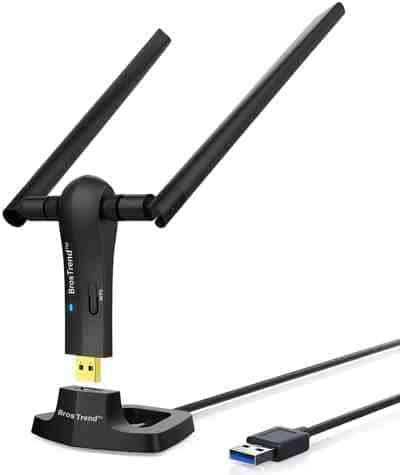 Reliable adapter with a good range.
For
Compatible with Windows 10, Windows 7, Linux Mint, Ubuntu, MAC OS X 10.6 ~ 10.10
Long range connectivity with 2 X 5dBi WiFi Antenna
Comes with USB 3.0 base
1,5 meter cable extension
2-year manufacturer's warranty
Cons
Some users experience random disconnections
Occasionally it comes with only one working antenna
The WiFi adapter BrosTrend 1200Mbps has become very popular over the years. Given its 867Mbps wireless speed on 5GHz WiFi band or 300Mbps on 2,4GHz WiFi band, this WiFi adapter is ideal for watching 4K video online, gaming, playing high-quality music or gaming sites. social media. With excellent long range capability and vertically and horizontally extendable WiFi antennas, this adapter is extremely easy to use and adjust to your needs.
It offers exceptional stability on desktop, PC or laptop, thanks to the larger size of the adapter with the antenna and the USB cradle. This article is likely to work best with routers that can handle AC1700 o AC1900. Regardless of where you are, the 1200Mbps WiFi adapter BrosTrend is ready to provide exceptional, uninterrupted coverage.
Buy on Amazon
10. Trendnet AC1900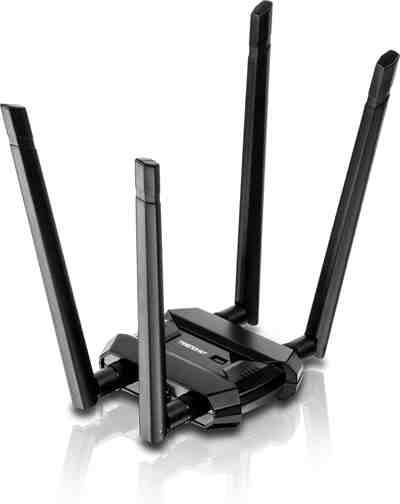 The best wireless adapter.
For
Detachable high gain antennas
3.0 USB port
Pre-encrypted
Beamforming technology
Parental control
Cons
Needs improvement for Mac OS
Connection interruptions
Last, but not least, on this list of the best WiFi adapters, the Trendnet AC1900 it comes with a high-powered radio with high-gain detachable antennas, which increase wireless coverage and make you feel more free when you choose the place to surf the net.
There are shared USB 3.0 and USB 2.0 ports and the preferred one touch network connection with the button WPS. Trendnet AC1900 is pre-encrypted for user convenience and allows for the creation of an isolated guest network.
In addition, it creates two simultaneous wireless networks: one 1.3 Gigabit wireless AC network it's a 600 Mbps Wireless N network to connect common wireless devices. There is also the Beamforming targeted and an option of control parental.
Buy on Amazon
Best Selling USB WiFi Adapter on Amazon
Below is an always updated list of the best USB wireless adapters most demanded by consumers on the world's most popular online shopping site.