Although the USB type C cable is not yet completely universal, I have decided to dedicate a guide to best USB C cable in circulation, convinced that they will soon become indispensable elements to connect all devices.
Thanks to its stylish reversible connector, with the USB C cable you no longer have to suffer the hassle of trying to connect the cable the wrong way. Additionally, your device will benefit from a noticeable increase in data transfer speed and charging times.
To date, not all technology manufacturers have totally moved towards USB C ports, which is why they have been put on the market to bridge the gap between compatible and incompatible devices. cavi da USB-C a USB-A.
To help you connect with the future of USB, I have decided to put together an article with the best USB type C cables.
What is a USB type-C cable
USB stands for "Universal Serial Bus"And the concept was originally developed in the 90s as a way to send data, charge electronic products, and connect items such as mice and PCs. Technically, it was a total gamechanger, and USB technology has continued to evolve at a fast pace ever since, becoming faster and more powerful as they shrunk in size.
The USB-C cable - also known as USB 3.1 type C - it is the latest charging cable and was manufactured to charge, transfer and connect all your devices. This stylish charging station first appeared in 2014 and has since replaced the standard charging cables in terms of speed, power and size.
What sets USB-C apart is its own small physical connector - one third the size of the standard USB-A plug - which is totally reversible as it is the same on both ends of the cable.
But it's not just in size that the USB-C charging cable proves to be more powerful than larger USB cables. The USB-C cable can support significantly faster charging and data transfer than other USB cables. Compared to the average 640 Mbits per second for USB 3.0, USB 3.1 type C offers a data rate of up to 7,2 Gbit per second, depending on the connected device. This increase in power available with the USB Type-C cable means you can also use it to charge high-powered devices like the best notebooks on the market.
USB type C cable: which one to choose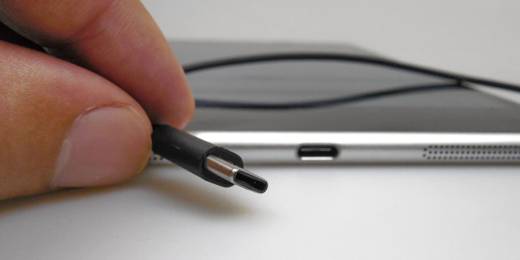 Before buying the best USB type C cable, here are some things to consider and that you should know.
The various types of USB C cables
The type of USB C cable you choose to use depends on the type of technology and whether it is already compatible with the USB Type C connector, whether you need an adapter or whether you need to plug into an old-fashioned port. The two main types of widely used UBC-C cables are:
USB-C to USB-C cable: Quickly charge or sync two USB-C compatible devices, for example to connect an LG Nexus smartphone to your new MacBook.
Cavo da USB-C a USB-A: If you need to connect your USB-C compatible device or smartphone to a computer that still has the standard USB-A port, you need to have this hybrid cable that has plug C on one end and plug A on the other .
Performance
One of the most important aspects of USB-C is certainly its performance which includes both the fast charging speed that the data transfer speed. Although, in theory, even the slowest USB cable does its job well, the fact is that most users need their smartphone or tablet immediately and don't have time to wait half a day to upload or transfer data to. it. For this reason, it is essential to choose the cable with the best possible performance, and if your budget allows, choose cables that support data transfer rates of 50Gbps or 40Gbps or fast charging of at least 3A, but preferably those with fast 5A support. for charging.
Duration
Solid yet flexible construction is very important for successful and trouble-free cable exploitation. Therefore, always choose strands that offer some sort of shieldingpreferably braided, And a long warranty which is a good indication of the quality of the cable and a insurance policy if something happens to the cable in the future.
Best USB Type C cable

Now that you have a complete picture of the technical features of USB Type-C cables, here are the best on the market.
1. Anker Powerline + USB-C Cable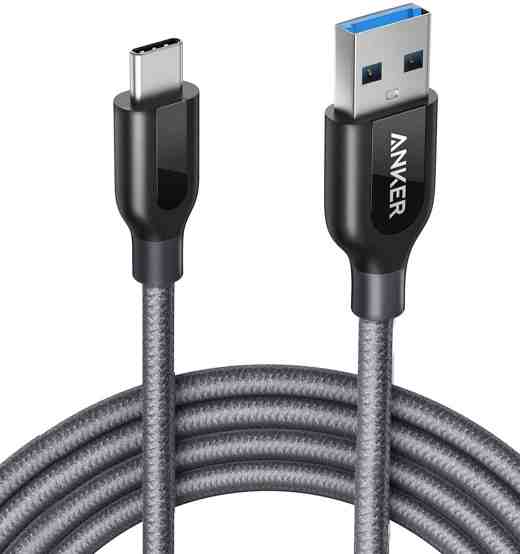 ANCHOR is one of the leading brands of USB chargers and thanks to the speed of its USB-C cable, Powerline+ occupies the first position among the best USB-C cables. With transfer speeds of up to 5Gbps (an impressive five seconds to transfer an HD movie or 1.000 songs), Powerline + also claims to last longer than most USB cables, thanks to its double-layered nylon exterior.
With Powerline + you get a lot of engineering technology for your money and as a quality USB-C to USB-A connector, it effectively bridges the gap between USB-C devices and standard ports. It's also compatible with the new MacBook and MacBook Pro and the ChromeBook Pixel, bringing the option for high-speed charging with it wherever you go.
Its features are: offers SuperSpeed ​​transfer of 5 Gbps, double braided nylon exterior improves strength, reinforced with aramid fiber for tensile strength, comes with a lifetime warranty.
Buy on Amazon
2. Apple USB-C charging cable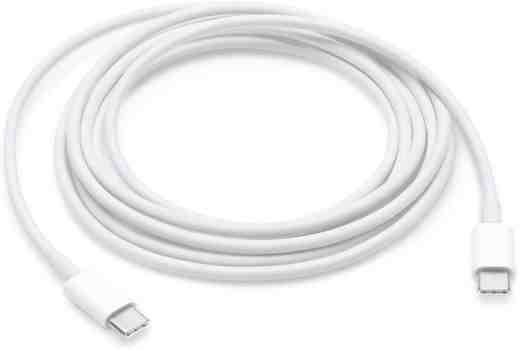 For fans of Apple Mac, here is a safe and fast USB-C cable for charging and syncing for your MacBook or MacBook Pro that with quality and style offers all the connectivity you need at the same time.
With a more than abundant length of almost 2 meters, the Apple USB-C charging cable was designed specifically to sync your MacBook or MacBook Pro device or, with an added USB-C power adapter, speed up charging from a wall outlet. The fit of the device is seamless and the sturdy cable is built to minimize unnecessary curling or bending and prevent any long-term weakening of its internal wires. It also supports up to 5 Amps and can also be used to sync Apple USB 3.1 Type C smartphones.
Requires a separate adapter to charge devices.
Buy on Amazon
3. Cavo USB C Snowkids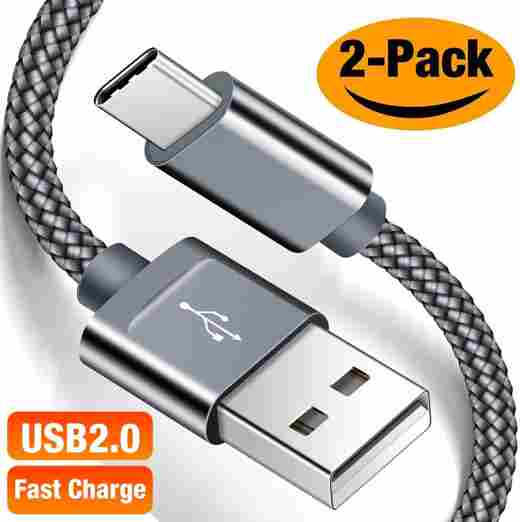 Billed as reliable, rugged and luxurious, the USB-C to USB-A cable from Snowkids offering super sizes from nearly 2 meters to cavp, this two-piece set for less than 10 euros is definitely a good deal.
Sleek in design, the Snowkids USB C cable has good charging and sync speeds, making it a USB Type C cable more than capable of intensifying repeated daily use. Double braided nylon, with a thin cable that has been cornering tested over 6.000 times, this USB-C cable comes with a neat leather strap to keep it organized.
Its features are: integrated charging safety with fast charging support up to 5 Gbps speed and lifetime warranty.
Buy on Amazon
4. Belkin MixIt Cavo da USB-C a USB-A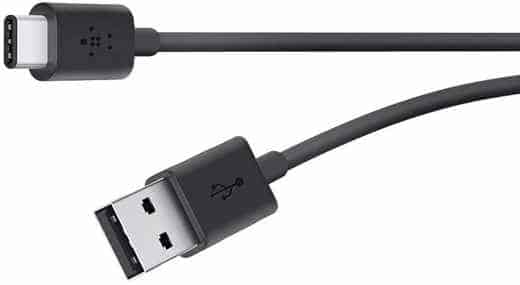 The US device connectivity specialists Belkin have been leaders in their industry since the 80s and have a reputation for quality, performance and value. Theirs USB-C to USB Type A charging cable is the solid workhorse of this best list of USB-C cables.
At just over five feet, the cable length is enough for everyday use and comes with what Belkin describes as a superior USB-C to USB-A cable construction. This results in a precision welded metal shield designed to protect the PCB and E-marker, minimizing "radiated emission levels" and increasing overall cable resistance. Complex credentials for a sleek cable that works with a good range of USB-C compatible devices, including MacBook, Chromebook pixel, Samsung Galaxy S8, Google pixel, Nintendo switch, and LG G5.
Its features are: supports up to 3A of output power, transfer speed up to 480 Mbps., USB-IF certification, welded metal shield to protect PCB and E Marker.
Buy on Amazon
5. Official Google Pixel / XL / C Fast Charger (USB A to C)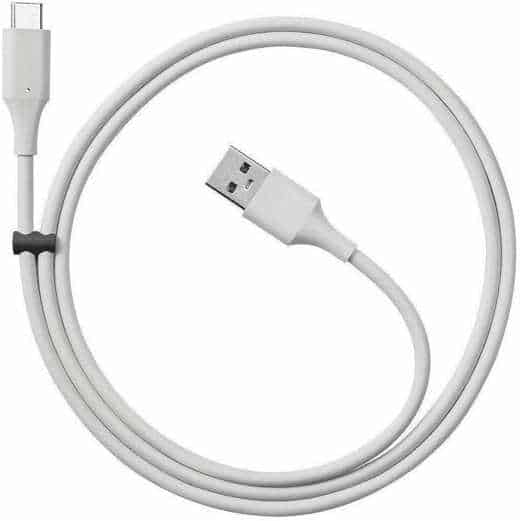 After highlighting the Apple-specific USB-C type, here's the one of Google, designed not only to be compatible with the Chromebook Pixel, but also for a number of other brands, including Nexus 5X, Nokia N1 tablets, Nintendo Switch, Samsung Galaxy S8 / S8 + and 12-inch MacBooks, and standard USB-A devices. This is certainly a well-connected USB-C to USB-A cable when it comes to compatibility!
With a decent cable length of just under 1,8 meters, this USB-C cable offers a data transfer rate of 480 Mbps, depending on the capabilities of the device and supports up to 3 Amps. Google Pixel / XL / C is a versatile quality USB-C charging cable across the range of devices.
It is therefore compatible with Google Pixel, Pixel XL, Pixel C Tab. It works with a range of other devices from USB-C and USB-C to USB-A. Power up to 3 A. Data transfer rates up to 480 Mbps.
Buy on Amazon
6. Cavo USB Type C 10ft, CableCreation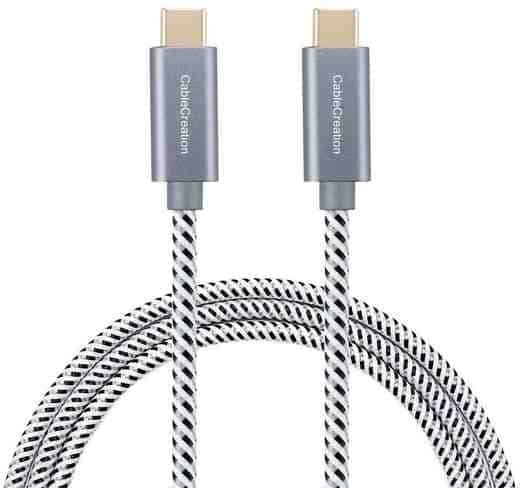 One of the longest USB-C cables in our review, CableCreation da USB-C a USB-C it is ideal for stretch situations in the car or office, for upright gamers or for relaxing sitting on the sofa of your phone or tablet, when the last thing you need is the tangle of cables.
With this USB-C to USB-C charging cable, you get a rugged product that can boost your game to 480Mbps suitable for a good range of devices including Apple MacBook (Pro), Nintendo Switch, Galaxy S9 / S9 + and Pixel XL 2.
Its features are: extra long cable provides extra range, output power up to 20V, 3 Amps for fast charging, supports data transfer rates up to 480Mbps, braided nylon exterior to protect against tangles, is provided with a lifetime warranty.
No products found.
7. BrexLink USB Type C Cable, USB C to USB A Charger (2.0M, 2 Pack) Quick Charge Cable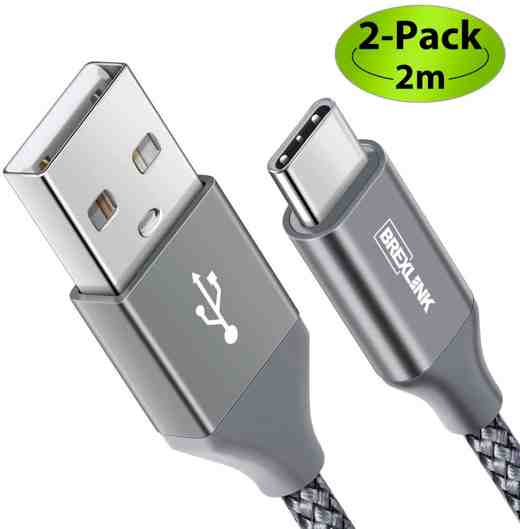 Il Brexlink is a cable from USB-C a USB-A of the New York-based company which has been designed with an ultra-strong nylon braided cable and perfectly molded joints to resist creasing and to keep it tangle-free. In addition, there is a nice snap strap on each cable to ensure cleanliness
The BrexLink USB Type-C cable supports high-speed charging up to 3A and data transfer at up to 480Mbps, so a good all-round result, although the details point out that it is not compatible with iPhone. You can't have it all, but this USB-C to USB-A charger works with a good range of other devices, including the Google Pixel 2, Samsung Galaxy S9, and Nintendo Switch.
Its main features are: fast synchronization and charging of USB certified data, ultra strong nylon braided jacket, cable bend duration of more than 6.000, 23 AWG wire core in premium aluminum case, 24 month extended warranty.
Buy on Amazon
You can find more great products like this by checking out our guide on the best external hard drives.
8. UGREEN USB C cable
The connectivity specialists based in China UGreen they've put together an affordable USB-C to USB-C cable that's ideal for backing up at home, in the office, or as an on-the-road replacement.
At around 1 meter, the cable is long enough to make it work for a range of sync and charging settings between two USB-C enabled devices, though the size makes it a great travel option. However, an adapter is required to charge the USB-C device from the wall.
Its main features are: high speed synchronization up to 5 Gbps. 10x faster transfer than standard USB 2.0 Type C cable, nylon braided cable with aluminum case, works with a wide range of USB-C compatible devices. deformation points molded for long curve life.
Buy on Amazon
9. Cable Matters 2 USB-C to USB Cable Packages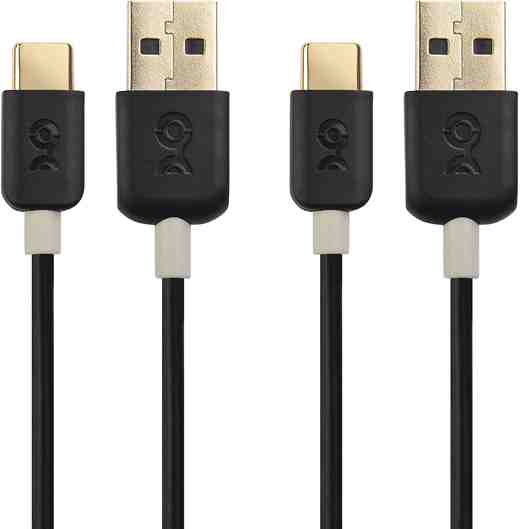 With a lifetime warranty and its molded and sturdy construction, this cable Cable Matters 2 da USB-C a USB-A it is one of the best USB-C cables on the market.
It is definitely shorter than the others in this review, but for a 360-degree use it turns out to be perfect.
Its main features are: the low profile USB-C cable simplifies connection, foil and braid shielding for a reliable signal, 480 Mbps data transfer rate, connectors with molded strain relief for increased durability and 56k resistance which prevents damage to the charge.
Buy on Amazon
Best Selling USB C Cable on Amazon
Below is an always updated list of Amazon's bestsellers on the most requested USB Type C cables by consumers. Enjoy the reading!