Il best uninterruptible power supply for PC (UPS) is an essential purchase for any business that relies on computers, servers and other electronic devices running 24 hours a day, seven days a week.
For many businesses, if a power failure occurs, even if it is a very brief one, the loss of energy can be catastrophic. Servers and files could become unreachable - or even worse, corrupted - from a sudden shutdown. You will need to equip yourself with the best UPS that can prevent disasters when the power goes out, switching, without interruption, to battery power to keep powering the devices until the main power is restored.
How to choose the best UPS for PC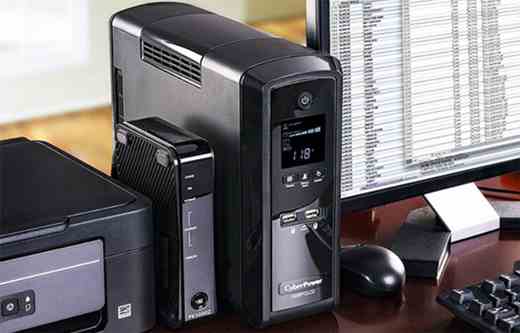 Uninterruptible power supplies, like other hardware, have more or less important features that are useful and worth considering.
Runtime
A longer runtime means that you will have more time to perform the appropriate actions before your computer runs out of "power". Therefore, depending on the type and behavior of the device, you need to decide on a correct UPS utility. For normal PCs, two minutes or even one is enough time to save all data and shut down the device, while, for example, servers require much longer shutdown periods, not to mention that many of them don't they can't even be turned off.
Maximum power
Higher supported power means you will be able to connect more devices to the UPS. Keep in mind that traditional PCs usually have a power supply of around 500W of power, while the gaming PC power supply, depending on the configuration, can go well over 1000W. More importantly, if, for example, you has a PC with a 600W power supply, it would be a wise decision to opt for an uninterruptible power supply with at least that specific amount of supported power.
Warranty
The warranty is always an important aspect of any product purchased. However, as the nature of UPS devices is vulnerable, it is highly recommended that you take this aspect quite seriously and choose devices with the longest warranty period possible.
Stores
More outlets mean you'll be able to connect more devices - of course, if the supported power allows. Also, keep in mind that not all sockets are created equal and that some only offer surge protection, while others also offer battery backup. For this reason, pay more attention and find the best combination.
Best Uninterruptible Power Supply for PC (UPS)
The best uninterruptible power supplies or UPSs we include in this guide cover a wide range of use cases, from small home UPS devices that can keep a router and PC running, to large, powerful UPS devices for business use. I hope you can find the UPS that best suits your needs.
1. CyberPower CP1500EPFCLCD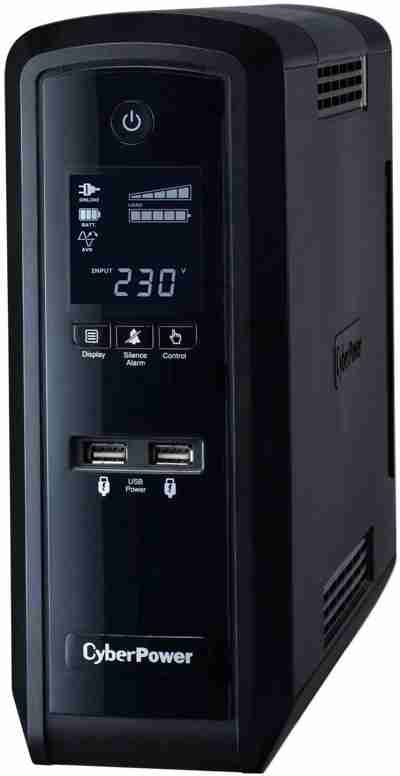 The best UPS for small and medium-sized businesses.
For
LCD panel
USB ports included
Cons
Input voltage: 230 Vac | Output capacity: 900 (watt) | Points sale: 6 | Battery life: 10 minutes (half load), 3 minutes (full load) | Charging time: 8 hours.
CyberPower CP1500EPFCLCD it is an excellent UPS for home and small business use. It comes with a decent amount of ports, as well as USB, for connecting your devices. RJ11 / RJ45 ports keep telephone, fax and modem lines protected from power surges and are equipped with a number of energy saving features to prevent wasted energy during use. It also comes with a clear LCD display that provides information about the UPS.
Buy on Amazon
2. APC Back-UPS ES – BE700G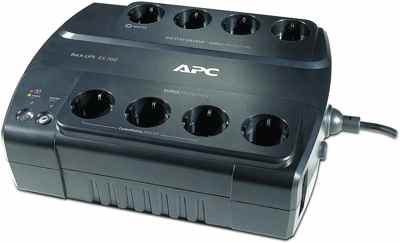 A simple UPS for voltage fluctuations.
For
Cons
It lacks functionality
Long charging time
Input voltage: 230 V. | Capacity exit: 405 (watt) | Stores: 8 | Battery life: 13 minutes (half load), 4 minutes (full load) | Charging time: 16 hours.
If you are looking for a cheaper and simpler UPS device, APC Back-UPS ES - BE700G it's a great choice. We don't recommend it for large companies with many mission-critical computers and servers, but it offers plenty of power for small businesses to run their devices in the event of a power outage. If you are looking for something more feature-rich, I recommend that you consider a different UPS.
Buy on Amazon
3. Tripp Lite SMX1500LCDT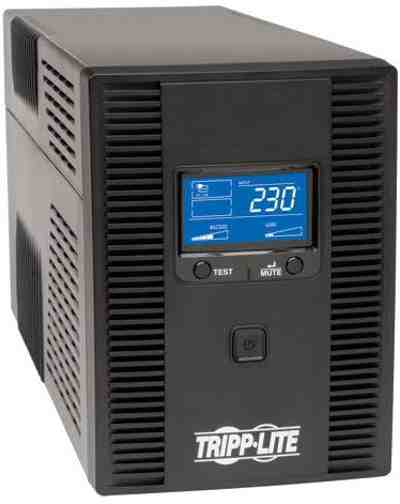 A surge protection unit, useful for gamers.
For
Good performance
Appropriate price
Cons
Not great quality control
Software Requests for Upgrade
Input voltage: 230 Vac | Output capacity: 900 (watt) | Battery life: 10 minutes (half load), 2 minutes (full load) | Charging time: 8 hours.
L'UPS Tripp Lite 1500VA 900W (SMX1500LCDT) is one of those devices that does a quality job at a fair price. It offers a good load capacity of 1500 VA or 900 W of supported power. Besides that, SMX1500LCDT enables intelligent battery management, USB port, automatic voltage adjustment, green mode to reduce power consumption, easy to use LCD interface, 8 surge protected sockets, five of which also offer battery backup and more.
Battery runtimes are solid and allow 90 minutes of work for an entry-level device, while at 450W of load that time drops to 10 minutes and only about two minutes at full load, which is enough to save any game.
Buy on Amazon
4. Eaton 9SX 5000i RT3U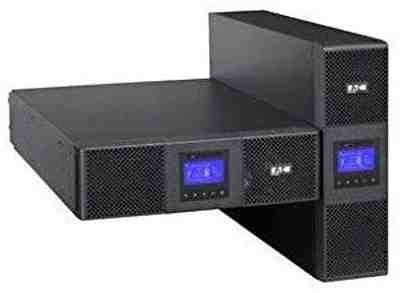 A flexible UPS for businesses.
For
Energy efficiency functionality
Provides a lot of power for numerous devices
Cons
Very expensive
Not suitable for home use
Input voltage: 21A | Output capacity: 230Vac | Battery life: 3,5 minutes (full load) | Charging time: 1,5 hours
If you have a large office with several devices, Eaton Eaton 9SX 5000i RT3U it is an excellent device. This rack-mounted UPS not only runs your important devices when there is a problem with your power supply, it also offers some excellent energy efficiency features that can reduce your power consumption (and associated bills) with an efficiency very high. Optional extended battery modules can be purchased to increase runtime, and the LCD user interface simplifies management. Definitely a UPS to consider if you have a budget.
Buy on Amazon
5. Vertiv Liebert PSI 1500VA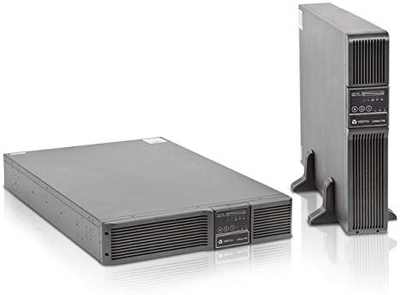 A powerful UPS for business use.
For
Very powerful in office use
Decent charging time
Cons
Input voltage: 300 V. | Output capacity: 1350 (watt) | Battery life: 9 minutes (half load), 3 minutes (full load) | Charging time: 5 hours.
If you have an office with a number of essential devices that need an uninterrupted power supply then Vertiv Liebert PSI 1500VA definitely deserves your attention. Its three batteries will keep power-hungry devices running when the power runs out, and it can be installed in a server rack, making it convenient too. It comes in a number of configurations, so you can choose the one that best suits your needs, but if you are looking for a UPS for home use then this device is not suitable.
Buy on Amazon
Best Selling PC UPS on Amazon
Below is an always updated list of the best UPS most purchased on Amazon by consumers.