You're looking for the best dryer on the market? To find it you need to know the distinction between the different types on the market and the technical characteristics to be evaluated, in this way you will have enough information to be able to choose thedryer best suited to your needs.
This appliance is a precious ally to dry laundry quickly, especially during the winter when it often rains or if you have a house without balconies.
Buy one of the best dryers to be used in support of the washing machine, it allows you to have clean and dry cloths at any time, even in an emergency.
There are many types of dryers with a technology on the market heat pump or resistance which have various drying programs, including those dedicated to delicate fabrics or specific ones such as wool, while others can even replace the effectiveness of an iron.
In short, now that you understand the importance of having this product at home, we just have to help you understand how to choose the best dryer.
Which dryer to buy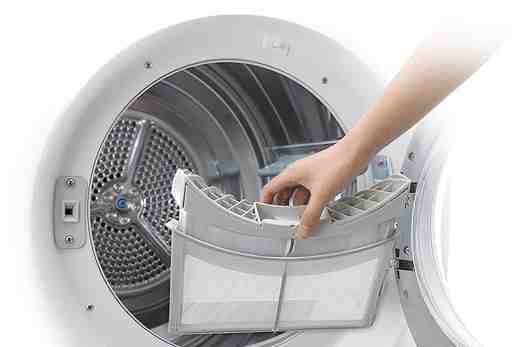 Now that you have an idea of ​​the features to evaluate to guide you in the best purchase, let's see which dryer to buy among the models proposed below.
There are many offers dryers that you can find in stores, but to make sure you have the best product, as well as evaluate the dryers on offer, you must try to identify the models with the best quality / price ratio, such as the ones you find below.
Best budget dryers (max 400 €)
Candy CS C9LF-S (9 kg)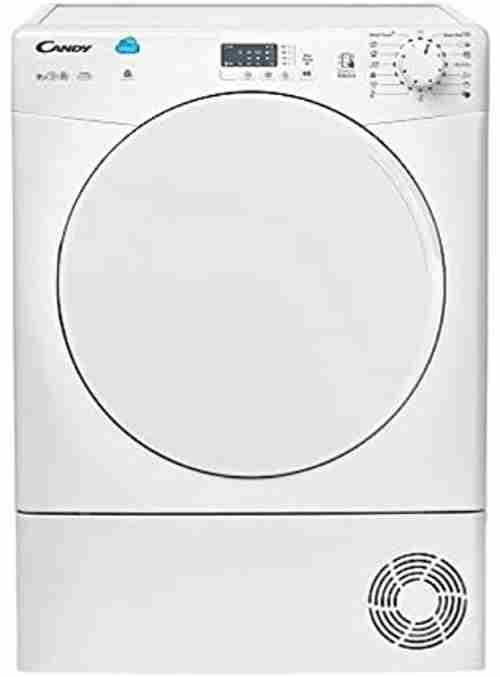 Best Budget Condenser Dryer.
Load capacity: 9 kg | Energy rating: B | Depth: 60 cm | Width: 59.6 cm | Height: 85 cm..
For
Economica
Capacity
It can be installed without a water drain
It can be placed on top of a washing machine
Removable condenser
Cons
Energy consumption
Discharge with a single 5-liter tank
It is not a heat pump dryer
Candy CS C9LF-S it is an inexpensive dryer perfect for those on a budget. Has a 9kg basket with front loading and a condensation drying system.
It is a good dryer but it has its biggest flaw in energy consumption, since it is energy class B (Annual energy consumption: 617 kWh).
You can throw many useful programs and has a noise level of 68 dB. The dimensions of the product are: 59.6 x 60 x 85 cm for a weight of 34 Kg.
Other features are the function of late departure 9h. To conclude, it is certainly a good product with a large load and not a high cost. Attention it is not a heat pump dryer but it is certainly the best outdoor dryer.
Buy on Amazon
Candy CSO H8A2DE-S (8 kg)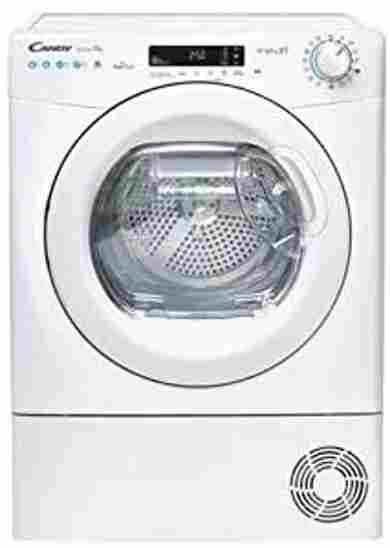 The best-selling Candy.
Load capacity: 8 kg| Energetic class: A++ | Depth: 61 cm | Width: 59 cm | Height: 85 cm.
For
It can be placed on a washing machine
Button for delayed start
It has an inverter motor
Easy streak option
Refresh and program for delicate items
Double water collection port
Cons
It has no cloth moisture detection
Noisy
Simply-Fi app not perfect
Candy CSO H8A2DE-S is a dryer a heat pump with 8 kg load e energy class A ++. It is the best-selling dryer and is capable of drying everything from duvets to jackets and much more. The bright and large touch display in Spanish helps you to set all the programs and functions offered by Candy in the best possible way.

Easy to use with the perfect combination of drying performance, speed and connectivity Wi-Fi + Bluetooth (via the Simply-Fi app), this dryer has the certificazione Wookmark and a patented Easy Cas system. It has a depth of 45/50 cm and a noise level of 67 dB, it is also designed for quick drying (about 1 hour) and features the anti-crease program.
Finally, it has a pipe for direct condensate discharge but also its own comfortable and capacious water collection tray to keep about 3/4 drains. The lint filter also works quite well.
Buy on Amazon
Samsung DV70M50201W (7 kg)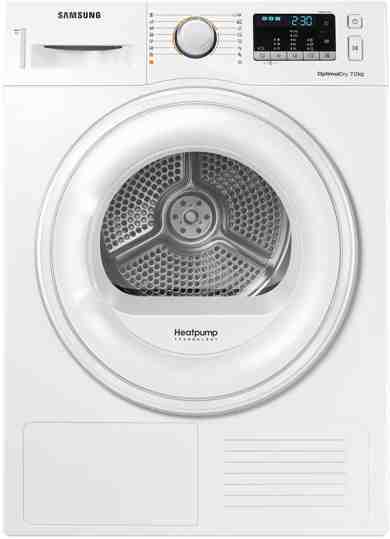 Best budget dryer 7 kg.
Load capacity: 7 kg | Energetic class: A++ | Depth: 85 cm | Width: 60 cm.
For
Quick drying
Good energy efficiency
Reversible porthole
Cons
Slightly limited capacity
Not stackable
Samsung DV70M50201W is another good product among the top dryers on this list. It is a heat pump dryer belonging to the energy class A ++. Its maximum load capacity is 7 kg, which can change according to the type of program used.
Among the functions available is the Smart Check which allows you to use l'app per smartphone to identify possible operating problems, a very useful tool. Also present is the programmed start function to start and then finish the drying cycle and it is also possible to choose between 3 drying levels.
There are all the most popular drying programs, including those for synthetic and outdoor fabrics, as well as the quick drying program. The noise level is about 65 dB.
Buy on Amazon
Best mid-range dryers (400-600 €)
Beko DRX822W (8 kg)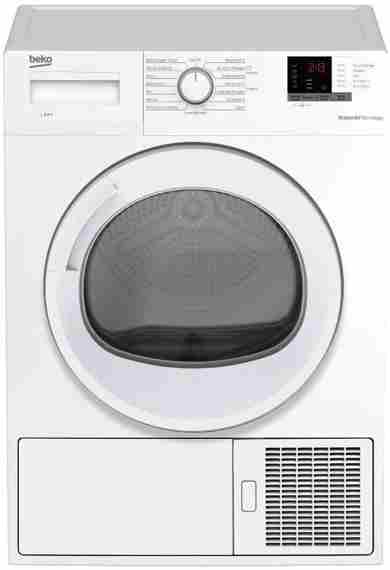 Best Price Quality Dryer.
Load capacity: 8 kg | Energetic class: A++ | Depth: 54 cm| Width: 59.5 cm | Height: 84,6 cm.
For
Economica
Class A ++
Large water collection tray
Includes a replacement filter
Cons
Many users complain about the noise
Non-inverter motor
La Beko DRX822W it is an excellent class A ++ dryer with remote control via Wi-Fi. It has a front load minimum of 1 kg and maximum of 8 kg. Presents various programs e functions NUMBERS (including that for shirts) and can be considered a product with a good quality-price ratio.
It is easy to maintain, in a short time you can empty the drawer and clean filters. There the water collection tray is very large and humidity sensor it is able to make the drying cycles of fabrics (for example cotton) last within the foreseen times. AND' slightly noisy (noise level 65 db) and the motor is not inverter.
Buy on Amazon
Electrolux EW7HL83W5 PerfectCare 700 (8 kg)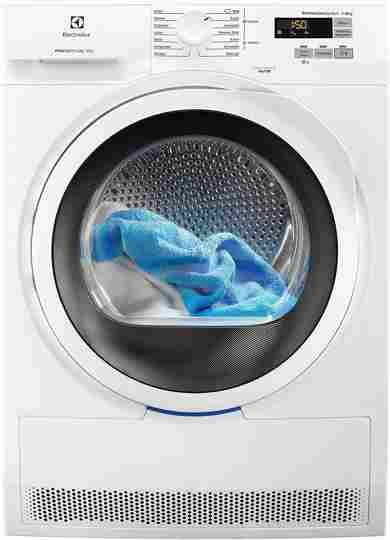 Best dryer A +++.
Load capacity: 8 kg | Energetic class: A+++ | Depth: 59,60 cm | Width: 63,80 cm.
For
Woolmark blue certified wool program
Delay start function
Inverter motor
Energy class A +++
Departure programming up to 20 hours
Stainless steel basket with bidirectional rotation and 3 wave drivers
Perfectly dries cottons and household linen
Internal LED light in the drum that turns on at the end of the cycle
Cons
No Wi-Fi
It does not have a duvet program
It does not have a steam function
Pipe for possible exhaust to be purchased separately
The dryer Electrolux PerfectCare 700 it is a heat pump with technology GentleCare System, which allows clothing to be dried at half temperatures compared to classic models, in order to protect them. Handles a front load of 8 kg with the use of technology SensiCare System, whose humidity and temperature sensors detect when the fabrics are dry and interrupt the program. It also adjusts the washing cycle based on the load, avoiding wearing clothes and reducing water and energy consumption.
Thanks to the option Reverse More, the drum is inverted to dry even more delicately the fabrics sensitive to high temperatures. The noise level is 67 dB, While the class energy is A +++. Finally, the dryer is free-standing and has a collection tank for the condensation produced during drying which can be manually discharged at the end of each cycle.

Buy on Amazon
LG RC80U2AV4Q (8 kg)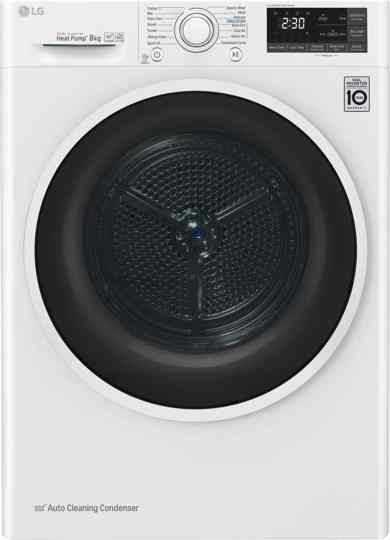 Good mid-range product.
Load capacity: 8 kg | Energetic class: A+++ | Depth: 69 cm | Width: 60 cm| Height: 85 cm.
For
Energy efficiency: A +++
Low noise
Smart functionality
Cons
LG RC80U2AV4Q it is a dryer heat pump pointing on tecnologia Dual Inverter Heat Pump and on energy saving. Thanks to the compression speed it controls the drying times which are reduced up to an energy saving of 32%.
It is ideal for delicate garments because it allows drying even at low temperatures without the risk of damaging them, moreover, it facilitates the removal of creases, facilitating the ironing phase.
It is equipped with a self-cleaning system and has a double filter to filter the fluff of clothes; low noise, energy efficiency class A +++ and load capacity of 8 kg.
The available programs include: drying time increase, drying time decrease, Iron Ready and Wardrobe Ready. Also, thanks to technology Smart control you can manage and control your laundry using the Wi-Fi connection wherever you are.
Buy on Amazon
Beko DRY833CI (8 kg)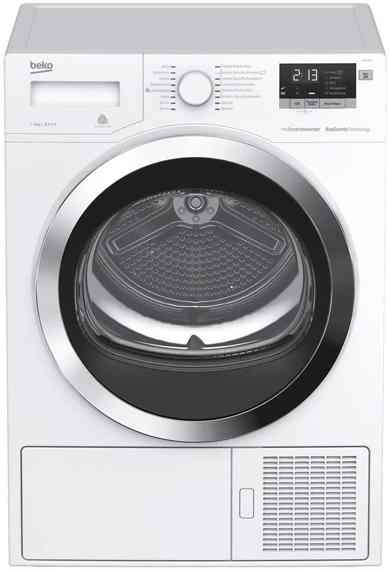 Best Beko dryer.
Load capacity: 8 kg | Energetic class: A+++ | Depth: 65,4 cm | Width: 59,7 cm| Height: 84,6 cm.
For
Interior light
Simple programming
Good quality / price ratio
Cons
Humidity sensors are not always perfect
Beko DRY833CI it can be the right heat pump dryer if you want to base your purchase on value for money. THE dryer prices vary depending on various factors, including the number of functions and programs available, this product is very complete and ensures low energy consumption.
In fact, we are talking about a dryer with Motore ProSmart, belonging to the energy class A +++ , equipped with 16 programs, including the Woolmark-certified cycle for wool garments, as well as the quick Xpress Super Short.
The LED lighting system is very useful to check the contents in the basket. Low noise equal to 64 dB. The load capacity is 8 kg and is ideal for a family with 3-4 people.
Buy on Amazon
Best medium-high range dryers (600-800 €)
AEG T8dBE841 (8 kg)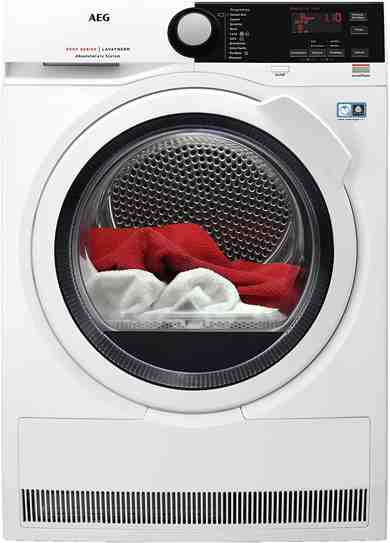 Best AEG dryer.
Load capacity: 8 kg | Energetic class: A++ | Depth: 60 cm | Width: 60 cm| Height: 85 cm.
For
Interior light
Woolmark Blue certification
Low noise
Cons
Not very compact dimensions
AEG T8dBE841, heat pump dryer belonging to the energy class A ++, load capacity equal to 8 kg, is able to dry anything.
From the wool sweater, to the shirt to the jacket. Thanks to AbsoluteCare system, this dryer features tailor-made programs for precise control of the movement and temperature of the drying cycle.
Furthermore, the technology AEG SensiDry absorbs the moisture of the fabric up to a temperature of 50% lower than standard drying, without extending drying times.
This product is also equipped with technology ProSense, which uses humidity and temperature sensors to optimize drying time by reducing energy consumption. Low noise level equal to 65 dB.
Buy on Amazon
Siemens WT48Y7W9II (9 kg)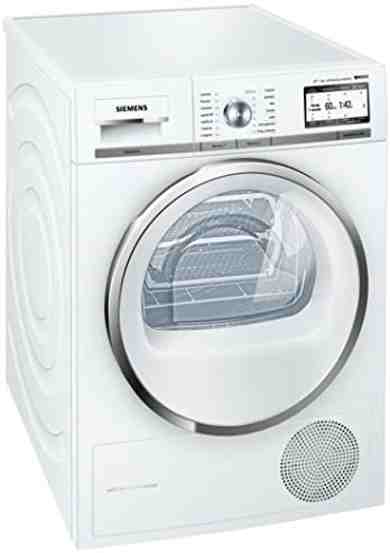 Perfect for those looking for low consumption.
Load capacity: 9 kg | Energetic class: A+++ | Depth: 63 cm | Width: 59 cm| Height: 84 cm.
For
Large basket
Many programs and functions available
Quiet
Cons
Siemens WT48Y7W9II is a heat pump dryer among the best in terms of energy saving. It belongs to the energy class A +++ and consumption is very low compared to capacity of 9 kg.
It is not the right product if you are looking for a slim dryer, as its dimensions are a bit bulky and require a little more space.
As for the functions, there are a bit 'all those that one would expect to find on such an appliance, including the anti-crease function or iSensoric technology, which, thanks to a humidity and a temperature sensor, constantly regulates the cycle to obtain optimal drying.
The very useful LCD display from which to view all the information, options and programs, but also to see the time remaining to the end, the timer set and also to check if the filter is clogged or the tank is full thanks to specific indicators.
Are available 13 basic programs including that for synthetic and outdoor fabrics, but also for lingerie and duvets. There noisiness is at a minimum and settles on 62 dB.
Buy on Amazon
Electrolux PerfectCare 800 (9 kg)
The best Electrolux.
Load capacity: 9 kg | Energetic class: A+++ | Depth: 63,5 cm | Width: 60 cm| Height: 85 cm.
For
Woolmark certification
Excellent build quality
Ideal for technical garments
Cons
Electrolux PerfectCare 800 is a product that deserves special attention, since we are talking about one of the most reliable brands as regards this type of household appliance.
It is a heat pump dryer that features the steam function, this allows to have garments with very few creases reducing ironing times and, in some cases, it even becomes superfluous to iron. Ideal for any type of fabric.
Among the functions is the automatic recognition of load and humidity, all the basic programs expected from such a product are present, with the addition of the program Outdoor, for technical garments.
The load is 9kg, While the reference energy class is A +++.
Buy on Amazon
Bosch Series 8 WTX87MH9IT (9 kg)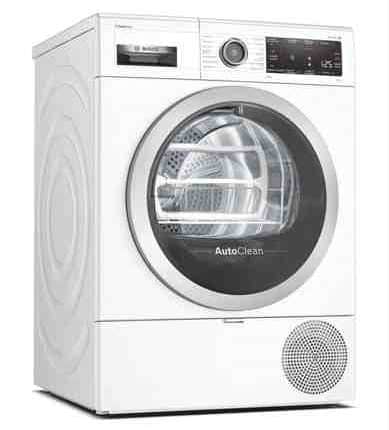 Best low-noise Bosch dryer.
Load capacity: 9 kg | Energetic class: A+++ | Depth: 65 cm | Width: 59 cm| Height: 84 cm.
For
Careful design
Low energy consumption
Low noise
Cons
Not very compact dimensions
Refresh function not perfect
Bosch Series 8 is a heat pump dryer with energy class A +++, il load is 9kg and is suitable for the needs of larger families, from 5 people onwards.
Thanks to the self-cleaning condenser, no manual maintenance is required. The function AutoDry ensures controlled automatic drying and the drum Sensitive, works respecting even the most delicate garments.
All useful programs are available, including the Refresh function which, thanks to the emission of steam, refreshes the laundry by eliminating odors, even if, in some cases, the laundry remains a little wet and you have to repeat the operation. All the design is studied in detail but it is not a compact dryer, so it is not very suitable for those who do not have enough space. There noise is low and does not exceed i 64 dB.
Buy on Amazon
Best high-end dryers (over € 800)
Miele TWV680 WP Passion (9kg)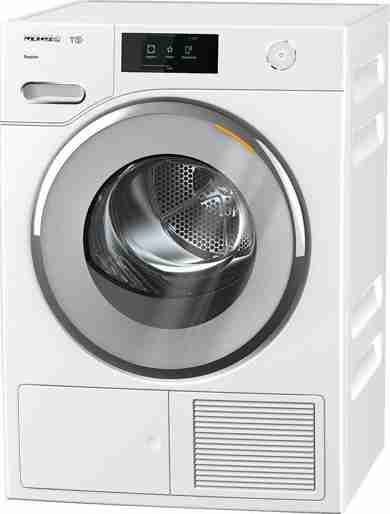 Best dryer for not ironing.
Load capacity: 9 kg | Energetic class: A+++ | Depth: 64 cm | Width: 59 cm| Height: 85 cm.
For
Honeycomb basket
Steam system Easy iron
Touch commands
PerfectDry system
Cons
La TWV680 Passion is the best dryer Honey top of the range marketed with energy saving A +++, with maintenance-free filters and heat exchanger and low energy consumption. The display is equipped with a touch control Mtouch, the operation of which is by touch of the key, while the function SteamFinish, will make your laundry already ironed.
It is a'heat pump dryer with 9 kg front load which offers the same convenience and flexibility as condenser dryers with 50% less consumption. Leveraging the system PerfectDry, the residual humidity is detected and the drying duration of the garments is adjusted accordingly. Furthermore, if ironing is not your forte, as already mentioned, the program Vapor Ironing easy or SteamFinish atomises the water in the honeycomb basket, which heats up with the drying air. The steam generated penetrates the fibers to stretch the garments.
Finally, during drying, the laundry is perfumed with natural essences and through the system WiFiConnect you will be able to connect the Miele dryer to your router to manage it from your smartphone or tablet.
Buy on Amazon
How to choose a dryer
To choose the best dryer It is important to start from the technology used to operate the appliance, the basic concept is the same for all of them: the air taken from the outside is heated and then ventilated, subsequently, inside the drum.
Over time, different technologies have been exploited for the operation of dryers, today, the two most used are two: with heat pump or resistance.
Caution: a common misconception is to define resistance dryers as condensation dryers. In reality, both the heat pump and the resistance ones use condensing technology: the difference lies in the way they condense. Those with resistance have a resistance, those with heat pump exploit a gas.
Heat pump dryer
THEheat pump dryer, as the name suggests, it generates hot air through a heat pump inside the machine. This technology is more complex and therefore more expensive than other solutions adopted in the past, such as ventilated dryers.
Il energy consumption of a heat pump dryer is lower than that required by one that uses the condensation (or resistance) system, which is why the dryers with the highest energy range, from the class A + up, belong to this technology.
Resistance dryer
The longer-lasting and less delicate resistance dryer, also called condenser dryer with resistance, performs the drying through the combined operation of the electric resistance and a fan that generates and uniformly spreads the heat inside the drum of the appliance.
Products that use this technology are less expensive at the time of purchase but ensure less energy savings than those with heat pump technology; among the best on the market we recommend AKAI ASC83V (8KG Classe B) e Candy CS C9LF-S (9KG classe B).
Both models of dryers, both those with heat pump and those with resistance, they are both at "condensation", Because in the appliance the water extracted from the clothes is condensed and collected separately in a removable tank.
Ventilated dryer
Le ventilation dryers they dry the laundry using the internal resistance in order to transform the cold air into hot. It is an obsolete and outdated technology that is exploited for cheaper machines. They consume little energy.
consumption
To choose the best dryer i consumption, these appliances are among those that have the obligation of energy labeling which facilitates the understanding of consumption and performance, you can also find it on other home automation appliances and not only, for example, even if you are looking for the best dyson vacuum cleaner.
Without going into too much detail, you just need to know that energy efficiency is divided into classes, the highest one corresponds to the lowest consumption and it is l'A+++, while the lowest is class D.
Obviously, the dryers smaller with a maximum load up to 5 kg, have lower consumption than those with a higher load capacity (maximum 10 kg), whose consumption is higher.
For this reason it is important to identify well the capacity in kg you need to meet your needs, avoiding buying a product that is not very useful and with a higher consumption.
functions
When, for example, looking for the best robot vacuum cleaner for the home, one of the first practical factors to focus on are the functions, the same goes for dryers.
Below we list some of the most popular functions which you can find on a dryer:
Temperature regulation
Auto Off
Acoustic signal for the end of the drying cycle
Display to manage functions and settings
Indicator of the progress of the cycle in progress
Memory function to keep the last used settings and reuse them quickly
Humidity sensor
Automatic cleaning of filters and / or condenser
Anti-noise function
Selection of the drying level
Anti-crease function
Energy saving
Quick drying
Smart control to connect the dryer to the home Wi-Fi network
Timer to program the activation and end of cycle times
Refresh to refresh garments that do not need washing
Safety function to lock the control buttons and prevent unwanted start of the dryer
Drying programs
Today the best dryers are easy to use thanks to electronic management drying cycles that can be customized according to your needs thanks to the included programs.
When you are about to choose the best dryer, remember to check that at least i are present basic programs which are: synthetics, wool / delicates, blends, cotton, cool, easy iron, crease-proof, no iron, ready-to-wear.
To these listed you can add more based on the model and brand of dryer chosen, but remember that a good product must ensure the presence of those we have listed.
Other aspects to evaluate
To make the best choice also consider other factors such as duration of the drying cycle: some more recent models, inside the basket, have gods humidity sensors which measure the residual humidity of the garments, this allows them to shorten or lengthen the drying time in order to always obtain optimal results.
In addition, also consider the load you need and the space you have available to place the dryer in the house; choose it considering also the characteristics of your laundry, taking into account your habits and the fabrics you wash most often. Remember that the drying time depends above all on the load capacity and the chosen program.
For further information I recommend the Facebook group: I love my dryer
Where to buy the dryer
Dryers can be bought in physical stores or online.
For home appliance stores you won't find all models available on Amazon. In addition, the prices are high even if you can find flyers with dryers on offer.
We recommend buying the dryer online, because there is a wide choice and because the price is more advantageous. The only problem is that the deliveries are not on the floor, so you will have to ask to leave the product at least near the elevator not before having checked the measurements of the dryer and the elevator shaft.
If you want to make your home smart, I also recommend these useful articles: Best bathroom scales and Best smart bulbs.