Here is an updated collection with best list Bot Telegram that from within a conversation will help you perform any operation both inline and standalone. I will try to give you an answer on what Telegram Bots are, what they are for and where to find them.
For some time Telegram is becoming increasingly popular as an instant messaging app with innovative features, available not only for Android and iOS but also on a PC with a dedicated client.
With Telegram you can follow groups that deal with specific topics, exchange files of all kinds and make encrypted voices. The app today is a valid alternative to WhatsApp and beyond that for the channels stands out for i muzzle.
In this regard, I suggest you read our guide on The best Telegram channels
What are Telegram Bots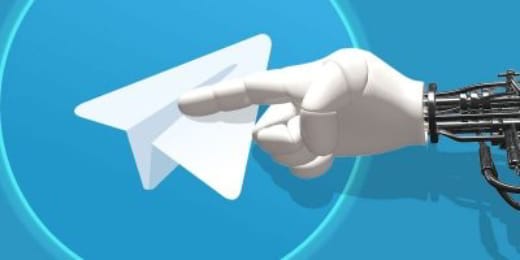 Telelgram bots are artificial users that allow you to interact in individual chats with other users by performing a series of actions.
To discover the best Telegram Bot you must first recognize them, which is quite simple: if the name of a Telegram contact ends with "muzzle"Then we are faced with an artificial intelligence called bot.
Now that you have an idea of ​​what bots are, let's see how to use Telegram Bots in a conversation.
How to add or remove a Telegram Bot

add a Telegram Bot you need to know who their username is and add them to the chat group. Below you will find the best telegram bots that you can search for by typing during the conversation, whether in groups, singles or supergroups, @botname parameter to then press Submit.
Telegram will locate the bot that you will then need to add to the group. To do this, press and hold on the group name and then press on Add member. Type the symbol @ to locate the bot.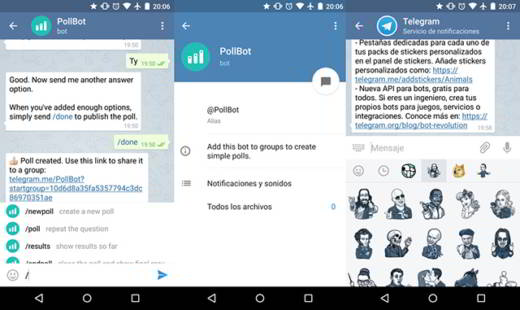 Immediately afterwards, you can use a bot command within the conversation by pressing the button with the symbol [/] and get to know the command list of the bot you just added. Typing the / command name you will be able to initiate an action of the bot itself. With the command / help you can, instead, view all the information and commands of the bot.
remove a Telegram Bot you need to open the chat of the bot and click on the dots at the top left and then click on Stop and block bots, then click on Delete chat.
This way the bot will no longer be active on your profile and the bot chat will be deleted. To be able to use the bot again you will need to unlock it.
How to find new Telegram Bots

Do you want to find Telegram Bot? You must know that bots can be added from mobile and Telegram Desktop also by clicking, for the bot identified, on the appropriate button Add to, followed by the Telegram airplane icon, on the official website Telegram Store Bot.
Read also: How to cancel Telegram
Best Telegram Bots

Below you find the best telegram bots that might suit your needs, please note that the most popular bots have been collected such as funny telegram bots, telegram music bots, Amazon Telegram offers, hot telegram girls and so on.
4K download (bot removed)

It is a telegram bot that downloads music and videos from YouTube, Facebook and many others @FourkdownloadBot.
Amazon Search & Price
It is an Amazon bot to search for the price of an Amazon product in the chats of friends. It can be used in person or in a chat. @amazonglobalbot.
AndyLearnEnglish
It is a useful bot if you want to converse in English to improve the language. This bot is useful for those who want to study English for educational purposes. @andyrobot.
BotFather
This is to help you create and configure your own @botfather bots.
CodiceFiscaleBot
Calculate the tax code of any person with the @Codice_fiscale_bot.
DiceBot
It's a bot. It allows you to… roll a dice! Great for challenges, bets or decisions about who has to take on the most boring task of the day, it's also available in @dicebot group mode.
Dottorbot
It's a bot for medicine and science enthusiasts. You can find quizzes, infographics and much more @dottor_bot.
Exchange Rates
This bot is really useful for those who travel often, since it allows you to view exchange rates for 165 world currencies at any time. Exchange Rates can be accessed via the username @exchangeratesbot.
EnigmiBot
If you are a lover of mystery and puzzles then this bot will help you have fun both alone and in company @enigmibot.
Exchange Rates
Flickr Bot
Bot useful for finding images on Flickr starting from a specific @flickr_bot query.
Gamee
Another bot to play in the Telegram chat with @gamee mini games.
Gamebot
Another bot to play @gamebot.
Hot or Bot
How to tow on telegram. It falls into the category Telegram Bot girls and is used to meet new people. How Tinder allows you to enter your personal information to view contacts to chat with and who are deemed by the bot compatible with you @hotorbot.
IFTTT
It is used to control home automation through Telegram. @ifttt.
Image bot
Search for images or GIFs on Bing. @imagebot.
Body Mass Index
Kidbot
It is a telegram game bot that contains three games: "Hangman", Tic-tac-toe and "Guess the number" @KidBot.
Moolah bot
It is a bitcoin telegram bot whose purpose is to show the current value of the BitCoin, acting as a @MoolahBot currency converter.
Mobile offers
It is a very useful telegram bot for groups because it allows you to know the latest rates of mobile and virtual operators. @offertemobile_bot.
Netflix News
In the list of the best Telegram Bots, a Netflix telegram bot could not be missing. Its purpose is to keep you updated on the Netflix movie and show catalog. @netflixnewsbot.
PriceTrackBot

Random Chat Bot
It falls into the categories of ChatBot Telegram. It allows you to start conversations with unknown contacts based on personal preferences and showing age, gender, geographical distance and so on. @RandomChatBot.
Safe bot
A bot that allows you to generate secure and random passwords. @Safe_bot.
SpacoBot
It falls into the category of insulting telegram bots. It offers several features that are aimed at having fun and teasing with friends in chat. @spacobot.
SpotyBot
It's a spotify Telegram bot for those who love Spotify. Allows you to quickly share your favorite songs with all your @spotybot contacts.
Stickers Bot
Allows you to create collections of stickers in chats starting with personal images. @stickers.
Soccer Goals Bot
You can send a message to the bot asking for a list of goals scored in a certain time frame for the Bundesliga and Premier League leagues @soccergoalsbot.
Sudoku Bot
It is a telegram games bot and allows you to play Sudoku on three different difficulty levels @SudokuBot.
Tadam Bot
It's a bot that works like Shazam and will help you recognize the unknown song you are listening to @tadam_bot.
Telegram Channels Bot
TelegramStoreBot
It is used to allow you to view a list of bots present on Telegram. @store_bot.
Tempmail
It is a telegram mail bot that helps you to have access to an e-mail address to create a temporary email lasting 10 minutes. @temp_mail_bot.
TheLolBot
It is a fun Telegram bot that offers videos, images and jokes. @gastabot.
The Pictures Bot
It is an instagram telegram bot that allows you to share your Instagram images with ThePicturesBot Telegram contacts.
TrackBot
It is a telegram tracking bot to track your shipments from different couriers directly from the Telegram chat. @trackbot.
Transcriber Bot
Extract text from images and convert voice messages to text. @Transcriber_Bot.
Translate Bot
It is the Telegram version of the iOS inTranslation application. The translation bot is free and translates a text written in a foreign language within the chat. @Translate_Bot.
TreniBot

UMad
It is a useful bot for those looking for animated GIFs or mood-based meme images. @umadbot.
VKMusic Bot
It falls into the telegram music bot category and is used to download music from a Russian service directly in the Telegram app. The telegram bot to download music works by directly adding the username @vkmusic_bot on Android or @vkm_bot your iPhone.
WeatherBot
It's a bot to get real-time weather forecasts for numerous cities @weatherbot.
YouTube Audio Downloader

YouTube bot
It is a youtube telegram bot that allows you to perform video searches on YouTube starting with a word or a phrase. @ytbot.
Bot via Telegram inline
In addition to the bots indicated above, there are also bots that you can use in chats without having to start them as they are already present. Let's see what they are:
@bing. Allows you to search on the Bing search engine.
@bold. Allows you to write in bold.
@gif. Allows you to search and send gifs.
@img. Search for images on Google Images.
@music. It allows you to search for music and listen to it.
@vine. Allows you to search for videos on Youtube.
@sticker. Allows you to search and share stickers.
@Youtube. Allows you to start a video search on Youtube and log in with your account.
@wiki. Offers Wikipedia search.
Other useful articles