A buying guide on best sound cards internal and external with the highest sound quality.
If you are building your PC with the best video card, the best processor, and the best motherboard, you can't fail to consider researching the best sound card.
A good sound card is one that guarantees absolute pleasure when listening to music or playing games.
How to choose the best sound card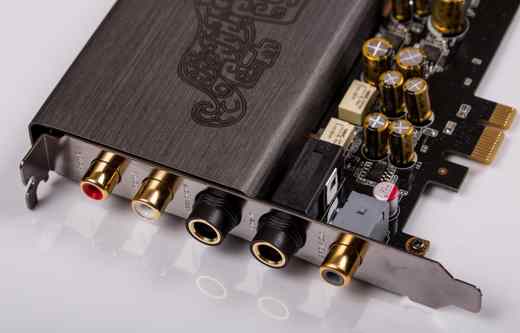 The first step in buying a sound card is to figure out if you are more interested in internal or external ones. Both have pros and cons and it is impossible to understand which type is best, as they are different.
We see what are the differences between internal sound card and external sound card.
The internal sound card it has a higher noise than the external one, moreover they are less compatible and have a software special more powerful than DACs that includes special effects and cleans up the audio even removing the vocals from the tracks.
The external sound card it has a higher level of latency than internal ones. To reduce the gap and avoid high latency, which can misalign instrumental tracks from vocal ones, it is advisable to purchase an external card with interface FireWire. Other differences concern the options di connectivity. External sound cards have multiple input, digital output, Midi and RCA sockets. In addition, DACs deal with external noises much better and do not pick them up when transmitting sound. Thanks to the portability of the external sound card, you can use the DAC with various devices: computers, notebooks, televisions, smartphones, and so on.
Best sound cards

Now that you have an idea of ​​the most important features of a video card, here is a list of them best sound cards both internal and external and whose audio quality, portability, compatibility, connectivity and customization options will help you choose the one that best suits your needs and pockets.
Creative Sound Blaster Audigy PCIe RX 7.1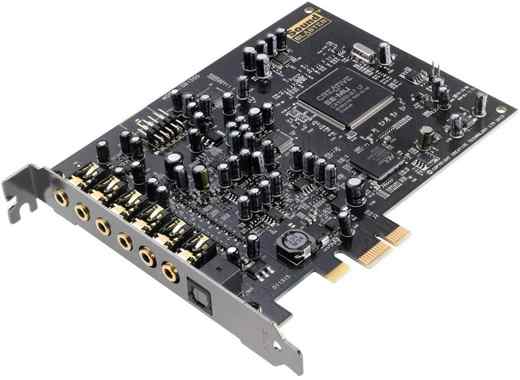 The best professional sound card.
For
7.1 surround sound
Powerful EAX reverb engine
Full audio customization
Dual stereo microphone inputs
Perfect option for Windows OS
Cons
No S / P-DIF interface
Microphone may not work after sleep mode, PC may need to be restarted
Do you need an internal sound card at a reasonable price? The sound card Creative Sound Blaster Audigy PCIe RX 7.1 it could be what you are looking for. This sound card is equipped with hardware accelerated EAX effects which will make the audio sound more vivid and realistic.
Audigy PCIe RX 7.1 it is designed with SNR 106db and also allows complete audio customization. The board has an improved chipset with EAX reverb engine known for its high quality. Keep in mind that it will not affect the CPU work or impede the performance of the PC as a whole. It supports Windows XP SP2 (and higher), Windows Vista SP1 (and higher), Windows 7 and Windows 10 operating systems.
Buy on Amazon
ASUS Sound Card Essence STX II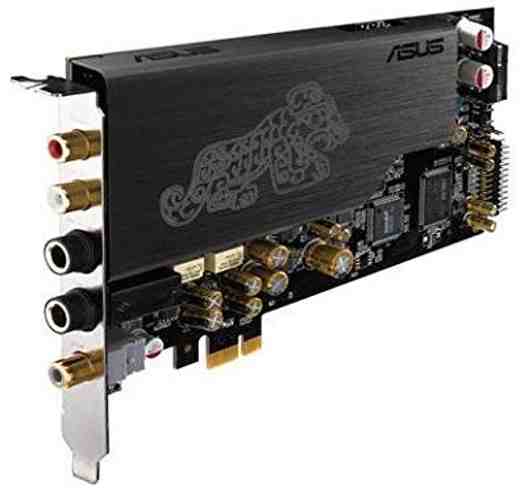 The best PC sound card.
For
7.1 surround sound
High build quality
Replaceable op-amp sockets
Cons
Expensive
For fixed Desktop PCs only
Are you ready to pay for the best sound system on your PC? Then you have to take a look at ASUS Essence STX II.
It is a powerful performance sound card, equipped with an advanced 124dB SNR and 7.1 surround sound. There is a built-in headphone amplifier that supports up to 600 Ohms. By the way, the STX II has additional control options which are essential for high sensitivity IEM headphones.
Equipped with interchangeable op-amp sockets, this internal sound card allows you to create various timbres and tonal combinations. It also uses a dedicated four-pin Molex power connection and doesn't draw power from the expansion slot like many sound cards do.
Buy on Amazon
Creative Sound Blaster Z PCIe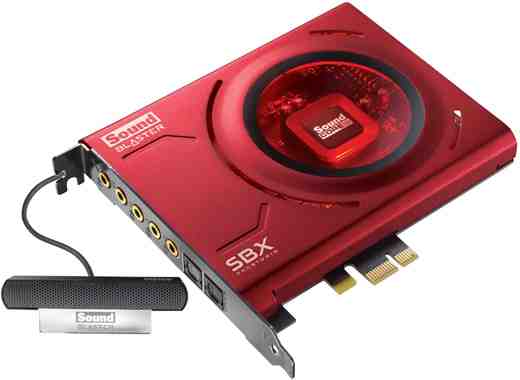 The best internal sound card.
For
High quality audio
Great microphone
Perfect for the game
Easy to install
Cons
Scout mode is not very effective
The audio output does not automatically switch between headphones and speakers when connecting / disconnecting headphones
This internal sound card Creative Sound Blaster Z PCIe is designed with Sound Core3D audio processor. Thanks to audio technology SBX Pro Studio provides 3D surround effects for speakers and headphones. Plus, it comes with 116dB SNR which takes audio quality to a whole new level. Thanks to the CrystalVoice technology, responsible for improving the sound, you will not hear echoes or external noises.
Creative Sound Blaster Z PCIe features high-quality capacitors, gold-plated I / O connectivity and Stereo Direct. This combination guarantees crystal clear sound with a 192-bit frequency of 24 kHz. This sound card is compatible with an operating system such as Windows 7/8/10.
Buy on Amazon
Creative Sound BlasterX AE-5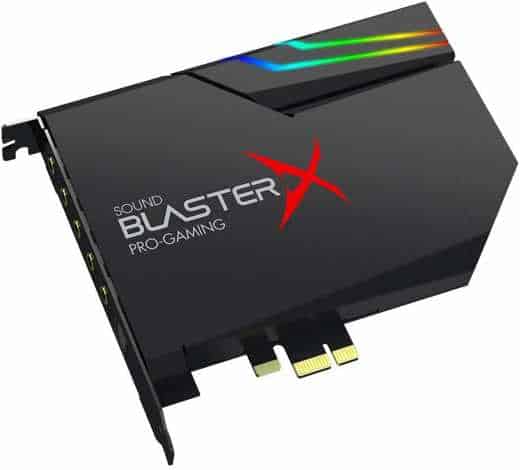 The internal sound card with the best sound quality.
For
Top notch sound
High quality built-in DAC
Discrete amplification of Xamp headphones
Cons
Expensive
Uncomfortable position of the RGB LED light socket
Creative Sound BlasterX AE-5 Comes with a discreet and custom designed Xamp headphone amplifier. It means that all audio channels are amplified individually and this results in a precise and clear sound that arrives equally at each pavilion.
Customers who like bright lights will appreciate its Aurora Reactive Lighting System. Includes up to 16,8 million colors in different patterns with free downloadable Sound Blaster Connect software for PC. By the way, the AE-5 is equipped with DAB PCIe Ultra Class SABRE32 which makes it a perfect sound card for HR audio.
Buy on Amazon
AudioQuest – DragonFly Red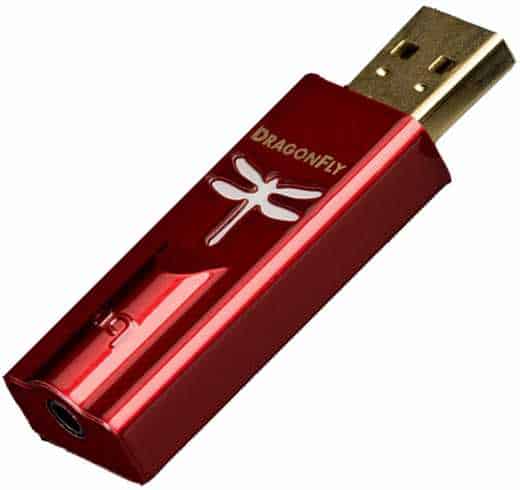 The best USB sound card.
For
Sound quality
Elegant appearance
Highly compatible with modern devices
Cons
Expensive
Slightly poor compatibility with Android
AudioQuest DragonFly Red enhanced the 32-bit ESS Saber DAC chips with the latest ESS headphone amplifier and a digital volume control for authentic sound. It provides 1,2 volts, which is enough for modern headphones. However, this sound card can also reach up to 2,1 volts, and that option ensures a wide spectrum of devices it can be compatible with, including low-efficiency and power-hungry models.
It is very easy to use as its capabilities cover a resolution of 24bit / 96kHz. It means full compatibility with PCs with no additional drivers that often need to be downloaded and installed. Additionally, you can download a free desktop app for Windows or OS X to update your sound card whenever the need arises.
Buy on Amazon
Audioengine D1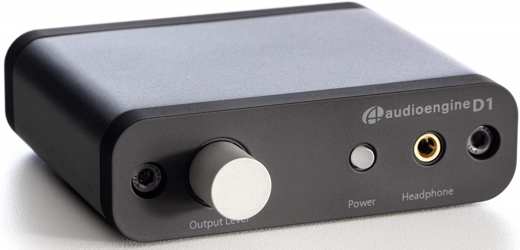 The best external sound card.
For
Sound quality
Build quality
Headphone amplifier
USB and optical input
Portable
Cons
Mini-jack for headphones only
Audioengine D1 is a premium DAC that allows you to get high quality sound. This converter is compatible not only with PCs but also with TVs (including Apple TV), DVD / BluRay players and CD players. Also, it can be used as a headphone amplifier for laptop.
Another thing that makes Audioengine D1 popular is its easy setup; no one likes to spend more than a couple of minutes reading annoying instructions. It also guarantees digital audio processing at any bit depth (up to 24 bit) and at any sample rate (up to 192 kHz).
Buy on Amazon
FiiO E10K
The best budget external sound card.
For
Affordable price
Elegant appearance
Compact dimensions
Resistant and practical
Cons
Poor bass
Mini-USB connection only
No optical and 1/4 "jacks
Another external DAC that deserves attention is FiiO E10K. It attracts customers with its elegant and refined appearance thanks to an aluminum frame. The combination of that construction and material makes it sturdy what is very important for a portable headphone amplifier.
The FiiO E10K features an optimized low-pass filter and selectable bass boost circuit, which is necessary for a low-noise floor. Additionally, it can handle PCM files up to 24-bit / 96kHz. Convert the audio quality to a higher level using a linear filter. It means that there will be no phase shifts and delays and the internal silence will also be immediately reduced.
This DAC can be proud of its variety of connectivity. Supports USB connection, includes front panel 1/8 "headphone jack, rear panel 1/8" line output, and rear panel coaxial digital output.
Buy on Amazon
Creative Sound Blaster Omni Surround 5.1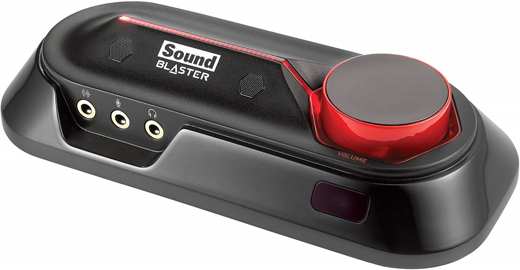 The most compatible sound card.
For
Reasonable price
Tecnologia Crystal Voice
Dolby Digital Technology
Scout mode
Nice sound
High compatibility
Cons
It doesn't work without a computer
A little bulky
Another reasonably priced external sound card is Omni Surround 5.1. It is also known for its audio quality which includes advanced audio technology. This card supports discrete 5.1 channels of vibrant sound and takes audio quality to a new level.
There is also a built-in dual microphone designed in accordance with Crystal Voice technology to deliver clear sound for headphone-free performance. It is suitable for operating systems such as Microsoft Windows 10/8/7 / Vista, Mac 10.6 and later.
However, outputting your voice isn't the only advantage of this sound card. She is also good at playing thanks to Dolby Digital Live technology. Having 600ohm headphone amplifier, it can easily bring you the realistic movie sound at home. Good news for gamers too: Omni Surround 5.1 includes Scout mode.
Buy on Amazon
Sound BlasterX G6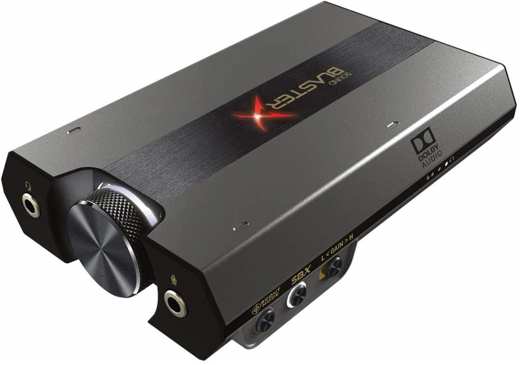 The sound card with the best sound quality.
For
Outstanding sound quality
Great compatibility
Easy to use
Cons
A bit expensive
Short cables
Are you looking for a device that acts as a sound card, amplifier and DAC? Sound BlasterX G6 it is then the device for you. Compatible with Windows, PS4, Xbox One, Nintendo Switch and many other platforms, this sound card offers the widest possible range of use and overall presents a great solution for PC and console sound amplification and, therefore, is the ideal option for any type of game.
It is very small and practical and does not require any calibration. You can connect any type of headphones to it and get a huge increase in sound quality, using both budget and premium headphones.
Sound BlasterX G6 supports both 5.1 and 7.1 virtual surround sound, along with Dolby Digital. In addition, it offers 130dB DNR, SBX mode, and comes with the custom Xamp headphone amplifier, which amplifies each channel individually, 32-bit / 384kHz DAC, scout mode that intensifies ambient noise, and much more.
It is powered by a micro-USB port and overall presents a great multifunctional device, but a bit expensive. Overall, if you want to improve the sound of your game, the Sound BlasterX G6 is a great choice, but if you are looking to improve your TV or similar type of device, there are far better solutions.
Buy on Amazon
Creative Sound BlasterX G1 7.1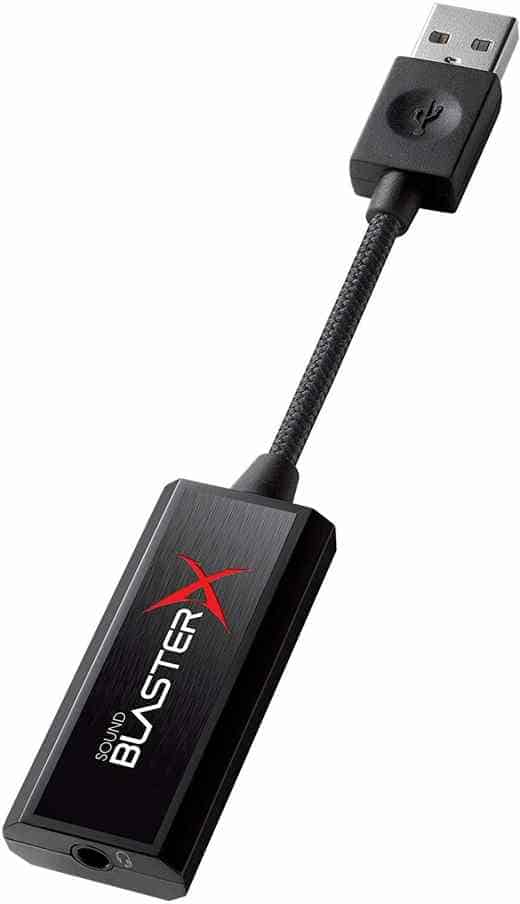 The best gaming sound card.
For
Low price
Compact dimensions
Nice sound
Cons
No separate microphone / line input
If you are looking for the best gaming sound card, Creative Sound BlasterX G1 7.1 is what you need. It is equipped with 7.1-channel audio input signals that ensure vivid and realistic audio game effects. It also makes the sound clear and precise.
Thanks to its BlasterX acoustic engine, its performance is improved and optimized for gaming.
In addition, BlasterX G1 7.1 includes X-Plus mode which allows you to hear the footsteps and shots of your enemies. Combine it with the best high quality gaming motherboard and you will take your games to a new level.
Buy on Amazon
Best-selling sound card on Amazon
Below is an updated list to allow you to find the best most purchased sound card on Amazon. I hope you can find something really interesting!
Frequently asked questions and answers
That said, when it comes to the audio quality itself, both the sound card and the speakers/headphones are essential.
You could achieve a more accurate and immersive sound by buying a good sound card, but if you want to get the most out of it, you should also invest in quality speakers/headphones.

Sound cards will improve the sound quality of your system, but if you don't have the right headphones or headphones, you will never appreciate the difference.
The sound card offloads the work of the CPU or GPU, which in turn allows the frame rate to flourish while gaming.

Compilation of frequently asked questions that our users have sent us and that our experts have answered.