Are you looking for best satellite navigators? Here is a guide to buying the best-selling models on the market.
Until recently they were the only way to know the traffic situation on roads and highways were the alerts of the radio channels, today the use of the smartphone has partly replaced the satellite navigators which in any case have remained valid devices allowing you to receive real-time updates and evaluating if necessary deviations and calculations on travel times. Of course you will always have to update the maps both for the road network and for what concerns the services (restaurants and motorway restaurants). Some manufacturers release updates for one or two years, others, on the other hand, offer .
A new sat nav can give your car an instant upgrade, the most modern not only help to show you the way to go but also offer hands-free calling, making driving safer for cars without that built-in feature.
It is worth remembering that not all cheap satnavs are created equal. Features like real-time traffic updates may cost a little more, but they could make a difference if you often find yourself stuck in a traffic jam.
Read also: Android Navigator
How to choose a satellite navigator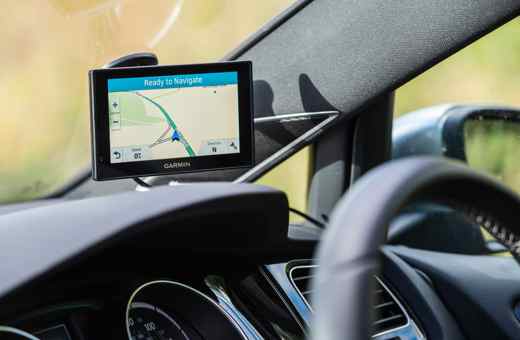 Before buying the best car navigator it is necessary to take into consideration some fundamental elements, which are: the size of the screen, which can reach up to 7 inches, maps and updates, with free or paid updates, bluetooth support with integrated SIM card, battery integrated and SD card slot.
The extra functions should not be missing, which are: voice commands, Speed ​​Cameras Reality View for information on delays and queues, 3D visualization of maps, text-to-speech to hear street names, the TMC for real-time information on traffic and indication of points of interest (stations, car parks, etc.).
Best satellite navigators
I hope you can find the best satnav. Below you will find the best brands of car navigators with photos, technical characteristics, features, pros and cons and a detailed comparison between the best-selling and reviewed models online. Enjoy the reading!
1. Garmin Drive 51 LMT-S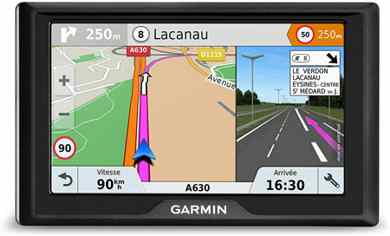 An easy-to-use and compact alternative to using a smartphone.
Screen size: 5-inch or 6-inch display | Map: Lifetime Maps Lifetime TomTom Traffic | Sizes: 5,5 x 3,3 x 8 inches | Battery life: up to 1 hour
For
Compact dimensions
Intuitive navigation
Cons
Outdated interface
It doesn't always take the best route
If you want a relatively sophisticated GPS system to get you from point A to point B, the Garmin Drive 51 LMT-S it is, in our opinion, one of the best GPS on the market. It is easy to use with large and compact buttons, and fits perfectly on the windshield.
The search is generally good and you will get direction commands like "turn left at traffic lights" instead of a specific street name, which you may not know if you are in an unfamiliar place.
The only flaws are: obsolete interface and voice, like an old-school Siri. Apart from that, it is a well-made small sat nav.
Buy on Amazon
2. Garmin DriveSmart 50LMT-D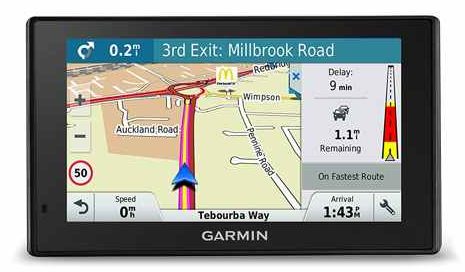 The best Garmin sat nav.
Display: 5 inches | Battery: up to 1 hour | Internal Memory: not declared | SD slot: microSD.
For
Bright 5-inch display
Bluetooth and phone integration
Real-time traffic and lifetime mapping
Il Garmin DriveSmart 50LMT-D it offers lifetime mapping and real-time traffic information, but it's also an impressive device. There's a five-inch dual-orientation touchscreen with pinch to zoom display, customizable drivable alerts to alert you to hazards like sharp curves or school areas, smartphone notifications, hands-free control, and Bluetooth integration for hands-free calling. Voice control can be a bit unstable, but phone integration is very good.
Like all Garmin satellite navigation devices, directions take a typically English approach, suggesting turning past specific landmarks rather than telling you how far it is before the next change of direction.
Buy on Amazon
3. TomTom Via 53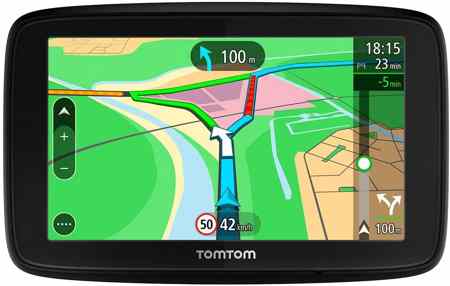 TomTom's mid-range sat nav offers a number of features to tempt smartphone users.
Screen size: 5-inch display | Map: Lifetime Maps Lifetime TomTom Traffic | Updates: updates via smartphone Wi-Fi messages | Extras: hands-free calling | Memory: 16 GB of internal memory.
For
Easy to use
Excellent mapping
Traffic updates in real time
Cons
Only about an hour of battery life
Slow start
Robust design
Tom Tom Via 53 it is found in the category of mid-range car navigators. It is among the best voice navigators and offers connectivity options via a Bluetooth smartphone connection. Through this connection you receive real-time traffic updates, you can enjoy hands-free calls and your text messages can also be read from the device.
When it comes to mapping, the TomTom Via 53 is very good: the 5-inch touchscreen that requires light gestures, while voice control is guaranteed in a clear and precise manner.
The design is a little too chunky, and the one-hour battery life is a bit underwhelming. Apart from that the navigator is well made and is sold at a decent price.
Buy on Amazon Buy on Amazon
4. Garmin DriveSmart 61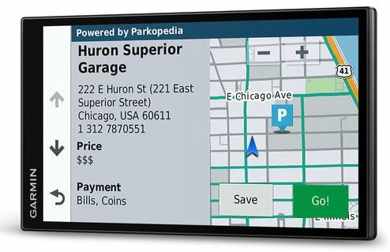 The best premium GPS experience.
Display: 6,95 inches from edge to edge | Map: Lifetime Maps and Live Traffic | Connectivity : Built-in Wi-Fi, Bluetooth calling | Extras: Navigate from your Garmin watch.
For
Fantastic build quality
Great touchscreen controls
Cons
Expensive
Battery could be better
The satellite navigator Garmin DriveSmart 61 is a premium looking satellite navigator packed with features. The screen is responsive, the information it offers is clear and concise.
Yes, it is expensive but it is one of the best GPS systems available for getting from point A to B.
Buy on Amazon Buy on Amazon
5. Garmin Drive Assist 51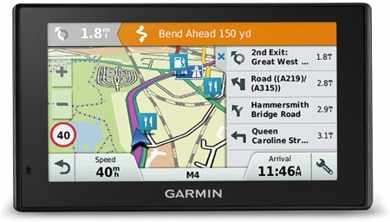 A great satellite navigator without a phone for those who don't want things too complicated.
Map: Lifetime maps and HD digital traffic | Sizes: 11,1 L x 6,3 H cm; 12,7 cm: | Type of display: WQVGA color TFT with white backlight | Memory: Dash Cam memory card, min 4 GB data card included.
For
Clear and responsive display
Precise visual and vocal indications
Cons
Expensive
Battery life only about 30 minutes
Garmin Drive Assist 51 it's a great premium alternative to get maps on your phone. If you want a dedicated sat nav that doesn't rely on a receiver, Drive Assist 51 is an excellent choice.
Its large feature set, ease of use and simple docking make it perfect for the less tech-savvy. It also has a built-in camera for recording video on the dashboard and for keeping track of things like lane positioning and how close you are to the car in front of you.
The Garmin Drive Assist 51 is focused on the boating experience and is one that excels when behind the wheel. It's hard to say if it's better than your smartphone's navigator, but it's certainly no worse.
Buy on Amazon Buy on Amazon
6. TomTom Go 5200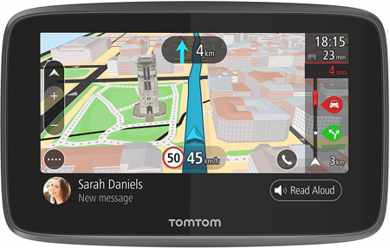 The most expensive and quality satellite navigator.
Battery life: up to 1 hour | Support for vehicle: active magnetic support | Memory: 16 GB | Connectivity : Wi-Fi, integrated SIM.
For
Sophisticated telephone integration
Intuitive to use
Cons
The screen is delicate
Voice commands leave something to be desired
TomTom Go 5200 has a 5-inch touchscreen that fits neatly into an elegant plastic frame. It feels solid in the hand and the magnetic connection gives a reassuring click in a sturdy connection.
It is a wonderful high-end satnav that is comfortable to use, with a host of additional features for the frequent driver. If you are looking for a world-class helper, this is the one for you.
Buy on Amazon Buy on Amazon
7. TomTom Go 620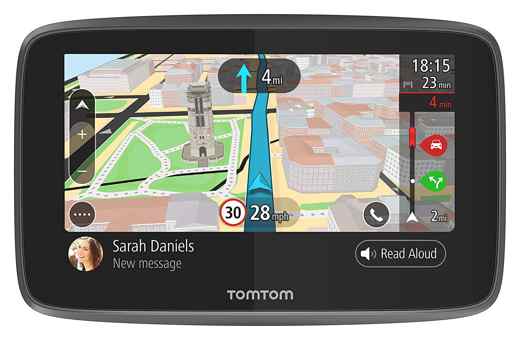 It costs a lot but also does a lot.
Display: 6 inches | Battery: up to 1 hour | Internal Memory: 16 GB | SD slot: microSD.
For
World maps for life
Siri and Google Now support
Lifetime speed camera warnings
It is the most expensive satellite navigator among those on the list even if it offers a lot of features. Get lifetime maps for around the world and lifetime updates on speed camera locations, lifetime traffic data via smartphone and Wi-Fi software and map update, hands-free calling, smartphone notifications. We're also talking about a sleek magnetic stand and a six-inch capacitive touchscreen.
It's a truly impressive device with 3D buildings in cities, coverage of most of the planet (even if you go to Ukraine, you're covered at 65%), and a wide range of supported languages. The free traffic camera service makes it a very attractive long-term investment.
Buy on Amazon
8. TomTom Go 520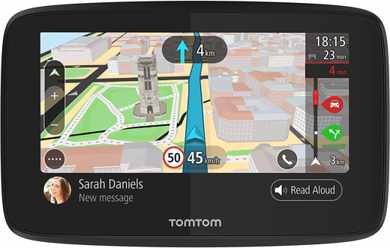 TomTom Go 520 is a super smart satnav that will let you navigate in style.
Battery life: up to 1 hour | Support for vehicle: active magnetic support | Memory: 16 GB | Connectivity : Wi-Fi, needs a phone for real-time traffic updates.
For
Voice control
Fantastic maps
Cons
Battery life is poor
Needs a phone for full functionality
TomTom Go 520 is a well built smart satellite navigator that is easy to use. It comes with voice capabilities - both Siri and Google Now integration and its voice system - and some of the best maps around.
It has no connectivity on the go, which will be a problem for some. However, you can get around this with a simple link to your smartphone.
Battery life is an issue. It is quoted for up to one hour. In a real-world scenario, however, most will use the supplied charger, as a sat nav is usually used for longer journeys.
If you are looking for the TomTom Go 5200 smart premiums at a lower price, this device might be ideal.
Buy on Amazon Buy on Amazon
9. TomTom Via 62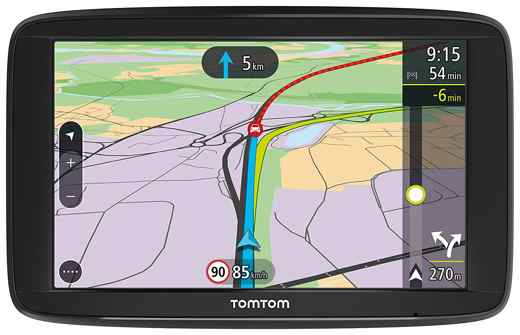 Excellent all-rounder.
Display: 6 inches | Battery: up to 1 hour | Memory sustainability: 8 GB | SD slot: microSD.
For
Traffic data in real time (by phone)
Lifetime maps
Display from 6 inches
TomTom Via 62 is an excellent all-rounder. It connects to your phone for hands-free calling but also for contacting TomTom traffic servers which is a big plus - but it also means your phone won't be able to connect to your car's system, so if you prefer I recommend you broadcast Stream music to your car stereo or call manually.
The 6-inch display is resistive rather than capacitive (you don't need to apply too much pressure on capacitive screens) but it works well enough and provides clear, crisp maps.
Buy on Amazon
10. TomTom Go 52/Start 52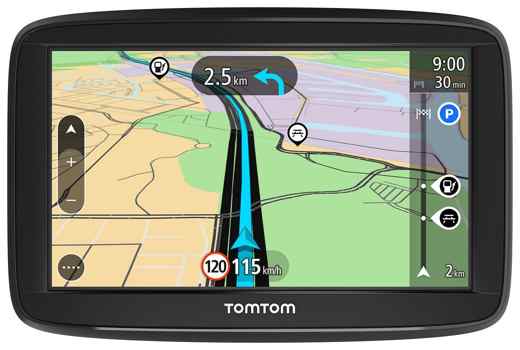 Best cheap sat nav.
Display: 5 inches | Battery: 1 hour | Memory sustainability: 8 GB | Slot SD: microSD.
For
Lifetime maps
Quick Launch
3 months of speed camera locations
Il Tom Tom Start 52 It doesn't offer real-time traffic data, which may be too big a limitation for some, but it's simple enough and easy to use thanks to a clear display, good driving directions, and quick start times. The resistive screen isn't as good as the capacitive screen on more expensive devices, but it works great and allows for lifetime map updates that will keep it up to date for years to come.
It's not spectacular but it's solid enough.
Buy on Amazon
Best-selling satellite navigators on Amazon
Looking for the best GPS navigator? Below you will find an always updated selection of the best car satellite navigators most purchased on Amazon and to consider before putting your hand to your wallet.