Manage your social media from a single platform with i best programs to automatically post on social networks.
Businesses spend a lot of money these days creating advertising content for Facebook, Twitter, Instagram, and other social media platforms. Whatever your business, reaching your customers and readers is highly dependent on the top social media sites.
But there's no point in spending time and resources on great Facebook posts and huge tweets if you don't know how to effectively track their impact and influence. Just figuring out how many followers are following you takes time and research. That's why you should rely on best programs to automatically post on social networks which will help you grow your business in a very short time.
Best programs to automatically post on social networks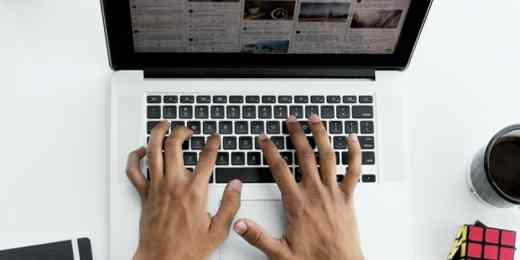 Do you want to send posts automatically on Facebook, Twitter, Linkedin and many other social networks? If you want to access all the social networks from one place then you absolutely must find out which applications will allow you to use all the social networks together and discover the many other features
Getting the most out of the social media platforms you have chosen will become an integral part of your content marketing, especially if you are planning to implement an online marketing strategy. That's why we've selected five really useful social media analytics tools that will help you figure out which of your posts are working and which aren't leading to anything.
Read also: Best management software
1, Hootsuite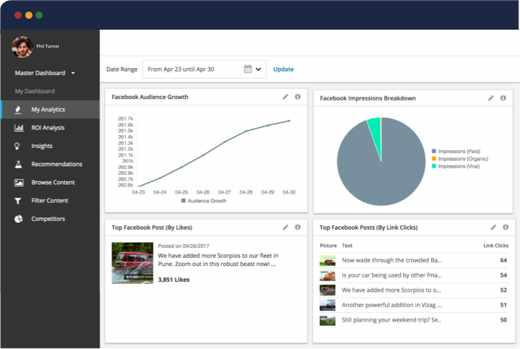 One of the best social media management tools.
Manages publishing programs
Performance analytics
Multiple integrations
Hootsuite aims to provide an all-in-one platform for managing social media across multiple sites. As expected, there is an option to search and filter social media items such as: brand mentions, insights, and demographic information.
Plus, with any of Hootsuite's plans, you have the ability to schedule posts from multiple profiles on multiple social media sites. This helps ensure that marketing campaigns are properly planned and targeted.
There is also an analytics function so you can track and measure performance against KPIs. The reports are customizable, so you can be sure you are viewing and reading the data you need and stay focused on that. This is because Hootsuite is designed to work with teams, not just individuals.
There are also a number of integrations available, such as Asana, Slack, Mailchimp, Trello e Zendesk, which allow you to work productively and efficiently when it comes to building marketing and communication campaigns on social media.
2. buffer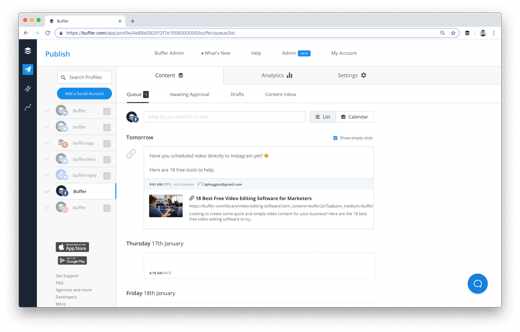 An extremely simple way to track the success of your marketing campaigns.
Easy to use
Real-time analysis
Integration with Google Analytics
buffer is another social media management all-rounder that allows you to post on your platform and analyze the results. One of its main points in favor is its simple and flexible use. The fact that it provides real-time analytics makes it instantaneous to assess the impact of your content.
Use the icon "Post in alto"To compare different forms of content and see which works best for each network. The Buffer app also allows seamless integration with Google Analytics to track the success of your marketing campaigns.
Buffer is available for free but also with paid plans suitable for those who want to publish, reply or analyze social media accounts.
Read also: Best programs for working from home in Smart Working
3. Sprout Social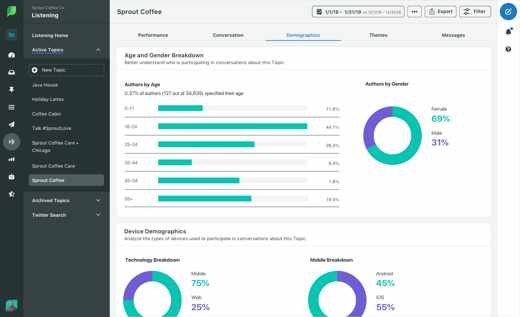 A central hub for managing all your social media accounts.
It covers a wide range of social media accounts
Powerful data analysis capabilities
Efficient customer support
Sprout Social is probably first and foremost known as a one-stop shop for managing and scheduling all of your social media accounts through an easy-to-use platform. It is very useful when it comes to managing your company's social media.
The platform also functions as a powerful tool for data analysis. You can sort by various demographic and geographic measures to quantify exactly which content works for which followers. Sprout can manage multiple accounts and track keywords across social media so you know when your brand is being discussed. It also helps your business respond to customers by targeting messages to the people within the organization who need to activate them.
You can try Sprout Social for free with its 30 day trial version. If you like it, pricing starts at $ 99 per user per month for up to five different social profiles, with additional plans offering more profiles, scope, and features.
4. Hubspot Social Media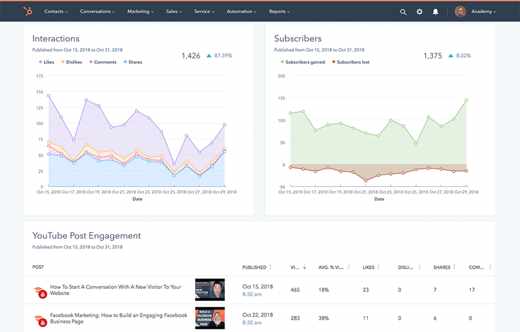 Constantly monitor the world of social networks.
Monitor multiple platforms
More tools
Hubspot marketing platform
Hubspot Social Media is a suite of social media management tools available in Marketing Hub. The goal is to save time by prioritizing social connections to be valued on a wide range of social media platforms, such as Facebook, Twitter, Instagram, YouTube e LinkedIn.
Various management functions are available, such as publication and sharing of content, monitoring of mentions and reporting to raise awareness not only of the levels of engagement, but also the way in which these are translated into actual business metrics.
These tools are available as part of the Hubspot Marketing Hub, which means you can use them alongside a range of other targeted marketing tools. This means that you can not only monitor and manage your social media, but also ensure a concrete form of corporate performance measurement.
5. Snaplytics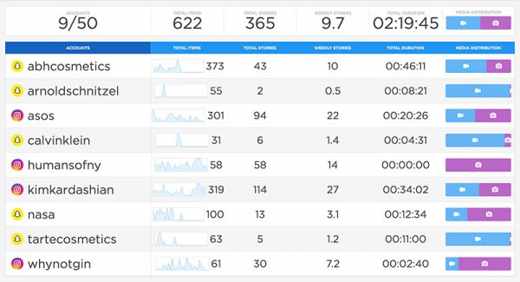 Get insights to be successful using Snapchat.
Elegant interface
It allows you to better organize your stories
Prices not available in advance
Snapchat was released in 2011, so there are relatively few marketing tools available for the platform compared to big names like Facebook and Twitter. The app works by creating short-lived "stories" that users can interact with.
Snaplytics is designed to help you manage it by taking regular snapshots of your Snapchat account and offering you Insights. Creators maintain groups of 20 accounts for each category, allowing you to gauge the success of your account.
You can also use Snaplytics' previously created content library to view past efforts, see how users interact with them, and repost at any time.
If you have a more complex marketing campaign, Snaplytics also supports the advance planning of stories for later publication. You can organize tagged stories to easily track them as your campaign grows.
The Snaplytics dashboard has been praised multiple times for its elegance, as well as the app's ability to showcase marketing performance on a platform.
Before purchasing Snaplytics you can download the 14-day free trial version, after which you will need to contact the Snaplytics team for a quote.
Other tools for social media management
The growth of social media has led to the development of valid and useful apps and software to help companies track their presence and manage their engagement. Here are others best social media managers to consider.
Social Zoho offers an easy way to manage your social media brand by providing a comprehensive social media management platform. In addition to administering multiple social media channels, one is also available publication calendar function so you can see which messages have been scheduled for publication. You can also track target keywords during conversations and enable team collaboration from a single dashboard.
Page manager is an app for Android e iOS which allows you to directly manage yours Facebook pages on the go from your mobile or other mobile device. This allows you to receive notifications, read and reply to messages, as well as link Facebook and Instagram accounts together. The app can also handle standard page management features, such as settings, performance, and reach.
StatusBrew offers another social media management platform, intended for use by sales, marketing and customer service teams. In addition to campaign management, there are also reporting and analysis functionality to track your engagement and overall brand health. Additionally, there are a number of popular integrations available, such as Slack, Zendesk, Mailchimp e Shopify.
Tweetdeck it has become the management tool Twitter essential for many users of that platform. Provided directly by Twitter, it allows you to better filter messages from followers, as well as providing a single dashboard from which you can monitor trending Tweets, messages, notifications and hashtags. There are also search tips, links and various settings to manage the monitored content.
Brandwatch intercepts all information that may be indispensable for your company from Facebook, Twitter, blogs, forums, news and any other corner of the web. Analytics highlights data gathered from the profiles you've connected with, and it's easy to tap into relevant trends and themes emerging from the internet that could tip the balance in favor of your business.
Other useful articles