Best products for home automation. Here's how to automate your home and what are the best smart home devices.
The smart home has finally arrived. If you are able to automate and control the objects inside your home, then it means that you have entered the home automation.
Devices designed to turn your home into a smart hub are more popular than ever. Now you can turn up the thermostat, lock doors and play your music with a simple voice command.
The best part is that you set up your smart home with i best products for home automation it's now as simple as putting a smart speaker or Amazon Echo Dot in your living room. You can connect all your devices to the Internet: scales, computers, lights, speakers and much more.
Choose the best smart home ecosystem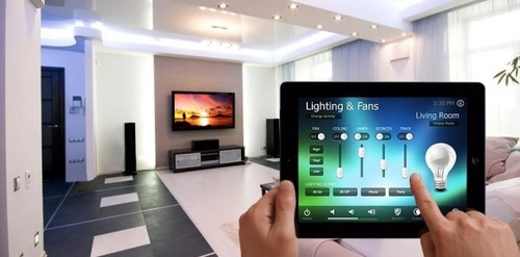 Before you start building your smart home based on the smart devices listed below, it's helpful to think about which smart home ecosystem you would like to start. There are several out there, including Apple HomeKit, Google Home / Google Assistant, Samsung SmartThings, the platform Amazon Alexa, IFTTT, ZigBee, Z-Wave and more.
As you can see there is a lot to choose from, that's why I advise you to consider the ecosystem you are already connected to. For example, avid Android owners may have better luck with the Google Home than with Apple's Amazon Echo or HomePod. Conversely, those who need quick and easy ways to order things online may prefer the Amazon Echo.
Best products for home automation (Smart Home)
The extent to which you invest in your smart home is really up to you and you can customize it to your comfort level. The great thing about smaller and cheaper smart devices is that they don't cause any problems but guarantee a smart and connected home
Smart homes rely on components being able to communicate with each other, before stocking your cart with all the latest and greatest smart home gadgets, you'll need to make sure they're compatible with any other smart device you already own including your phone, tablet and smart speaker.
To help you create a smart home or complete your tech-filled dream home, here is a list of smart devices that in my view are the best products for home automation to date on the market.
1. Ring Video Doorbell 2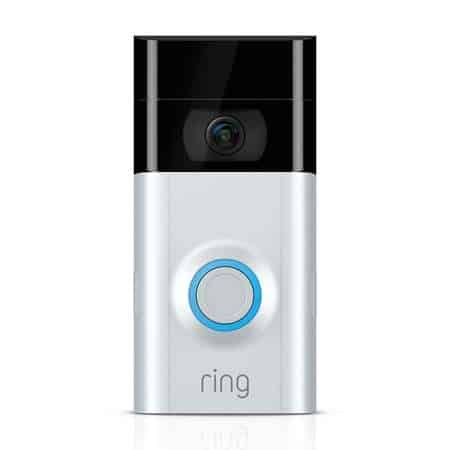 The best Ring Doorbell for your home.
For
Nice design
Excellent motion detection
The app is easy to use
Cons
No free video memory
A little bulky
Ring Video Doorbell 3 it's a solid device. Setup is simple, the app is super easy to use, motion tracking works great, and the battery lasts long enough not to be a hassle. The layout of the app is really intuitive and the fact that the system can be integrated with Amazon Alexa e Google Assistant makes things easier for smart home enthusiasts. If you don't mind the size and want a battery powered device, this is the one for you. If, however, you prefer something a little smaller or don't want to pay to store video recordings, I recommend that you check out the Ring Door View Cam as well.
Buy on Amazon
The best alternative: Ring Door View Cam
Buy on Amazon
2. Amazon Echo Studio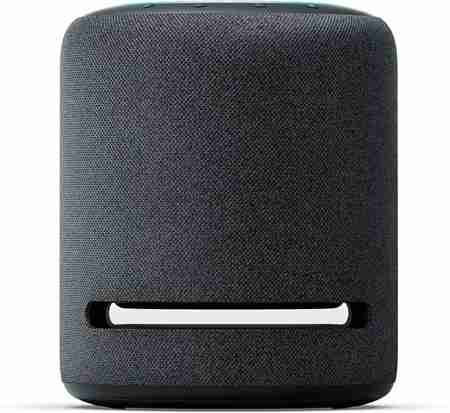 The best smart speaker on the market.
For
Gigantic Dolby Atmos sound
Cheaper than Apple / Google speakers
Awesome new Alexa features
Cons
Bigger than an average Echo
With Echo Studio, Amazon has managed to produce the best speaker on the market. It's ambitious, flexible, has multiple purposes, and has a low price tag that only a company the size of Amazon could offer competitively. It's a perfect speaker for your smart home. His 3D audio effects breathe new life into your favorite songs and its ability to connect to your devices Amazon Fire TV guarantee a more immersive sound. If you own a Fire TV Stick, you can pair two Echo Studios and pair them in stereo mode.
The audiophile community is eternally demanding, and again the Echo Studio is unlikely to win them over completely, but at this price point, it's fair to say that Amazon isn't just courting audiophile ears, it's trying to strike the right balance of quality. audio and convenience. If you haven't yet acquired an Amazon Echo speaker, the Amazon Echo Studio is ideal.
Buy on Amazon
The best alternative: Echo Dot
Buy on Amazon
3. Google Nest Hub Max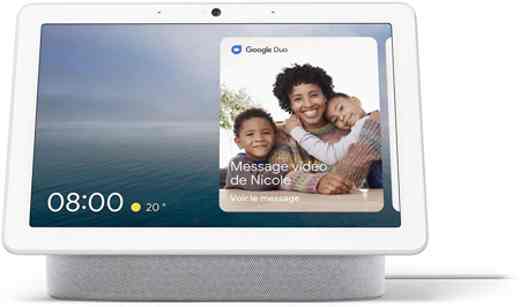 A big news in the world of display speakers.
For
Excellent screen
Good speaker suitable for music
Clean design
Cons
Google Nest Hub Max is a smart speaker with screen, bigger than Google Home Hub. It also comes with a front-facing camera and can connect to the Google-owned Nest platform to act as a smart home camera. Google also renamed the original main hub to make it part of the Nest family. This is a great smart speaker. It looks good enough to act as a mini Hi-Fi, Google Assistant is responsive, and the large screen lets you watch YouTube while doing other things. While the Google Nest Hub Max had some minor issues at launch, it's not only a great smart display but it's also a great smart speaker that can entertain at any time of day.
Buy on Amazon Buy on Amazon
The best alternative: Echo Show 2

Buy on Amazon
4. Philips Hue Color Ambience

The best smart light bulb.
Potenza: 10 W | Color: +16 million colors | Temperature color: 2.000-6.500 K | Exit lumen: 806 | Duration: 25.000 hours | Height: 109,2 mm | Diameter: 62 mm.
For
Easy to set up
Good integration with other services
Cons
Requires a hub to function
Expensive
There is a very good reason why Philips Hue it's the biggest name in the smart lighting scene - it's arguably one of the biggest offerings on the market. The lights produce the most natural tones of any other smart bulb on the market. The app is easy to use and installation is a breeze. That said, it's not possible to make use of Hue lights without the hub, meaning the only way to get started is with a starter kit that will give you a lot more than just a light bulb would.
Be aware that there are a variety of different lighting kits and bulbs available in the gamma Hue, then you can choose between White (shines only white light), Color (offers over 16 million colors) e Ambient variants of both (gives the possibility of softer, softer tones). They all work from the same hub, so you don't need a new hub for every lighting set. You would definitely make a good investment.
Buy on Amazon
The best alternative: LIFX A19
Buy on Amazon
5. Nest Learning Thermostat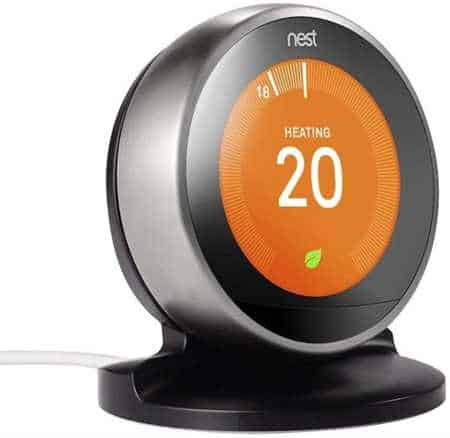 The best WiFi Smart thermostat.
Sizes: diameter: 84mm, height: 31mm | Screen: 24 - bit color LCD, 480 x 480 resolution | Sensors: 10 sensors for temperature, indoor humidity, proximity, near-field activity, far-field activity, ambient light | Control Area: no | Connectivity : Wi-Fi, wireless interconnect, Bluetooth low energy.
For
Cons
No zonal control
It does not work with Apple HomeKit
Nest is one of the biggest names in the smart home market, and for good reason. This Google-owned company offers well-designed, easy-to-use products packed with intelligence. Nest Learning Thermostat (XNUMXrd generation) is the best Wifi Smart thermostat and is renowned for its ability to learn your routines and adapt accordingly. This means that over time your heating system can actually adapt to your needs, without you having to do anything. Plus, benefit from location-based features that track your phone and turn the heat on or off depending on your location.
Plus, its built-in sensors allow it to detect if anyone is home. The main criticisms of the Nest Learning Thermostat are that it doesn't offer zonal control, and that if you're a tech newbie, it can be a little tricky to set up and use. The absence of zonal control means that while you will be able to digitally control your property as a whole, you will still have to manually adjust the individual radiators. That said, if you're looking for a top-of-the-line system, Nest is a good way to go. Also, if you are planning on building a larger smart home then I recommend that you consider it.
Buy on Amazon
The best alternative: ecobee ecobee4
Buy on Amazon
6. Arlo Pro 3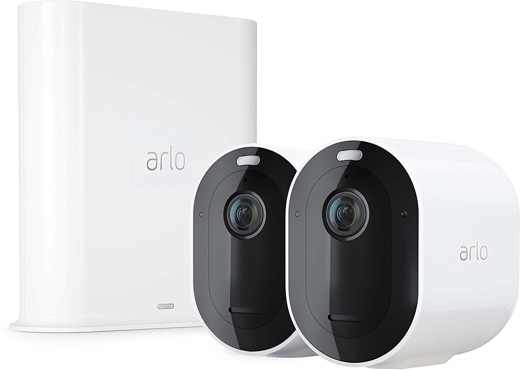 The best video surveillance system for the smart home.
For
Stylish Design
Easy to use and set up
Many functions
Cons
Limited utility without subscription
It's easy to see why Arlo is a popular choice among those who take home security seriously. There is no doubt that this is one of the most advanced systems on the market, thanks to a wide range of useful features including an integrated siren and web control. Of course, Arlo Pro 3 It doesn't have 4K resolution like the more expensive Arlo Ultra - but the quality is equally impressive. You will have a 160 degree field of view with night vision and two-way audio. There are other clever features too, like auto zoom and motion detection, which should help ensure the camera picks things up when it's needed.
The camera can zoom up to 12x and also offers HDR support. Arlo Pro 3 also integrates with the rest of your smart home. It supports Google Assistant e Amazon Alexa, also you can use it with HomeKit. Which is great, but unfortunately, some features are trapped behind a paywall. Overall, the Arlo Pro 3 is a worthy successor to the Arlo Pro 2 - and a great option for those who want an external security system that offers good, reliable picture quality without paying too much.
Buy on Amazon
The best alternative: eufyCam E

Buy on Amazon
7. Belkin WeMo Insight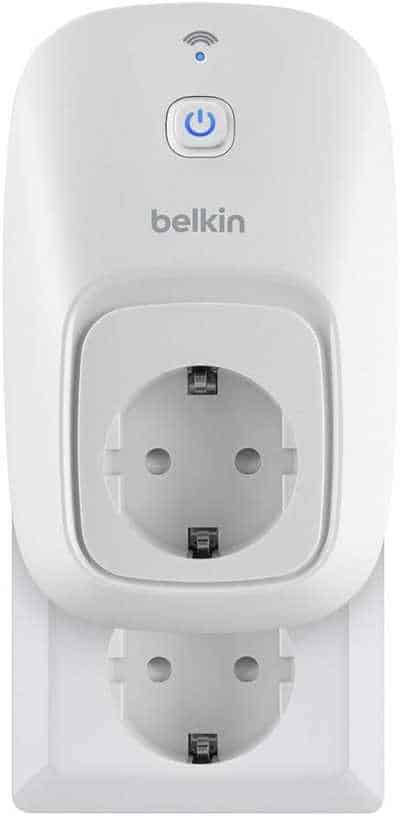 The best smart socket for energy consumption control.
For
Good energy monitoring
Solid smart home integration
Cons
The app is poorly designed
Belkin WeMo Insight Smart Plug it is much more than just a way to control connected devices. It is also a way to monitor energy consumption and get estimates of how much it will cost to power certain devices in your home. This is great if you are looking to save some money and want to pay attention to energy. The plug is a bit bulky, but it will allow you to save a lot on your monthly energy bill. The app is a bit slow, but overall the product is great. It also connects to a wide range of smart home platforms, from IFTTT, Alexa, Google Assistant, Works with Nest and (unofficially) Samsung SmartThings.
Buy on Amazon
The best alternative: Hive Active Plug
Buy on Amazon
8. August Smart Lock Pro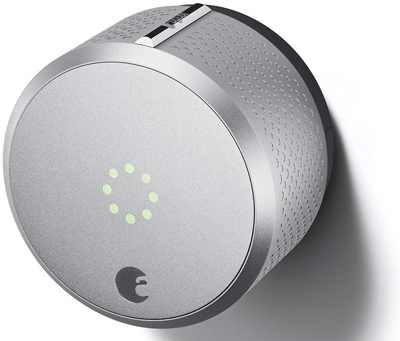 The best smart lock.
For
Good compatibility
Nice and strong
Automatic features
Cons
The smart home is getting smarter, but not everyone wants to completely get rid of their old systems. For example, while there are many smart locks out there designed to completely replace your old lock in favor of a keypad or new keyhole, some people want to keep the ability to use their older keys.
This is where August comes with August Smart Lock Pro, which fits into your existing deadbolt and allows you to continue using your old key when you (or your landlord) want, while adding the benefits of a smarter lock. For people who rent, live with someone who prefers to use a key or who just want a super easy to install and relatively well designed device, the August Smart Lock Pro is a great option and is easy to use and recommend.
Buy on Amazon
The best alternative: Yale YKITENTRM31E40S
Buy on Amazon
9. Nest Protect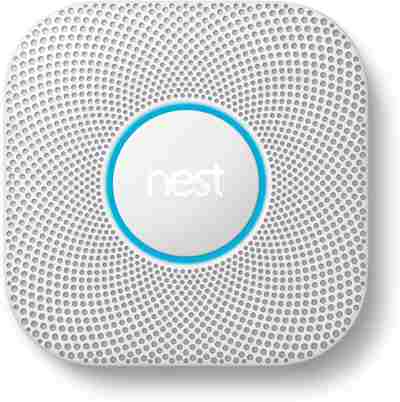 The best smart smoke detector.
For
Very slim design
Easy installation
Works well with other Nest products
Cons
Basically a normal smoke detector
La Nest doesn't just make great smart thermostats - it also offers fire alarm devices that can connect to the rest of your smart home. Nest Protect it looks great and offers great connectivity via Wi-Fi and IFTTT. Nest Protect it will warn you if there is a fire, even if you are on the other side of the world. The accompanying app is well designed and easy to use, although hopefully you'll never need it. It falls fully within the best products for home automation.
Buy on Amazon
The best alternative: X-Sense photoelectric detector
Buy on Amazon
10. Dyson V11 Absolute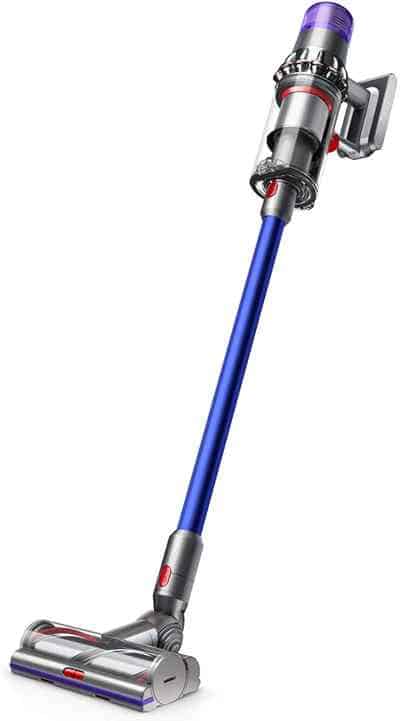 The best vacuum cleaner for home automation.
Weight: 2,97 kg | Charging time: 4,5 hours | Duration: 60 minutes | Container volume: 0,76 liters | Portable mode: Yes | Suction power: fino a 185AW.
For
Incredible suction power
Lasts longer in Max mode
Cons
If you are looking for the best cordless vacuum cleaner on the market, then the Dyson V11 Absolute is what you might be aiming for, as the British company, which produced it, has somehow made the V-series Air Watts (AW) intake even superior to the V10s. It even offers a LCD display and other sophistications to make it unbeatable. This improved technology makes it the most expensive Dyson on the market, however it is a bit heavier than its predecessor and also takes longer to charge. But if you search top-notch performance on carpets and hard surfaces, this is the one for you.
Buy on Amazon
The best alternative: Dyson V11 Animal
Buy on Amazon
11. De'Longhi EC685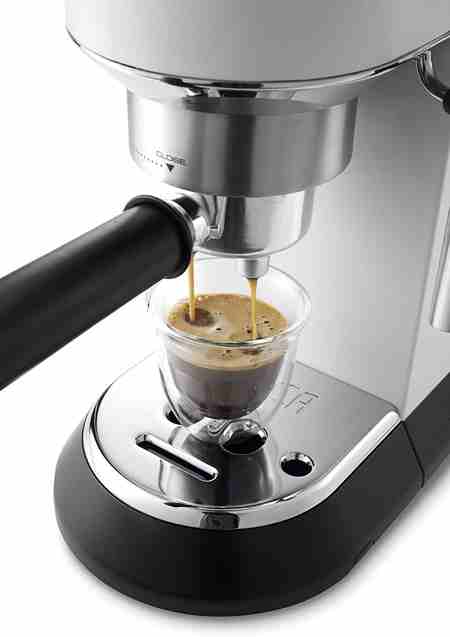 The best coffee machine for smart home.
For
Cons
La De Longhi EC685 it is a flexible and practical machine useful for colors who are looking for a compact model with small dimensions (measuring only 15 cm). It takes up little space and allows you to personalize your coffee with the Flow Stop function. Among the strengths, in addition to the size, we find the automatic shutdown function, useful for energy consumption, a practical cup warmer shelf in the upper part of the machine and the possibility of preparing adjustable cappuccinos. The option of using various coffee filters should also be considered.
Buy on Amazon
The best alternative: Nespresso Inissia
Buy on Amazon
12. iRobot Roomba 980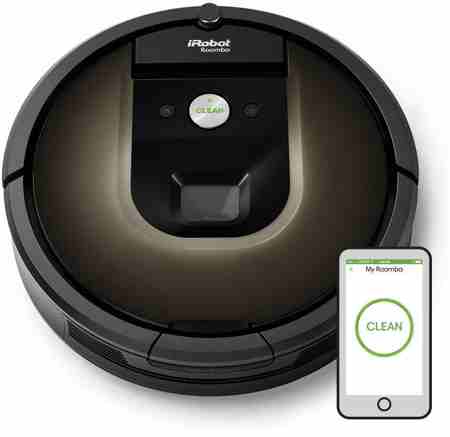 The best robot vacuum cleaner.
For
Two hour battery life
Smart navigation
Cons
Roomba stands for robot vacuum cleaners, and iRobot Roomba 980 it is certainly the best robot vacuum cleaner around. With a diameter of 35,05cm, the Roomba 980 is wider than average, but thanks to its circular design and rotating body, it is able to move through narrower areas than you might think. It works beautifully on floorboards, tiles, and other hard surfaces (operating relatively quietly), but boosts it when it needs to clean carpet. It automatically detects when the carpet is rolled up and its motors engage in a high gear to get between each fiber.
Equally impressive, like its cleaning abilities, is the Roomba 980's battery life; lasts a full two hours. When it is running low or its container is full, the 980 returns to its home dock. Like most robotic floor cleaners, the Roomba 980 it is a bit small, although it is striking for the amount of dust it can store.
Buy on Amazon
Best alternative: Aries 2718 Xclean
Buy on Amazon
Best home automation products on Amazon
Below is a constantly updated list of the best home automation products on the market on the Amazon shopping store.