Best Power Banks. Let's find out together the portable batteries that allow you to recharge not only mobile devices, such as tablets and smartphones, but also notebooks (if they have USB-C ports).

Power Banks can be slim, compact, large in size and capacity, colored and can include one or more USB ports to charge multiple devices at the same time.
If you want to discover the best power bank, below you will find all types of power banks that offer the best value for money.
Before starting, the suggestion I can give you in choosing a power bank is to always take its into account capacity, support to quick charge (Quick Charge), number of doors, dimensions e weight and the various light indicators such as LED e torch.
Read also: Best wireless charger on the market
Best Power Banks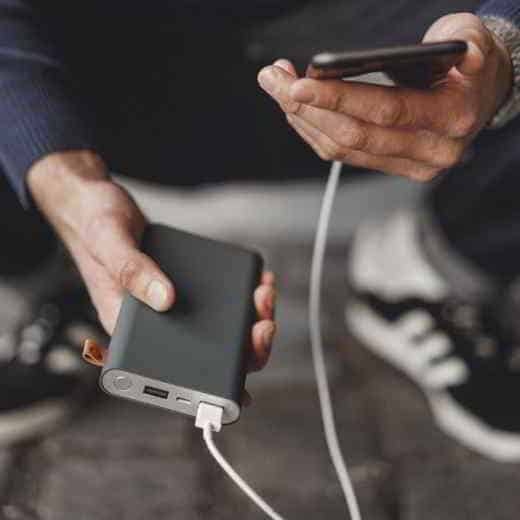 Best Power Bank 20000mAh
A power bank from 2000 mAh allows you to recharge your mobile device or MacBook several times. This way you can take it with you on your travels without worrying about a dead cell phone.
Before buying this type of device, I recommend that you check the inclusion at the entrance microphone USB of fast charging technology Quick Charge 2.0 o 3.0 area of Qualcomm, USB C port reversible, minimum current from 2A o 2,4A (avoid using a 1A charger to recharge a 20000 mAh Power Bank).
Below is a list of the best Power Banks with the most capacities.
1. iMuto 20000 mAh power bank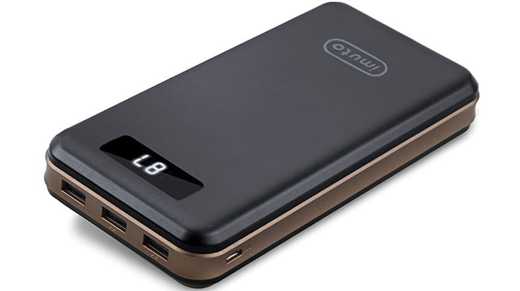 Two ports, 20.000mAh and affordable price.
For
Large capacity
Acceptable price
Robust design
Cons
If you are looking for a portable high capacity power bank, the portable charger 20.000 mAh iMute it might be suitable for you. It offers a capacity of 20.000mAh that will be able to charge an average smartphone four times with even a little more charge.
It can also charge some MacBooks and notebooks, but you need to make sure it's compatible with the processing option before purchasing it. Considering the advantageous price I would consider it one of the best Power Banks on the market. Plus you have the color choice of white or black.
Buy on Amazon
2. RAVPower 22000 mAh power bank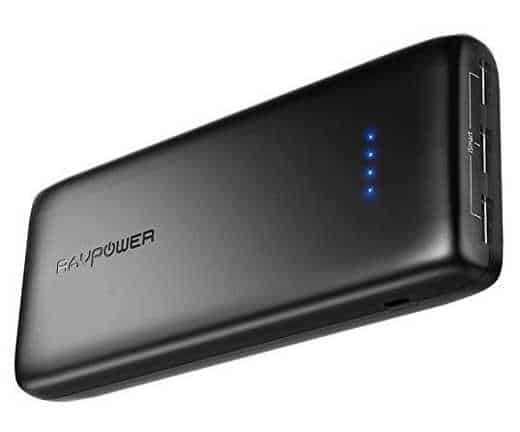 Three ports and thinner than iMuto.
For
Three gates
Surprisingly portable
Cons
Another high capacity portable charger is available for you. It is provided by RAVPower with a 22.000mAh option. The design is similar to the options made by Anker and Aukey below, and is slightly thinner than the iMuto.
You find three ports so you can charge multiple gadgets at the same time and enough capacity to charge both your mobile and iPad or tablet even starting from 0%.
No products found.
3. Aukey power bank 20000 mAh
Charge two devices at the same time
For
Large battery capacity
Two USB ports
Cons
Aukey power bank It has two ports so you can charge both your phone and tablet at the same time and also has a light that indicates the amount of remaining battery power.
The block design may not be for everyone, but this portable charger should be able to charge your phone and other devices thanks to a high-capacity battery inside.
No products found.
4. Anker PowerCore 20100 mAh power bank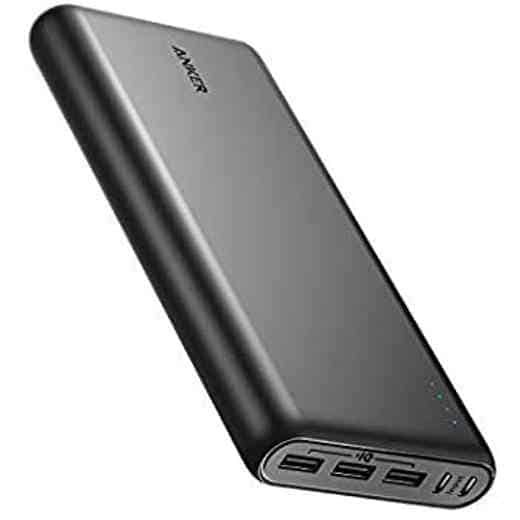 It is one of the best 20000mah power bank.
For
Battery size
High battery charging speed
Cons
Heavy
It does not support Qualcomm fast charge
I'm sure you've already heard of Anchor. Beh you must know that theAnker PowerCore it is one of the best portable chargers in the company. It comes with a huge 20.100mAh battery which means it will be able to charge your phone or tablet multiple times before it needs a recharge.
It also comes with high speed charging for those devices that use PowerIQ o VoltageBoost. It does not use technology QuickCharge di Qualcomm, but it is capable of powering your device when you are on the go.
Buy on Amazon
5. Mophie Powerstation Plus XL

One of the best iPhone Power Banks.
For
Integrated Lightning cable
Perfect fabric design
Ideal for iPhone and iPad
Cons
Mophie Powerstation Plus XL it's one of the best wireless power banks designed for iPhone and iPad (aside from the new iPad Pro 2018 range with USB-C port), and I say this for several reasons.
It contains a built-in Lightning cable that you can't miss, charges via a Lightning cable, and you can wirelessly charge it with any Qi charger, so you may already have everything you need.
This 10.000mAh power bank has a soft fabric finish and can charge two devices at the same time, one via the port USB-A da 10W and the other with the integrated Lightning charger. If you're using Android, you won't get any utility from this portable charger, however you can still take advantage of the port USB-A to help a friend who needs to recharge his phone.
Buy on Amazon
Best Power Bank 10000mAh
I Power Bank from 10.000 mAh they are compact and light devices, you can easily carry them in your pocket and they turn out to be very slim. The technology is also present in these models Quick Charge fast charging, and port USB Type C.
Below is a list of the best Power Banks with 10.000mAh capacity.
1. Xiaomi 10.000 mAh Power Bank Pro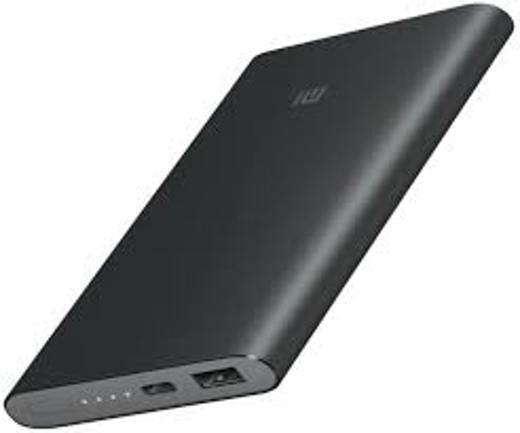 A slim and well made power bank
For
Portable design with metal casing
For micro USB and USB-C devices
Cons
Xiaomi is present in various unexpected technology sectors, including audio and portable chargers. During my tests, its 10.000mAh Power Bank performed well, both in terms of portability and charging potential. While not the fastest charger around, it was able to charge my Google Pixel 2 in just over two hours. Fortunately, it's quite discreet and you can take it with you anywhere.
It is not uncommon for a power bank to have a charging cable, but it is to be appreciated that it has been built to adapt it to the needs of users who have a micro USB or USB-C cable.
Buy on Amazon
2. Veho Pebble P1 Pro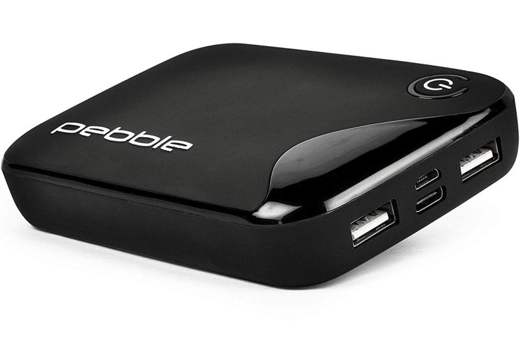 Fast charging with a great design. It is among the best type C power banks.
For
Two USB ports
Charge via microUSB and USB-C
Cons
With 10.400 mAh inside, two USB outputs and fast charging technology, Pebble P1 Pro can be considered one of the best power banks that you could purchase at any time. Its name has nothing to do with the watch brand no longer on the market, but with the design of its curved edges.
Il Pebble should be able to charge most phones at least two and a half times on a single charge, also can be recharged by microUSB o USB-C so you don't have to rely on a specific cable whenever you need it.
Buy on Amazon
3. Poweradd Pilot 2GS 10000mAh portable charger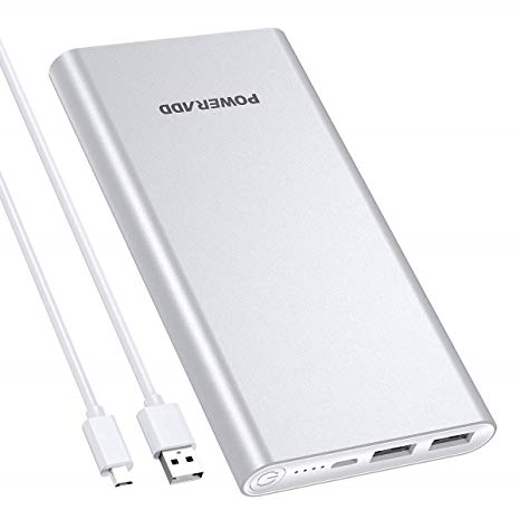 Metallic and elegant, it is one of the best budget power banks.
For
High capacity
Quick charge
Cons
Poweradd offers a great slim portable charger, and is one of the cheaper options on this list. It boasts a remarkable 10.000 mAh battery inside.
It can be quite heavy, but the thickness of just 1,3cm makes it a great device to put in your back pocket on the go. Unlike other power banks described in this article, the Poweradd does not have a built-in cable, so you will need to get it.
No products found.
4. Anchor PowerCore II 10000 mAh power bank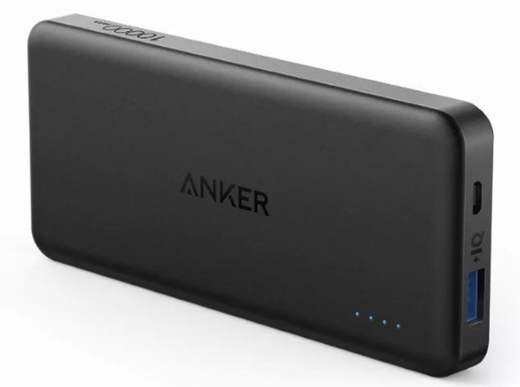 It is one of the best 10000mah power bank to put comfortably in your pocket.
For
Super slim design
Very portable
Cons
The Anchor PowerCore II 10.000mAh Power Bank is perhaps the most portable option on this list, allowing you to have at least two full, ready-to-use charges for your phone.
Weighing in at 209g and 1,5cm thick, you can always carry it with you and not feel weighed down while still having 10.000mAh of extra power for your devices. Plus, it comes with Anker's fast charging technology, which already means an absolute guarantee.
Like many chargers on this list, it doesn't come with a built-in cable, so you'll need to purchase it separately.
Buy on Amazon
Best Cheap Power Banks
Il best cheap Power Bank it is a compact device with a good quality / price ratio. They are able to charge up to a maximum of two devices at the same time and i LED integrated allow you to know the remaining battery charge. The cable is usually included in the scope of delivery microphone USB.
Below is the best economic Power Bank and other valid solutions.
1. RAVPower 6700mAh portable charger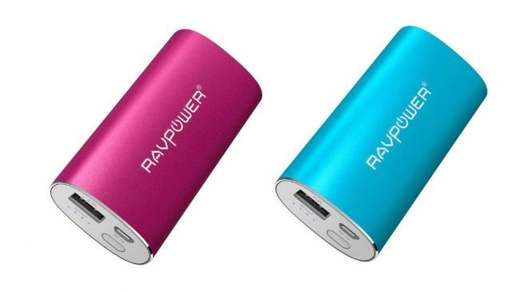 Bright and with a large capacity, it is among the best travel power banks.
For
Bright color options
Compact design
Cons
RawPower 6.700 mAh is the cheapest option among the power banks on this list. It has a capacity of 6.700mAh, which should charge your average smartphone at least once and maybe even twice. There are three color options: pink, bright blue or silver.
The LEDs on the side of the device also show how much charge is left and fast charging technology is also built in.
No products found.
Other cheap Power Banks
Best Power Bank with many ports
Do you have many technological devices and the need to charge them at the same time? Here are valid Power Banks, including the MAXOAK, for fast charging, including laptops and tablets.
Doors are standard USB A to recharge smartphones and tablets, Micro USB to recharge the Power Banking e USB Type-C to recharge laptops, Macbooks, smartphones, latest generation video games (for example Nintendo Switch).
Below is the best Power Bank with many ports and other valid solutions.
1. MAXOAK 50.000mAh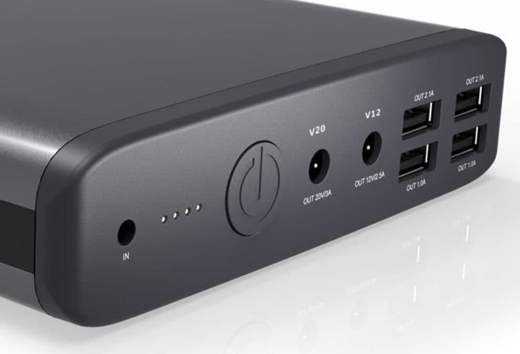 It is among the best quality / price power banks thanks to its six ports.
For
Cons
Il MAXOAK It may not be the most portable power bank on the list, but it has plenty of useful ports for charging multiple devices at the same time, even laptops, phones, and tablets.
It is possible to charge six devices at the same time and with a capacity of 50.000mAh, so if you are surrounded by so many technological devices this is probably one of the best external chargers to buy.
Buy on Amazon
Other Power Banks with many ports
Buy on Amazon
No products found.
Best Power Banks with Quick Charge
Fast charging reduces the charging time of the connected device. The types of recharge used are that of the Qualcomm Quick Charge, Pump Express di MediaTek, and versions VOOC, Dash Charge created by manufacturers.
The latest generation smartphones such as the Samsung Galaxy allow you to activate or deactivate the fast charging function directly in Settings> Device assistance> Battery. Press on the top menu (three vertical dots) and choose Settings. Here you activate Fast Charging with Cable.
Below are the best Power Banks with Quick Charge technology.
Best Solar Power Banks
Power Banks with solar panels have very long charging times e power reduced, compared to normal Power Banks. They store solar energy in an internal battery and use it to charge the device. However the flexibility is the greatest advantage of these devices.
Below you will find the best solar power banks that can be purchased on Amazon.
Best Wireless Power Banks
I power bank with wireless charging they arrived on the market very recently. They offer charging with both cable that way wireless. Some of them can be recharged not only with cable but also wirelessly. Seeing is believing.
Below you will find the best wireless Power Banks on Amazon.
Best Power Banks for PC
There are Power Banks that in addition to charging smartphones and tablets are able to recharge laptop o portable. These devices must have a compatible connector, the same input voltage in Volts and the same or greater power supplied in watts.
The ports of a laptop power bank must be: DC inbound and outbound e USB. In addition, it must have a connector compatible with the charging port of the laptop. In fact, many devices include a adapter set of leading laptop suppliers.
Below is the best power bank for PC and the many valid alternatives.
Mophie Powerstation AC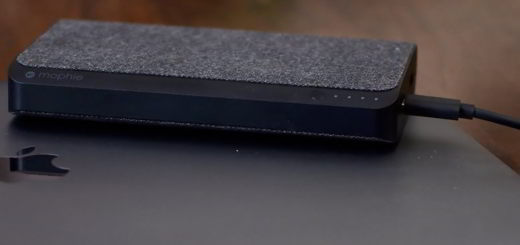 The portable battery with the highest output
For
100 W output
USB-PD compatible for fast charging of the latest iPhones
Cons
With Mophie Powerstation AC, high power is guaranteed. This portable notebook charger is capable of powering a 15-inch MacBook Pro. The USB-C port is rated at 30W with a USB-PD label, meaning it's one of the few batteries that can quickly charge an iPhone X or iPhone 8.
Buy on Amazon
Other Power Banks for PC
Buy on Amazon Buy on Amazon Buy on Amazon Buy on Amazon