Best Portable Wifi Router. A buying guide on compact routers to use on the move, also called mobile hotspot or Mi-Fi.
Using the Internet even on vacation today has become a necessity and often the WiFi connections of hotels do not guarantee the stated performances. That's why having 4G LTE portable routers with SIM card available could prove to be an excellent solution to surf the Internet comfortably
The best portable Wifi router is a tiny network device that works like a normal home WLAN router, with only two differences instead of using an ADSL connection, it allows you to surf the Internet through a mobile network and thanks to an integrated battery it can also be used on the move.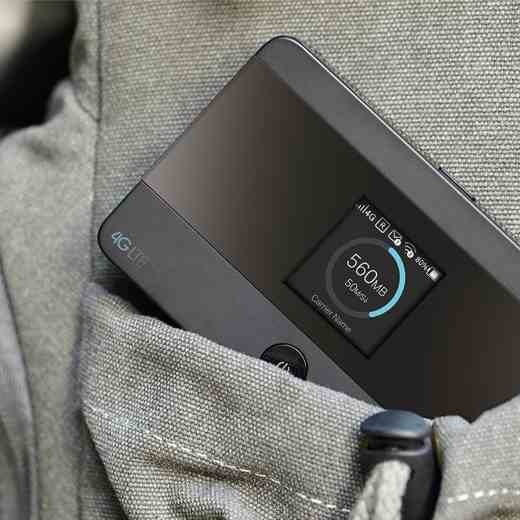 The configuration of a mobile router is similar to that of a smartphone, in fact it requires the insertion of a card SIMs. (microSIM or nanoSIM) in the compartment under the battery or on the side of the case.
If you decide to buy a mobile hotspot, you will absolutely have to keep in mind the number of people who will use it. Some routers can support up to five devices, while other models allow network browsing for up to 20 users. The higher the number of people sharing the router connection, the slower that of individual devices will be.
Another important aspect is the choice of a adequate phone plan. Numerous tariffs for mobile use of devices offer a very limited data volume which, with intensive use, tends to run out quickly. Watching numerous streaming movies or TV series online is only possible after evaluating the different phone plans. You will need to choose an access point (APN) which generally should already be preset, if not, you will need to contact your carrier.
Best Portable Wifi Router

Before pointing you to the list of best portable Wifi routers, you should know that these are practical devices that bypass the limitations of the traditional ADSL network and allow you to surf the Internet with numerous devices, saving the battery of smartphones. They can also be used abroad with advantageous rates by supporting not only the SIM but also the Internet Keys to surf in 3G / 4G. But no more chatter and let's get busy with the buying guide on the best mobile wifi.
1. TP-Link M7350 V4 4G LTE mobile hotspot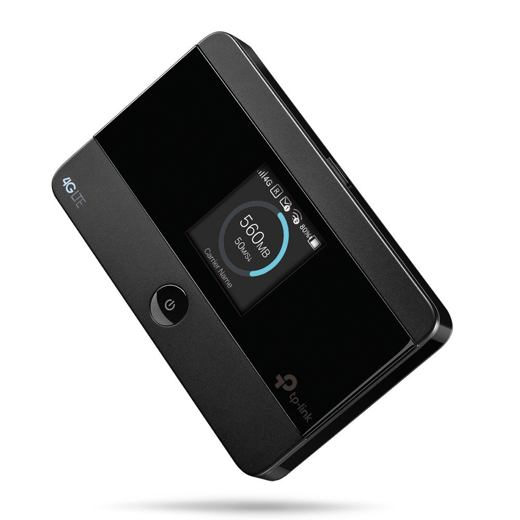 For
Cons
cumbersome
No 802.11ac wireless
TP-Link M7350 is an excellent mobile hotspot, which supports cards SIMs. micro and nano, which means it will almost certainly be compatible with a SIM card you already own. It has a small display to inform you about your connection and supports Dual band Wifi both 2,4 and 5 GHz. Up to 10 devices can be accessed at the same time and performance is very good on 4G LTE. Battery life is also excellent, with around 10 hours of 4G connectivity.
Buy on Amazon
2.EE 4GEE WiFi Mini mobile hotspot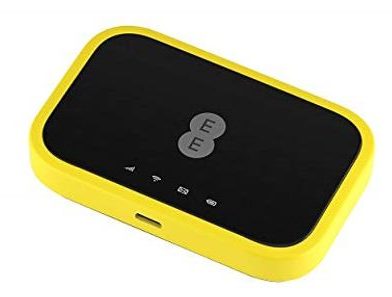 Speed: 4G LTE | Maximum number of devices: 10 | Features: 1500 mAh battery, Wi-Fi 802.11 b / g / n, various data plans.
For
Cons
Blocked on EE network
No 802.11ac wireless support
EE 4GEE WiFi Mini it's one of the coolest mobile hotspot devices on this list. Its compact design makes it easily portable with you. The 1500mAh battery offers up to 50 hours of standby time and up to six hours when connected to the internet. It can support up to 10 devices at the same time, but it doesn't have an LCD screen, like the TP-Link M7350, which means it's not quite as easy to use. You also need to use the EE network, which isn't much of a problem due to the EE coverage and high 4G speeds.
Buy on Amazon
3. Netgear AC810-100EUS Aircard mobile hotspot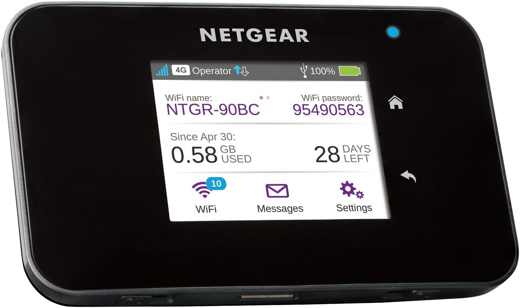 Speed: 4G | Maximum number of devices: 15 | Features: removable battery, touch screen.
For
Up to 15 simultaneous connections
Excellent build quality
Cons
L'AC810 Aircard di Netgear is an excellent mobile hotspot that allows you to quickly and easily share a fast 4G LTE internet connection with a wide range of devices. It supports up to 15 devices and is very flexible; its 2930 mAh battery is capable of running for 11 hours and 260 hours of standby time. A full touchscreen provides all the information you need and lets you manage connections and change settings on the fly. All this is combined with a solid build quality. To conclude it is one of the best portable Mi-Fi hotspots of the moment.
Buy on Amazon
4. Huawei E5770 mobile hotspot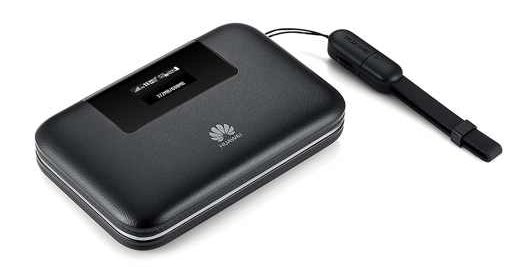 Speed: 4G LTE | Maximum number of devices: 11 | Features: 5200 mAh battery, Wi-Fi 802.11 b / g / n, microSD card.
For
Cons
Il Mobile Wi-Fi Pro on Huawei, Also known as E5770, it is one of the best portable routers for advanced users. This model 4G / LTE (Cat-4, so only 150 Mbps) has one of the largest batteries seen on any device Mi-Fi at 5.200 mAh. It can even charge another device thanks to a supplied cable that doubles as a stylish strap. Up to 10 devices can be connected with a working time of up to 20 hours.
Buy on Amazon
5. Netgear Nighthawk R7100LG mobile hotspot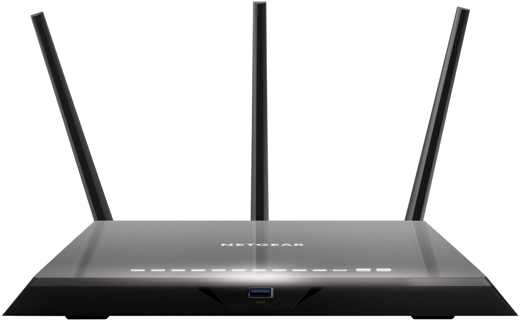 Speed: 4G LTE | Maximum number of devices: N / A | Features: Dual band, Wi-Fi 802.11 b / g / n, 5 porte Ethernet.
For
Fantastic performer
Bundled app to control the router
Cons
Very expensive
It needs expensive solutions to be truly portable
This is the antithesis of your traditional pocket hotspot, and we're bending the rules to include it in this article. there Netgear Nighthawk R7100LG, a router with a SIM card slot. Technically, it's not portable as the device requires mains power, but there are potential workarounds to make it so.
Nighthawk is a great solution if you want to offer internet access to a large amount of users and also access to storage. It offers Cat 6 / LTE (300 Mbps), AC1900 Wi-Fi, two USB ports, a free app to manage the router (Genie), four Gigabit Ethernet ports in addition to open source support and numerous security features.
Buy on Amazon
Best-selling Portable Wifi Router on Amazon
After having listed the best portable wifi routers on the market, to be taken into consideration before your purchase phase, below you will find an always updated list of the best-selling portable wifi router of the moment on Amazon.