Best portable monitors. A buying guide on which are the most interesting portable monitors for your work, gaming, multimedia and much more.
We live in an age where portability has become necessary, especially for those who travel often for work or otherwise. Having the best portable monitor is an almost indispensable item for professionals looking to make life easier while on the go.
Portable monitors are an excellent choice for engineers, graphic designers, writers, artists and even programmers, to name just a few professions, as they take portability and high performance to the "next level" to use the language of games. However, portable monitors are more than an expensive whim, as they are designed to help people do their jobs more comfortably and efficiently, and we're talking about people who generally require large screens to do their jobs accurately.
How to choose the best portable monitor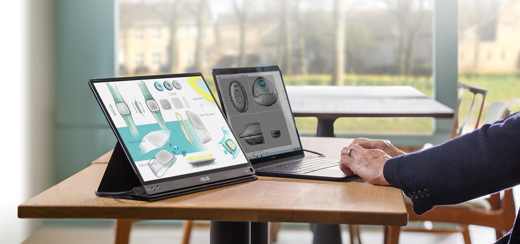 If you're looking to boost your productivity, having a second screen, like a USB powered portable monitor, could make a big difference. There are many models to choose from, let's first see what to consider before buying one.
Screen
Choosing the best laptop monitor is similar to choosing a gaming monitor and one of the most important "metrics" to consider is the display itself, because that's where the action is; more precisely, the screen resolution. The advice is to look for the highest possible resolution, such as in 1080p / Full HD and beyond. It goes without saying that high-resolution drives are a little more expensive, but it's not worth compromising on resolution and image quality just to save a few bucks.
And speaking of picture quality and resolution, if you like heavy gaming on the go, look for a synchronization G (o FreeSync), provided that such a device exists.
Contrast ratio
This is an important feature for a portable monitor due to the nature of the work, for example you may need to use it for presentations in broad daylight or in very dark environments. Then check if you can easily change the settings, such as dimming, brightening the display, etc.
Speakers
The speakers will make for a nice feature for your portable monitor, especially if you pair it with a portable DVD player. Having visuals and sounds would really impress your audience during a presentation.
Sizes
Size is everything, the bigger the better, and that goes for portable monitors too. Depending on the nature of your work, you may need to have large or small monitors. Keep in mind that most portable monitors to date are 15,6 inches, but I can go as high as 22 ''.
Compatibility
Whatever you do, make sure the respective monitor is compatible with your desktop / laptop or whatever device you will pair it with. Also look at software compatibility, Windows, Linux, iOS, or whatever you are using.
Energy law
Most of the time, portable monitors are powered through the USB cable. Check the specs and make sure how much power your monitor is consuming - a metric that will give you a hint of how fast it will drain the battery from your laptop, power bank or even smartphone.
Connectivity
Most portable monitors today have ports USB e HDMI, which are more than sufficient in the vast majority of situations. However, depending on your equipment, make sure the portable monitor you are looking at has all ports to function properly. Who knows, maybe you'll be using it on an older generation Thinkpad laptop or PC, and a port may be needed VGA old school to get the most out of it.
Weight
Big is beautiful, but a big monitor can also break your back. Seriously, if you plan to carry your portable monitor a lot, go for an "ultra-light variety". In general, even the smallest monitors are lighter and take up less space.
Best portable monitors

Now that you have a complete overview of the features your future portable monitor must have, without further ado, let's take a look at the best portable monitors currently available, for every budget type.
1. ASUS ZenScreen MB16AC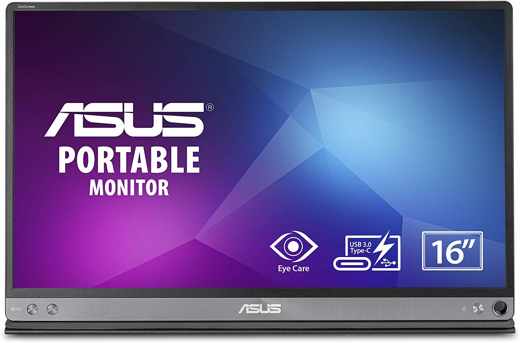 The best portable notebook monitor.
For
Display IPS full HD 1080p
Ultra-portable
Light and thin
Great software package
Works with virtually any laptop
Nice design
Good viewing angles
Contrast Ratio: 800: 1
Automatic screen orientation
It can be powered by your smartphone
Cons
The screen is quite dark
Expensive
Not suitable for games or multimedia content
The glossy display reflects ambient light
No built-in speaker
ASUS ZenScreen MB16AC it can best be described as an ultra-portable (1080 x 8,9 x 0,3 inch) 14,2 "full HD 15,6p monitor. As you have already guessed from its size, the Asus ZenScreen is very light and ergonomically designed, weighing only 1,7 kilos and is only 7 millimeters thin. In addition to having a supermodel silhouette, when it comes to portability and ease of use, you won't find better.
This unit is equipped with a USB Type-C port and the image quality is good enough for a laptop, although brightness is definitely not its strong point. There is also a cover included in the retail package, which doubles as a base and is a really nice Asus touch. In real terms, the Asus ZenScreen isn't much bigger than an iPad Pro, but one thing that makes it ideal as a second screen for your notebook, and that it's incredibly comfortable to carry around. The single port design makes it very "slim and sexy" and Asus also provides a standard USB adapter along with the cover.
Buy on Amazon
2. HP Business S14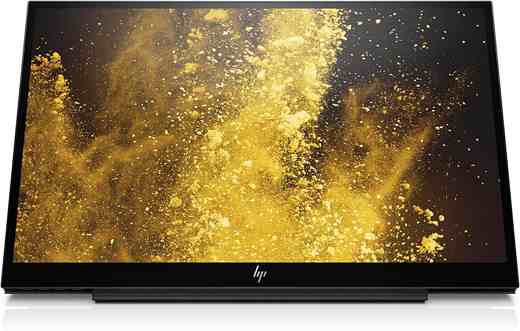 The best HP portable monitor.
For
Single USB Type-C port for improved ergonomics
Excellent for productivity use
Great for gaming thanks to the 5ms GTG latency
The included USB Type-C cable is 1,5 meters long.
Sturdy support base
Elegant and refined design
Anti-reflective coating
Easy to use and install
Great as a second monitor
Cons
It doesn't have the brightest screen in the world
Next in line is theHP Business S14, which, as the name suggests, is all about growing your workspace. This professional portable monitor is 14 ", however it offers a rather interesting 16: 9 aspect ratio and GTG 5ms latency at full HD 1080p, making it surprisingly good for gaming. Considering its small form factor and tiny screen, it goes without saying that the S14 was built to function as a dual monitor.
This small monitor is powered by a state-of-the-art USB Type-C, which allows the power signal and video signal to pass through at the same time. It comes with a cover included in the sales package and has a weight of 2,2 kg and a size of 12,9 x 8,2 x 0,34 inches. The HP Business S14 is lightweight and small enough to fit into almost any backpack type, including a notebook bag.
The display itself is an IPS unit and offers pretty good images with excellent color reproduction and wide viewing angles; for professional types it is important to remember that the S14 has a matte / anti-glare finish, which is excellent for outdoor use.
Buy on Amazon
3. AOC I1659FWUX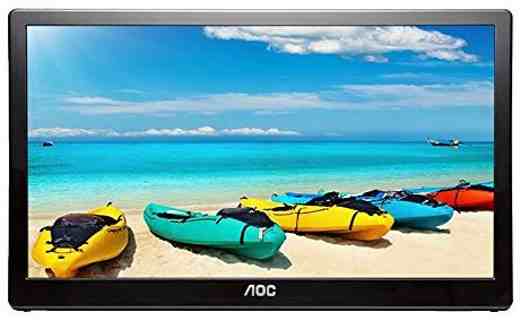 Portable monitor with the best value for money
For
Bright IPS panel
It excels in color accuracy / reproduction
Wide viewing angles
Excellent performance
Lightweight (0,90 kg) and thin (1,5 "thick)
USB Type C
Comes with travel case
Cons
Gaming is not its strong point
The portable monitor AOC I1659FWUX is a 1080 "Full HD 15,6p IPS display device with built-in stand and VESA mount compatibility. It is equipped with only one USB Type-C port, which provides both power signal and video signal, and best of all, the built-in stand is intelligently designed, so it works in both landscape and portrait modes.
Unlike previous models which lack brightness, a common feature due to energy savings, the COA instead boasts 220cd / M² of brightness, which is significantly more than its direct competitors. Another thing to consider is that the AOC will cost you less than an Asus or an HP, which means you'll get a better affordable 15,6 "portable monitor.
Buy on Amazon
4. GeChic 1503H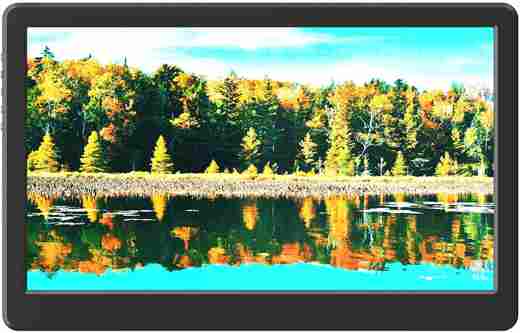 The best portable monitor for MacBook Pro.
For
Image quality
Very bright
Superb viewing angles
5-star connectivity
Lots of features
Easy to set up
Comes with 2 power cables: USB-A to USB-C, HDMI to mini-HDMI
It has 2 mini HDMI inputs
The stand is adjustable
Versatile and well built
Integrated speakers
Cons
Il GeChic 1503H is another 1080 "full HD 15,6p portable monitor made by a rather unknown Chinese company, but don't let the lack of popularity fool you. For starters, the GeChic 1503H isn't cheap at all, in fact, it also offers a high-quality IPS panel, VGA and HDMI inputs, rear dock and built-in speakers.
It is also worth mentioning that GeChic 1503H is equipped with top functionality, that is, it weighs 798 grams and has a thickness of 1,1 cm. If you're looking for a high-performance portable monitor, with a sleek design and rich connectivity, look no further, because you've just found it.
Buy on Amazon
5. G-STORY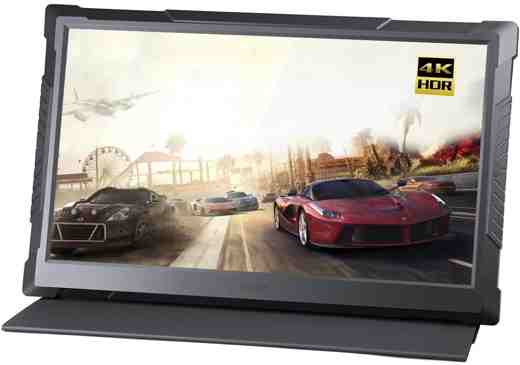 The best portable monitor for gaming,
For
UHD 4K
Excellent image quality
FreeSync technology
Designed for play
Support 4K HDR games
Comes with built-in stereo speakers
EyeCare technology reduces eye fatigue
Comes with 2 x 3,5mm audio jacks, 2 x HDMI ports
Offers a complementary remote control
Amazing frame rates
Fully compatible with Xbox and PS4
Cons
If you are looking for a high-end portable gaming monitor, this G-STORY could be for you, thanks to an incredible 4K UHD resolution.
Of course, you'll have to pay a little more for the ultra-sharp 4 '' 15,6K screen, with 3840X2160 pixel resolution. It is specially designed for hardcore gamers, so it won't disappoint FTS / FPS games, as it comes with FreeSync technology that cancels image tearing / stuttering (cropping and slowing down) to deliver the best gaming experience.
Buy on Amazon
6. ViewSonic TD2230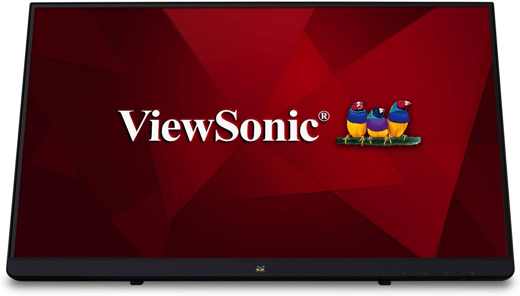 The king of multimedia.
For
Excellent performance in games / multimedia
Good for editing
7H Scratch Resistant Touchscreen
3 years warranty
IPS screen with wide viewing angles
Advanced connectivity options including VGA
Frameless design
Cons
Compatibility with Windows only
ViewSonic TD2230 is a 22 inch portable monitor with Full HD 1080p resolution and a scratch resistant multi-touch display. If you are looking for a high productivity tool to use in corporate / commercial / retail / educational environments, the TD2230 fits perfectly even if it is not cheap at all.
As for features, it has excellent connectivity via DisplayPort, HDMI, VGA and USB 3.0 inputs, a solid adjustable stand, integrated stereo speakers, good viewing angles thanks to the IPS panel and a full set of cables included in the box. sale. Due to the monitor's low input lag and excellent color reproduction, you can use it for both multimedia and gaming purposes, which is great for such a large touchscreen.
Buy on Amazon
7. Asus MB169C+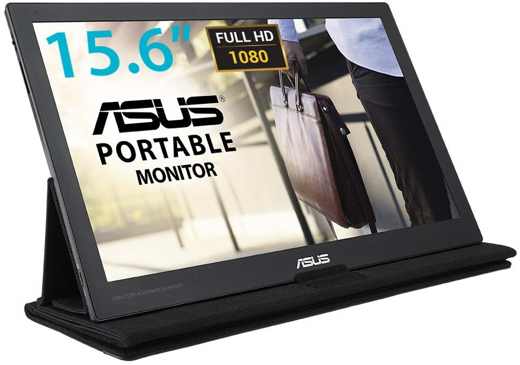 The best portable USB-C monitor.
For
Pixel resolution: 1.920 x 1.080
Thin and light
Good viewing angles and photos
Uses a single USB-C
Cons
Slightly weak brightness
Fiddly menu control wheel
THEAsus MB169C+ it is a portable monitor with 15,6 inch size to make it look like a normal monitor. It has a good pixel resolution of 1.920 x 1.080 which is perfect for streaming Full HD videos. You can work with two applications side by side and even play games if you have a powerful laptop.
The MB169C + is incredibly simple to use thanks to its USB-C connection, which uses a single cable to transmit video, audio and power. It also comes in a handy protective case that doubles as a carrying case. Asus' portable monitor uses an IPS (in-plane switching) display, with decent viewing angles making it perfect for watching videos in company.
Buy on Amazon
8. Gechic 1101P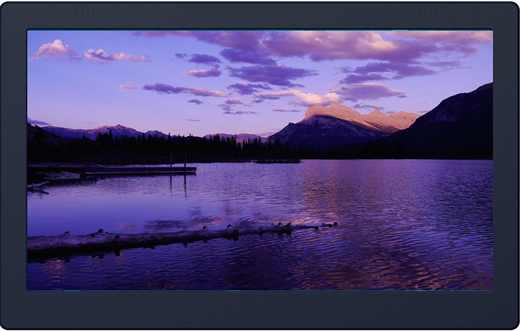 The best portable monitor for photographers.
For
Pixel resolution: 1.920 x 1.080
Big picture
Mounts to cameras / tripods
Well linked
Cons
Intended for photographers who need a monitor to take pictures, Gechic 1101P it features an IPS display like the Asus MB169C +. The fact that it is so small (11,6 inches) and portable allows it to be easily attached to a tripod or SLR camera.
This full HD display supports 16,7 million colors that can be easily changed using the monitor's built-in color temperature settings, allowing you to get as close to the camera display as possible.
The 1101P also features support for VGA, micro HDMI and mini DisplayPort. These make it suitable for a number of different use cases, from previewing photos and videos shot on a camera, to using it as a regular portable monitor with your notebook.
Buy on Amazon
9. Asus MB168B+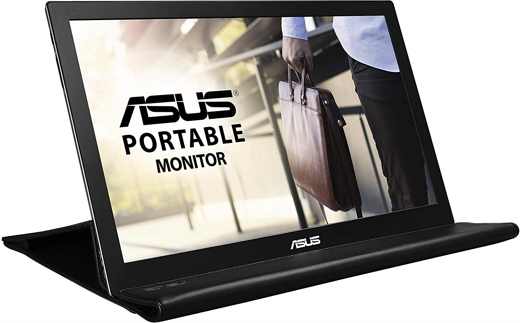 Best portable monitor with USB-A port.
For
Pixel resolution: 1.920 x 1.080
Thin and light
Good viewing angles and photos
It can connect other monitors to us
Cons
Requires USB 3.0 for maximum performance
If you like the sound ofAsus MB169C + but you don't have a laptop with a USB-C connection, then the Asus MB169B + is what you need.
This also connects to your laptop with a single cable, except it uses a regular port instead USB-A. It works with both USB 2.0 and USB 3.0, although with the former you will have significantly higher latency due to its slower data transfer rate.
It features a charming slim and light design. Thanks to technology Asus EzLink, which offloads graphics processing from the PC to dedicated hardware in the monitor, you can even plug in five Asus MB169C + if your laptop has enough USB ports.
Buy on Amazon
Best selling portable monitors on Amazon
Below is an up-to-date list of Amazon bestsellers on the most demanded portable monitors by consumers. Have a good consultation!