Our ranking of best PC fans. A buying guide to help you find the best PC cooling fan on the market.
If you've noticed that your desktop PC is a little warmer than usual it might be time to buy some of the best PC fans In circulation. There are a wide variety of options available for case fans and it is important to choose the right one for you.
To help you make your choice, I will explain how a fan cooling system works and how to choose the best one for your case and components.
If you have a laptop take a look at: Laptop PC Fans
Index
Best PC Fans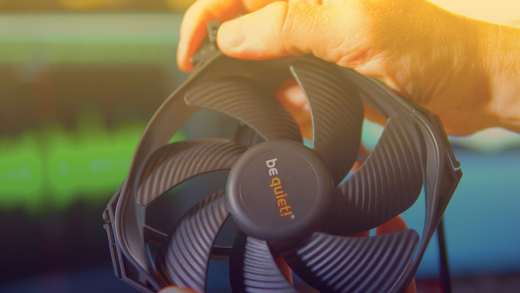 Before buying a fan, whether you have a gaming PC or desktop computer, the advice is to double check the size of your case and the amount of space you actually have inside, for a correct configuration of the fan. In some cases, you may be better off with a multiple fan system, rather than a single fan. In reality, it all depends on what you intend to accomplish.
What role does a fan play in maintaining PC performance
As the technology that drives our PCs and notebooks continues to increase both in terms of power consumption and speed, the internal temperatures of computers will also rise more and more. If important components such as the CPU and power supply are not kept at room temperature through passive cooling, a fan or two fans are required to allow for the excess heat load. If left unresolved, excess heat will greatly shorten the life of your PC components.
Il active cooling has become an integral part of PC maintenance. This is where the fans come into play. With proper placement, the case fans simultaneously push hot air away from problem areas, such as the CPU heatsink, and draw fresh air on them.
How to measure the size of a fan
What is the best way to determine the size of a fan? And how can I find out if I can handle bigger fans? These are certainly questions many consumers ask themselves before buying a PC fan.
Measure the fan horizontally or vertically, side to side, but not diagonally.
There is usually only one size that fits the fan slot. If you have an empty slot for a case fan and want to find out the appropriate fan size, you need to measure the distance between the screw holes of the fan and then add about 10mm. So if the distance is 70-72mm you need an 80mm fan.
The most popular fan size is 120mm, followed by 80 mm. This isn't actually dictated by customer preferences, but by recent PC cases.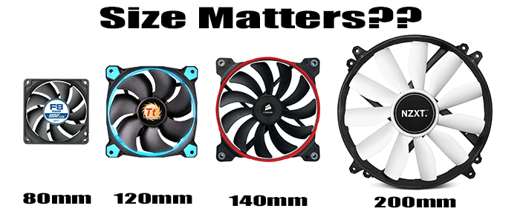 As regards the thickness (depth) of the fan, usually 25 mm is by far the most common depth, although smaller fans can have shallower depths, such as 15mm or even 10mm.
If you know the distance between the fan mounting screw holes but don't know which fan size to order, please refer to the table below. Note that the mounting hole measurements shown below are taken horizontally or vertically between the holes and not diagonally:
Distances of the screw holes and dimensions of the fan:
32mm between the screw holes: the fan size should be 40mm
40 mm between the screw holes: the dimensions of the fan must be 50 mm
50mm between the screw holes: the fan size must be 60mm
60 mm between the screw holes: the dimensions of the fan must be 70 mm
72 mm between the screw holes: the dimensions of the fan must be 80 mm
83mm between the screw holes: the fan size must be 92mm
105 mm between the screw holes: the dimensions of the fan must be 120 mm
How to choose a PC fan
Before buying a fan, I recommend that you take into consideration several elements: aesthetics, noise, customization with software or controller. Other to take into account are: i types of connectors on your PC and custody.
As for the connectors: there are 3 types: 2 pin, 3 pin e 4 pin.

The 2-Pin is a simple on / off configuration; not commonly used in modern computing. Both 3- and 4-pin connectors allow for greater control over fan operations, resulting in more efficient active cooling. The 4-pin molex ones connect directly to the power supply, while the 3-pin ones connect to the motherboard.
Choose an appropriate fan for the housing dimensions. If you have an extra-large case, we recommend that you consider a 200MM fan, for example. In this situation, an 80mm fan would do little to cool the system, as it lacks the force of airflow and the RPMs needed to efficiently move fresh air to important areas, such as the CPU.
Read also: Best CPU Cooler: Buying Guide
Best 80mm PC Fans
1. Cooler Master Sleeve Bearing 80mm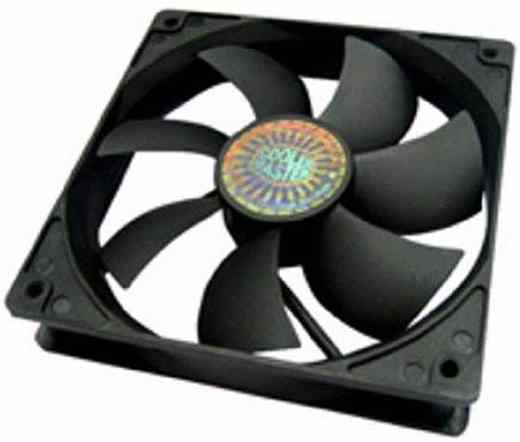 Better cooling fan.
For
11 pale
A norma RoHS
Very quiet
Perfect for smaller homes
Cons
Not powerful enough to protect larger systems
You can't control the PWM
The silent fan Cooler Master 80MM it is one of the best options available for smaller cases that exhibit symptoms of overheating. If you feel irritated by normal fan running noises, this 80MM fan can solve all your problems, as well as effectively cool your system. Even when running at full power / speed, this fan is completely silent.
An 11-blade design and a 3-pin connector that is perfect for connecting to a fan controller are the most interesting features. If you own a small unit, this fan is incredibly efficient.
Buy on Amazon
2. ARCTIC F8 PWM Rev. 2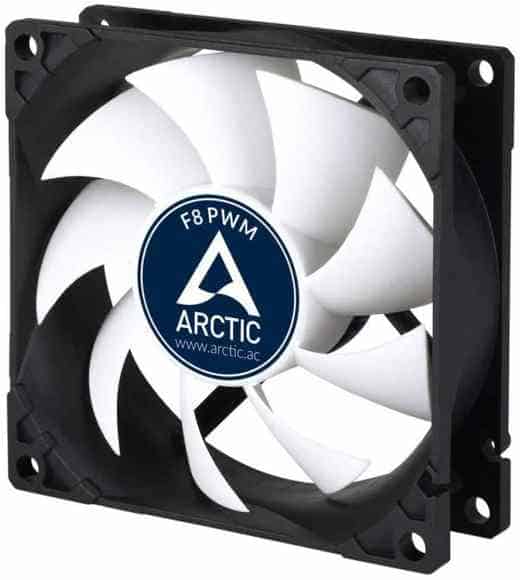 Best budget case fan.
For
4-pin connector that works with software and fan controller to control WPM
Very silent
Economic
Small enough to fit small houses
Easy installation
Cons
Too small for medium to large homes
The 80mm fan Fluid Dynamic Case di ARCTIC it's arguably the best budget fan available to consumers today. Its two-way installation allows you to blow hot air from the case or pull fresh air into the case; which is highly effective as a cooling measure. With a 4-pin connector, this budget fan is ready for plug-and-play, setup with a fan controller, or even to directly control the fan PWM with software settings.
Another great feature of this ARCTIC fan is the fluid dynamic bearing, which has an integrated lubricating oil capsule to ensure that operation remains smooth and quiet even at high speeds. Other quiet models typically rely on a sleeve bearing to achieve this level of quietness, however their life is usually much shorter than that of fluid powered bearings.
Buy on Amazon
3. Noctua NF-A8 PWM Premium 80mm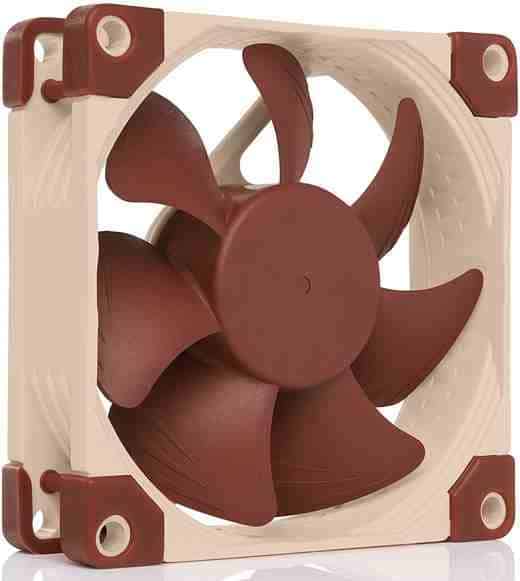 Best case fan.
For
Designed for ultra low power consumption
4-pin connector that offers more options for control
Quiet
Cons
Not suitable for large houses
If you like aesthetics when it comes to your computer components but aren't a fan of bright displays, the fan Noctua NF-A8 PWM Premium 80MM it might be perfect for you. This Noctua fan model was built to withstand the airflow pressure demands of tight spaces around heat syncs and the like. Furthermore, the visual design elements of the fan have not been neglected in order to achieve a good level of efficiency.
Not only is it very quiet, thanks to Noctua's unique SSO bearing system, it is composed of sleek lines, an open design and perfectly positioned blades.
Buy on Amazon
Best 120mm PC Fans
1. Be Quiet! BL070 SILENTWINGS 3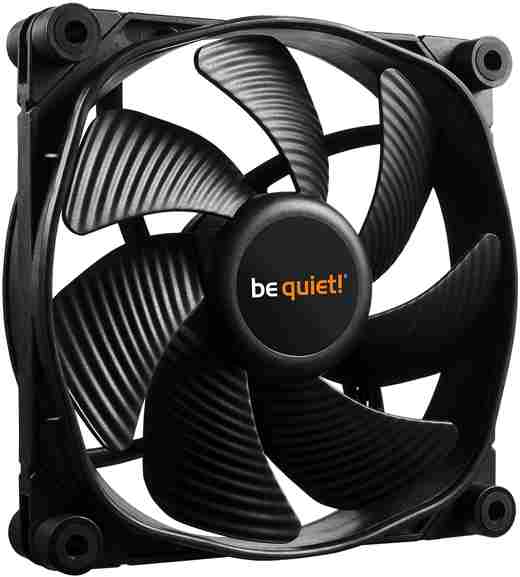 The best silent fan.
For
Perfect size for small to medium sized homes
Quiet, thanks to the fluid and dynamic design of the bearings
4-pin connector with additional control options
Cons
It does not fit all small PC cases
Slightly noisy
Don't be fooled by the standard 7-blade design; this fan SILENTWINGS 3 it is far from standard. A unique 6-blade motor design that comes with drastically lower power consumption; and therefore also less rapid. Thanks to this feature, Be Quiet! The 120mm high-speed fan is very quiet indeed.
Another important feature of this PC fan is the design of the vents. They have a funnel shape to create maximum air pressure; whether it sucks in air from overheated components or pushes them through fresh air. At 120MM this fan is perfect for small to medium sized PCs.
Buy on Amazon
2. Corsair LL120 RGB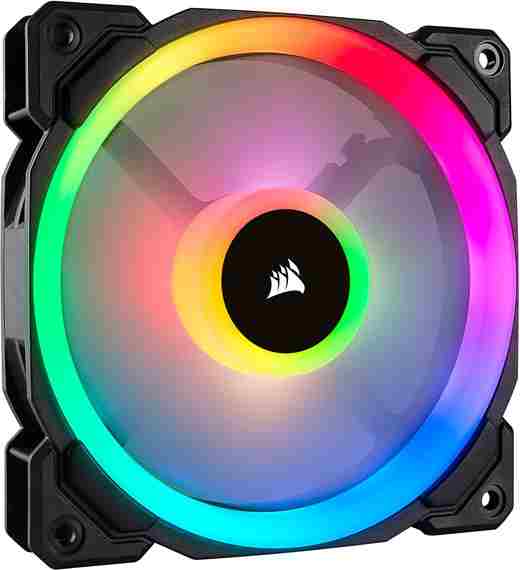 Best gaming PC fan.
For
Easy to install
silent
Good air flow
Cons
Corsair LL120 RGB is among the best RGB PC fans. It is a quality solution that does its job well bringing the desired results. It comes with 16 completely independent LEDs that can be controlled by software. Setting the desired lighting effects with this fan is a more than pleasant experience. Although the software iCue included is not among the best.
Corsair LL Series RGB LL120 is, first and foremost, a quality fan thanks to exceptional airflow and fairly quiet performance. The blade design minimizes noise but does not affect performance. Furthermore, thanks to its PWM control, the fan speed can be manually adjusted between 600 RPM and 1500 RPM to meet the requirements of noise or air flow, which is one of the essential elements to work at its best.
Overall, the Corsair LL Series RGB LL120 is an amazing product at a very attractive price.
Buy on Amazon
3. ARCTIC F12 PWM Rev. 2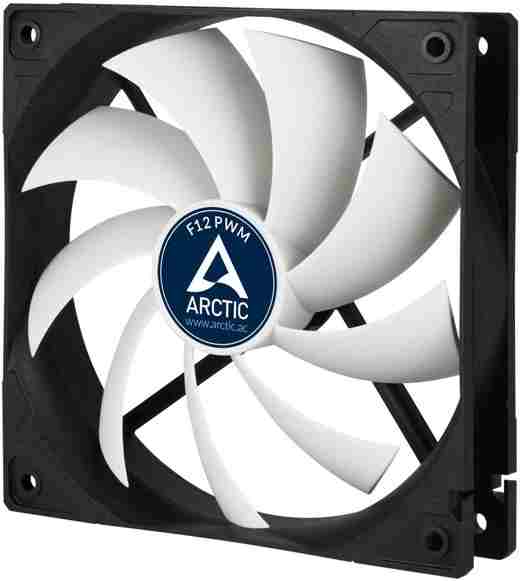 Best fan with good value for money.
For
2-way installation so you can push or pull the air
The 4-pin connector allows for PWM control
Cons
Insufficient airflow for larger homes
It may not fit in smaller homes
The fan Case F12 PWM Rev. 2 is another great model designed by ARCTIC; one of the leaders in the field of fans and general cooling technology. This 120mm fan is a 4-pin connector model, which allows you to control the change in the pulse width of the fan. This is useful for heavy computers used by gamers and designers who work at unusually high operating temperatures.
Another advantage of the 4-pin connector is that it allows the best motherboard to control the PWM of the fan and drastically reduces the fan noise levels. Constant temperature monitoring allows the system to properly estimate the power and operating time required to keep components at ideal temperatures. This allows to avoid noises and to push the fan to maximum power.
Buy on Amazon
4. Thermaltake Riing 12 RGB TT Premium Edition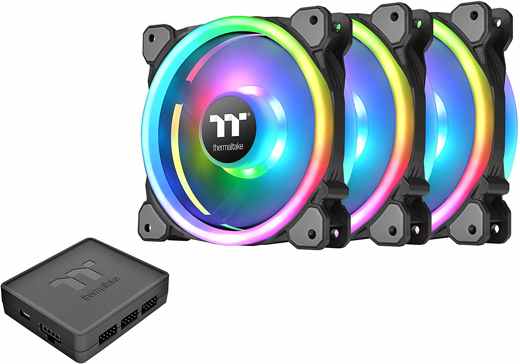 Best RGB PC fan.
For
Exceptional lighting
High customization
Constructive quality
Cons
The main job of RGB fans is to create amazing lighting effects that make your computer stand out from the crowd. Depending on the characteristics of the fan, these effects can be subtle and sometimes absolutely amazing, as is the case with the fan Thermaltake Riing 12 RGB TT Premium Edition.
This three-fan package comes with 16 predefined lighting modes, but also, thanks to its 30 addressable 16,8 million color LEDs and TT RGB PLUS software, it allows for an unlimited number of possible color combinations and allows users to create your own color creations and even synchronize the LEDs with music, game action, etc.
Generally made as a radiator fan, with nine-blade design, PWM control, hydraulic bearings and specially designed rubber bearings, these fans offer quiet cooling performance with speeds from 500RPM to 1500RPM.
Buy on Amazon
Best 140mm PC Fans
1. Corsair ML140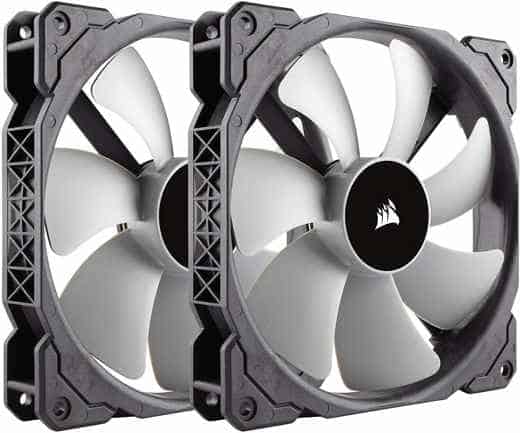 Best revolutionary fan.
For
Cold lighting
Almost silent at low speeds
Cons
Corsair ML140, where ML stands for magnetic levitation, is a product that introduces a new technology to the industry and its main goal is to reduce noise levels. Built to last, with a custom rotor design and PWM control, this fan delivers high airflow and reaches speeds from 400RPM to 2000RPM. Unfortunately, its noise levels aren't that good. While its performance is very quiet at low speeds, it increases as the fan speed increases.
Typically very stylish, with a decent five-year warranty, this fan presents a quality product, with a decent price and overall good performance.
Although the Corsair ML140 is introducing something completely new to the PC fan market, the involvement of magnetic levitation technology doesn't actually bring any obvious benefit to their performance. For now we are facing a decent product.
Buy on Amazon
2. Noctua NF-A14 iPPC-3000 PWM
Best high performance fan.
For
Quiet
Longevity
Great performance
Cons
Noctua NF-A14 iPPC-3000 PWM is, above all else, a premium product that does not compromise. A six-year warranty, great airflow, quiet operation and a host of features for optimized performance make this fan a one-of-a-kind product.
Advanced acoustic optimization, fully automated speed control, aerodynamic optimization, low noise adapter and anti-vibration pads are just some of its strong points. With PWM control and a fan speed from 800RPM to 3000RPM, this fan offers the performance that can be adapted to everyone's needs.
You can use it directly on your frame to improve air cooling or as a radiator fan, thanks to its square shape that guarantees complete coverage of the radiator. Overall it is a flawless product.
Buy on Amazon
3. NZXT AER RGB 2 - 140mm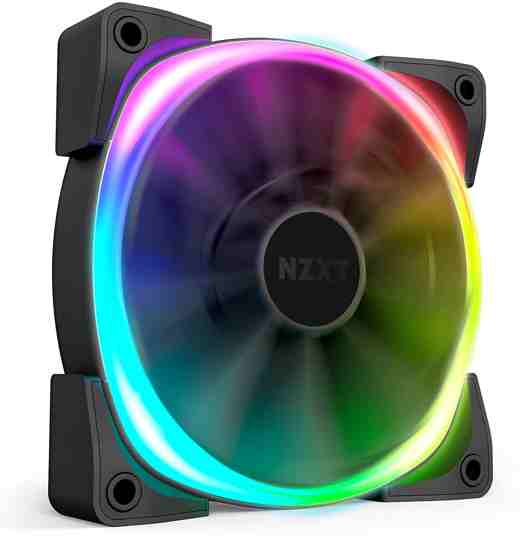 PC fan best price.
For
Quiet
Quality cooling performance
Cons
Unilateral RGB LEDs
Problematic CAM software
If you are looking for serious PC customization hardware that is not only good looking, but also with quality performance, NZXT AER RGB 2 – 140mm is the right product for you. With this fan you will get a highly efficient, quiet and attractive cooling tool at the same time.
Thanks to its CAM software, you will be able to easily configure and set your lighting effects, with an unlimited number of possible color combinations. Unfortunately, while CAM software is easy to use, it can be intrusive and annoying at times. Therefore, before you buy it, keep in mind that the fans only have RGB light on one side, so if you don't have a tempered glass side panel, you will have trouble enjoying their great looks.
These are the only downsides of this 140mm PWM static pressure fan capable of giving a special something to your gaming rig.
Buy on Amazon
Best 200mm PC Fans
1. Cooler Master MF200R RGB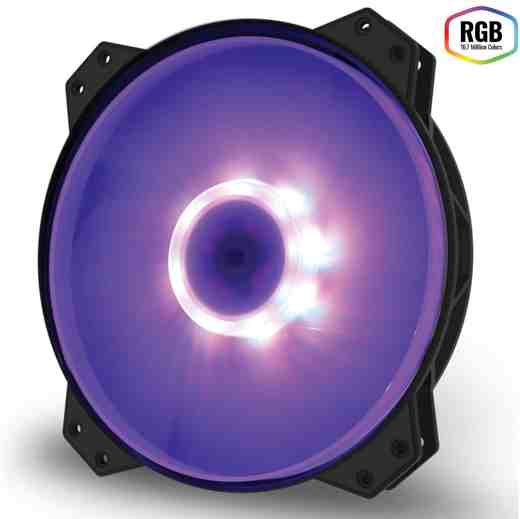 Decent RGB fan for its size.
For
Economica
Attractive appearance
Cons
For people looking for a large 200mm RGB fan capable of offering multiple customization options and support for various RGB lighting ecosystems, Cooler Master MF200R RGB it's a great entry-level option.
There is support for Asus Aura, Gigabyte Fusion, MSI RGB, and many other similar utilities, so you won't have a problem setting it up to your needs. If, on the other hand, the motherboard does not support RGB, there is always the option to purchase an RGB controller that will do exactly the same job.
This fan is packed with numerous features for an incredible experience, such as sound absorbing rubber pads, the Smart Fan sensor that automatically stops the fan if the cable is stuck inside it, the fan design of the hybrid jet motor and much more .
The Master MF200R RGB cooler can reach speeds of 800 rpm, which is more than enough for a fan of this size, offers a great balance between performance and quiet work, all with good value for money .
Buy on Amazon
2. Thermaltake Riing Trio 200mm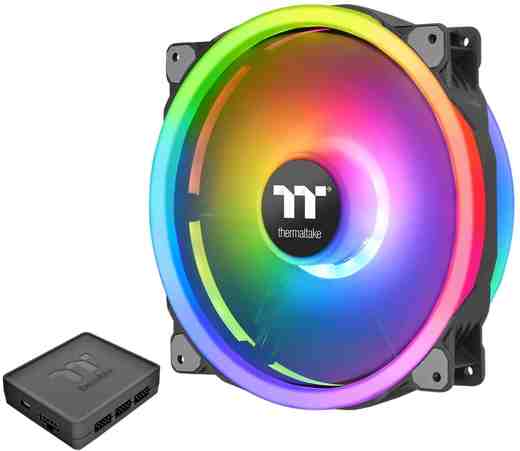 Best 200mm RGB fan.
For
Good performance
Economic
Voice control
Incredible light
Cons
Not the best build quality
If you are looking for affordable, yet attractive and efficient fans at the same time, Thermaltake Riing Trio 200mm is the product for you.
This fan package features three high airflow fans that provide excellent ventilation inside each case and, thanks to its design and self-lubricating hydraulic bearing, offer almost completely silent performance. The fans themselves allow speeds from 500 rpm to 1000 rpm, while each of the three fans is equipped with 60 fully controllable RGB LEDs capable of delivering brightness, color uniformity and fantastic effects.
More importantly: both the lights and the fan performance can be controlled not only by the software TT RGB PLUS, but also using voice commands, with the assistance of voice control TT AI.
Overall, Thermaltake Riing Trio 200mm is an excellent product that will please both performance and appearance and make your game an incredible experience.
Buy on Amazon
3. Thermaltake 200mm Pure 2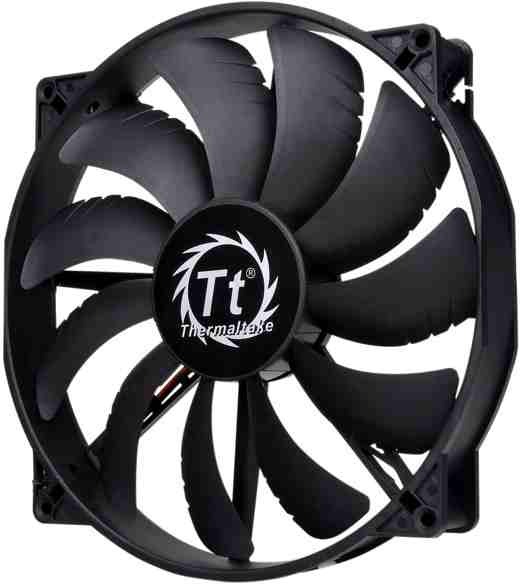 Efficient and quiet performance fan.
For
Cons
Thermaltake 200mm Pure 2 is an affordable and very efficient 200mm fan that offers very quiet performance and great overall value for the consumer.
The fan blade design ensures quality airflow while keeping noise levels as low as possible. Similar to other large 200mm fans, Thermaltake 200mm Pure 2 has a maximum speed of around 800rpm and generally features a good air cooling tool, with low noise performance.
Since this is a 200mm fan, don't expect it to be perfectly quiet - it will certainly be louder than, say, similar 120mm fans, but it's still more than acceptable for this size.
Buy on Amazon
Best Selling PC Gaming Fans on Amazon
If you are a gaming enthusiast and need a high-performance fan for your gaming experience, then I invite you to check out this constantly updated list of the most requested gaming fans on Amazon.