Invest in one of the best PC cases to assemble a computer could be a good solution, especially when you have the best processor and the best video card, as well as SSD and lots of RAM for the best desktop computer.
You need to know that many people spend time and money looking for homes that can hold all of your components. Choosing the best housing for them will impact not only how your rig will look on the outside, but its durability as well.
If you're building one that can rival some of the best gaming PCs, you'll need a case that helps keep components cool, as having a reliable PC chassis capable of increasing airflow is vital. . Also, if you want to future-proof your rig, you should consider something that has extra room for future expansion. And of course, if your lens is aesthetic as well, you might want one with a glass side panel, so you can show off all the RGB lighting on all components.
Which PC case to choose
Before suggesting the houses to buy, it is good to take into account some important elements.
Differences between ATX and ITX
Don't worry if these abbreviations mean nothing to you. ATX, also known as Advanced Technology eXtended, indicates a motherboard configuration specification, or simply a motherboard design. The most commonly used are Standard cards, Micro ATX, Mini ITX, Mini ATX, Nano ITX e PicoITX.
Le standard ATX cards they are 12 × 9,6 inches.
Le micro ATX they can have a maximum size of 9.6 × 9.6 inches.
Le Mini ITX 6,7 × 6,7 inches in size, they are generally used in small computer systems.
Le Mini ATX they are slightly smaller than the Mini ITXs - 5,9 × 5,9 inches.
Le Nano ITX they are 4,7 × 4,7 inches.
Le Pico ITX they are 3,9 × 2,8 inches.
Overall, the size of any PC case is determined by the size of the card it can support - usually large PC cases have larger motherboards and vice versa. Also note that any computer case, which houses a larger motherboard, can support smaller sized cards.
Finally, before selecting a computer chassis, make sure of the type of motherboard you need.
Common form factors of PC cases
Of course, all PC cases have different sizes and shapes. Therefore, there are special terms that indicate these characteristics.
The first is the case desktop. Such a computer case has a horizontal design and is widely used in business environments in order to save space as it can be easily placed under the monitor.
The second is the SFF case, or Small-Form-Factor. The term speaks for itself - cases that belong to this category are more compact than desktop cases, but at the same time have almost the same options. SFF cases support motherboards smaller than Micro ATX (typically these are mini ITX cards). They can look like book-sized houses and thanks to such a compact build, they are very popular with gaming computers and home theaters.
Other types of PC cases are: mini-tower, mid-tower e full-tower.
I case mini-tower they are about 14-16 inches tall, matching the size of desktop cases. They usually only have one or two external slots and support micro ATX cards. The mid-tower they are about 17-21 inches tall and have two to four external bays. And if the mini-tower can only accommodate one GPU, this type of case can support up to two GPUs. A new term has also recently appeared: midi-tower, which assumes a case smaller than the mid-tower but larger than the mini-tower. The midi-tower they usually have two to three external bays.
As regards the case full-tower, have a height of 22 to 27 inches. Full-towers usually have five to ten external access bays and should be placed on the floor. They support ATX, EATX or XL-ATX motherboards. All towers that are more than 27 inches in height are named Great o ultra tower.
Furthermore, one cannot fail to mention the MOD-tower. This is a case system that can be modified by putting new houses on top in order to, for example, add more cooling capacity.
Drive bay
Le drive bay can have different size: 5,25 inch, 3,5 inch and 2,5 inch. The largest, 5,25-inch format, is used with an optical drive. It can be a DVD burner or Blu-ray drive. Such bays are widely used for hosting front panel devices, e.g. temperature readings or thermoregulators. They can also be applied when installing additional panels for extra ports on the front of the PC. Such 5,25-inch bays are used in SFF or mini-tower cases.
The second type of drive bays is used for installing flat style hard drives. Some of the tower cases have 3,5-inch bays. As for the 2,5-inch bays, they can be easily implemented even in the smallest parts of the case thanks to their compact size.
CPU cooler
The PC case must of course house a cooler. Therefore, one of your tasks is to check if a chosen computer case is tuned for a CPU cooler you plan to purchase. Note that most high-end CPU coolers need a backplate or other mounting hardware installed from the board underneath.
Also Read: Best CPU Cooler.
I / O protection
This part of the PC is located on the back of the computer case. It has special cutouts for different ports on the board and acts as a motherboard shield as you plug cables into the mentioned ports.
Consequently, the I / O screens are not interchangeable between different boards but can be used for different PC cases, as they always have the same standard size: 1,75 × 6,5 inches.
Best PC Cases
Below is an up-to-date list of all types of cheap and non-cheap PC cases, which will help you narrow down your searches.
1. Corsair Obsidian 1000D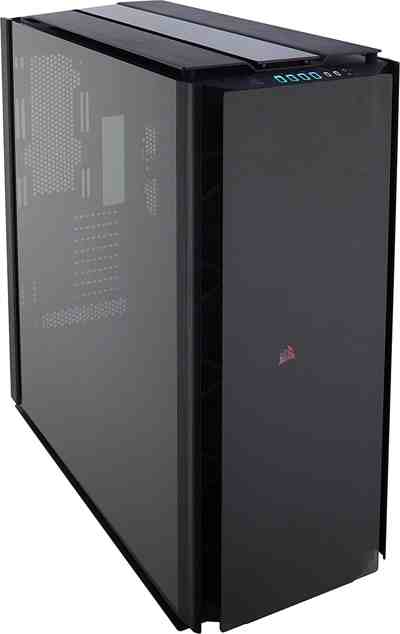 Miglior case full tower.
For
Double system case
Plenty of room for cooling
Cons
Form Factor: Full-tower | Sizes: 693 x 307 x 697 mm (L x P x A; 27,3 x 12,1 x 27,4 pollici) | Compatibility Mobo: Mini-ITX, Micro ATX, ATX, E-ATX (12 x 11 pollici) | Support PSU: lower mounting | I / O: USB 3.1 Gen 2 Type-C x 2, USB 3.0 x 4, fan speed and RGB control buttons, audio in / out.
Corsair Obsidian 1000D it looks like a huge size case. It's packed side-to-side with 18 huge fan mounts and has enough space for four 480mm radiators. This massive PC case will keep your system cool no matter how extreme it is. It also offers a dual system, so you can build two completely separate computers. You could create: a gaming PC and a streaming rig in the same chassis.
Buy on Amazon
2. Fractal Design Meshify-C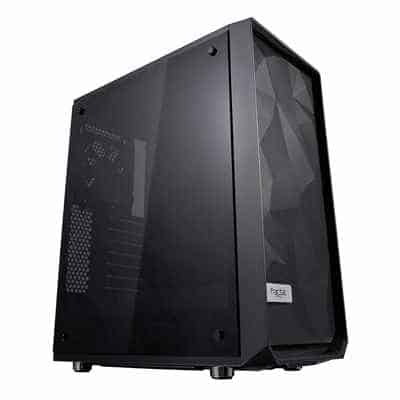 Migliore case PC mid-tower.
For
Newly designed in multiple ways
Reasonable price
Cons
The USB 3.0 cable is too short
The dust filter of the power supply is difficult to remove
Form Factor: Mid-tower | Sizes: 395 x 212 x 440 mm (L x P x A; 15,6 x 8,3 x 17,3) | Support PSU: ATX | I / O: 2 x USB 3.0, 1 x HD Audio In / Out, Power Button, Reset Button | Include: 2 x Dynamic X2 GP-12.
It's rare to see PC cases around that vaguely resemble the Fractal Design Meshify-C. The front of the chassis is made entirely of a mesh material sectioned into a series of polygonal shapes. For this reason Meshify-C has its own unique style that does not compromise functionality. With two pre-installed fans, cooling is truly a breeze, even if Meshify-C is held back by a number of obstacles.
Buy on Amazon
3. Nanoxia Deep Silence 4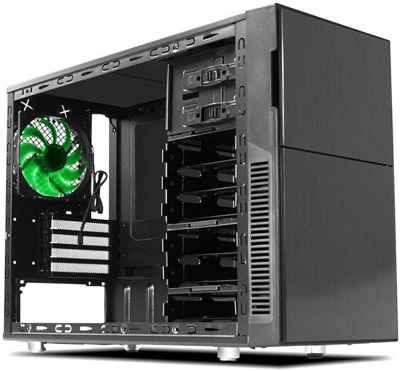 The best micro ATX case.
For
Low noise
Integrated dual zone fan controls
Cons
Form Factor: small form factor | Sizes: 380 x 200 x 480 mm (W x H x D; 15 x 7,9 x 18,9 inches) | PSU Support: ATX | I / O: 2 x USB 3.0, 1 x USB 2.0, HD Audio In / Out, Power Button, Reset Button, Two Channel Fan Control | Include: 2 x 120mm fans, 2 modular HDD cages for up to five hard drives.
As the name suggests, Nanoxia Deep Silence 4 it looks like a very quiet PC case. This is a well-balanced Micro ATX chassis at an affordable price, without sacrificing room for expansion. You can fit even the largest and most powerful graphics cards and enjoy the fact that you will never hear it go beyond 30 decibels.
Buy on Amazon
4. NZXT H200i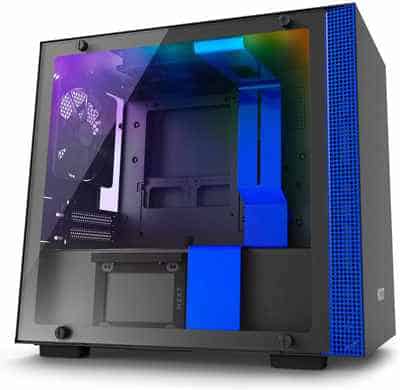 Best Mini-ITX Case.
For
Integrated Smart Device RGB Control
Adaptive Noise Reduction
Cons
Form Factor: small form factor | Sizes: 210 x 349 x 372 mm (8,3 x 13,7 x 14,6) | Compatibility Mobo: Mini-ITX | Support PSU: ATX | I / O: 2 x USB 3.1 Gen 1, 1 x audio / microphone, 3 x ventilation channels with max 10W per output channel, 1 RGB LED port supported up to 4 HUE + LED strips or 5 Aer RGB fans | Include: 1 top fan of the Aer F120 Case version, 1 rear fan of the Aer F120 Case version.
Every day the mini-ITX becomes more and more popular and very close to the already famous Micro ATX. The new line of houses from the series H di NZXT manages to integrate the same features as its Micro ATX and mid-tower equivalents, with charming, integrated and intelligent, device-controlled RGB lighting, and an adaptive noise sensor that sees improvements thanks to the Grid + V3 fan controller.
Buy on Amazon
5. Phanteks Evolv Shift X
The best home theater PC case.
For
Plenty of room for robust components
Unique aesthetic of its kind
Cons
Form Factor: small form factor | Sizes: 170 x 650 x 274 mm (L x A x P; 6,7 x 26,1 x 10,8 pollici) | Mobo compatibility: Mini-ITX | Support PSU: SFX, SFX-L, ATX (160mm max) | I / O: 2 x USB 3.0, power button, RGB button | Include: 2 x 140mm fans, 1 power supply cover, 1 pump bracket, 2 SSD brackets, 1 PCIe x16 riser cable, 1 8-pin CPU extension cable
When you look Phanteks Evolv Shift X for the first time, you will notice a certain resemblance to soundbars and the best PC cases. It is so flexible that it feels natural to place it under a TV as well as on a desk, next to one of the best gaming monitors. It may only be compatible with a Mini-ITX motherboard, but Phanteks Evolv Shift X offers a vast space for components and liquid cooling circuits. If this case is a little big for your preferences, you can rely on the smallest: Phanteks Evolv Shift for easier handling.
Buy on Amazon
6. Fractal Design Define R5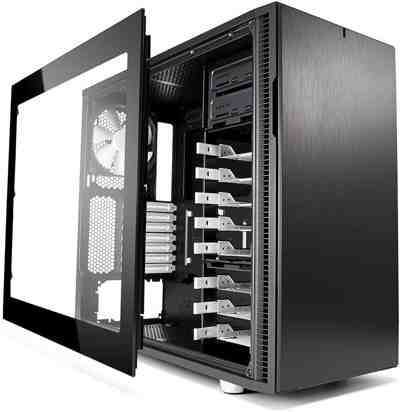 The best silent PC case.
For
Intuitive (and pleasant) design
Affordable price
Cons
Accessible only with tools
Form Factor: Mid-tower | Sizes: 232 x 451 x 521 mm (L x A x P; 232 x 451 x 521 pollici) | Support PSU: ATX | I / O: 2 x USB 3.0, 2 x USB 2.0, audio in / out, power button with LED, HDD activity LED, reset button | Include: 2 Dynamic Fractal Design GP14 140mm fans, velcro straps
Fractal Design wins again with Define R5, yet another central tower house with a wonderful aesthetic. The metal and blue LED-lit face of this case is simple, yet elegant, and is complemented by noise-canceling materials on the inside. Despite the removable ModuVent panels and drive trays not accessible without tools, it's incredibly easy to build a system within Fractal Design Define R5. Plus it's cheap.
Buy on Amazon
7. Cooler Master H500P Mesh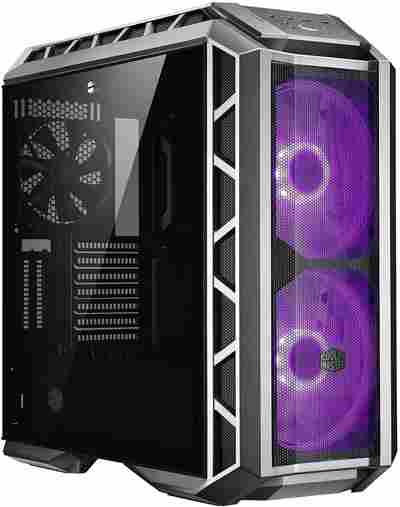 The best case for high airflow.
For
Excellent air flow
Gorgeous RGB lighting
Cons
Not as big as other full towers
Form Factor: Full-tower | Sizes: 544 x 242 x 542 mm (L x P x A; 21,4 x 9,5 x 21,3 pollici) | Compatibility Mobo: Mini-ITX, Micro ATX, ATX, E-ATX (12 x 10,7 pollici) | Support PSU: bottom mount, ATX PS2 | I / O: USB 3.0 x2, USB 2.0 x2, audio in and out (supports HD audio) | Include: 2x 200 x 25mm RGB fan, 1x 140 x 25mm fan.
Cooler Master is known for best laptop cooling pads. Cooler Master H500P Mesh is proof that this company has also made its way into PC cases. This is in fact an RGB chassis with plenty of room for airflow, even for radiators up to 360mm at the top and front for when you really want to take your cooling to the next level. Add in the RGB lighting and tempered glass side panel and you have the potential to create something truly beautiful.
Buy on Amazon
8. Corsair Carbide Series SPEC-04 Tempered Glass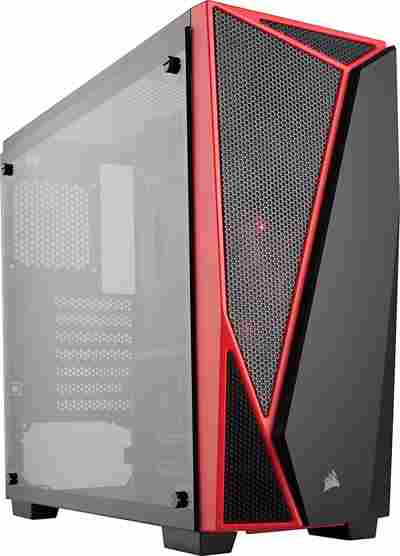 Best budget PC case.
For
Interesting price
Very aesthetic
Cons
Form Factor: Mid-tower | Sizes: 492 x 201 x 433 mm (L x P x A; 19,4 x 7,9 x 17 pollici) | Support PSU: ATX | I / O: 1 x USB 3.0, 1 x USB 2.0, 1 headphone port, 1 microphone port, power button, reset button | Includes: 1 x 120mm LED Front Fan.
If you are looking to save some money while still getting one of the best PC cases, I recommend that you consider the case SPEC-04 Series Carbide Carbide TV Shows. Not only does it offer plenty of room for airflow, but it also has plenty of room for future expansion, which means that even if the price is low, you won't have to worry about fitting a full-sized graphics card. And, when you're done assembling, the tempered glass side panel will allow you to view your completed work.
No products found.
9. Antec Cube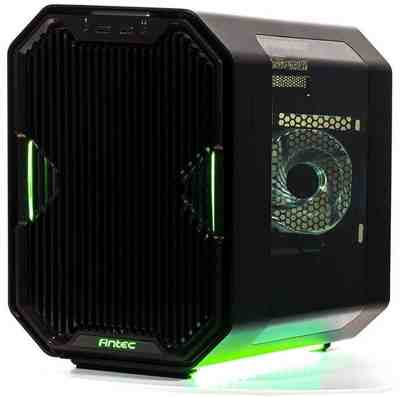 Best gaming case.
For
Ample space for power and cooling
Integrated fan controller
Cons
Extremely expensive
Unsatisfactory performance
Form Factor: small form factor | Sizes: 365 x 250 x 460 mm (height x width x depth; 14,4 x 9,8 x 18,1 inches) | Support PSU: ATX | I / O: 2 x USB 3.0, I / O button, audio in / out | Include: 1 x 120mm Rear Exhaust Fan Holder.
Antec Cube is undoubtedly among the best gaming houses for fans of Razer. While Razer hasn't made its own desktop PC, it's possible to make a Mini-ITX gaming PC, pretending it's a Razer product. Antec has partnered with Razer to bring its signature green-infused glow to the Cube, a small form-factor chassis. Complete with a large amount of space for future expansion, Antec Cube is also compact enough for your travels.
Buy on Amazon
10. Phanteks Evolv X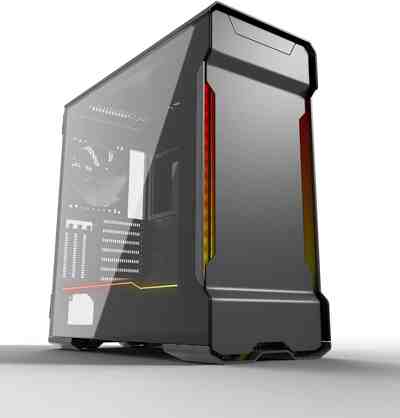 Best dual system PC case.
For
Attractive
A lot of space
Cons
Form Factor: Mid-tower | Dimensioni: 240 x 520 x 510 mm (L x A x P; 9,45 x 20,5 x 20,1 pollici) | PSU support: E-ATX | I / O: 1 x Thunderbolt 3, 1 x Mic, 1 x Headphone, 1 x Reset Button, RGB Mode Button, RGB Color Button | Include: 3 x 140mm Premium Fans.
Phanteks Evolv X accepts dual system compatibility and plugs it into a mid-tower. Even with the second Mini-ITX motherboard installed, there's plenty of room for E-ATX motherboards and power supplies, and ample cooling. It is expensive for a middle tower case, but the many features highly justify the expense.
Buy on Amazon
Best selling PC cases on Amazon
Below is a list of the best Amazon PC cases most demanded by consumers.