Best Mp3 Players. A buying guide on which portable MP3 player to choose to listen to your favorite music.
MP3 players are no longer as popular today as they were ten years ago, but that doesn't mean they're outdated technology. Modern MP3 players do a significantly better job of storing your entire music library at a higher bitrate than any other mobile device can.
To that end, if you are looking for the best MP3 player on the market, you are in the perfect place: below you will find what features you should consider before buying it and a large roundup of music players to choose from.
How to choose the best MP3 player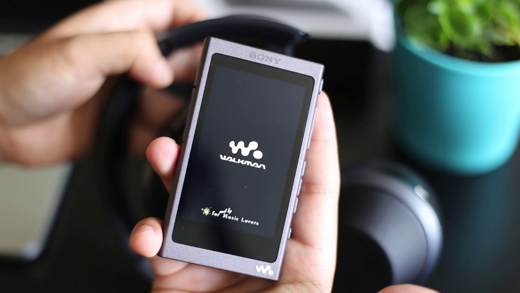 There are five main questions you should ask yourself before choosing the best MP3 player:
How much do I want to spend?
How Much Storage Do I Need? (how big is my music library, am I using large audiobooks?)
What extra features do I want in my MP3 player? (do I want it to play video, Bluetooth, FM radio, etc.?)
What size, shape and type of design am I looking for? (do I want something compact and portable or unique and personalized?)
What kind of audio files do I have and how do I prefer to manage and listen to my music? (prefer to mix, create playlists, etc.?)
MP3 audio quality
Sound quality is one of the most important aspects of any MP3 player. It is commonly affected by the way audio files are compressed. There are two notable forms of audio data compression found in MP3 players: Lossy e Lossless.
Lossy: File size is significantly reduced to help save space, with a sacrifice of quality.
Lossless: The original data in the file is preserved (can be compressed or uncompressed) to keep the original quality.
Which is better? Lossy compression actually removes some of the data from the file to reduce its size, while nothing is lost with the Lossless form. This means that lossless audio will sound more realistic and of better quality, which is especially important for audiophiles, although choosing a Lossless MP3 player may not be necessary unless you are also using high-end headphones or speakers.
Memory capacity
MP3 players typically store files with internal flash memory or external memory in the form of an SD card. In other words, you can choose to add more memory to the MP3 player depending on whether or not it has a memory card slot.
Some MP3 players may only hold a certain size of the SD card. For example, if your MP3 player can only read SD cards up to 64GB, larger cards (like 128 or 256GB) won't work. If you already have an SD card you want to use, it's important to make sure it's compatible with the device you're looking to buy.
The amount of storage space required varies based on the number of files you want to keep on the device. To put things in perspective, a gigabyte can hold about 200 songs on average. However, this also depends on many factors, including the quality of the music files and the length of the songs. If you tend to listen to a large number of audio files, it might be worth investing a little extra money in one MP3 player with a good amount of expandable storage.
MP3 player screen size and resolution
While screen size and resolution shouldn't be a problem when buying the best MP3 player, you should definitely consider the appearance and screen quality of your device before purchasing.
Le dimensions and resolution of the screen they will be much more important if you are going to use your player to watch videos. MP3 players that double as video players can have a resolution of 480p or more. That's not much compared to what most smartphones and tablets can do, but there are some higher resolution MP3 players available.
Screen sizes generally range from 2,5 inches to 4 inches, with some screens that are even less than 2 inches. A smaller screen can mean more portability, but always remember to consider the overall design of the device, including button placements and user interface. The actual size of the display may not be as important as how easy it is to navigate within it.
File support
The types of files in your music library can play an important role in choosing an MP3 player. If you've already downloaded your music to a certain file type, you'll need to make sure your new MP3 player can read those files.
The most common types of files are WMA, MP3, M4A, FLAC e AAC. If you mainly have FLAC files, then you will want an MP3 player that can play Lossless files. The rest, with the exception of WMA, are Lossy file types. WMA can be both lossy and lossless. Almost all MP3 players will list which file types they are capable of reading and playing.
Portability of the MP3 player
The best MP3 player should be portable enough that you can carry it with you in your pocket, in your bag or in your car without weighing you down. The ideal is to have it thin and light to be easy to carry, but not so light that you can break it in two if you drop it. For MP3 players with the best portability, look for devices with screen size of 3 inches or smaller and avoid devices with sharp angles or awkward shapes.
A smooth, compact and robust MP3 player is your best bet if you want to carry it in your pocket all day. Keep in mind that many MP3 players are sold with cases, which will add volume and protection. If you are particularly active, look for MP3 players that include non-rigid but silicone cases with clips.
Battery life of the MP3 player
When you travel, jog or go to work, you want to be able to listen to your music without worrying about the battery. For many people, bring in a Powerbank it is not a practical solution. A good MP3 player will have a long battery life and the ability to play hours of music on a single charge.
Battery life in MP3 players can vary based on the characteristics of the player and how you use it. If you are using Bluetooth on your MP3 player, the battery usage will be much higher. If you want to save on battery life, choose to listen to your MP3 player with a good pair of wired headphones.
As a side note, it is important to remember that the volume level used affects battery consumption. If you listen to music at a higher volume, the battery will drain faster. Your MP3 player's brightness and screen life can also drain the battery quickly. For this reason, many manufacturers have an automatic shutdown or lockout time on the device. If you want to preserve the battery life of your MP3 player, be sure to adjust the screen settings e minimize skipping of tracks.
The Best MP3 Players
Here are the best portable music players tested in the field with the evidence of technical characteristics, design, autonomy, audio quality and portability. Enjoy the reading!
1. Apple iPod Touch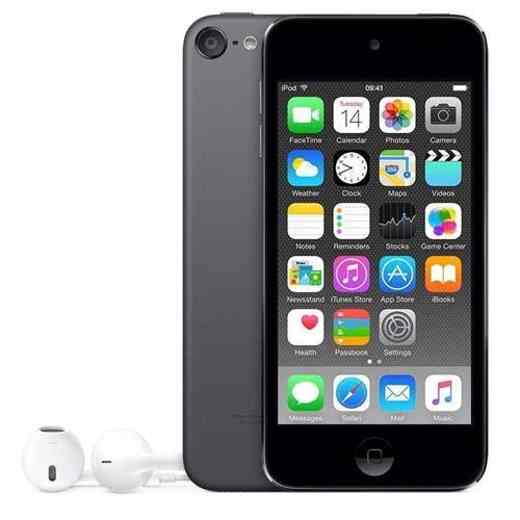 The best iPhone MP3 player.
For
Versatile
Well designed
Lots of Apps
Cons
Limited audio formats
No Touch ID
Expensive
Apple took us by surprise when it announced the iPod touch 7, the first update to its portable music and video player of 2015. With the improvements in power, capacity and communication, the latest generation iPod touch is fully geared towards games. , just in time with the launch of the new Apple games service, Apple Arcade. The biggest update, at least for audio enthusiasts, is support for the codec Hi-Res Audio FLAC, as well as Apple Lossless, which offers more options when it comes to accessing audiophile-quality music. Mount a retina display with 1.136 x 640 pixel resolution and a FaceTime HD camera. The processor is A10 64-bit and 2GB of RAM.
Using a high resolution audio playback app for iOS called Vox, we listened to Mozart's Requiem in D minor. The strings had a warm, natural quality, while the soprano vocal duets rose softly above the mix without ever sounding harsh. We also tested the built-in speaker at the bottom of the iPod touch, it won't let you listen to high-quality music but if you're looking for some background music for your gaming sessions and don't want to take out your headphones, it's a great alternative. If you need a new MP3 player and don't mind using iTunes, the iPod Touch will do just fine.
Buy on Amazon Buy on Amazon Buy on Amazon
If you want to stay at Apple, valid alternatives to the iPod Touch are:
Apple iPod Nano: equipped with a 2,5-inch multi-touch screen, with measures equal to 76,5 × 39,6 × 5,4 mm for 31g of weight. It offers an autonomy of 30 hours with 16 GB internal memory. Plays music and videos and supports FM radio and the Nike + app.
Apple iPod Shuffle: it is the cheapest and measures 29,0 × 31,6 × 8,7 mm for just over 12,5g of weight. It guarantees 15 hours of battery life and works with physical buttons. It has 2GB internal memory and has no display.
2. Sony NW-A45 Walkman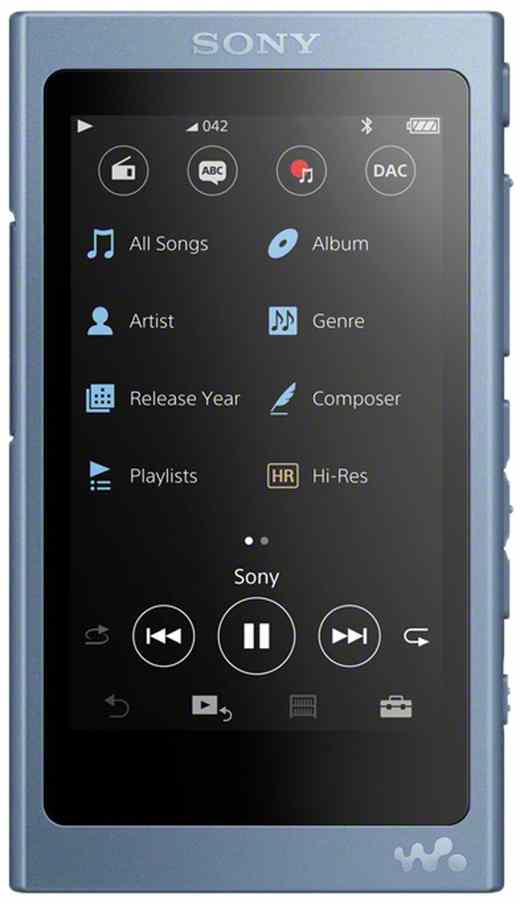 Best cheap mp3 player.
For
Expandable memory card slot
Minimalist user interface
Cons
Easy to use to upload new music
Use a proprietary charging cable
If the idea of ​​using iTunes doesn't make you crazy, much less spending more than $ 200 on a portable MP3 player, then your best MP3 player could be the Walkman Sony NW-A45. Featuring 16 GB of onboard memory it's a'touchscreen user interface, the NW-A45 starts at around 180 euros and is available in multiple colors to suit all tastes. For audiophiles, NW-A45 supports high resolution playback and is equipped with a digital amplifier S-Master HX, powerful enough to drive high impedance headphones. Versatile and easy to use, the Sony NW-A45 is definitely among the best MP3 players around.
Buy on Amazon Buy on Amazon
3. Astell & Kern AK Jr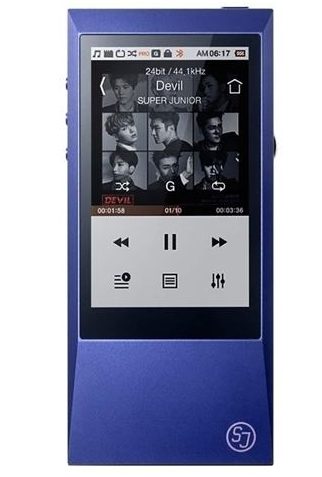 Best bluetooth mp3 player.
For
Exceptional audio
Beautifully Designed
Bluetooth offer
Cons
The touchscreen is not responsive enough
Astell & Kern is known for building first-rate audio devices at reasonable prices, which is why we believe that Astell & Kern AK Jr fits perfectly on this list as the best mid-range MP3 player. Not only is it well designed, but the metallic appearance is very elegant and its use will guarantee you a unique user experience.
The AK Jr is available with 64GB of built-in storage and a microSD card slot in case you want to expand that storage. In addition, it supports all major audio formats, including FLAC, WAV, MP3, AAC, AIFF and many more, and is capable of playing at sample rates up to 192kHz. The device interface is also relatively easy to control. The main screen simply offers options for songs, albums, artists, and so on. The music is dynamic and crisp, with a pleasing and powerful sound in every respect.
Tap via the touchscreen and you will be able to select the music you want to listen to. It would be nice if the touchscreen were a little more responsive, but the battery life of around nine hours, the elegant construction and the reasonable price are elements that will mitigate that defect.
Buy on Amazon
4. SanDisk Clip Sport Plus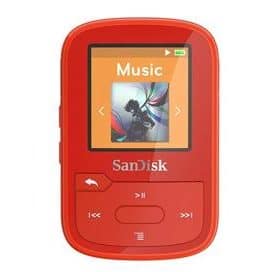 Best mp3 player for racing.
For
Ultra-portable
Economic
Easy to use
Cons
The audio quality is not as good as that of others
Are you looking for an MP3 player to take with you on the run? Do you want something small and light? If so, you don't need the highest audio quality and don't intend to shell out a lot of money. In this case the SanDisk Clip Sport Plus is the best option. For starters, the device offers 16GB of storage, and while that's not a lot for your phone, 16GB can hold a ton of songs. Also, while this MP3 player was built for sport, it actually supports a wide range of audio formats, including MP3, AAC, FLAC, WAV and WMA.
Battery life is approximately 20 hours. You'll also get Bluetooth and a relatively easy-to-use interface. Sure, it's a bit dated and not as powerful as what you find on your smartphone, but it's still a good music player. It's not a touchscreen but you'll have to navigate through the hardware buttons which also double as playback controls when listening to music.
As for the sound, don't expect full audiophile-level quality, you'll find it a bit muddy with a little drop in clarity, but that doesn't matter, especially when you're playing sports.
Buy on Amazon
5. Cowon Plenue D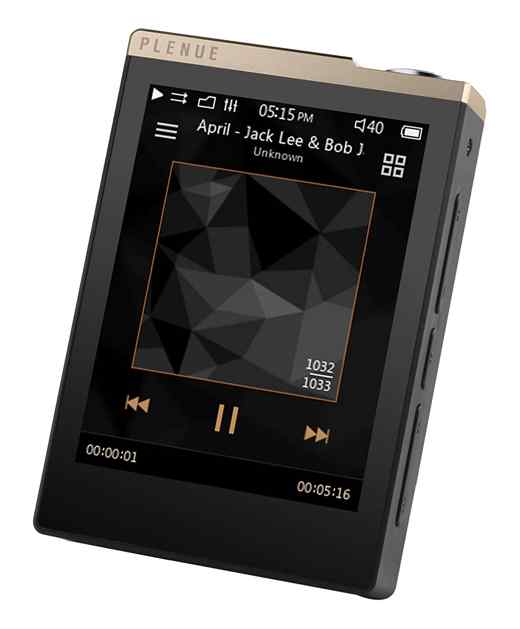 Best audio quality mp3 player.
For
Battery life
Audio a 24 bit 192kHz

Wide-angle touchscreen display
Cons
Lack of connectivity options
Il Cowon Plenue D is a stylish MP3 player with some outstanding features. It provides Hi-Fi audio in the form of a 24-bit 192kHz stereo DAC. It also features JetEffect 5 and BBE + sound processing with a 5-band DQ, 3D surround and many presets. The Plenue D has a lot of bass and plays everything you throw, including FLAC, ALAC, and old MP3s.
Finding the right melody is easy on this player, thanks to a 2,8-inch touchscreen display. It has 32GB of ready-to-use memory and is expandable up to 128GB via a micro SDXC slot. There is a standard audio jack, but there are no Bluetooth, Wi-Fi, or external speakers on this DAC. It is constructed of a sturdy, yet still lightweight aluminum. Plenue D offers 100 hours of playback and is available in black with a choice of gold or silver finishes.
Buy on Amazon
6. FiiO X7 Mark II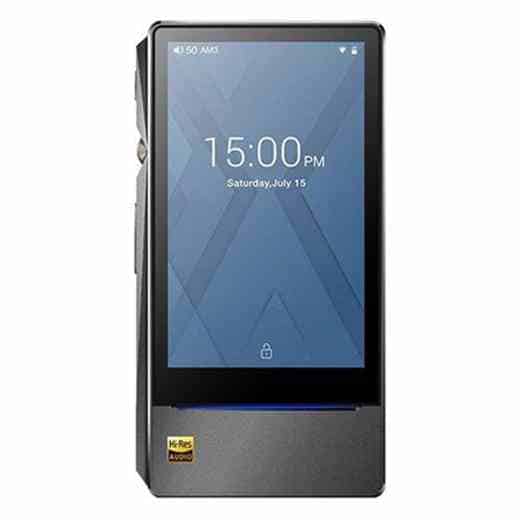 Best Android MP3 Player.
For
Up to 512GB of storage
Android operating system
Wi-Fi dual-band e Bluetooth
Battery life of 10 hours
Replaceable amp modules
Cons
Expensive
One of the largest readers
FiiO X7 Mark II is to be considered the best Android based music player with many features and support for Dual-Band Wi-Fi. This MP3 player has a CNC aluminum alloy body with a classic volume dial on the side. The 4-inch touchscreen display has a resolution of 480 x 800 and 64GB of ready-to-use storage. It's expandable up to 512GB thanks to two memory card slots, which is impressive, but so is the 2GB of RAM.
FiiO has also installed a version of Android on this player which offers an interesting advantage: that of accessing the Google Play Store and downloading apps. There is no shortage of a 10-band equalizer with nine presets, a frequency response from 5Hz to 70kHz and a dynamic range of 114 dB. It also supports 24-bit lossless and 32-bit lossless up to 384kHz depending on the format. FiiO X7 Mark II comes with a tempered glass screen protector, cables and a 1 year warranty on the player with six months on the 3.800mAh battery.
The obvious drawback of this music player is the price as it is geared towards audiophiles rather than the average consumer. Aside from that, it is one of the best MP3 players you could buy on the market today.
Buy on Amazon
7. Onkyo Hi-Res Digital Audio Player DP-X1A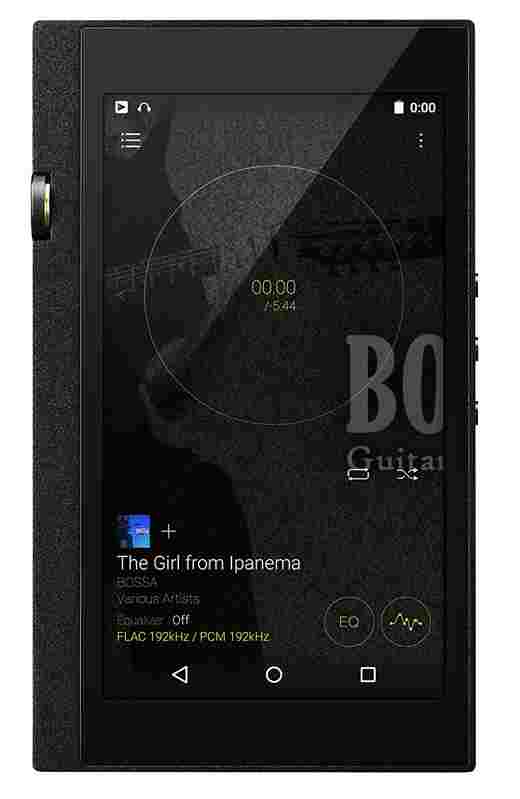 Best mp3 player with large display.
For
4,7-inch touchscreen display
Double DACs and SABER amplifiers
Access to the Play Store
Register video
Dual-Band Wi-Fi, Bluetooth e aptX
Cons
Onkyo is a fan favorite when it comes to home audio equipment, but they also make excellent mobile devices, including portable MP3 players. Our best choice from the company is the DP-X1A, a great complete audio player with a few tricks up its sleeve.
The DP-X1A isn't pocket-sized, like the other models on the list, but extremely easy to use with an Android-based operating system.
The Onkyo DP-X1A can handle the usual standards such as WAV and MP3 along with FLAC and AIFF up to 384-bit 24kHz and DSD 11.2MHz / 5.6MHz / 2.8MHz. Like all the best MP3 players, it can handle any format in high quality and includes MP4 videos. By adding two SABER ES9018K2M DACs and two 9601K dual amplifiers, you have an incredible music player.
Other features to note for this player are: Dual-Band Wi-Fi, Bluetooth HID, 2.0 A2DP, AVRCP and 2GB of RAM. It has a large 4,7-inch touchscreen display with a resolution of 1.280 x 720 pixels and not one, but two microSDXC slots along with 64GB of onboard storage. This beast has an output power of 150mW at 320Ω or 75mW at 32Ω.
From the intuitive user interface with access to the Play Store to high quality audio support, the Onkyo DP-X1A is definitely one of the most purchased music players by consumers. Battery life is not great: we are talking about 16 hours and without any tuner, but this is the only real weak point. However, the DP-X1A has a 1 year warranty.
Buy on Amazon Buy on Amazon
8. AGPTEK A20S Portable Music Player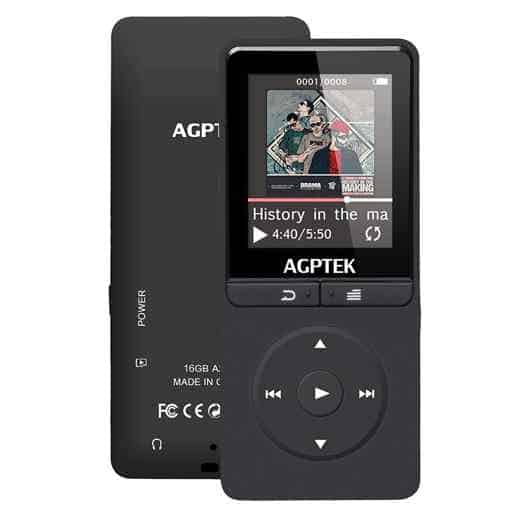 Best mp3 player with radio.
For
Ease of use
microSD slot
It is cheap
Great battery life
Cons
The highlight of the MP3 player AGPTEK A20S it's the affordable price and the fact that it can hold around 80GB of music. The A20S has 16GB of onboard memory and an expansion slot that uses 64GB cards. It doesn't have a full equalizer, but there are seven sound modes and it can play videos in the AMV format. There is also a reset function and a lock button for ease of use.
AGPTEK features a 1,8-inch display and is easy to navigate. Format support includes MP3, WMA, OGG, FLAC, and APE, but it's not Audible-friendly without a few extra steps on your part. It's a downside, although we like the fact that you can store 30 FM stations and it doubles as a portable voice recorder.
This MP3 player isn't the sleekest device on the market, but it works as expected and has an outstanding battery life of around 70 hours. The AGPTEK A20S is available in black or dark blue with a pair of wire-controlled headphones.
Buy on Amazon
9. FiiO M7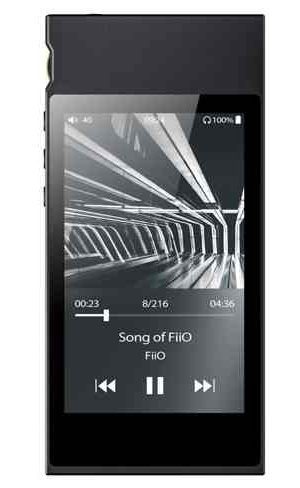 Best mp3 player for car.
For
Solid battery life
2 GB of expandable memory
Native DSD decoding
Bluetooth and FM tuner
Cons
Sensitive controls
No streaming options
FiiO has many music players and after introducing you to the high-powered X7 Mark II, it is worth checking out the FiiO M7, much cheaper. It is an MP3 player with a clean design that is easy to use and easy to see. It comes with a 3,2-inch touchscreen, a resolution of 480 x 800 pixels, and has 768MB of RAM to go along with 2GB of onboard memory.
A microSD card slot allows you to expand your reach, and that's a good thing considering the aesthetic beauty of this player. It has a 9018-bit ES2Q32C DAC and easily handles APTE-FAST, Lossless, AIFF, FLAC, WAV and others. It can also run 24-bit PCM at up to 192kHz and native 1-bit DSD at 2,822MHz. It has a USB Type-C port and is snappy thanks to an Exynos 7270 quad-core processor.
FiiO M7 lasts for about 30 hours per charge, Bluetooth 4.2 and an FM tuner. It comes with a case and a screen protector and is available in different colors with blue, red, silver or black.
Buy on Amazon
10. HiBy R3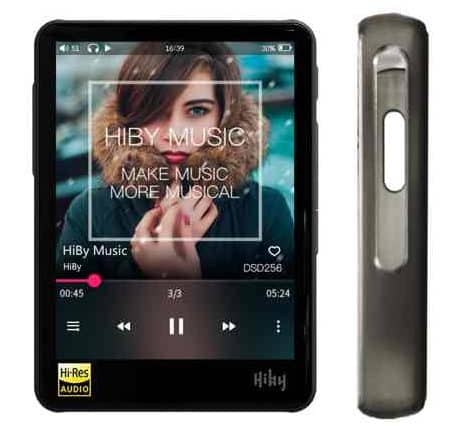 Best touch mp3 player.
For
Wide range of formats
Excellent audio quality
Stylish Design
Cons
No internal memory
Battery life
HiBy R3 is a smaller music player on this list. It's a good-looking device, and while the touchscreen display is only 360 x 480 pixels, it's crisp and takes up much of the front. On the one hand we find the usual controls while on the other a microSD card slot, which accepts cards up to 2 TB.
Connectivity options for the HiBy R3 include Bluetooth 4.1 with aptX, 2,4GHz Wi-Fi, and a USB-C port. It supports PCM up to 384kHz and DSD256 along FLAC, APE, DFF, OGG and others. We think users will be satisfied with the popular ESS ES9028Q2M DAC processor and Mage Sound 8-ball tuning system. Battery life is around 11 hours or 60 days on standby which isn't great but will get you through the day.
The dimensions are perfect, the only drawback is the not particularly long battery life and the flash memory, having more would not hurt. HiBy R3 is available in black, red and gray with a 12 month warranty.
Buy on Amazon
Best selling MP3 players on Amazon
After having listed the best portable MP3 players on the market, to take into consideration before your purchase phase, below you will find an always updated list of the best-selling MP3 player of the moment on Amazon.