Best microphones for streaming. A buying guide on microphones to record, sing or play that will suit your streaming needs.
Lo streaming live su Twitch and services such as YouTube has become increasingly popular over the years. Whether you want to show the world your Fortnite skills or do a live podcast you need to have not only good bandwidth but also a microphone suitable.
Il best microphone for streaming ensures your voice is heard loud and clear regardless of your activities. While the poor audio quality will alienate your viewers as fast as possible.
How to choose the best streaming microphone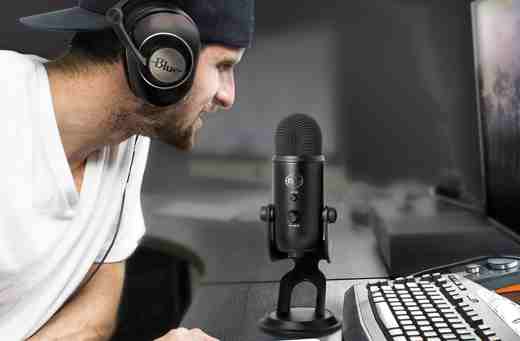 If you've already read my guide on the best studio headphones, it's good to take a look at what factors you need to consider when choosing a microphone. Let's see what they are.
Frequency response
If you are an audiophile, you already know what the frequency response is and why it matters. All audio equipment has a range that includes simple USB microphones and the best wireless headphones. With the former, the range you need depends on how you plan to use your new microphone. Frequencies always range from low to high and are measured in Hertz and Kilohertz. For players who stream, it's not as important as it would be for a singer, but it's still something to consider.
If in doubt, I recommend that you look for a microphone with a wide frequency response range.
Directional properties
It doesn't matter if you have thousands of viewers or just a handful - everyone needs to hear you clearly. This is where directional properties or polar patterns come into play. Such schemes vary across the board, so what works for a player may not be the best choice for someone doing a live interview or off-pitch work.
Bidirectional: As the name suggests, a bidirectional microphone picks up sound from more than one direction. In this case it is both anterior and posterior. This makes it ideal for artists who like duets or streamers who conduct interviews.
Unidirectional: Unidirectional microphones have multiple polar patterns. Most have three models with cardioid, hypercardioid e supercardioide. The cardioid it is the most common polar pattern as it only captures sounds from the front but not the back. While cardioid mics can pick up some sound from the sides, mics Great e hypercardioids they go a step further. These mics can pick up some sound from the rear and have a wider 180 degree range from the sides. It goes without saying that unidirectional microphones are a great choice for gamers.
Omnidirectional - Do you need a microphone that can handle sound from any direction? In that case, an omnidirectional microphone is your best bet. On the other hand, it's not the best choice for gamers as they can pick up all background noise (including the keyboard) along with your voice.
Multi-pattern: If you're not sure what you might need or want to try your purchase to some degree in the future, there's only one option to consider: multi-pattern microphones. This allows you to choose the properties you need whether it is a cardioid or something else.
Additional accessories
Everyone likes to get something "extra" when you buy technology, and with microphones the options are sadly limited. The most popular accessory included with streaming microphones is the table stand. You will need to pay attention to the dimensions of the thread or see if it's included an adapter. A custody or a bag for transportation is a good thing to have on hand and can keep your new microphone from banging when you travel. Other features you should consider include i filters pop, the doors and software which can extend the capabilities of the microphone.
Which streaming microphone to buy

Now that you have a complete look at the features and accessories that make up a streaming microphone, here's a list of the best models out there.
Best cheap streaming microphones (under $ 80)
TONOR TC-777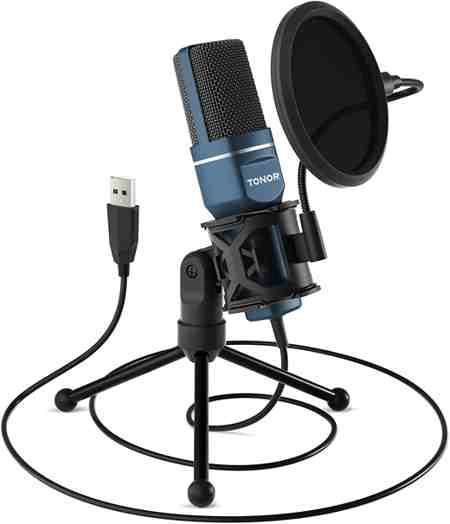 Best cheap streaming microphone for live on YouTube.
For
Economical USB Port Condenser Microphone
Easy to install
The drivers are inside
Comes with kickstand and sponge to cover its head
Solid and quality material
Recordings quality
Excellent value for money
Tripod with anti-vibration system
Cons
It has no 3.5 audio jack connection
Sound not perfect
It is not compatible with XBox
The Tonor TC-777 is a microphone plug-and-play with a data port USB 2.0 perfect for live streaming on YouTube. It is a cardioid pick up pattern that captures sound clearly, smoothly and crisply with background noise suppression.
Being plug-and-play, it is very easy to install, the only steps you will need to do are: open the three-legged support and adjust the position of the anti-pop filter. It is a device versatile which you can use for DAD, streaming, chat, podcast, recording and video conferencing on: Zoom, YouTube, Skype, etc. Being a condenser microphone, vocal capture is panoramic and once the volume and position, you will be able to use the microphone without interference.
Buy on Amazon
Trust Gaming GXT 232 Mantis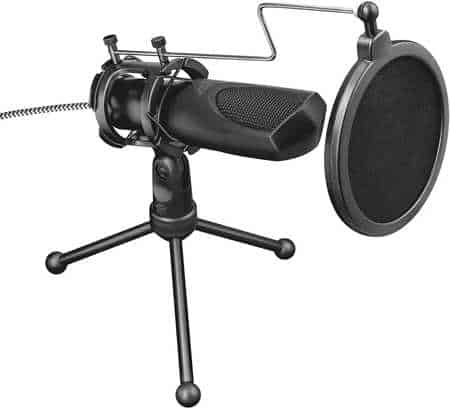 An entry level recording microphone perfect for early live streams.
For
Good value for money
Price
Great to start making gameplay videos
Better quality than the headphone mic
Audio quality
Easy to set up
Cons
Recorded audio too quiet
We have to talk to him at 5 cm otherwise the voice is heard far away
Pick up keyboard sounds
The microphone Trust Gaming GTX 232 Mantis with streaming tripod is perfect for podcasts, vlogs, music recording, voiceovers and for making videos on YouTube, twich e Facebook.
It is equipped with USB adapter for high quality digital audio without distortion. Allows clear audio reproduction and universal use. Includes filter pop, tripod e Shock-mount (shockproof support to isolate the device from vibrations).
Buy on Amazon
V-MODA BoomPro Microphone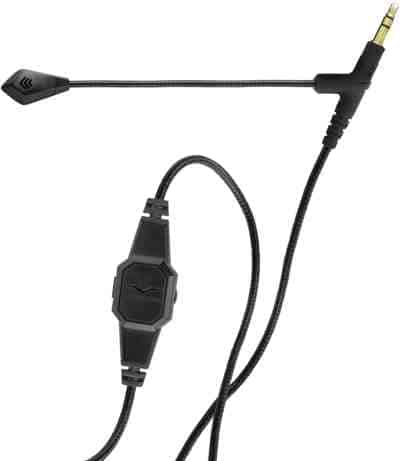 Best reliable omnidirectional microphone.
For
Omnidirectional microphone
Compatibility
Ease of use
Cons
Expensive compared to a dedicated microphone
Limited functionality
If you love your headphones but need a microphone, V-MODA BoomPro is what it could do for you. This V-MODA system will transform your favorite set of headphones into a full-fledged headphone. Simply plug into a 3,5mm port, adjust the microphone, and you're good to go.
It's not the type of microphone that will wear out easily considering the tonearm is made of SteelFlex. It is durable and the inline module allows you to turn it on or mute the action as per your need. V-MODA BoomPro will work with any set of on-over or on-ear headphones as long as you have a 3,5mm port. The cable length is about 2 meters, which is longer than others in this class.
Buy on Amazon
Samson meteor mic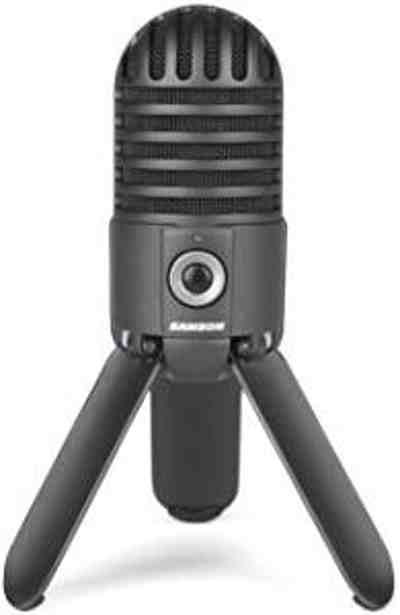 The best USB microphone for streaming.
For
Available in three finishes
Foldable tripod legs
25mm diaphragm condenser
Cons
Legs can be a problem with some supports
Checks scattered
Samson has the distinction of being the only company that produces cheap microphones and for streamers, in fact Meteor Mic is a portable solution for streamers looking for an inexpensive cardioid microphone. It's arguably the most portable model on the list, and a streamer on the go is sure to appreciate it.
This small microphone measures 12,7 x 7,6 x 15,2 cm and weighs 200 grams, so it won't take up much space on a desktop. The design is also interesting considering it has legs that fold down when not in use. It is capable of capturing high quality audio at 16 bit and 44,1 / 48kHz resolution. Mute microphone and headphone volume controls are also useful features to have at your fingertips. The Samson Meteor microphone works with any device with a USB port and has the standard 3,5mm jack on the back. When combined with the best webcam for streaming, your videos will sound and look much better.
Buy on Amazon Buy on Amazon
LifeBee NX1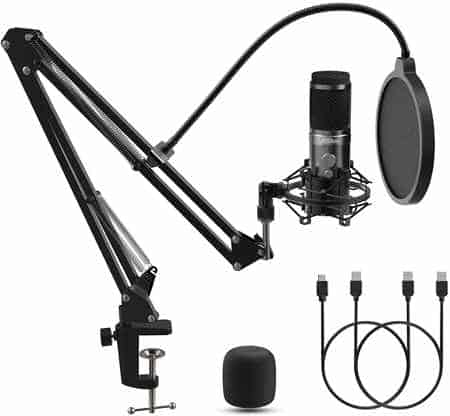 Solid and compact condenser microphone.
For
Easy to install and requires no additional software
Good quality materials
Large set supplied
Cons
Stand mounting not clearly explained
The condenser microphone NX1 LifeBee features a data cable with USB and Type-C interface. AND' plug-in-play, so it does not require any installation software, and works perfectly on PC, Mac, PS4 and Android and iOS smartphones with USB Type-C socket.
It has a mute button to mute the microphone with one click and fidelity sound quality. It is in fact equipped with a professional audio chipset that guarantees clear, crisp and fluid sound. Record the sound source clearly with crisp bass and stable mids and treble. The microphone set comes with support adjustable with scissor arm, desk clip, shock support e windproof cover foam. By doing this you will be able to block any vibrations or sandblasting sounds.
No products found.
Best mid-range streaming microphones (80-160 euros)
Elgato Wave:1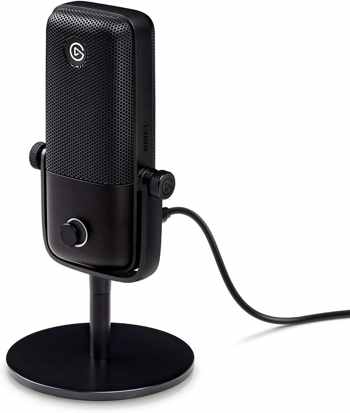 Best budget gaming microphone.
For
Software Wave Link
Exceptional audio quality and fidelity
Price
Cons
Wave link does not offer any post processing effects
The microphone Elgato Wave:1 it is perfect for digital mixing and for type broadcasting Broadcast. You can silence it with the appropriate button, take advantage of the anti-distortion technology and the app Wave Link, which creates 2 independent mixes to give your streams or podcasts a professional sound imprint.
Plus the technology Clipguard proprietary prevents virtual distortions and makes it perfect for streaming on YouTube e Twitch.
Buy on Amazon
Blue Yeti USB Microphone
The best microphone for streaming overall.
For
Easy to use and set up
2 years warranty
10 different colors
Frequency response 20Hz - 20kHz
Cons
The knobs are cheap
Tickets
If you have dreamed of taking your podcasts or streams to the next level, Blue Yeti it might be right for you. It is a USB microphone available in a wide variety of colors and is suitable for podcasts, gameplay and anyone who wants a high quality microphone.
It is definitely a universal USB microphone where you can select the desired polar model: between bidirectional, omnidirectional e cardioid. The Tri-capsule configuration allows you to podcast like a pro, answer group calls, or easily set up voice tracks. If you also want to use it for gaming, the Blue Yeti microphone is also perfect for Twitch streaming.
Buy on Amazon
Rode NT-USB USB Condenser Microphone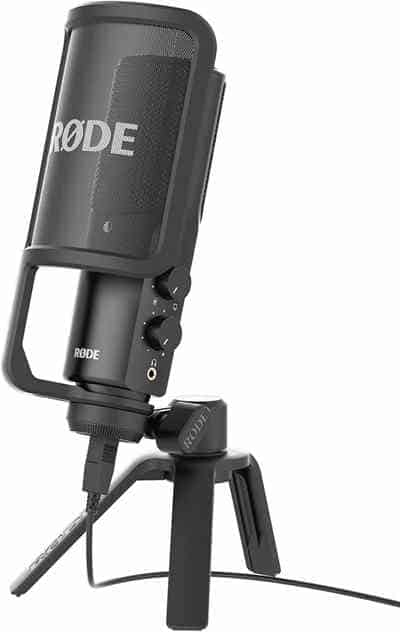 Best Recording Studio Microphone.
For
JFET impedance converter
Zero latency monitoring
High quality accessories
2 year warranty (with registration)
Cons
Il Rode NT-USB is another microphone in the class professional although this is more oriented towards singers than to the players. The company has been making high-quality microphones since the early 90s, and NT-USB is certainly no exception. Whether you intend to create a track with an instrument or use your voice, Rode's microphone is perfect for the studio.
Source input and output can be controlled via side dials that sit above a 3,5mm jack. The zero latency microphone has a cardioid polar pattern with a frequency range from 20Hz to 20kHz. It also has one 16 bit resolution and is powered by a port USB. Another advantage of Rode NT-USB would be the filter pop even. It slides over the base of the microphone and helps eliminate plosive sounds. That base sports 1/2 meter wire so it can be used on a traditional stand or with the tabletop tripod.
Buy on Amazon
Shure MV5 Digital Condenser Microphone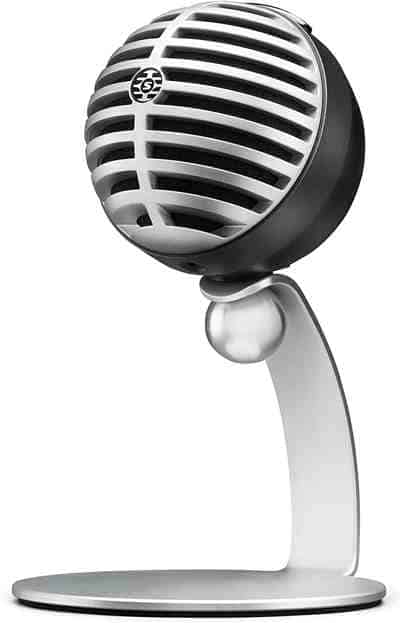 Ideal for podcasts, streaming and more.
For
Design plug-and-play portatile
Automatic features that provide an optimal experience
Impressive audio quality
3 preset DSP modes
Works with podcasts, streaming, and more
Works with Apple devices
Cons
The base is of low quality
It is a bit small
The cable is quite short
The MV5 di Shure is the perfect tool for people who want to make sure their voice and music are perfectly conveyed to listeners! With 3 preset DSP modes (voice, flat and instrument), this microphone is equipped with aintegrated headphone output which allows you to hear how the broadcast is progressing. This allows users to adjust their voice, music or other sounds in real time to suit their quality standards. Furthermore, MV5 is designed to work with Apple mobile devices without the need for adapters.
Automatically applies compression and EQ to provide the best possible audio results. This makes it perfect for those who want to buy high-end microphones and are unable to adjust settings manually. MV5 can be used as is (the capsule) or in combination with the table stand included. Both are lightweight and durable, so it's easy enough to pack away in your backpack and take it where you need it. Finally, the microphone can be connected using the cable MicroB-to-USB o MicroB-to-Lightning.
Buy on Amazon
Audio-Technica AT2020USB+
A great choice for podcasts and Voiceover (standard screen reader in Apple devices).
For
Easy to use mixing and volume controls
Internal high output headphone amplifier
Swivel table mount and tripod table mount
Cons
No headphone jack
The tripod may be too flimsy for some
THEAudio-Technica AT2020USB+ it's a low end microphone in the "Pro" class and definitely deserves your consideration. This is partly due to its reliability and clarity which makes it a viable option if you are looking for the best microphone for streaming.
Audio-Technica produced AT202USB in three different varieties with the normal model, USB+ e AT2020USBi. THE'USB + is a fan favorite thanks to a reasonable price and several great features. There are easy-to-use independent controls for mixing and headphone volume. It also has a permanently polarized capacitor as well flaunts the popular cardioid model.
As for the technical specifications, Audio-Technica AT2020USB+ it has a sampling rate of 44,1kHz / 48kHz and a frequency response of 20 - 20.000Hz. It is lower than G-Track Pro but it's great if you plan on using the microphone to record and mix audio. If you want something with a little more range, USB is 24-bit instead of 16 and has a sample rate of up to 96kHz.
Buy on Amazon
HyperX QuadCast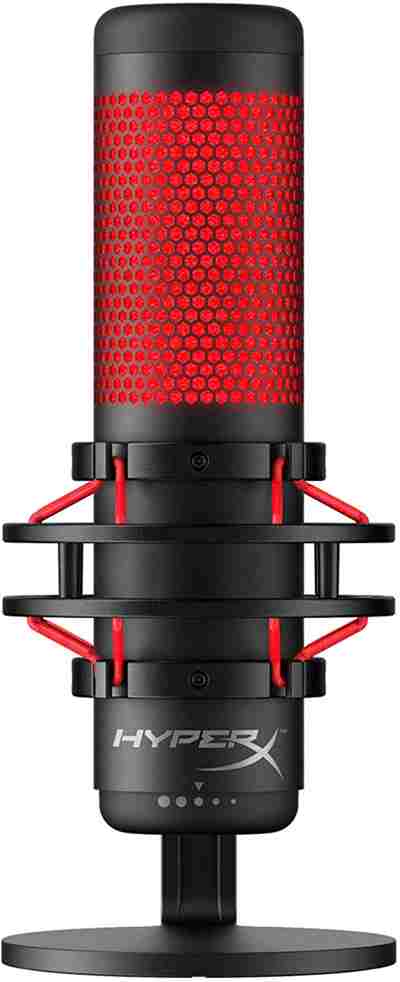 Great option for YouTube, gaming or streaming.
For
Easy to install and use
Anti-vibration support included
Four selectable polar patterns
Integrated pop filter
Compatible with a wide range of apps
Headphone port
Cons
A bit expensive
The LED cannot be disabled
Too sensitive
No earphone volume when plugged into the microphone
If you are considering starting a career like streamer, podcasts o YouTuber, you will need a high quality microphone to give your voice breadth and clarity in the online environment. This is where the microphone comes in HyperX QuadCast! It is a little expensive for a beginner, it comes with one wide range of features that make it easy to work with your voice.
For example, he has a seizure anti-vibration which suppresses any involuntary rumblings and bumps, keeping the flow clear and easy to follow. It also has four polar models selectable (stereo, omnidirectional, cardioid, bidirectional), so you are in full control of the sounds that will be heard in your show. At the bottom, it features a clock face which allows users to customize sensitivity as they speak. Finally, if you want to silence it, you have to touch its head. It also has a LED indicator which shows when the microphone is off and when it is on.
Buy on Amazon
Best high-end streaming microphones (over $ 160)
Razer Seirēn Elite Professional dynamic microphone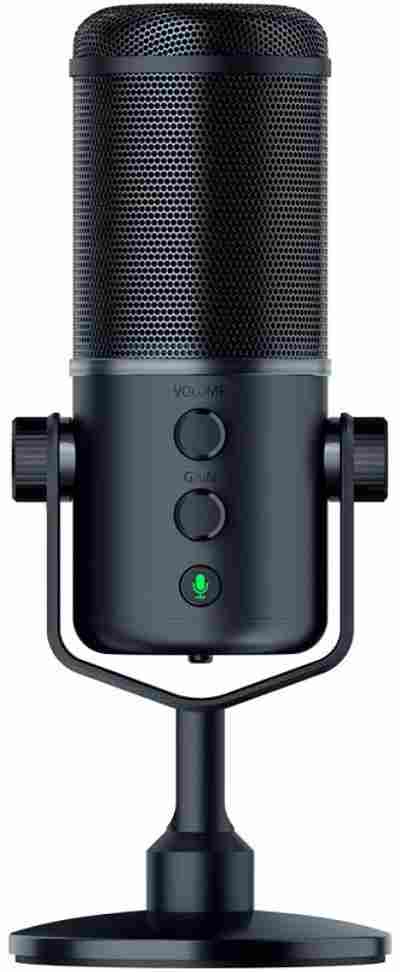 The best gaming microphone.
For
Quality construction
Zero latency monitoring
Professional-grade dynamic capsule
Cons
The setting of the controls could be better
Despite the competition, the brand Razer it is still a force to be reckoned with today, especially as regards peripherals. Over the years it has produced a ton of fantastic technologies, and although Razer Seirēn Elite may be overkill for some, hardcore gamers will absolutely love this mic.
La latency is extremely important in the world of games and this microphone has zero latency monitoring. This means that your teammates will hear you in "real time" not 5 seconds later. The High-pass Filter (HPF) also helps keep things clean. Can exclude most of unwanted background noise to keep things crystal clear. If that's not enough, maybe the limiter Voice digital e analog I'm sure they will be.
This distortion-free mic keeps things clean in the heat of battle and it is extremely easy to use with its plug and play interface. It is one of the more expensive streaming microphones around, although the Seirēn X offer a similar experience at a more affordable price.
Buy on Amazon
Samson G-Track Pro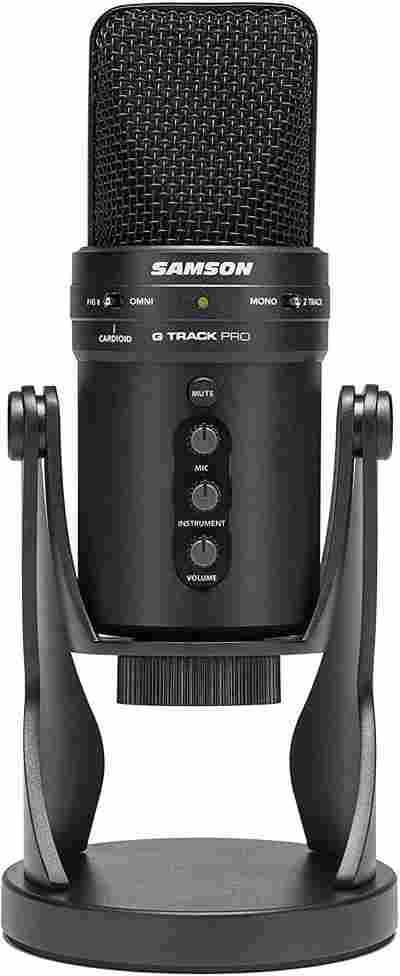 The best all-in-one streaming microphone.
For
Multiple polar motifs
Mixing controls
Frequency response 50Hz - 20kHz
+ 6dB FS / PA (all models)
Cons
Heavy
Support could be better
Expensive compared to similar models
Il Samson G-Track Pro it is considered the best microphone for streaming when users need one all-in-one solution. It is the Swiss Army Knife of the microphone world and it is full of features which you will enjoy regardless of how you plan to broadcast.
One of the biggest draws for this particular microphone (aside from the overall quality) are his directional properties. G-Track Pro features schemes polar cardioid, Omni e bidirectional to be combined with double 1-inch condenser capsules. This makes it ideal for both gamers and podcasts. It is built to last as the die-cast base adds stability while the handle hinges allow you to find the perfect angle. Other features of note for the Samson G-Track Pro include i volume controls for headphones and instruments. As for the outputs, it has one USB port, for an instrument input it's a headphone jack from 3,5 mm.
Buy on Amazon