You may be in possession of one of the best Android smartphones around, but we know that without the right applications, the performance and usefulness of the device are limited.
For this reason we have decided to propose you the best Android apps that absolutely must not be missing on your smartphone.
We offer you applications for surfing the internet, to communicate, to have fun and to work, everything you need to take full advantage of your device.
Among the apps, you will find some that need root access, a procedure that allows you to obtain privileges such as administer on Android, to further modify the operating system. If you don't know how to proceed, you can consult our guide on how to root Android.
Best Android apps to browse the internet
Let's start with a list of best free applications to surf online and consult e-mails, we have selected some famous ones and others a little less, but that you absolutely must try.
Chrome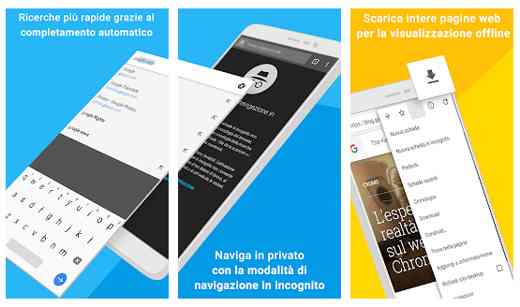 Chrome is already the most famous browser for desktop, its version for mobile devices is light, fast and functional, it also supports synchronization of data navigation between pc, tablet and any other device. It has nothing to envy to the PC version, you can choose it if you already use it on your computer and want to always have the history and data available.
Puffin Browser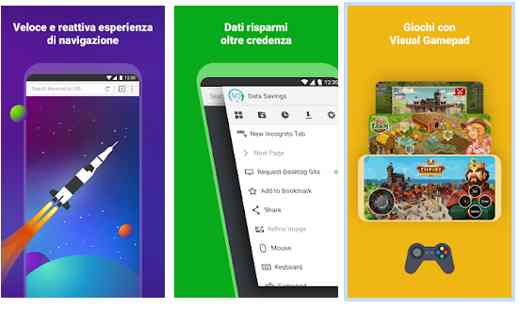 Puffin Browser is based on a cloud system and it is the only Android browser that it supports Flash Player at 100%. Even if multimedia and game playback is not always very smooth, it is still a good app, light and intuitive.
Microsoft Outlook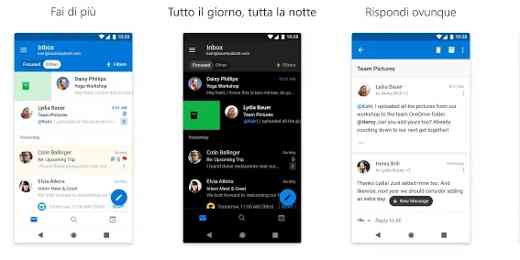 Microsoft Outlook is one of best Android apps to consult e-mail, it supports different clients, you can also add accounts Gmail, Free Mail, ect… Also, sync data with Dropxbox and Google Drive cloud services.
dropbox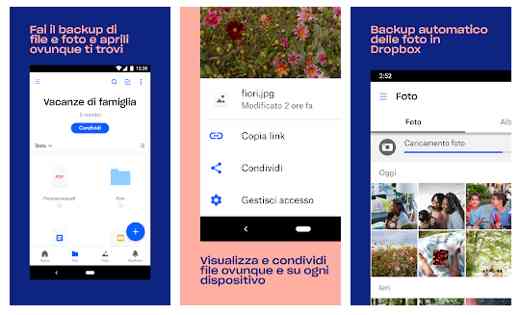 dropbox is one of the most popular applications for i cloud storage service, if you already use it on your PC, you can also install it on your Android smartphone or tablet and conveniently access your data at any time.
Best Android apps for video calling and chatting
Le Android instant messaging and video calling applications they are the most used on smartphones all over the world to communicate and see each other, when the distance does not allow it. Let's see the ones that shouldn't be missing on your device.
WhatsApp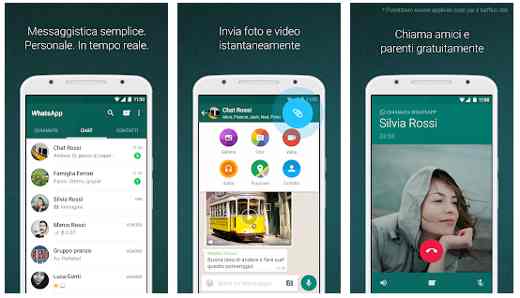 WhatsApp it needs no introduction, it is the most famous app for free texting using your mobile data connection. Completely free, it offers additional features such as calls and video calls, as well as the ability to create group chats and send and share emojis, stickers, photos, videos and files.
Facebook Messenger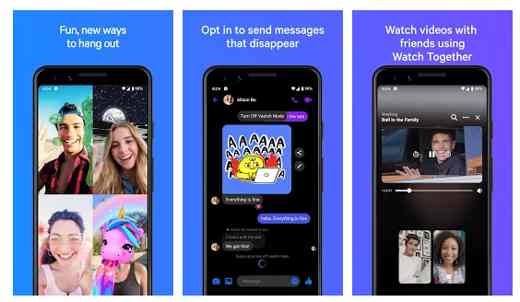 Facebook Messenger It allows chat with your Facebook friends, as well as making calls and video calls over the internet. It is a real mush-have for those who use the famous social network to keep in touch with their friends and family.
Telegram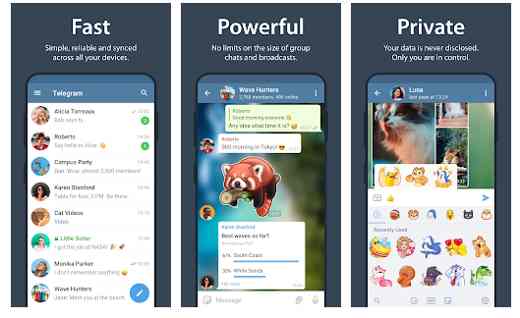 Telegram is another instant messaging app that has become famous especially in recent years, thanks to the attention of developers regarding privacy. This app also allows you to start secret chats, to send messages that self-destruct after some time and of chat in complete anonymity. For further information I suggest you read this guide: How Telegram works.
Skype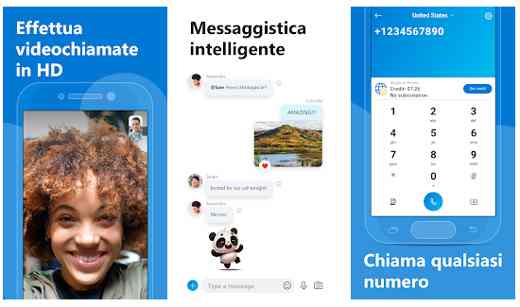 Skype is famous all over the world for being the best VoIP client to make calls and video calls for free with all subscribers to the service. The app version for Android devices also offers the same features as the desktop version, with chat support, the ability to record calls, send stickers, emojis, content sharing and the ability to make group video conferences.
Best android apps for music videos and photos
Do you like listen to music, watch movies and take photos? Then these applications cannot be missing on your smartphone.
Spotify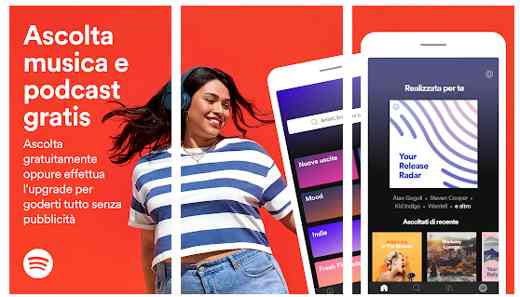 Spotify is the application of one of the music streaming services most famous in the world. By downloading the application you can access the music for free in shuffle mode, while if you subscribe to the Premium service you can listen to songs on-demand and offline.
VLC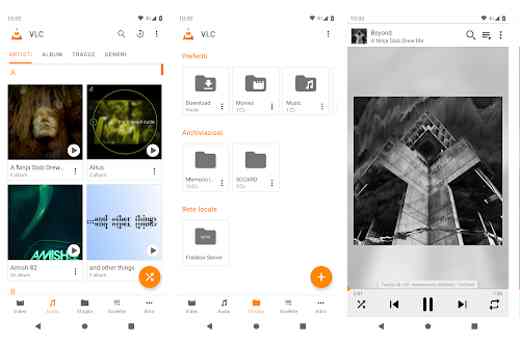 VLC it is a popular universal player Also available on Android that can open any type of video and audio file. It is one of the best software out there for multimedia playback and the mobile version is no exception.
VSCO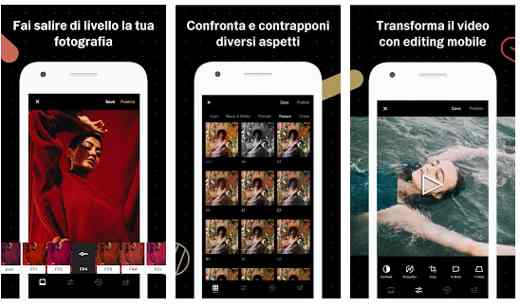 VSCO è l'app Android which suits you if you like it edit photos and make them special to then upload them to social networks and share them with your friends. You will find several advanced filters, effects, tools to adjust shadows, highlights and colors, and you can unlock new ones with in-app purchases.
Netflix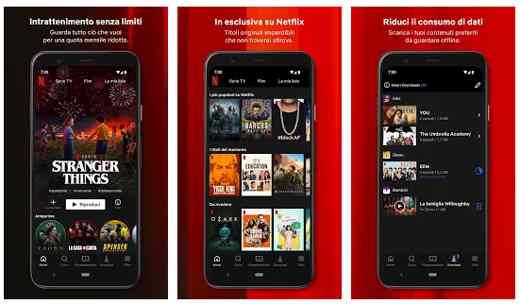 Netflix is the application of the very famous servizio video on-demand, which you can download on your Android smartphone to always have all the contents of the platform at your fingertips. The app is free but to be able to use it you must have at least the basic subscription of 7,99 euros per month.
Best Android apps for productivity
The smartphone is not just a device for having fun and entertaining oneself, but a concrete support in everyday work activities. Try these apps designed specifically for productivity.
Microsoft Office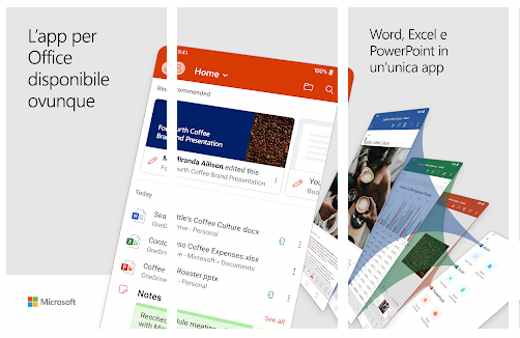 Microsoft Office is the famous Microsoft suite also available as a single app, you can, in fact, download it for free Word, Excel, PowerPoint, Outlook, OneNote e One Drive. While to access the extra functions you must be subscribed to the Office 365 service.
Read also: The best alternatives to Microsoft Office
WPS Office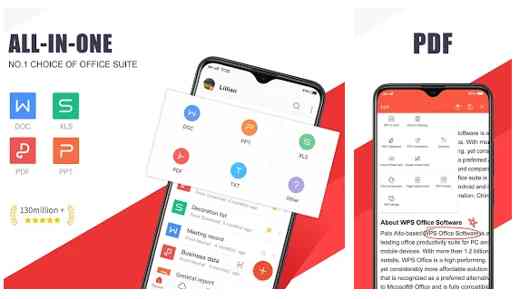 WPS Office is a suite alternativa a Office, available for Android. It allows you to create, edit and view any Word, Excel and PowerPoint file, in addition, supporta i PDF and can interact with various cloud services.
SwiftScan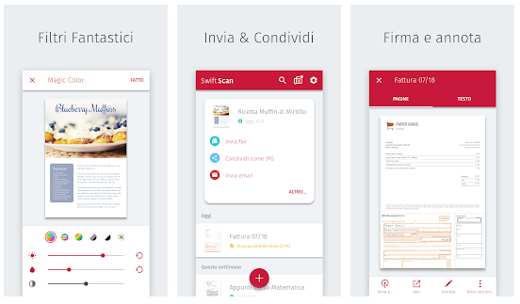 SwiftScan is an app that allows you to turn any document into PDF using the smartphone camera as a scanner. After scanning, you can save the document and decide to share it. It supports major cloud storage services.
1Password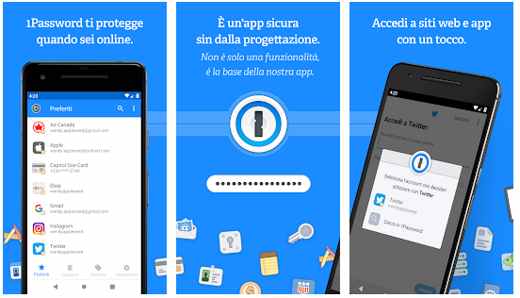 1Password is the application you can use manage your passwords. How many times do you forget the passwords of the various accounts or are you forced to write them down everywhere? With this app you can save them all together and create a universal password. In addition, you can also archive annotations and documents.
Best Android apps for security and maintenance
The safety of your device is important, as is periodic cleaning to eliminate useless and corrupt files. Try these Android security and maintenance app.
Avast Mobile Security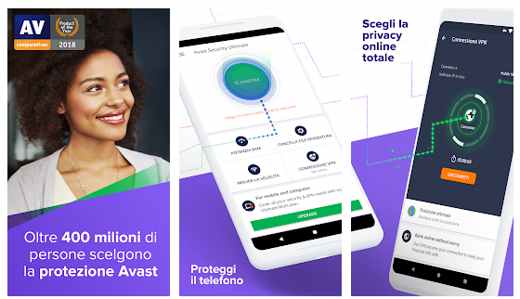 Avast Mobile Security it's a great antivirus for android, totally free, allows you to monitor the system and keep possible threats away. Protects from malware, track lost devices remotely, filter calls, block spam messages and much more.
DiskDigger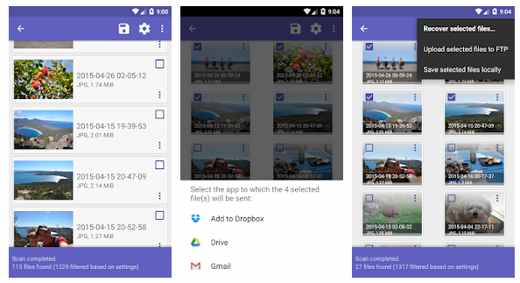 DiskDigger it is a utily app that recovers deleted files on Android, is available in two versions: the free one to recover only the photos and, the paid one, for the recovery of files of various kinds. You will need access to the Root.
Titanium Backup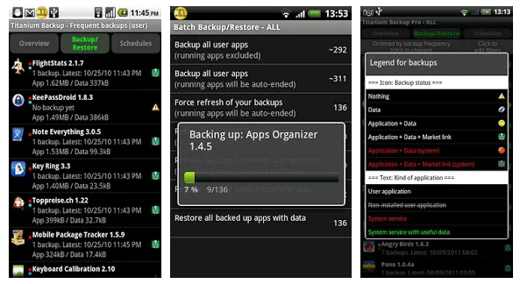 Titanium Backup is the app for make backups of applications, information, data and settings. Again you will need the root. The free version allows you to make backups, while the paid version allows you to encrypt them and access various cloud storage services.
Greenify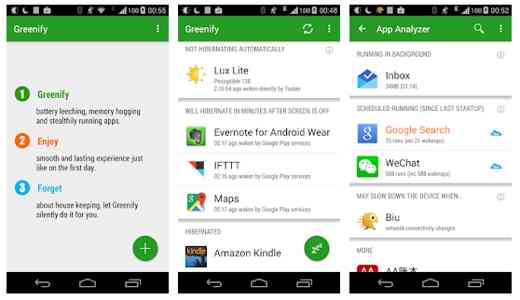 Greenify is an Android app designed for the energy saving, its function is to hibernate apps preventing them from consuming energy when the screen is off. The paid version also allows you to hibernate system apps and access advanced features. Requires access to the Root.
Best android apps for health and fitness
Are you a sports lover? Then you will be pleased to discover Android apps to monitor fitness and keep an eye on your health.
Adidas Running by Runtastic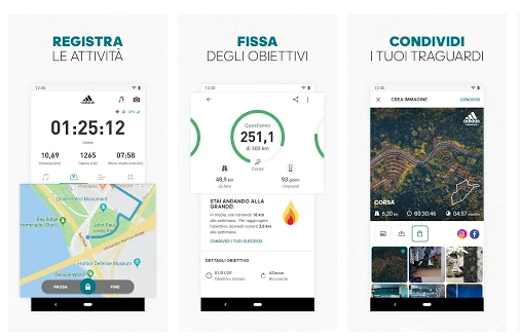 Adidas Running by RuntasticFormerly called Runtastic PRO, it not only tracks your favorite running routes, it also returns information-rich maps to help you plan future rides. Also use it for cycling, hiking and walking.
Fitbit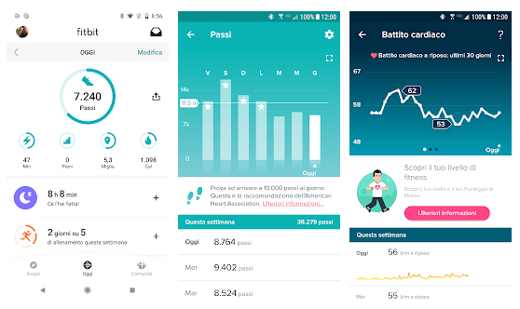 Fitbit is one of the most famous fitness trackers capable of counting steps and recording all your sports activities in order to achieve the daily goals you have set for yourself. There is no shortage of social features to compete against your friends and keep training levels always high.
Clue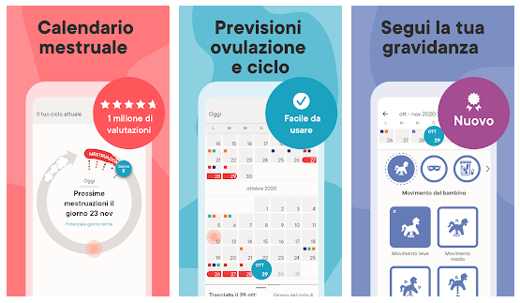 Clue is a simple app with a beautiful design that can monitor the period of your menstrual cycle and predict when the next one will occur. Enter your details to manage reminders and a handy calendar that will help you plan everything in advance.
Calorie counter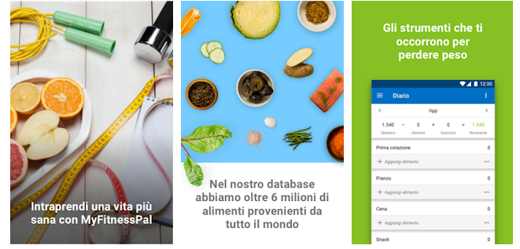 Calorie counter is a calorie counter and exercise tracking. Its purpose is to help you lose weight by recording the calories you eat and burn during your workouts. A convenient barcode scanner will make recording your post-workout snacks even easier. The app works quite well with other similar apps too, so your data and progress won't be lost.
Best android apps for drawing
For artists, here are useful apps that will allow you to share the art of drawing with friends and family.
Adobe Illustrator Draw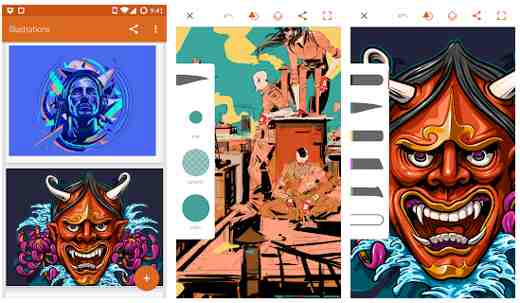 Adobe Illustrator Draw is one of the best free and ad-free Android drawing apps from Adobe. It provides various drawing functions and a wide range of useful tools. You can take advantage of the different types of customizable brushes, five different pen nibs, multiple images and drawing layers, redo or undo buttons and much more. Once the work is done, you will be able to post on social media and receive feedback from other users of the app.
ArtFlow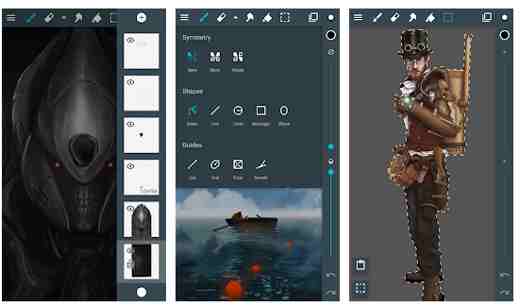 ArtFlow is a fantastic free drawing app for Android, suitable for both children and adults. It comes with over 70 brushes and tools and includes color adjustments, Redo and Undo buttons, and more. The app also offers the ability to work up to 16 layers with 11 different blending modes. You can import images from a gallery or camera and export designs to PSD, PNG, or JPEG formats.
PaperColor
PaperColor aims to mimic the drawing experience in real life. Offers various types of brushes, ruler, eraser, etc. You can import an image as a base map and set it to transparent mode. Then you can trace the original image and draw on it. Other features allow you to add text, graphic tools, custom cover and much more.
Ibis Paint X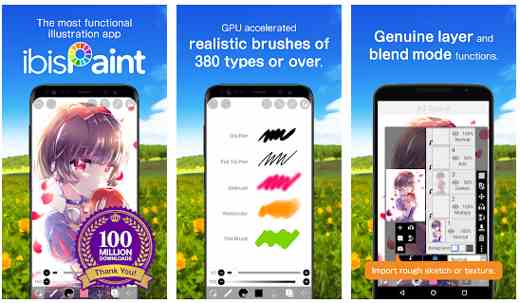 Ibis Paint X is a drawing app with lots of fun features. In our opinion, the best is the one that allows you to record the screen as you draw and the one to publish the drawing process. It offers 142 brush types including markers, digital pens, airbrushes and more. The free version unfortunately contains advertisements.
Best Android apps for photos
The best free photography apps that will help you to better collect and archive all your photos.
Instagram
Instagram is the current king of social photo apps. The advanced retouching capabilities have put it on par with Photoshop Express for image manipulation and correction. To all this must be added direct messaging, Instagram Stories and a clean and minimalist interface.
Google Photos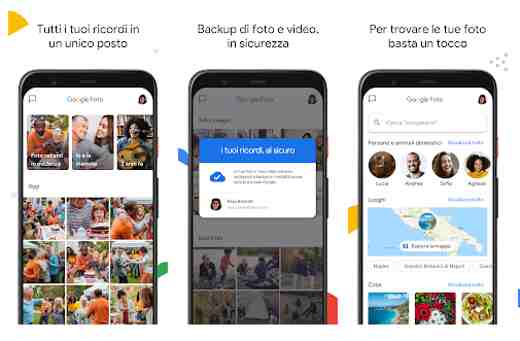 Google Photos is the Google app for images that can identify faces, places, objects and animals. You can also search for photos from specific dates or places. You have unlimited cloud storage and editing tools, plus you can digitize physical photos with Photo Scan integrated and order a personalized photo book. The app Google Lens complementary even manages to provide information relating to photos and scanned images.
Adobe Lightroom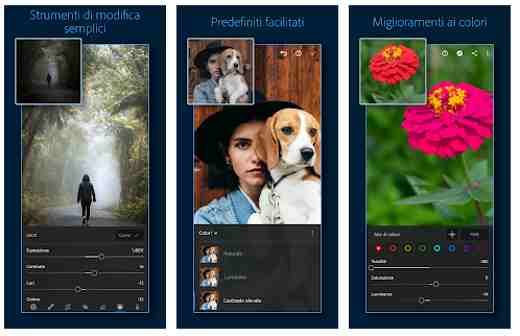 Adobe Lightroom is a powerful photo editing app for mobile devices that retains many of the functionality of the desktop counterpart. Among its standout tools are camera raw file profiles, noise reduction, profile-based lens corrections, and advanced color and lighting sliders. All these changes are synchronized between the mobile app and the PC software.
Flickr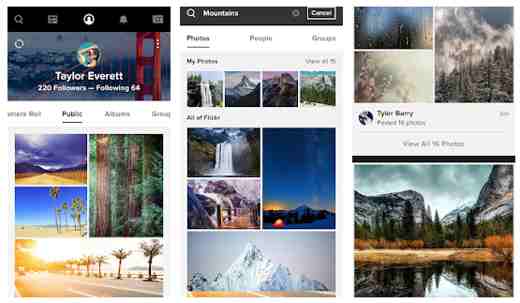 Flickr is the mobile version of the popular photo sharing web service. It offers a well-designed interface with excellent photo and video editing tools. Plus, the app connects you to the service's community of photographers and allows you to upload up to 1.000 photos. You can automatically back up your photos from your phone and purchase a subscription for $ 50 per year for unlimited online storage.
Best android apps for taking notes
For those who need to take notes, at school or college or at a business meeting, here are four great ones android app for taking notes with many other features.
Google Keep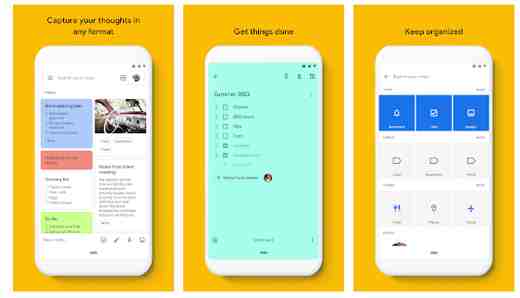 Google Keep is a very useful app for anyone who also uses gmail and allows you to take notes and reminders. You can drag and drop notes and reminders and assign different colors. finally you can add voice notes and even images to keep in the interface in the form of audio and text files.
Microsoft OneNote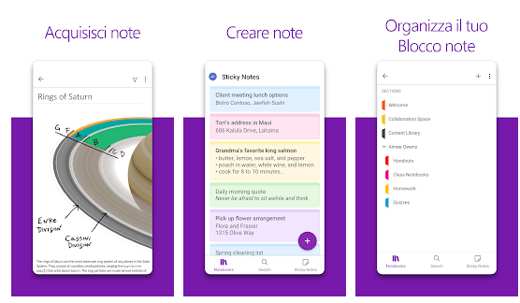 OneNote is a great app for taking notes with data and graphs. It has rich and powerful functions such as inserting multimedia files, drawing with your finger, searching for notes and much more. The interface is modern and very intuitive. Definitely a good choice if you use Microsoft Office.
EverNote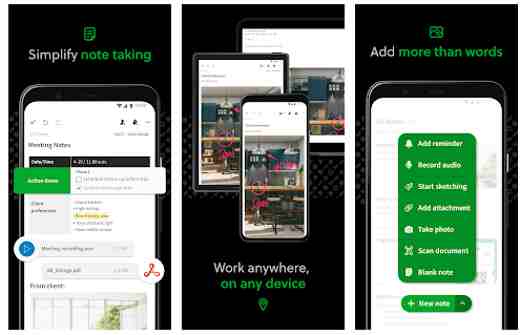 EverNote was very successful before the arrival of OneNote. Today it is less popular but still valid, thanks to the functions of synchronization between devices, scanning the text in the photo and the integrated search engine. The version Premium costs $ 7.99 per month with an upload limit of 60MB and a maximum clipboard size of 25MB.
FillNote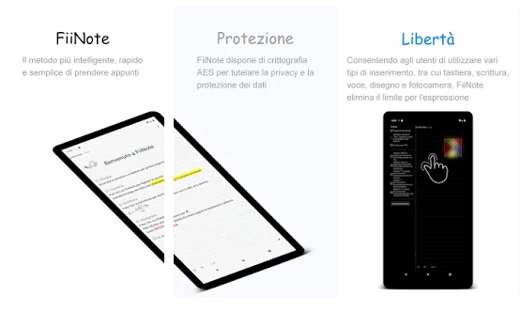 FillNote is a note-taking app very similar to those described so far, although less famous. The interface is very minimalist but functional. It supports both digital and handwritten writing and has a number of advanced features.
Best Android apps for cars
Avoiding traffic, accidents and speed cameras or having a navigator in the car are now essential elements to go to the office, on vacation or anywhere else. That's why these apps will be useful to you on your daily commute.
Android Auto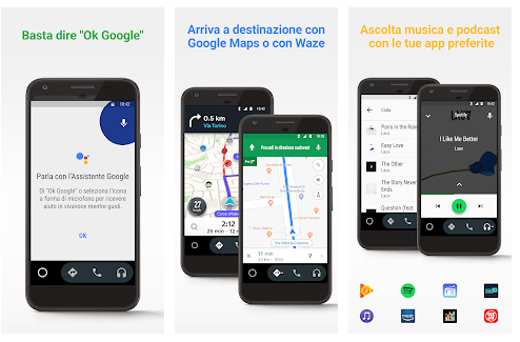 Android Auto is among the best free car apps. It allows access to Google Maps, instant messaging apps, music apps and other functions. To use it, you just need to download it and open it on your phone and then run it from a holder in the car. There are cars with Android Auto already built in and which can be accessed from the car's touch screen.
Google Maps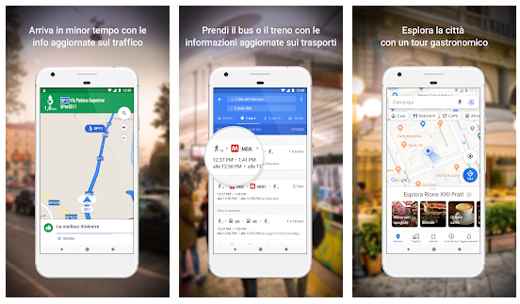 Google Maps is an app compatible with Android Auto and that allows you to move from one place to another using Google's guided navigation. It has over 220 countries mapped and also offers alerts on traffic, public transport and where to eat and drink or what to visit. On Android smartphones, the app is already pre-installed
Waze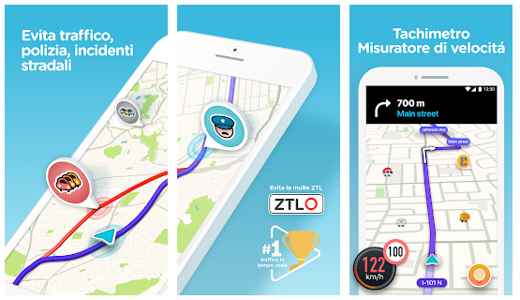 Waze is a valid alternative to Google Maps. Its peculiarity is that it offers a social navigation where drivers report traffic areas, accidents, speed cameras and other warnings, in real time. Very useful for finding alternative routes. It is compatible with Android Auto.
Fixed and mobile speed cameras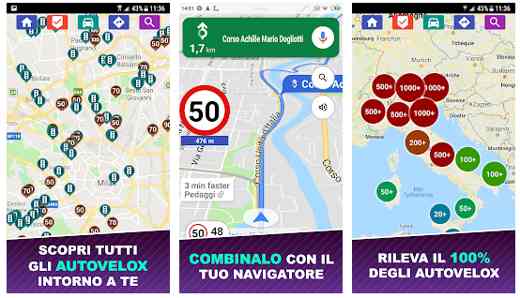 Fixed and mobile speed cameras is the free app that informs you if fixed and mobile speed cameras and controlled traffic lights are near you. Through a map it allows you to view the route with speed cameras in full view. It also informs you about traffic, police, accidents and anything else that is reported in the app by other drivers. Check out other apps of this kind as well by reading this guide: The best speed camera apps.
You may also find our list of Best games for android or our guide on how to get Android apps on PC with BlueStacks.
For iPhone users, however, I invite you to read the Best free iPhone gamesand Best free iPhone apps.
Frequently asked questions and answers
Compilation of frequently asked questions that our users have sent us and that our experts have answered.