Best electric scooter. A buying guide on the best electric scooters for adults on the market.
Electric scooters today are an easy and fun way to get around town and present a valid alternative to mopeds and bicycles.
In the list compiled you will find electric scooters for each budget, although price isn't the only factor to consider when buying one of these devices. It is also necessary to take into account how far the scooter can travel after one recharge speed maxim and weight (especially if you intend to take it with you on public transport).
La safety is another important factor. If you are planning to drive at night, you will need to look for the electric scooters with adequate lights. A'wide platform (ideally with a non-slip handle) can make the scooter more stable, ei brakes to electric support can give you more stopping power.
To try to point you to the best electric scooter we focused on lightweight folding scooters for commuting, rather than performance models that boast much higher top speeds, but which are prohibitive for everyday riding.
Are electric scooters legal?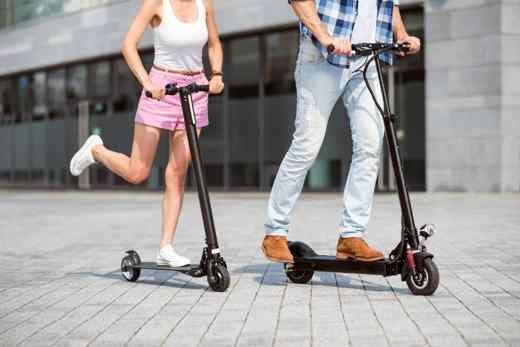 There is a law decree signed by Toninelli, the former Minister of Transport a couple of months before the government crisis, who defines the methods of implementation and operational tools for the experimentation of the circulation of electric devices for personal mobility. It is specifically about electric scooters, segway, hoverboard e monowheel.
The decree binds the circulation of these means of transport to the experimentation adopted by the Municipalities. It is a trial period to be carried out in an urban environment and in certain points of the city. In practice they are allowed in pedestrian areas as long as they have a speed regulation system that does not allow passing at more than 6 km / h.
Electric scooters can also circulate on runway cycle paths, its itineraries pedestrian e cycle paths and roads at speeds below 30 kn / h without exceeding 20 km / h.
The decree Toninelli he specifies that the Municipalities must authorize the circulation of electric scooters in the indicated places on an experimental basis. If the Municipality does not start the trial phase, anyone who will move with an electric scooter could risk a fine.
In addition to the speed limit imposed, electric scooters are legal if they have one power less than 500W, for an signaler acoustic, a solid yellow or white front light and red reflectors and red light in the rear to circulate after sunset and finally the brand CE, required by the European directive.
Electric scooters cannot be driven by children, but only by adults or minors who have at least the license AM. The towing or transport of passengers or goods is not permitted.
I also recommend that you always wear a jacket retroreflective it's a helmet. At the bottom of the article you will find useful tips.
On this page you will find the list of Municipalities that adhere to the experimentation of electric scooters. For further information, you can also subscribe to the Electric Scooter Club on Facebook.
Best electric scooter
Now that you have a complete view of the rules governing the circulation of electric scooters and the characteristics necessary to circulate. Here are the best models on the market.
1. Segway-Ninebot ES4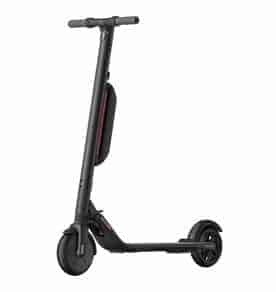 An electric scooter that puts safety first in all weather conditions.
Max speed: 30 km/h | Autonomy: 45 km | Weight: 14 kg | Folding: Yup.
For
Surprisingly convenient
Great security features
Long range
Cons
Experts from Segway they know the world of two wheels very well, and this experience helped her build a surprisingly affordable electric scooter: the Ninebot ES4.
Its real-world performance depends on how and where you want to drive it, but the Segway-Ninebot ES4 it has a listed range of 45km and a top speed of 30km / h, making it one of the fastest scooters for its price range.
Its footboard is reasonably wide, with a non-slip surface to make your foot safer on wet days. Its stopping system also helps protect you, with an electrically assisted front brake that gradually slows you down and a fender brake for quick slamming on the anchors.
Add a rear light and an additional external battery and you have a practical and reasonably designed electric scooter that will get you from A to B quickly and safely. For our money, it's the best electric scooter around.
Buy on Amazon
2. Xiaomi Mi M365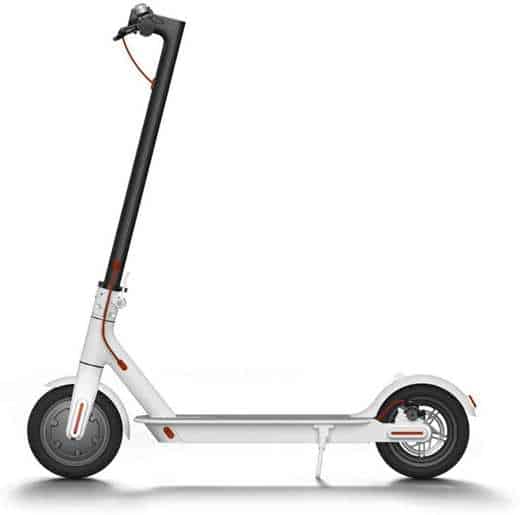 It is among the most popular electric scooters.
Max speed: 24 km/h | Autonomy: 29 km | Weight: 12,5 kg | Folding: Yup.
For
Super light
Very compact when folded
Cons
Lo Xiaomi Me M365 (the forerunner of the M365 Pro) is extremely popular around the world.
At just 12,5kg it is incredibly light and folds up easily enough to be small enough to carry on the train or subway. The charger is also compact and can be easily stowed in a bag or pocket if range is a limiting factor.
This model is a bit simpler than the Pro version, with slightly lower speed and power, but if you don't have to tackle too many hills on your travels then it might be the model for your needs especially if you're on a tight budget.
No products found.
3. Xiaomi Mi M365 Pro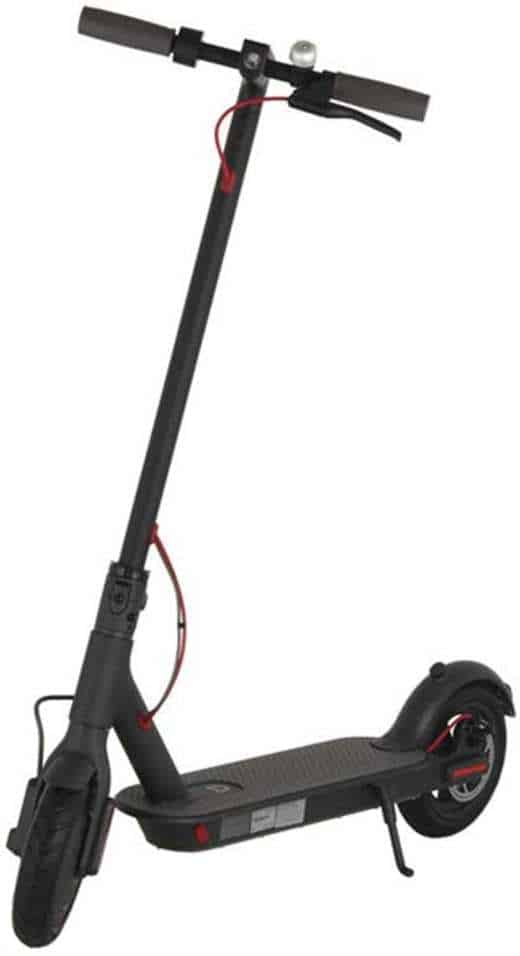 A reliable and affordable electric scooter for everyday commuting.
Max speed: 24 km/h | Autonomy: 44 km | Weight: 14,2 kg | Folding: Yup.
For
Impressive range
Very reasonable prices
Easily transportable
Cons
This is the successor to the original Xiaomi Mi M365 - among the best electric scooters in circulation. Xiaomi Mi M365 Pro it is significantly heavier than its predecessor, but its 44km range is a big improvement and makes it a great choice for regular commuting without the need to recharge every day.
The Mi M365's brakes have also been improved for faster and safer braking, and the slightly wider bridge makes it easier and more comfortable to drive. Balancing on an Electric scooter takes a lot of practice, but having more foot room makes the learning curve faster.
The only real disadvantages of the Xiaomi Mi M365 Pro are the design and its brakes not as impressive as those of Segway, but you certainly won't find a better electric scooter at such an affordable price.
No products found.
4. Gotrax GXL
Best budget electric scooter for short trips.
Max speed: 25 km/h | Autonomy: 19 km | Weight: 14 kg | Folding: Yup.
For
Solid chassis
super convenient
Cons
Limited range
Weak plastic screw caps
Gotrax GXL it is ultimately the cheapest scooter and its price has dropped significantly since its launch. It should therefore come as no surprise that this is a bargain even if we don't have an impressive spec sheet.
In theory it can reach a maximum speed of 25 km / h and a range of up to 19 km, sufficient for most trips. If you run out of energy away from home, 14kg of weight shouldn't be too burdensome to carry. This also makes it a good choice for public transport.
The absence of a rear light doesn't make it ideal for driving after dark, but for the effective and affordable price it's worth considering.
Buy on Amazon
4. Segway Ninebot ES2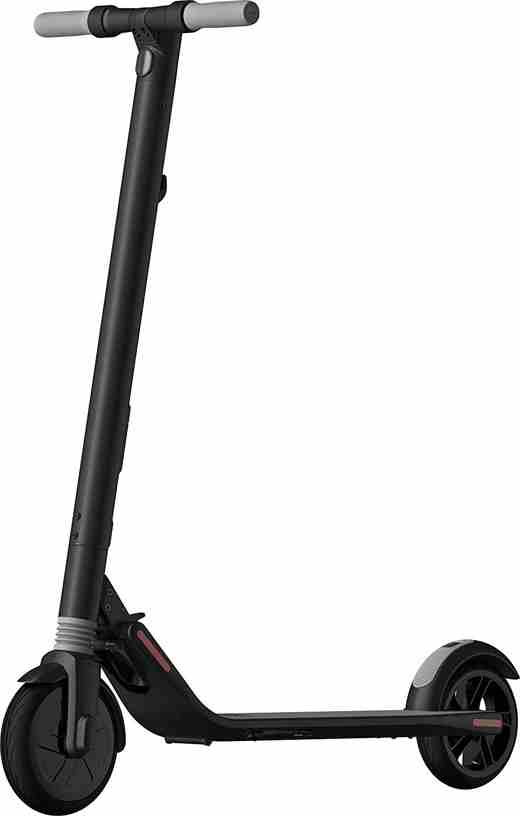 Absolutely practical design, built for comfort and quality.
Max speed: 25 km/h | Autonomy: 25 km | Weight: 12,5 kg | Folding: Yup.
For
Smart and simple design
It can be enhanced with updates
Ideal for commuting
Cons
The scooter Segway Ninebot ES2 is designed for convenience and travel comfort and fully falls into this list of the best electric scooters.
This means of transport has rubber wheels, both the front and rear axles are equipped with shock absorbers to ensure a smoother ride and an additional battery connection on board to extend its already reasonable range.
You can set cruise control, take advantage of the mechanical and electric braking combination system and enjoy greater speed and additional range at any time.
No products found.
5. Razor Power Core E100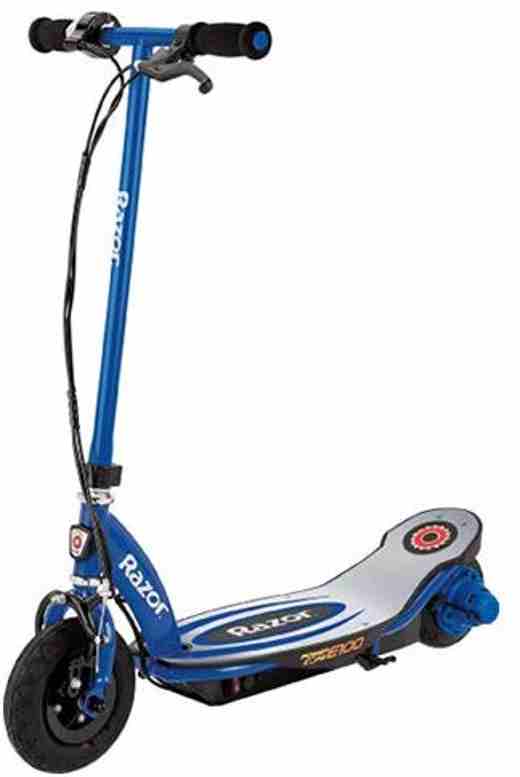 The best electric scooter for kids beginners.
Max speed: 16 km/h | Autonomy: 7 km | Weight: 4 kg | Folding: Yup.
For
Ideal for children (ages 8 and up)
Push-button accelerator
Cons
Rather delicate engine and batteries
This little electric scooter is sure to get kids out in the fresh air. With a continuous run time of up to 40 minutes, the Razor E100 it is a powerful scooter but it is limited to 16km / h so it is much more suitable for play than for transport.
It is easy to use, with a push-button throttle for safe departure. It needs some assembly but the parents have confirmed that it is not difficult to assemble and that the easel is also useful for storing in the garden or elsewhere.
Buy on Amazon
6. Mtricscoto electric scooter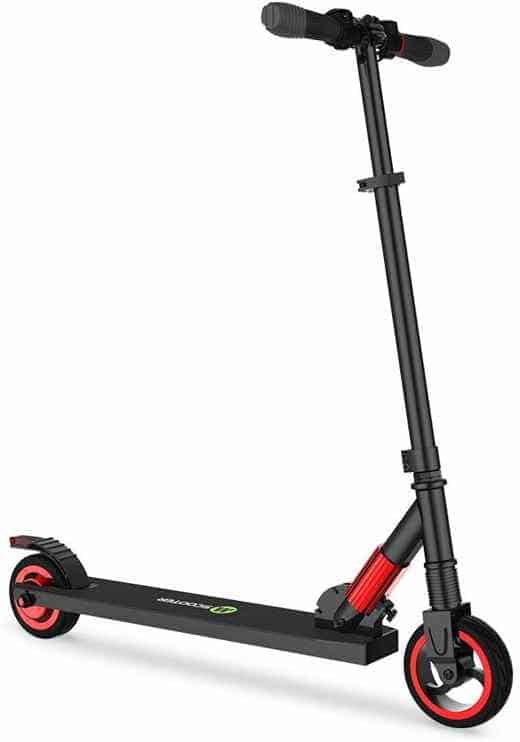 An inexpensive electric scooter.
Max speed: 23 km/h | Autonomy: 12 km | Weight: 7,5 kg | Folding: Yup.
For
Economic
super convenient
Cons
The Mtricscoto electric scooter is a clean and economical device with an ultralight frame. It has a weight of only 7,5 kg and a double braking system, with front eABS and tail brake to provide additional safety. Extra features include an LED taillight, which will help you be seen at night, and shock absorbers for a more comfortable ride.
Buy on Amazon
Electric scooters on Amazon
Scooter helmets and vests on Amazon
Frequently asked questions and answers
The range of an electric scooter generally On average, current electric scooters have a range of forty to one hundred km.
In the city center, there are more 2-wheeled cars in the 50cc category with a range of forty-fifty km.
May seventeenth, two thousand and twenty-one
Compilation of frequently asked questions that our users have sent us and that our experts have answered.