Are you looking for the best desktop computer but you still don't have clear ideas? Here is a buying guide on which are the best desktop PCs on the market.
The best Desktop PCs are getting more and more powerful. The latest ones have evolved to the point that they contain eight-core processors and super high-end graphics cards, some of which offer real-time ray tracing - things that just wasn't possible a few years ago.
The good news is that the best desktop PCs available at the moment have become more affordable, which means that even if you don't have a large budget you can still find a solid computer or even a PC desktop all-in-one Cheap.
Best desktop computer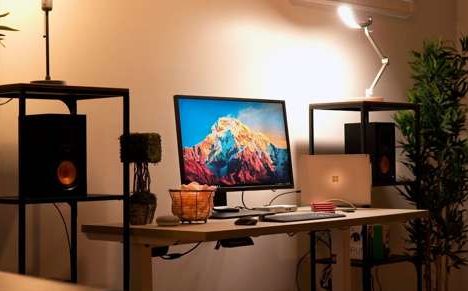 The best desktop computer is the one that will allow you to keep it up to date by inserting new components such as: fast SSDs, more RAM and the best video card.
With so many options to choose from, finding the best PC, based on your needs and budget, can be difficult. That's why we have collected all the best computers on the market, paying close attention to the ones that have the best value for money,
Read also: Best desktop computer for office
Best budget computer (less than € 300)
Intel Compute Stick

Best portable desktop PC.
CPU: Intel Atom – Intel Core m5 | Graphic card: Intel HD Graphics – Intel HD Graphics 515 | RAM: 1 GB – 4 GB | Memory: eMMC da 8 GB a 64 GB.
For
Wide choices of CPUs
Extremely portable design
Cons
Limited fan cooling
Limited RAM and memory
Some people have problems with desktop PCs, as they are often quite bulky. Intel Core Compute Stick made it irrelevant. It looks more like a thumb drive than a real computer and can connect to any monitor with a HDMI input. Its base consists of a processor Intel Atom 1,33 GHz with Linux, but can be configured for up to one processor Intel Core m5. It is one of the best PCs, which you can literally slip into your pocket, useful both in your daily commutes and on long journeys
Buy on Amazon
Mini PC ACEPT T11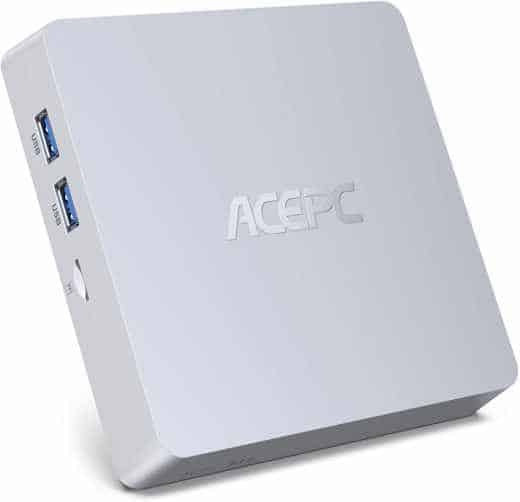 The best Windows 10 mini PC.
CPU: Intel Atom x5-Z8350 Quad-core | Sheet Graphics: Intel HD Graphics 400 | RAM: 8 GB | Memory: 64-128 GB.
For
Portable
Price
Small size
Many doors
Good memory
Cons
Weak in graphics
Not updatable
Memory Expandable
The mini PC ACCEPT T11 it is perfect for browsing and playing multimedia content. Mount Windows 10 Pro pre-installed (64-bit), Linux support and a fanless design to work in silent mode. It has small dimensions 13 x 13 x 3 cm and a weight on 660 grams. Hardware side, we find: a processor Intel Atom X5-Z8350 with matching 8 GB of RAM it's a ROM memory of 64 or 128 GB (eMMC), depending on the need.
The graphics card is one Intel HD Graphics 400 with VGA, HDMI video outputs, two USB 2.0 and 3.0 ports, microSD card slot, 3,5mm audio jack and Ethernet port. There is no shortage of 1000 Mbps LAN, 2.4G + 5G Dual WiFi, 4K HD and Bluetooth 4.2.
No products found.
CHUWI CoreBox Mini PC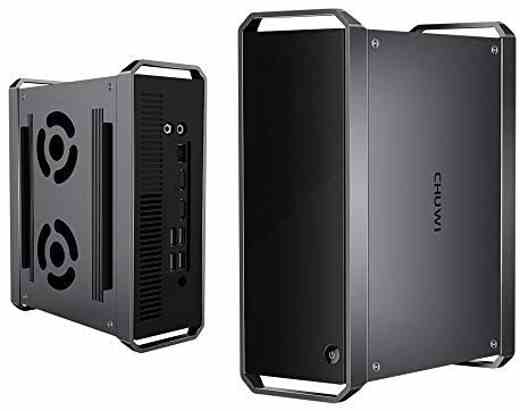 Among the best best Chinese mini PCs.
CPU: Intel Core i5-5257U | Sheet Graphics: Intel Iris Graphics 6100 | RAM: 8 GB LPDDR3 | Memory: 256 GB SSD.
For
Quality design and materials
Intel Core Processors
Ease of upgrade and maintenance
Powerful cooling system
Cons
Chuwi CoreBox is a Chinese mini PC with Intel i5 processor and with a perfect chassis for upgrades and maintenance. It is capable of performing the multitasking and to better process the images and fluid games. Besides 8 GB of RAM e 256 GB SSD of internal memory, we find an integrated graphics card, the Intel Iris Graphics 6100, which supports rendering ei DirectX 12 at 1,05 GHz. There is no lack of support for 2,5-inch HDD expansion.
Connectivity side, we have: 2 USB 3.0 and USB 2.0 ports, two HDMI ports plus a microphone and headphone jack. To give you maximum speed we have: Dual Band Wi-Fi and Gigabit Ethernet.
Buy on Amazon
Raspberry Pi 4 Model B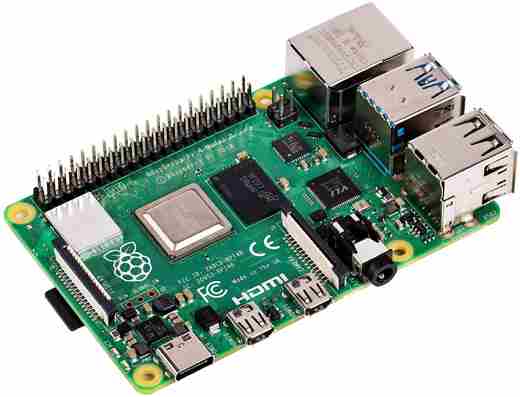 Small but mighty.
CPU: Broadcom BCM2711, Quad core Cortex-A72 (ARM v8) | Sheet Graphics: OpenGL ES 3.0 | RAM: SDRAM LPDDR4-3200 da 1 GB, 2 GB o 4 GB.
For
More powerful CPU for a smoother user experience
The 4GB RAM model is almost a desktop replacement
Cons
Even at idle the CPU overheats
Despite the small size, they are so small that they don't even have a frame, the boards Raspberry Pi they have proven to be small machines that are absolutely capable of handling daily productivity tasks, such as word processing and spreadsheets. And with Raspberry Pi 4 Model B, we can enjoy a powerful computer with the right upgrade. Finally, the Raspberry Pi line also offers a desktop computer and a platform to experiment and create.
Buy on Amazon
Best mid-range computer (€ 300 to € 1000)
DILC Airo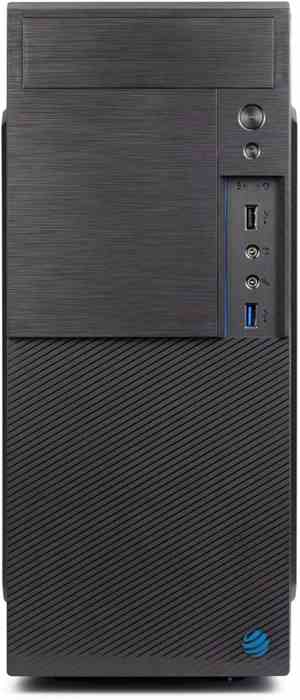 CPU: Intel Quad Core | Sheet Graphics: Integrated Intel UHD 600 graphics card with support for resolutions up to 4K, directX 12 and OpenGL 4.4 | RAM: 8 GB DDR4 | Memory: 480 GB SSD + 1 TB HDD.
For
Powerful
Good value for money
Silection
Cons
Windows 10 Pro trial version
Unpretentious computer
Il DILC Aico it is a powerful and very efficient desktop computer. With a reasonable cost you can take home a device with many strengths. It is fast, responsive and practical to use. The hardware compartment consists of a processor Intel Celeron Quad-Core 1.9 which can go up to 2.3 GHz with remarkable performance. To ensure better performance, you can count on 16 GB of RAM DDR3, 480 GB SSD it's a HDD secondary very large for data storage.
Monta Windows 10 Pro and programs, including Open Office, Acrobat Reader, etc. Includes USB 3.0 connection, SATA ports and PCI wireless card.
Buy on Amazon
GOLOOK PC Desktop Gaming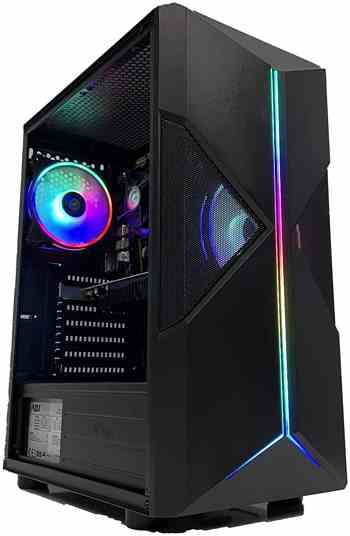 CPU: Intel i5 2300 3,2 Ghz | Sheet Graphics: NVidia GT1030 2GB | RAM: 16 GB DDR3 | Memory: 480 GB SSD.
For
RGB LED effect
Powerful and efficient
Good price
Cons
The desktop PC Golook it is a computer suitable for gaming. Mount the operating system Windows 10 with original license and features a beautiful case with front RGB LED strip and rear cooling fan with keys to adjust the lighting effect. To turn off the lit LEDs, simply press the Reset button on the case.
The processor is a Intel Core i5 supported by 8GB of RAM and one SSD from 240 GB to store your data. The video card is integrated, while on the connectivity side, we have: USB 2.0 port, Ethernet LAN, Audio outputs and inputs (both on the back and in the front of the case), VGA, DVI and HDMI outputs.
Buy on Amazon
Intel Hades Canyon NUC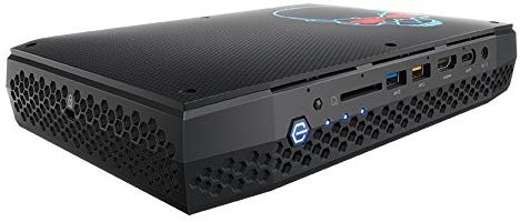 Best compact desktop computer.
CPU: Intel Core i7 | Sheet Graphics: Radeon RX Vega M GL – GH | RAM: 4 GB – 64 GB | Memory: 128 GB - 2 TB SSD; Secondary SSD up to 2TB.
For
Many doors
Easy to update
Cons
If you want a great desktop experience, but don't have a lot of desk space, Intel Nades Canyon NUC it might be ideal for you. This bare-bones little PC has a ridiculously fast 7th Gen Intel Core iXNUMX processor and decent-class AMD Radeon graphics. By adding some RAM and storage, you can enjoy the best PC games without wasting time. While it can't compete with a full-sized desktop, if you're short on space or want a PC that looks like a set-top box, this is one of the best PCs to consider.
Buy on Amazon
Apple Mac mini (2020)

Best portable Mac with same size but more space than its predecessor.
CPU: 8th-generation Intel Core i3 – Core i7 | Graphic card: Intel UHD Graphics 630 | RAM: 8GB – 64GB 2666MHz DDR4 | Memory: 256GB – 2TB SSD.
For
More storage space
Other RAM options
Cons
Older integrated graphics
Older processor
Apple computers are constantly updated and the Mac mini is not far behind. The 2020 version offers more storage space than its predecessors and more RAM. Unfortunately it continues to keep the same processor and integrated graphics that are starting to be obsolete. However, both are still quite powerful, and combined with more storage, they make the Mac mini one of the best Apple desktop computers today.
Buy on Amazon
Apple Mac mini (Apple M1)

CPU: Chip Apple M1, CPU 8‑core con 4 performance core | Sheet Graphics: GPU 8‑core | RAM: 8 GB | Memory: 256GB o 512GB SSD.
For
Cons
Increasing RAM and SSD capacity at the time of purchase is expensive
Fewer Thunderbolt ports than the previous Mac mini
Memory is no longer upgradeable after purchase
Il M1 chip designed by Apple for the new Mac Mini Apple offers a level of CPU, GPU and machine learning performance. There CPU octa-core guarantees 3x faster performance, while the But by the full GPU acceleration tech octa-core delivers up to 6x smoother graphics in games and apps. Aesthetically it is identical to the Intel CPU version but inside it is completely different. In addition to the CPU and GPU, we also find one NPU (Neural Engine) 16-core for advanced machine learning and 8/16 GB RAM.
The SSD storage memory can be 256 or 512GB and is ultra-fast for opening apps and files. You can also configure 1TB or 2TB storage memories. Finally we find: new generation Wi-Fi 6, 2 Thunderbolt ports, USB 4, an HDMI 2.0 port, two USB-A and Gigabit Ehternet ports and an advanced cooling system for incredible performance. For more information, I recommend you visit the Apple site.
Buy on Amazon
HP - PC 24 All-in-one (full seat)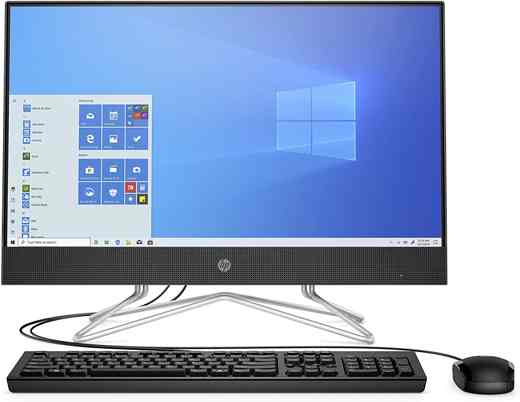 CPU: AMD Ryzen 3 3250U / Intel Core i5-9400T | Sheet Graphics: AMD Radeon | RAM: 8GB | Memory: 128 GB/ 256 GB SSD | Screen: 24 inch Full HD.
For
Cheap
Keyboard and mouse supplied
Easy to set up
Aesthetically beautiful
Cons
Mount Windows 10 Home only
Not great performance
Fan a bit noisy
If you are looking for a complete and good quality PC. this HP model mid-range is equipped with a 24-inch screen with Full HD resolution and a processor AMD Ryzen 3 3250U with 8GB of RAM and 128GB of SSD storage with a 1TB secondary HD.
The other available version costs more and always consists of a 24-inch monitor with I processorntel Core i5-9400T, 8 GB of RAM and 256 GB of SSD space, but without secondary HD. For both versions we also have: keyboard, mouse and DVD burner supplied.
Buy on Amazon
Best high-end computer (from 1000 €)
Megaport PC gaming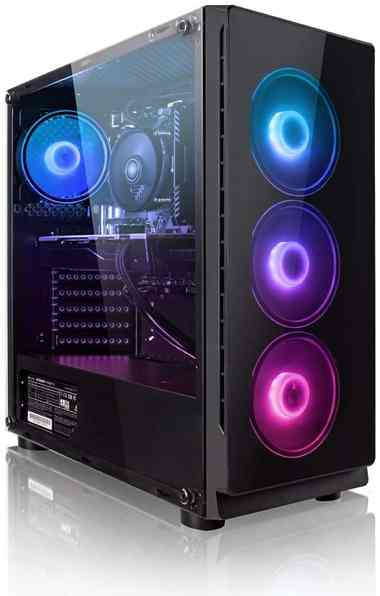 CPU: Intel Core i5-10600K 6-core 4.10 GHz | Sheet Graphics: nVidia GeForce RTX 2060 | RAM: 16 GB | Memory: 240 GB SSD / 1 TB HDD.
For
silent
Fast and powerful
Powerful graphics card
Cons
Obsolete network card
The RAM does not take advantage of the Dual Port
The front glass gets dirty easily and is difficult to clean
Megaport specializes primarily in PC gaming economic, like this one that mounts a GPU NVidia GeForce RTX 2060, a processor Intel Core i5-10600K Esa-core flanked by 16 GB of RAM e 240 GB SSD with a 1TB secondary HDD. This way you can install a lot of games on your computer and enjoy the graphics performance of this gaming PC.
All components are housed in the midi case Design Tower Megaport Hunter RGB with backlight. All this to enjoy an unprecedented user experience. Mount Windows 10 Home.
Buy on Amazon
Microsoft Surface Studio 2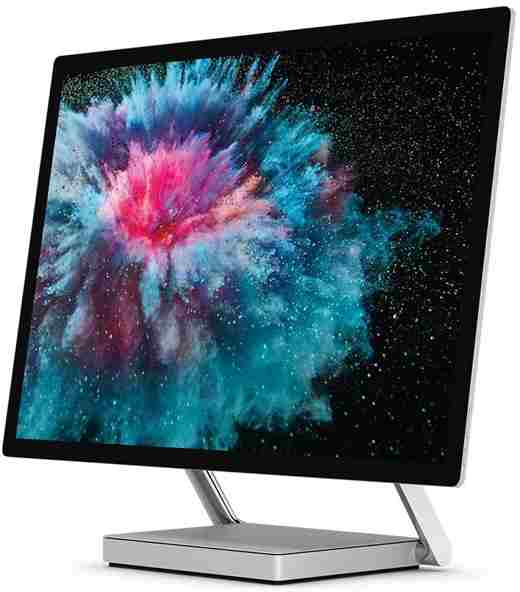 Best desktop PC for video editing.
CPU: Intel Core i7-7820HQ | Sheet Graphics: Nvidia GeForce GTX 1060 – 1070 | RAM: 16 GB – 32 GB | Memory: SSD from 1TB to 2TB.
For
Brighter display
SSD PCIe
Cons
Surface Studio it quickly became one of the best PCs for artists when it first came out. Unsurprisingly, then, its following picked up where it left off. With a mobile processor Kaby Lake and Nvidia Pascal graphics, Surface Studio 2 it has much more power than the original, from which it inherited the gorgeous PixelSense display with Surface Pen support, which allows it to retain the privilege of being one of the best all-in-ones for creatives.
Buy on Amazon
Corsair one i164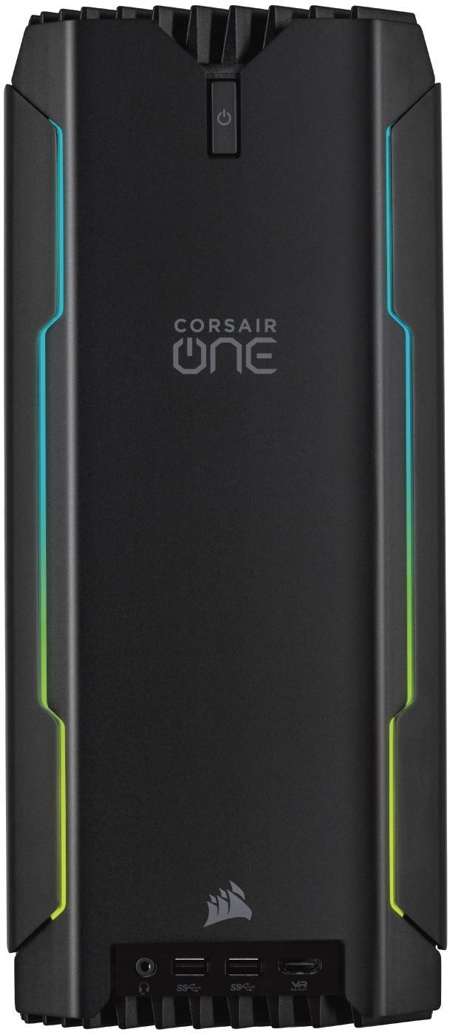 Best PC for programming.
CPU: Intel Core i9-9900K | Sheet Graphics: NVIDIA GeForce RTX 2080 Ti 11GB GDDR6 Liquid Cooled | RAM: 32 GB DDR4 | Memory: HDD da 2 TB.
For
Hugely powerful
Small and beautiful
Cons
If you want one of the best looking PCs in your living room or home office, then Corsair one i164 is the way to go. It contains an incredible amount of energy within its sleek and compact chassis, with a processor Intel Core i9-9900K and Nvidia GeForce RTX 2080 Ti graphics, not to mention 32GB of RAM.
This is absolute powerhouse and will allow you to play any game you want to try, even on your newly purchased 4K monitor. The only flaw: you will have to spend a lot of money to be able to afford it. Mount Windows 10 Home.
Buy on Amazon Buy on Amazon
New 21,5-inch Apple iMac (all in one)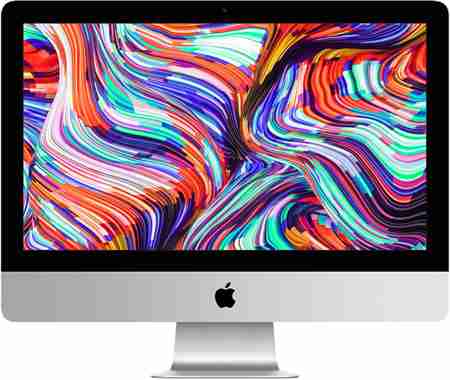 CPU: Intel Core i5 6-core eighth generation 3.0 GHz | Graphics: AMD Radeon Pro 560X | RAM: 8 GB | Memory: 256 GB SSD | Screen: 21.5 inch Retina 4K with 4096 x 2304 pixel resolution.
For
Excellent performance
Display Retina 4K
Graphic card
Cons
No optical drive
1 year of warranty is little, but you can extend it with Apple Care
You may have difficulty working with very heavy photo and video editing (better iMac Pro).
THE21,5-inch Apple iMac it is a perfect All-In-One for your work from home. It offers excellent performance through the use of the macOS operating system that you can enjoy with a 21,5-inch (diagonal) Retina display with a resolution of 4096 x 2304 pixels. The processor is a Intel Core i5 a 6-core (the version with Intel Core i7 is also available) with 8 GB of RAM (up to a maximum of 32 GB) and an SSD storage memory that starts from 256 GB up to 1 TB. GPU side we have the AMD Radeon Pro with dedicated RAM.
This model has two Thunderbolt 3 (USB-C) ports, 4 USB-A ports, one Gigabit Ethernet port, FaceTime HD webcam, 802.11ac Wi-Fi and Bluetooth 4.2. Finally it includes: the Magic Keyboard, Magic Mouse 2, the power cable, and the Lightning to USB cable.
Buy on Amazon
New Apple iMac 27 inch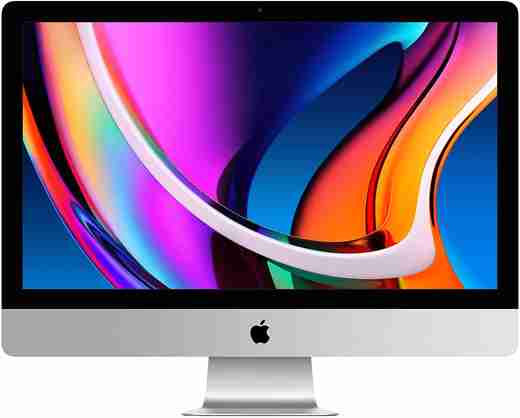 CPU: Intel Core i5 6-core tenth generation | Graphics: AMD Radeon Pro 5300 | RAM: 8 GB | Memory: 256 GB SSD | Screen: 27 inch Retina 5K with 5120 x 2880 pixel resolution.
For
Cons
The new 27-inch iMac has a next-generation processor, fast memory, powerful graphics, and S storageSD ultraveloce. The display 5K it is spectacular and features a 27 inch one resolution of 5120 x 2880 pixels. The images are brilliant and the texts are crisp, thanks to a billion colors and a brightness of 500nit. The performance of this desktop computer is incredible. Besides XNUMXth Generation Intel Core processors, we find powerful AMD Radeon Pro 5300- graphics
Closes the picture: 2 Thunderbolt 3 (USB-C) ports, a Gigabit Ethernet port, a 1080p FaceTime HD webcam, 802.11ac Wi-Fi and Bluetooth 5.0. The device also includes: the Magic Keyboard, Magic Mouse 2, the power cable and the Lightning to USB cable.
Buy on Amazon
Lenovo Yoga A940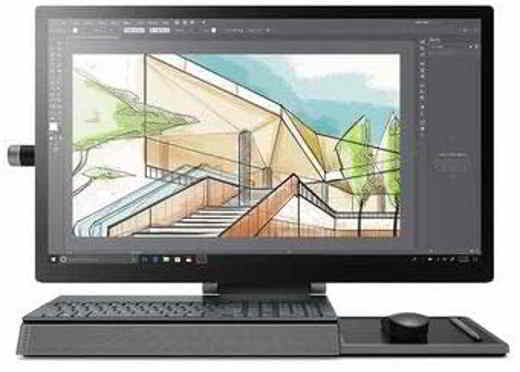 Careful design, innovative features.
CPU: 7th Generation Intel Core i8700-XNUMX | Graphics: AMD Radeon RX 560 4 GB | RAM: 32 GB | Memory: 1 TB 5400 RPM + SSD PCIe da 256 GB | Screen: 27 "4K UHD (3840 x 2160) IPS Multi-touch 100% Adobe RGB.
For
Cons
Il Lenovo Yoga A940 offers the innovative design of an all-in-one desktop that boasts a stunning 4-inch 27K UHD display with up to 25 degrees tilt, pen holder and rotating hinge for stability. It is also packed with impressive features, such as the Lenovo Precision Dial which you can stick on the left or right side of the hinge.
Unlike the best Macs, it offers support Adobe RGB at 100%, an LED light at the bottom of the screen and even wireless charging of the smartphone. If you are a content creator or designer and are looking for an AIO that allows you a truly smooth workflow, this is the best computer for you.
Buy on Amazon
Refurbished stationary computers
To save even more you can also look at this list of reconditioned computers at a good price.
Best notebooks
If you are looking for a laptop instead of a desktop computer, you can take a look at our guide on the best notebooks. If you're looking for high-quality monitors instead, check out our guide to the best monitors.
Other useful articles
Best Asus notebooks
Best Acer notebooks
Frequently asked questions and answers
For a standard desktop computer, a budget of three hundred euros is already adequate.
For powerful machines, budget between one thousand and four thousand euros.
31 Dec two thousand and twenty one
Compilation of frequently asked questions that our users have sent us and that our experts have answered.