I best Chinese notebooks they are the ideal solution if you are looking for cheap notebooks but with interesting functionalities and technical features.
There are many on the market Chinese laptops that allow you to carry out the simplest daily tasks such as surfing the internet, reading e-mails, watching streaming movies, while others offer higher performance and are suitable for video editing jobs or heavier processing.
How to choose a Chinese notebook
Before buying Chinese notebooks, it is important that you know what are the considerations to make and the fundamental parameters to identify which differ from model to model.
In choosing the best notebook whether Chinese or not, attention must be paid to the graphics card, processor, RAM memory and the type of internal memory. In addition, there are several models of Chinese laptops: notebooks, ultrabooks, 2-in-1 convertible notebooks, Apple MacBooks and Chromebooks.
We help you briefly understand the differences between these models, and then take a quick overview of the hardware features.
Laptop PC models
Notebook: are the classic laptops with clamshell closure, equipped with very different hardware and features depending on the product.
Ultrabook: they are portable PCs with small and thin dimensions, they also have a clamshell closure and are fitted with a low voltage processor to reduce consumption and heat dispersion.
2-in-1 convertibles: they are traditional notebooks whose hinge allows a 360 ° rotation of the display so that they can also be used as a tablet, thanks to the touchscreen.
Apple MacBook: they are Apple's top-of-the-range portable PCs, which run on macOS.
Google Chromebook: they are laptops that have Chrome OS installed as an operating system and take advantage of many Google online services and some Android applications.
Hardware features
To choose the best Chinese notebook, as anticipated, you have to focus on some essential hardware components to evaluate which is the best product for your needs.
CPU
It is the fundamental part of the computer that performs the calculations and processes the data through the Core, the calculation units. There frequency (GHz) indicated the power of a single processor unit, a high number of cores, on the other hand, indicates the ability to perform multiple actions at the same time. The most popular processors are the Intel he AMD: Intel Core i3 / i5 e AMD Serial A found in mid-range PCs, they offer good performance without consuming much. The Intel Core i7 he AMD Ryzen, are installed on high-end computers.
In the basic range we find the Intel Celeron/Pentium he AMD E Series, these offer lower than average performance; Intel Atom e AMD Micro consume less power during use, the Intel Core m they consume less than Atom and are installed on smaller sized computers such as netbooks.
But by the full GPU acceleration tech
With But by the full GPU acceleration tech we refer to the graphics card of the computer that must carry out all the graphics processing, in most laptops they are already integrated, or have a dedicated installation space.
RAM
In RAM all the data of the applications used by the computer at a given time are temporarily saved. The higher the quantity, the greater the number of applications that the PC can manage without slowing down.
Internal Memory
The internal memory can be mechanical (HDD), or, solid type (SSD), the latter are faster and allow the quick start of heavy programs in a few seconds.
Battery
Finally, when you are about to buy Chinese PCs, you must also pay attention to the battery and make sure it is able to offer the autonomy you need.
Keyboard layout
Chinese notebooks of brands coming exclusively from China (excluding Huawei or Lenovo) have QWERTY keyboards with American layout. To solve the problem, the manufacturers include in the package stickers set o silicone keyboard covers to adapt them to the mappings we are used to.
Operating System
The Chinese laptops on our list are all equipped with Windows 10 Home pre-installed. Some Chinese notebooks include the Free DOS, a basic operating system to allow the user to purchase or choose an operating system other than Windows 10.
Read also: Best Chinese sites for safe online shopping.
Which Chinese notebook to buy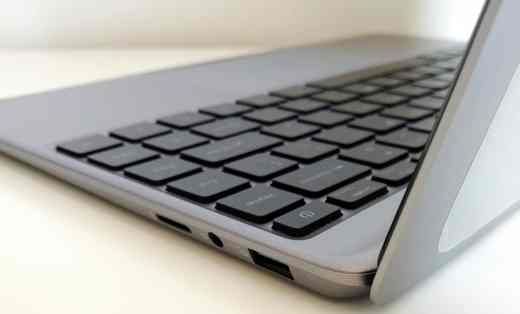 You are now ready to purchase the best Chinese notebook without making mistakes. Below we propose some of the Chinese computers on the market and currently on the market.
Best cheap Chinese notebooks (up to € 300)
Jumper EZbook X3 (13.3″)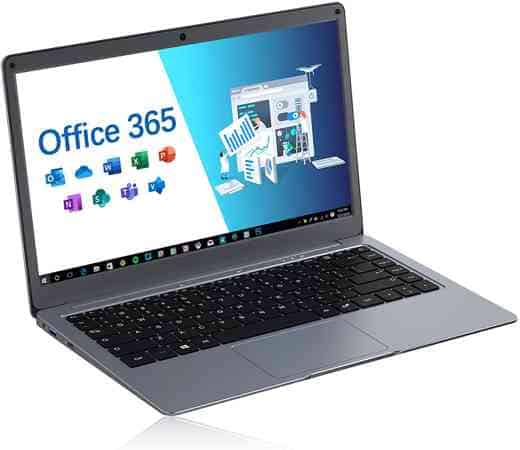 Chinese notebook with Microsoft 365 pre-installed.
For
Light and thin
Ideal for work and study
Price
Cons
English keyboard layout (supplied you will find silicone keyboard covers for various nationalities)
Performances
Not suitable for heavy multitasking work
Jumper EZbook X3 it is a super chinese handset economic with screen IPS from 13,3 inches Full HD and 1920 x 1080 pixel resolution for sharp and beautiful images (178 degree viewing angle). Mount a processor Intel Celeron Apollo Lake N3350 Dual Core Supported by 4 GB of RAM and 64 GB of storage space expandable up to 1 TB SSD and 128 GB in micro SD. Lightweight and compact, this Chinese notebook weighs only 1,23 kg, is 18.2 mm thin and guarantees a battery life of up to 6 hours. Input side: we have USB 3.0 ports, DC charging port, headphone microphone jack, TF interface, microSD port. Finally, by purchasing it you will be able to take advantage of 1 year free Microsoft 365 license pre-installed, this makes it perfect for both those who study and those who work. In addition to the Office package, you also find Windows 10 Home.
Buy on Amazon
BMAX S13a (13.3″)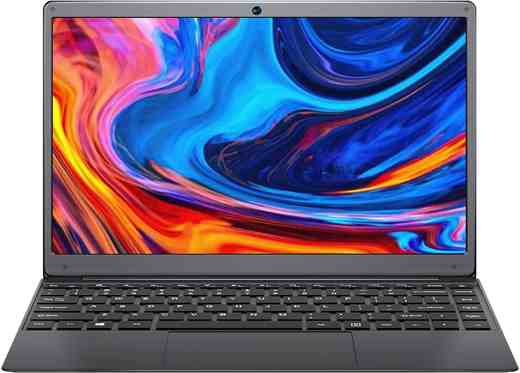 Entry level Chinese notebook.
For
Small size and low weight
Price
Battery life
Cons
It is not fast
Not suitable for video games or graphics applications
BMAX S13a is another low cost laptop with good value for money. It is equipped with a processor Intel N3350 dual core with base speed of 1.1 GHz which in case of need goes up to 2.4 GHz. In addition to the graphics card UHD Graphics 500 core, to assist the whole we find 8GB of RAM and 128GB of high-speed internal memory. Thin e light, this device has a thickness of 2 cm and a weight of only 1,3 km. It is perfect for always carrying with you in your bag and for surfing the web, watching videos and working from home. There keyboard is very comfortable and allows you to write quickly and very easily- Lo Full HD screen is 13.3 inches with 1920 x 1080 pixels resolution and allows you to easily enjoy movies and TV series online. As for the connections, we find the 2.4GHz / 5GHz dual band WiFi and the Bluetooth 4.2, while on the endowment of the ports we have 2 USB 3.0 ports, a mini HDMI, 3.5 jack and SSD M2 SATA 2242 and microSD expansion. Mount Windows 10 Home.
Buy on Amazon Buy on Amazon
MEBERRY (14.1″)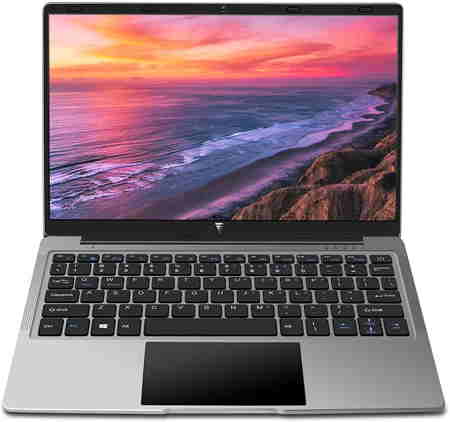 Best budget Chinese notebook.
For
Light and thin
Price
Screen
Expandable internal memory
Many doors
Backlit keyboard
Cons
Keyboard with American layout (stickers to convert to Spanish layout are to be purchased separately)
Slow processor
MEBERRY it is offered at a truly advantageous price. It is a 14.1 inch laptop with 1920 x 1080 pixel resolution with four ultra wearable pads, 10mm slim design and 1,06kg weight. It mounts Windows 10 64-bit and a processor: Intel Celeron N3350 supported by with 6 GB of memory and 64 GB of internal memory with the possibility of expanding it up to 128 GB. It is equipped with 7 ports: including HDMI, microSD, Type-C and Usb 3.0. With a 95% screen-to-body ratio, narrow edges and a battery life of 8 hours of continuous playback and 10 hours of web browsing, you can take it with you to the office or on a trip and enjoy its truly powerful performance. .
Buy on Amazon
Jumper EZBook 2 (14.1″)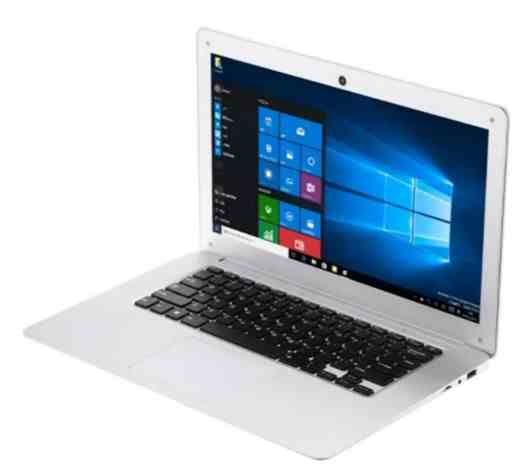 Among the best cheap Chinese notebooks at a good price.
For
Lightweight and robust
Design
Excellent value for money
Cons
Keyboard with US Query layout
It overheats easily
Construction material
Jumper EZBook 2 it is a compact and good quality laptop. It features a 14.1 inch screen with Full HD resolution of 1920 x 1080 pixels with LED technology. It weighs approximately 1,4 kg and is 5,5 mm thick in a shell that encloses a processore Intel Atom X5 Quad core a 1.44 GHz which can go up to 1.92 GHz with Turbo Boost. There RAM is from 4 GB, While the internal memory is 64GB and is expandable up to 128GB with microSD card. To conclude: we have an operating system Windows 10 Home, keyboard layout Querty American, two USB 2.0 ports, Mini HDMI, Bluetooth 4.0 and an audio jack input.
Buy on Amazon
Best mid-range Chinese notebooks (from € 300 to € 450)
Teclast F15 Plus (15.6 ″)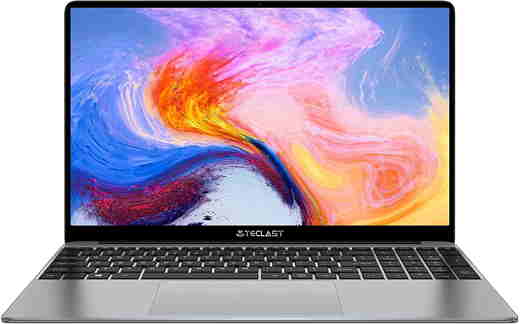 A 15-inch Teclast with a large touchpad.
For
Windows 10 pre-installed
It is made of metal
Quality screen
Cons
Non-backlit keyboard
Not excellent processor
Many users complain that instead of 2.6 Ghz the laptop is 1.1 GHZ
F15 Plus, is one of the last Teclast. Ride a display Full HD IPS da 15,6 pollici with 1920 x 1080 pixel resolution and wide viewing angle with integrated 2,5D curved mirror surface. It is very thin and light, has a diameter of 15 mm and weighs only 1,8 kg. The processor is the Gemini Lake Refresh at Intel with frequency that can reach 2,6 GHz. Next, we find 8 GB of RAM and 256 GB of internal memory with the possibility of expansion thanks to TF card. The feature that distinguishes it from laptops of the same type is the touchpad great (140mm x 95mm) which ensures smooth operation with numeric keypad to make input more convenient. There are also keyboard stickers. The battery life is up to 9 hours and the video card is the Intel UHD Graphics 600. There is no shortage of Bluetooth 4.2, two ports (USB 3.0 and USB Type C) and HDMI output.
Buy on Amazon
Teclast F7 PLUS (14.1 ″)
Best Chinese notebook on the market.
For
Good color reproduction
Good autonomy
Backlit keyboard
Cons
It tends to heat up slightly
International keyboard layout
Il Chinese notebook Teclast F7 Plus it is an ideal laptop if you need a performing product at an affordable price. Equipped with powerful processor Intel Gemini Lake N4100 supported by 8 GB of RAM and 256 GB of SSD; the graphics card is one Intel HD Graphics 600 GPU with dedicated RAM, which offers good performance to the point of being able to play some not too demanding titles. The display is 14.1 inches with IPS panel and Full HD resolution, the color reproduction is very faithful, an important factor if we think that it is a cheap Chinese PC. As for the connections, we find the WiFi 802.11 a / b / g / n / ac and the Bluetooth 4.2; Also available are 2 USB 3.0 ports, a mini HDMI, a microSD slot and a 2 mega-pixel webcam. The battery is from 10.000 mAh and insures up to 4-5 hours of autonomy keeping the Wi-fi on.
Buy on Amazon
Chuwi HeroBook Pro (14.1″)

Best Chinese mid-range notebook.
For
Fast and light
Fluid opening
Good autonomy
Backlit keys
Full HD screen
Cons
Modest audio quality
Keyboard Layout
CHUWI HeroBook Pro it's a Chinese laptop very economical, nevertheless it turns out to be a product rich in quality and functionality, suitable for those who have no particular pretensions. It's a notebook for over 300 euros, it is not suitable for gaming, much less for video editing, you will have to use it to browse the internet and for sending e-mails and streaming. Equipped with a 14,1 inches with 1920 x 1080 pixel Full HD resolution, simple design and modern lines, compact size, it is a very light laptop. Crew with the processor Intel Gemini Lake N4000 quad-core with Intel UHD Graphics 600, 8GB RAM, 256GB storage available. We find Wifi and Bluetooth connection, USB 3.0 port, microSD slot and 3,5 mm jack. The battery is from 5.000 mAh and ensures up to 10 hours of autonomy.
Buy on Amazon
Chuwi GemiBook (13″)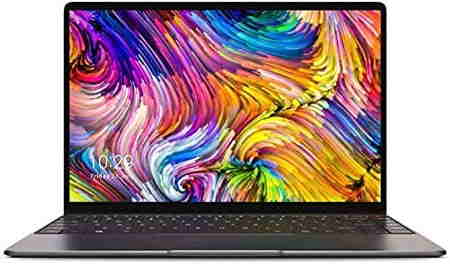 Among the best Chinese laptops of the moment.
For
Stylish Design
Lightweight, slim and compact
Backlit keyboard
Aluminum finishes
Large touchpad
Cons
Keyboard with layout (supplied with ITA-GER-ESP-FRA silicone adapters)
Integrated video card
Not suitable for video editing
Metallic audio
The new Chuwi GemiBook is an ultrabook from 13 inches with processor Intel Celeron J4125, from 1,8 GHz up to 2,4 GHz, supported by 12GB RAM and 256GB SSD. Mount a screen / body up to 80% with resolution of 2160 x 1440p, aspect 3: 2, 2K support. The keyboard is backlit and allows you to work even at night, reducing damage to the eyes when reading. The ports are: a full-featured Type-C input, 1 USB 3.0, M.2 slot and support for fast charging. It is a very light notebook, it weighs only 1,28 kg and measures 289 x 219 x 17,75 mm.
Buy on Amazon
Chuwi Corebook Pro (13″)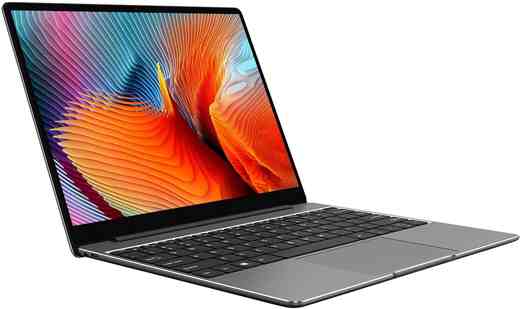 Chinese laptop with Office 2019 Plus already pre-installed.
For
Backlit keyboard
Perfect for school use and office work
Office 2019 Plus pre-installed
Screen with good resolution
Construction material
Good graphics card
Cons
The numeric keypad on the keyboard is missing
American layout keyboard (comes with a silicone keyboard cover with Spanish layout)
Battery life about 4 hours
Il Chuwi Corebook Pro is a Chinese laptop with Intel Core i3 a 2.4 GHz well built and quite sleek, slim and light (weighs about 1,38kg). It has 8 GB of RAM e 256 GB SSD SATA M2 to ensure that your data is saved in complete peace of mind. The battery is good and is perfect for paperwork and YouTube videos. Plus it's fast enough for charging. The screen is from 13 Full HD Thumbs with resolution of 2160 x 1440 pixels. On the inputs side we have: a USB 3.0, a type C, one for headphones and one for charging. To conclude it comes with Office 2019 plus pre-installed with a lifetime digital license.
For other Chinese notebooks I invite you to take a look at the Chuwi official website.
Buy on Amazon
TECLAST F7S (14.1″)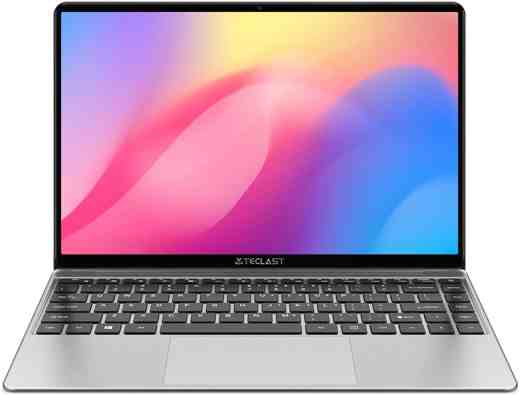 Chinese laptop with good graphics card.
For
Construction material
Economic
Processor
Illuminated display panel
Minimal screen frame
Cons
Tastiera with American layout
Complicated to change SSD drives
Storage is small
Teclast F7S is a notebook with 14.1 inch Full HD IPS display with resolution of 1920 x 1080 pixels and graphics card Intel UHD Graphics 500 ninth generation. Mount Windows 10 with processor 3350th Generation Intel Apollow Lake XNUMX with maximum frequencies up to 2,4 GHz assisted by 8 GB of RAM e 128 GB of SSD. Has one large 3.800 mAh battery for long-lasting performance (6-7 hours) to ensure all types of audio and video entertainment. The touchpad is great while the keyboard want Comes with keyboard stickers, German, Spanish and French. AND' ultra thin (7 mm) and super light (1,5 kg).
Buy on Amazon
Teclast F5 (11.6″)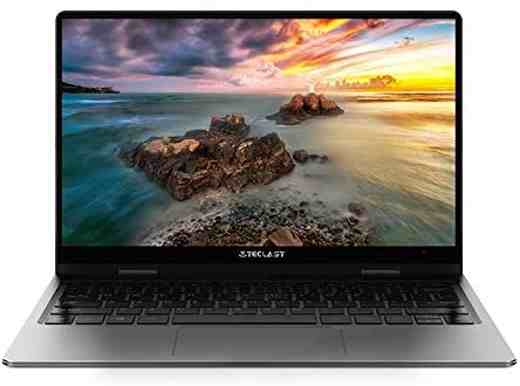 Best Chinese notebook with 8GB of RAM.
For
Good display
Fast and responsive
8GB RAM
It comes with Windows 10 Pro
Made of aluminum
Light and compact
Cons
No USB-A port
A bit old processor
Battery life to improve
If you are looking for the best ultrabook, Teclast F5 is among the Chinese ultrabooks smaller and more interesting for the performances offered that are close to range models. The display is a panel IPS da 11.6 pollici Full HD glossy, the viewing angles are very good from any position, also satisfying the brightness, contrasts and colors. The hardware consists of a processor Intel Gemini Lake a 4 core clocked at 1,1Ghz base frequency and up to 2,2Ghz boost mode. Video Card Intel UHD Graphics 600, present DirectX 12 support and 4K video playback. Memory RAM from 8 GB DDR4 type and M2 SSD drives from 256 GB. As for the connections we find Wi-Fi, Bluetooth 4.0, Micro HDMI, 1 USB Type-C port, SD card slot and 3,5 mm jack. Generally speaking, it offers excellent performance and is therefore often referred to as the best Chinese ultrabook on the market. The battery is 8000 mAh with autonomy over 5 hours.
Buy on Amazon
Best high-end Chinese notebooks
Lenovo Ideapad S340 (14″)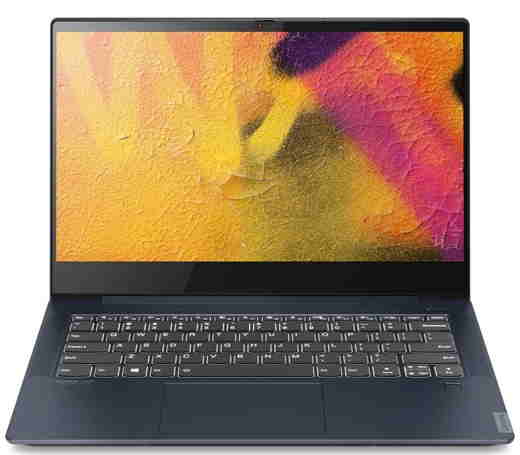 Best Chinese Intel notebook.
For
Compact dimensions
Low battery consumption
Quick charge
Cons
Very low sound
Low internal memory
Among Lenovo notebooks, Ideapad S340 it is one of the most compact and lightweight models produced by the company, it can be the suitable Chinese PC if you need a lot of portability. It owns a display from 14 inches LED backlit with maximum resolution up to 1280 × 720 and colors with good brightness. It features a processor Intel Core I5 8265U with 8 GB of LPDDR4 RAM with 256 GB SSD that allows you to start the PC in a few seconds and an internal memory of 64 GB. The graphics card installed is one NVIDIA GeForce MX230 with 4K support; as for the connections we find Wi-Fi, Bluetooth, two USB 3.0 ports, Usb type-c, Hdmi, headphone jack. The 2-cell battery from 4.610 mAh it ensures an autonomy of up to 8 hours, moreover, it is possible to take advantage of the rapid recharge which in just 15 minutes, ensures 2 hours of autonomy.
Buy on Amazon
HUAWEI MateBook D (15.6″)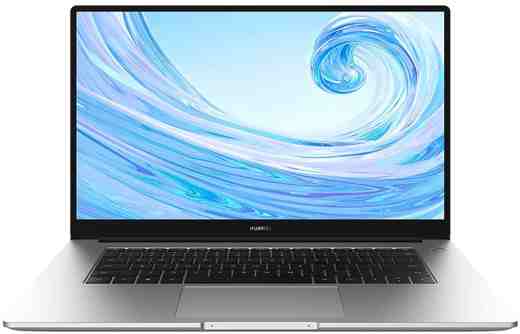 Best Chinese 15.6 notebook.
For
Replaceable SSD
Backlit keyboard
Good quality / price ratio
Cons
RAM not expandable
No SD card reader
HUAWEI MateBook D 15.6 it's a Chinese notebook with excellent quality / price ratio, it offers superior performance at a relatively low price for the hardware sector it is equipped with. Panel display IPS da 15,6 pollici Full HD (1920 × 1080 pixels), which offers high quality images and higher pixel density. The processor is a Intel Core 3 8130U, Supported by 8 GB of RAM DDR4; present a disk SSD from 256 GB and a graphics card Intel UHD 620. As for connections, in addition to Wi-Fi and Bluetooth 4.0, we find HDMI ports, 2 USB Type-A ports and a Type-C port. The battery is 43.3 Wh, the duration is average for the price range to which it belongs, with a brightness at 50%, with video streaming, it manages to offer an autonomy of 8 hours.
Buy on Amazon Buy on Amazon