Best Bluetooth Adapters. A buying guide on the best Bluetooth adapter that will allow you to have various connections.
A PC without a Bluetooth connection is no longer a problem. Today, you no longer need to spend a fortune on your laptop if you don't have a Bluetooth connection, you can just choose one of the best Bluetooth adapters on the market at bargain prices.
If the Bluetooth receiver is a great helper for audio systems, the Bluetooth adapter is the best choice for any laptop or desktop computer without a Bluetooth connection. It's kind of a must have for owners of multiple wireless devices.
Which Bluetooth adapter to choose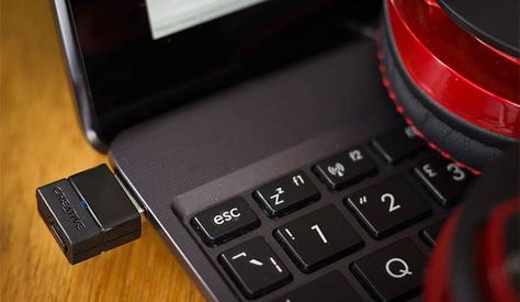 Before purchasing a Bluetooth adapter, check out all the crucial functions it should have. Here is the list of features you should consider before choosing between best Bluetooth adapters.
Compatibility
Of course, the best Bluetooth adapter should support your PC and any devices you connect it with. Almost all Bluetooth dongles are compatible with the operating system Windows, but Linux o Mac OS they can be an obstacle. Your best bet is to buy a highly compatible adapter that you will need, even if you decide to buy a new PC with a different operating system.
Some operating systems supportPlug-n-Play option (e.g. Windows 8/10). It means you don't need drivers to install a Bluetooth adapter. If that option is not available, you can get the drivers on the official website or on the CD attached to the product.
Bluetooth technology
Another important element to take into consideration is the Bluetooth version. Do not buy a Bluetooth adapter with Bluetooth version earlier than 4.0, as its quality will surely disappoint you. Bluetooth v4.0 later versions offer greater range and allow you to connect devices, even if they are distant from each other.
Furthermore, this version consumes less power and this is the crucial point for laptops. Also check if your Bluetooth v4.0 dongle is also backward compatible. It means you can connect it to any other device with older Bluetooth versions.
Class 1 or 2
When choosing your best Bluetooth adapter, don't forget to pay attention to its class. The adapters of 1 class they are suitable for industrial devices that require Bluetooth connectivity over long distances. As for the 2 class, would be the best choice for consumer devices that don't aim for long distances.
Transmission distance
As you can already imagine, this function depends on the mentioned features. Class 1 Bluetooth adapters can have a transmission distance of up to 100 meters. Class 2 dongles usually offer a range of only 1-20 meters. However, always consider the connection quality. Sometimes devices with the same range can have different performance.
Best Bluetooth Adapters
Now that you have a complete view of the technical characteristics that a Bluetooth adapter must have, I hope you can make the best choice, taking into account your needs and availability.
1. Avantree Bluetooth 4.0 USB adapter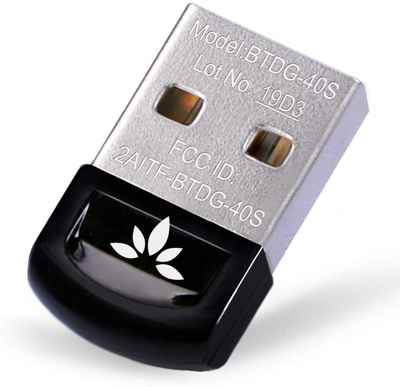 Reasonably priced Bluetooth USB adapter for Windows 10.
For
Automatic installation on Windows 10
Bluetooth 4.0 connection
Cons
no support for Linux, Mac, TV or Car stereo
no aptX support
Having a Bluetooth adapter like that of Avantree it can be a lifesaver if you need a budget device for versatile connections. It supports operating systems like Windows 10/8/7 / Vista and even XP but is not compatible with Mac, Linux, TV or Car stereo systems.
If you have Windows 10, all you need to do is to install this adapter and start having fun by plugging it into a USB port. Windows Vista / XP / 7 does not provide automatic installation, so you will need to install a driver from the CD or download the free version from the Avantree support site.
Avantree DG4OS it is an excellent choice for wireless data transfer, VOIP calling or PC gaming. You can connect this adapter with Bluetooth tablets, printers, headsets or other BLE (Bluetooth Low Energy) devices.
Buy on Amazon
2. ASUS USB Adapter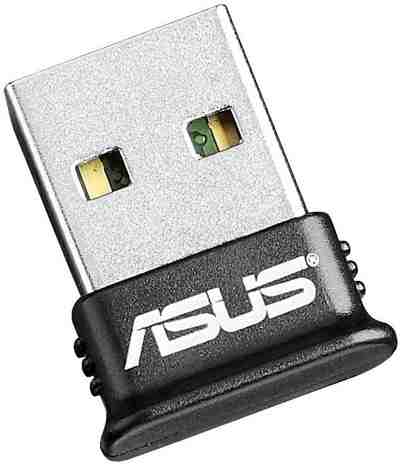 The best Bluetooth adapter for Windows 10.
For
Compatible with Windows / Xbox One S / latest smartphones
Automatic installation on Windows 10/8
Bluetooth 4.0 connection
Cons
Limited operating range
No support for Linux, Mac, TV or Car stereo
THEASUS USB adapter It is designed with USB 2.0 interface and Bluetooth low energy technology. Support Bluetooth 2.0 / 2.1 / 3.0 / 4.0. In addition to Avantree USB Bluetooth 4.0 this adapter is compatible with the Windows operating system (XP / 7/8/10).
This adapter has a data transfer rate of 3 Mbps and is quite easy to install. The only thing to remember is that its range, which reaches up to 10 meters, can be reduced if the USB port of your laptop or PC is surrounded by a metal frame.
Buy on Amazon
3. Zexmte USB Bluetooth Adapter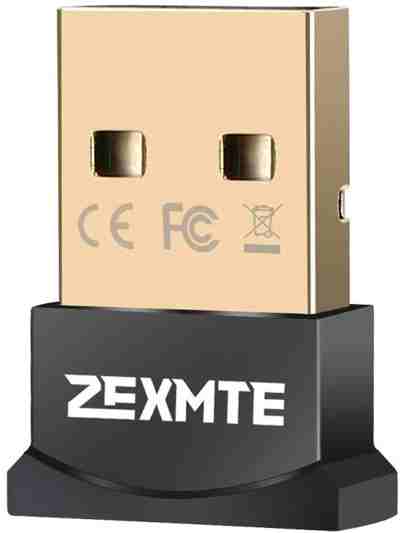 Best Reliable Cheap Bluetooth Adapter.
For
Compact design
Economic
Great customer service and technical support
It fits perfectly into USB ports
Easy to install
Cons
Limited operating range
No support for Linux, Mac, TV or Car stereo
With Zexmte at a reasonable price you get a compact Bluetooth USB adapter designed for the Windows operating system. It has a transfer speed of 3 Mbps and a range of up to 10 meters. The Zexmte Bluetooth USB Adapter also provides the Plug-n-Play option for Windows 8/10.
It supports BLE technology and is compatible with Bluetooth V4 / 0 / 3.0 / 2.1 / 2.0 / 1.1. Thanks to its small size, this Bluetooth dongle does not block surrounding USB ports when connected to a computer, so you can safely leave it on. By the way, if you set up playback devices and disable Bluetooth hands-free audio you will get better sound.
Buy on Amazon
4. Plugable USB Adattatore Bluetooth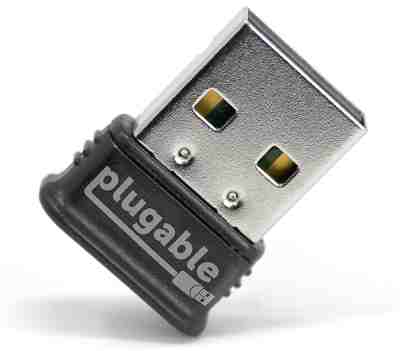 The best Bluetooth adapter for Linux.
For
Compact design
Support Windows / Linux and Raspberry Pi operating system
Bluetooth 4.0 connection
32 meters transmission distance
Energy efficient
Cons
No support for Mac, TV or Car stereo
It could be faster
Unlike all the mentioned Bluetooth adapters, this product supports not only Windows but also the operating system Linux. As for the latter, it requires additional software and configuration and does not support all Bluetooth profiles. Also, this dongle is compatible with Raspberry Pi.
The plug-in USB Bluetooth adapter is suitable for a wide range of devices. As this adapter supports Bluetooth 4.0, it is compatible with Bluetooth Smart (BLE) devices such as iBeacons or Fitbit fitness trackers. However, this option is not available in case of Windows 7 or earlier. This Bluetooth adapter is also energy efficient.
Buy on Amazon
5. Kinivo BTD-400 Bluetooth USB Adapter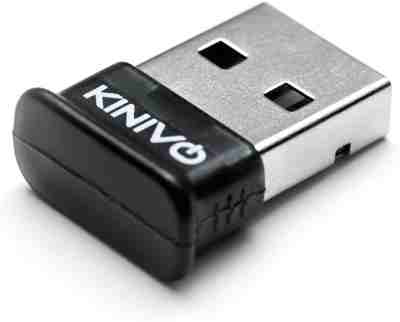 Very compatible Bluetooth adapter.
For
Compact design
Supporta Windows / Linux / Mac OS / Raspberry Pi
Bluetooth 4.0 connection
32 meters transmission distance
Cons
No TV or Car stereo support
Long installation
Another highly compatible Bluetooth adapter is the Kinivo BTD-400. It supports Windows 10 / 8.1 / 8/7 / Vista / XP 32bit and 64bit, Linux (Ubuntu, Mint, Fedora), Raspberry Pi and even Mac 2011 OS. By the way, there is a plug and play option available for Windows 10 / 8.1 / 8.
Kinivo BTD-400 it can be easily connected to almost any Bluetooth device, such as the best headphones, mobile phones, printers, etc. It supports BLE technology and all Bluetooth connections up to v4.0 Class 2.
Buy on Amazon
6. Avantree Long Range USB Bluetooth Adapter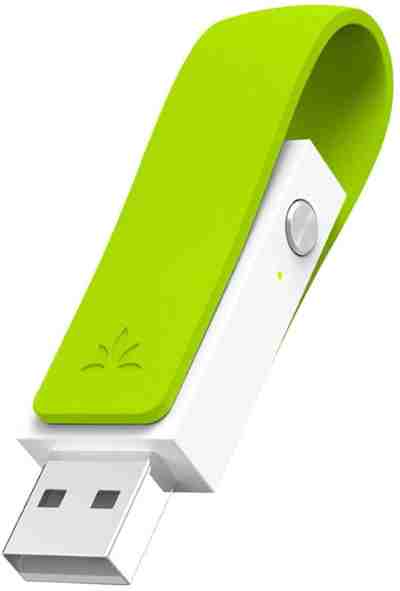 The best Bluetooth audio adapter.
For
Supporta PC / Macbook Apple / PC / Linux OS / PS4
18 meters operating range
Plug-n-Play
Bluetooth 4.1 connection
Cons
For audio only
No TV support
Expensive
Looking for the best Bluetooth adapter for speakers or headphones? Take a look at theAvantree USB Bluetooth Adapter. It is great for audio but does not work for mice, keyboards or game controllers This dongle supports Apple Macbook, desktop computer or laptop with operating system Linux e PS4. Please note that this Bluetooth adapter has a very easy installation which does not require drivers as there is a Plug-n-Play option available for all the devices and operating systems mentioned.
The Avantree Bluetooth USB Adapter would be perfect for Roxa More, Clipper More, Apico and obviously Avantree Audition Pro. Thanks to its latest low latency aptX technology, you will be able to enjoy apps in real time. In addition, its transmission distance is up to 18 meters.
Buy on Amazon
Best selling Bluetooth adapters on Amazon
Below is an up-to-date list of Amazon bestsellers regarding the most purchased Bluetooth adapters by consumers.