Summer is approaching and if you want to show off a top body you will have to sweat a lot, that's why in this article I want to reveal you the best apps to get back in shape. Your smartphone or tablet can turn into a perfect personal trainer, which will help you shed those damn love handles and those extra pounds that plague you.

Today there are many apps for running, for yoga, for doing bodyweight exercises with which to train weekly. In most cases, in addition to a mobile device, you will need an Internet connection and GPS. Both the iTunes Store and Google offer hundreds of apps of all kinds that allow you to practice sports and fitness by recording training data, determining speed and distances, checking the heart and managing the target zone. By doing this you can customize your training plans, check your progress to discover exercises that can break the monotony and above all prevent injuries with targeted exercises.
Best apps to get in shape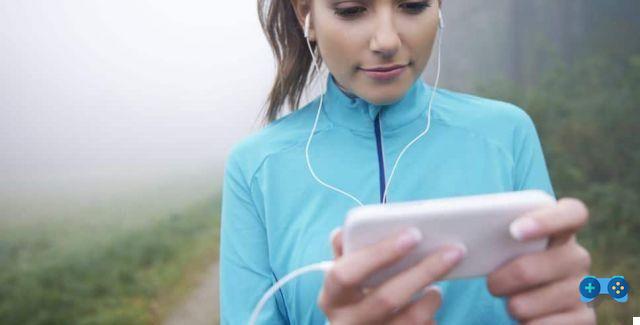 But no more chatter, let's see what they are the best apps to get back in shape in a short time and with the right commitment.
If you are recently resuming your physical activity take a look also at: How to run an hour from scratch.
adidas Runtastic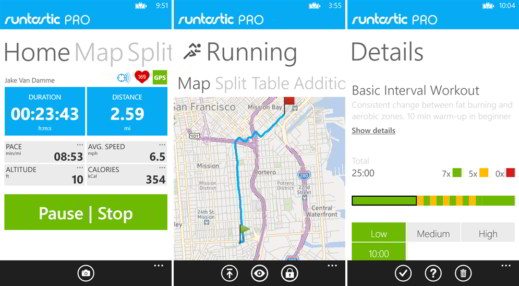 Runtastic is an app that can record your performances, record your records and create a kind of online training diary. Like most of the app to stay fit, Runtastic also uses GPS to calculate distance traveled, calorie consumption, speed held and interfaces with a chest strap to measure heart rate.
Runtastic offers the possibility to integrate the app with your Facebook account, in this way it will publish your training sessions and your routes. Each session can be shared on Faebook and Twitter by adding photos or emojis. Among its features we have: Diary, Statistics, Leaderboard, the latter useful for competing with your friends by synchronizing the app with the Facebook contact list.
Remember to activate the Live Tracking function, it will allow you to receive feedback and motivations from your friends.
Runtastic is free and available for Android, Windows and iOS. However, there is also the Pro version at a cost of € 4,99 and the Premium version at a price of € 9,99 per month or € 59,99 annually to have all the numerous features of the app available.
My Map Fitness (ex Endomondo)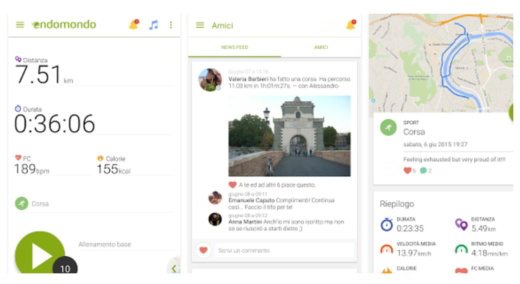 Endomondo became Map My Fitness. It is an app that can monitor your physical activity, from walking to cycling. The ambition of this app is to be the personal trainer of seventy different sports. You can play golf or surf, the app, available for every type of operating system, will be able not only to check the duration, altitude and distance, but also the calories consumed and how much you will have to drink at the end of each sporting activity. Endomondo is also compatible with all heart rate bands and provides real-time heart rate values.

If you then have a way to activate the GPS and data connection, you can also see the route you have just taken in real time on a map. If you then train using earphones, you will be able to listen to the indications provided by the virtual coach at set intervals. You can also decide to set a training goal and let a guiding voice help you reach it and encourage you during the challenge. All without forgetting the social soul of Endomondo, which allows you to share photos and especially your results on Facebook and other social networks. The app is free and available for Android and iOS.

Sworkit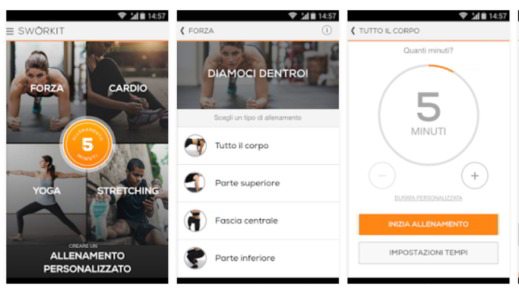 Sworkit it is a real pocket gym with a virtual trainer always available. After setting your data with age, height and weight, you can choose the type of training that interests you among the more than 200 available, each of which presented through a video so that you can perform it in the most correct way possible.
So you can choose or perform sets of exercises to strengthen the upper, lower or central part of the body, or favor stretching, cardio exercises or even yoga. All you need is a classic plastic mat and a pair of sneakers.
You will be guided during each exercise by a voice which, while performing the movement, also counts the number of repetitions and marks the recommended rest periods. Eventually, you will earn a medal and be able to progress to the next level. If you have a tablet, just place it near the place where you work, if you use a TV with Google Cast or Apple TV you can broadcast the training on the big screen in your living room.
Sworkit is a free app and is available for Android and iOS. However, there is also the Premium version of Sworkit, it costs € 3,43 and not only eliminates advertising but allows you to save the workouts carried out and integrates the function Ask the coach.
RunKeeper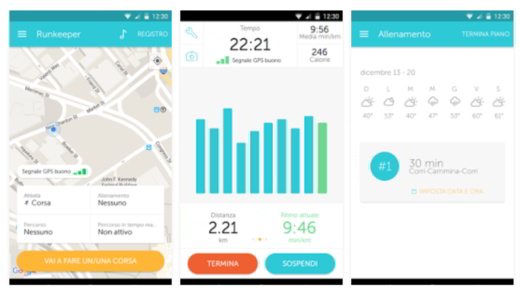 RunKeeper is one of the best running apps around. After entering your weight, height and gender data, the program will help you train to provide you with a personalized training plan. Like all sports apps, RunKeeper also requires the use of GPS and data connection to allow you to view the map of the area you are in and to keep track of your progress. You can ask RunKeeper to build a training plan for you by choosing a pre-established plan based on the objectives you have proposed.
Alternatively, you can choose the construction of a personalized training scheme and based on the answers you give to the app, you will get an ad hoc training plan. RunKeeper will give you instructions, tips and tricks that will help you achieve your goals. Consider that RunKeeper is a free app for tracking your sports activity, but some features require payment: if you want to compare workouts and track the weather in real time as well as have more accurate analyzes, you will have to spend € 7,25 per month or € 29,01 a year to get the Go version.
In conclusion RunKeeper is available for Android and iOS mobile devices and among the supported activities, in addition to running we have: skiing, rowing, skating, swimming and walking.
Yoga Positions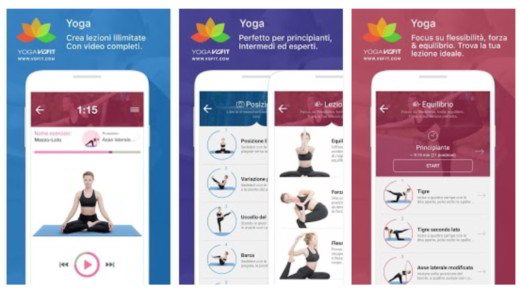 If you are a yoga lover then you can't miss it in your smartphone Yoga Positions. Toning the body and relaxing the spirit in a short time is perfect with Yoga Positions VGFIT, the free app capable of providing 120 videos with the main yoga positions.
Yoga Positions It is an excellent app for both those who already know yoga and for beginners, thanks to the content rich in photos and instructions and the very comfortable achievement of the positions according to the level of difficulty and the type. You can set the duration of the lesson from ten to thirty minutes, save the history of the lessons and set the next ones. Voice prompts and music make training enjoyable.
You start by setting the number of breaths you take in a minute in order to better adjust the performance of the positions. Then you can also create individual programs, setting the order of execution and the duration of each position. Finally, the section Social Media VGFIT allows you to interact with the community of enthusiasts.
Yoga Positions is a free app available for Android and iOS mobile devices with well made videos.
FitStadium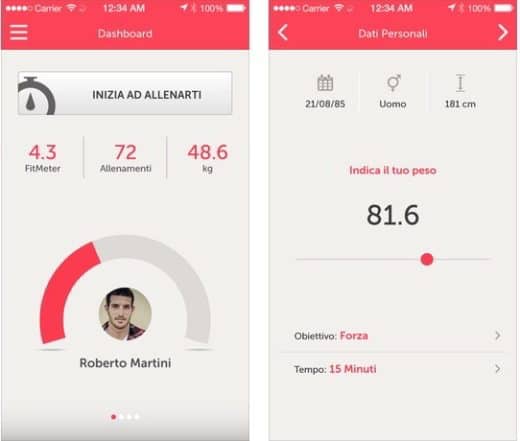 FitStadium is an app capable of providing users with a real virtual coach. that starting from your habits and combining them with the goals you want to aim for, offers you a different workout every day. FIt Stadium has several features such as Thunder to strengthen muscle mass and Lightning to tone the physique. You will have to indicate your fitness by choosing between Sedentary (less than once a week), Active (once or twice a week) and Dynamic (at least four times a week).
Finally, after having indicated personal data such as age, weight and height, you will have to choose whether to perform exercises only with free body or even with a bar for tractions. Then you will be offered a test to understand your actual condition through increasingly challenging exercises. At the end the app will be able to provide you with a custom-built exercise table for you.
The app is free in its full version for two weeks starting from the first workout, so you can choose whether to switch to the Pro version at a cost of 13 € per month or 80 € per year, or continue to train without receiving daily advice. of the virtual coach.
Fit Stadium is a free app in the basic version and is available for Android and iOS mobile devices.
Zombies Run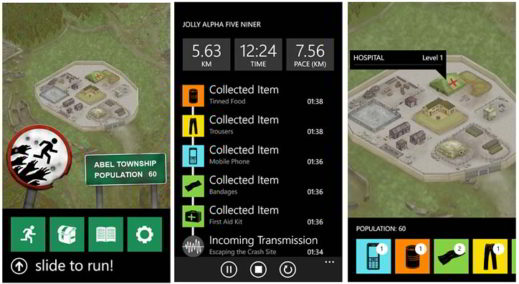 Zombies Run is a very special app that, in addition to controlling your sports performance, entrusts you with increasingly complex and engaging missions to apply during your training. The only real problem is that to fully immerse yourself in the game you will need to know English very well, as the hazard warnings are in that language.

For the rest, all you have to do is connect your smartphone to the earphones, activate the GPS and start Zombies Run. A narrator will accompany you throughout the game stimulating you to collect the elements necessary to rebuild the base where the survivors of the zombies gathered.
In addition to audio messages, the app also comes with hard rock music tracks. The first four missions are free, while if you want to unlock the remaining ones you will have to upgrade to the Pro version at a monthly cost of $ 3 or yearly at a cost of $ 30.
Zombies Run is a paid app you find a free version, available for Android and iOS mobile devices.
Other useful articles