Here the best apps to find work 2020. There are many and they are all worth trying if you really want to look for work. I recommend you try them.
Have you completed your studies successfully and are you looking to enter the world of work? To make it easier for you to look for a job, there are several applications that can help you in your intent but also contain other useful features to keep track of your applications and consult hundreds of online ads. If you own a smartphone and want to look for work through the apps that I will show you in this guide, you can browse ads and respond to dozens of offers of all kinds in a very short time.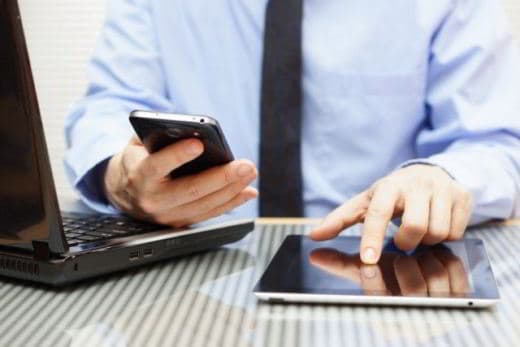 The best apps to find work 2020 are those that: inform you whenever there is a new opportunity, that through employees provide information on the company you are interested in and that allow you to enter your preferences with respect to the role you are looking for, automatically forwarding your resume.
Best apps to find work 2020

Here is the ranking on the best applications to find work. Apps like Linkedin, Glassdoor and Infojobs or Monster require careful scrutiny to identify the one that could help you enter the world of work. That is why in this guide I will list you apps to find work as a photographer, babysitter and much more, all you have to do is take a few minutes of free time and install the app that best suits your needs.
1. Linkedin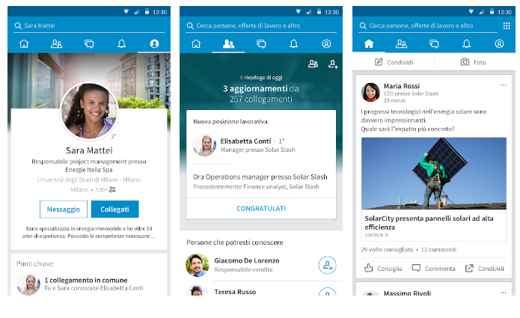 Linkedin is the social network dedicated to the world of work, also available in a mobile version. If you already have an account on the Linkedin, all you have to do is download the free app Linkedin, compatible with Android and iOS, and log in to view your profile and the jobs that suit your needs. In fact, you can perform targeted searches by entering some parameters such as: company name, place, skills, keywords and type of job you are interested in.
With Linkedin you can discover and receive job offers and apply for millions of offers directly from the app. You can use the "Find nearby"And scan the QR code to connect with people you meet outside the office.
You can upload your CV and submit it for open positions that are most suitable for you. You can also save searches and create alerts to know when new job vacancies are posted. Do not miss the functionality that allows you to contact the connections who work at other companies to ask for advice and recommendations.
The advantage of the social network is the huge catchment area that has no equal in other apps in the same category. The only limit is the non-exclusivity towards research for the world of work, even if its ability to get you in contact with colleagues from all over the world is unique.
2 CornerJob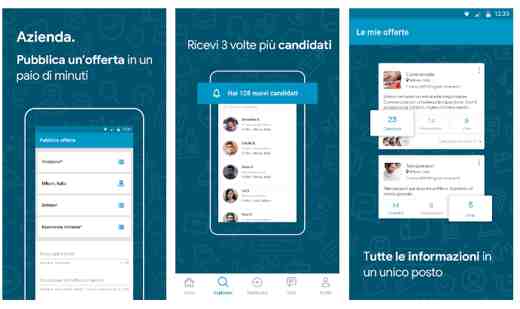 CornerJob is a free app compatible with Android and iOS capable of connecting the company that placed the ad and those who are looking for work within 24 hours. Do you want to know if your application has been considered? Unfortunately, in Spain there is no habit of answering even if the request is not of interest and this causes uncertainty in whoever made the request. With CornerJob, on the other hand, companies that consider an application interesting must respond immediately and will be able to chat directly from the app with the candidate, before inviting him to a new interview.
To subscribe to the service of CornerJob you must indicate the information concerning: languages, experience and qualifications. You do not necessarily need to provide a CV, which can still be requested at a later time. Once you have completed your profile, you will see on the board the offers relevant to your job specialization located via GPS. Just tap on the button Nominees and wait for the next 24 hours to find out if you care about the company.
3. Monster
Monster is a historical app for job seekers. Compatible with Android and iOS, it allows you to insert your own curriculum by setting your preferences and keeping an eye on the various applications. Once you have created your profile for free, you can choose the geographical area you are interested in and the frequency with which you want to receive ads in your email box. Then you can upload your resume and save it on the Dropobox cloud and Google Drive.
Among the various filters available we have those relating to the type of contract you are interested in (full time, part-time and internship) and the date of publication. Not only that, since we are dealing with an international app you can search in 24 countries, including the USA. When you have found an interesting ad, to apply you will need to select the button Nominees and fill in a cover letter that will be added to the CV already uploaded.
At this point, all you have to do is check the app for news regarding your application, or check your e-mail box directly.
4 InfoJobs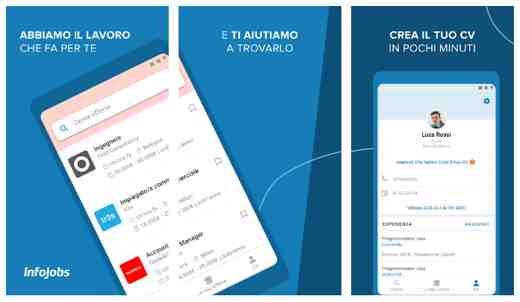 InfoJobs (Android, iOS) is part of Schibted Media Group, a leader in the online job posting sector, and guarantees a meeting point between seven million job seekers and 90 companies that are looking for staff. Its main feature is the huge database and the search mask that allows you to choose the location, company name and profession that interests you.
Once you have chosen the announcement that can be right for you, consult the complete requirements to apply, the economic offer of the company and if requested fill out the questionnaire that must include your curriculum. For the latter you can directly fill it out in the app by answering questions that are based not only on your study experiences but also on everything you can offer to the company in terms of availability and commitment. Once you have entered your application, you can save it within the app and check its status to see if it has been reviewed by the company concerned.
You will be notified both in the case of a call for an interview and in the event that the company decides to reject your application.
5 Glassdoor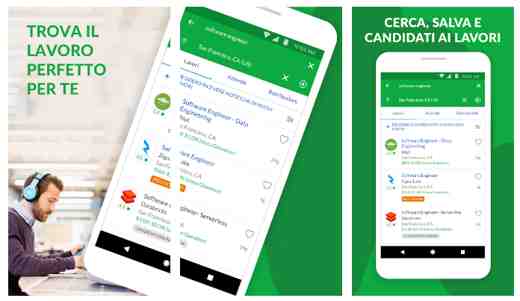 Glassdoor (Android, iOS) is a free international app where company employees can share salary and interview information. Companies usually have their own interview system and in many cases it is very important to have a good resume and good work experience. To get ready for an interview Glassdoor can give you a big hand. For example, if you have an interview with Microsoft, the app will provide you with the many reviews released by employees or by simple candidates who have faced the interview before you.
There is even an entry dedicated to the salaries offered for each open position, from lower level to executive positions. Not only can you also decide to apply for one of the positions available directly from the application. As you can imagine, in Spain the companies included in the app are only the main ones and still contain a good number of job offers. You will also be able to follow these companies and be informed in case of new open positions.
6. Jobrapido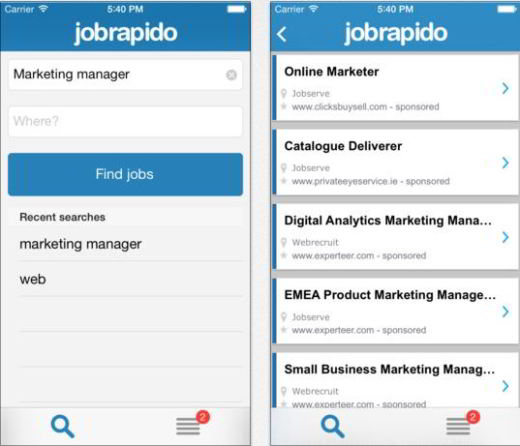 Jobrapido is a site aggregator of job offers that does not limit itself to cataloging the offers present in the sites of the recruitment agencies, but also inserts those coming from employers.
To find vacancies in the app, you can enter the profession you are interested in or the location where you want to find work. The app not only works as an intermediary but also opens the official page of the company you have selected, allowing you to send your request and resume directly. You can also activate one or more alerts on selected filters, in order to receive available job offers in your email.
Build a good resume and an interesting cover letter. To learn more read: How to fill out a CV and look for a job on the web.
7. indeed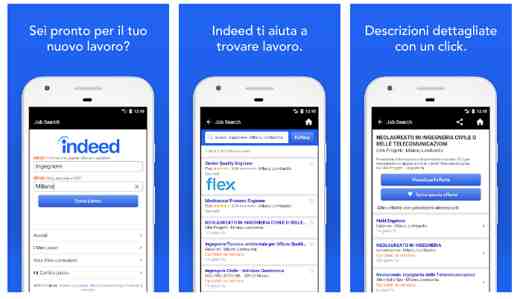 Indeed (Android, iOS) is an app to find work with many job advertisements from different web portals. Extremely easy to use, the app offers from the first access the possibility of looking for work through its search engine.
With Indeed you can upload your CV by clicking on the button Public your resume, by filling out the required form or by clicking on Upload CV to upload a file from your computer. In the first case you have to create a user profile by specifying your personal data and then click on Create your CV indicating your work and training experiences in the various cards proposed. At the end, to look for work go to the main section of Indeed and indicate the profession and city in which you want to look for work, then press Search Work.
To apply for a job offer click on Apply with your CV of Indeed and then on Nominees Easily, or access the site presenting the announcement and find out all the details of the offer.
8. TapJobs - Search for work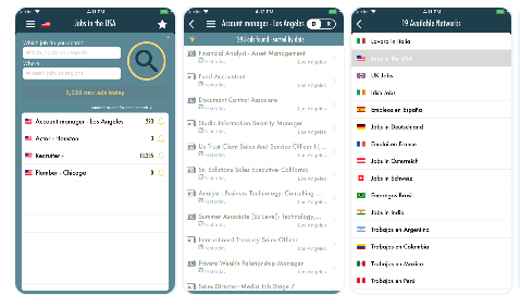 TapJobs is an iOS mobile app. Allows you to search for vacancies through keyword or location searches. Or, you can browse the vacancies posted by province, region or company. It fits perfectly among the applications to find work in London, Spain, Switzerland and Italy.
9. Trovit work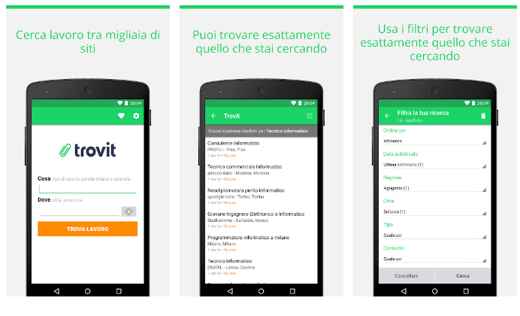 The app Trovit it helps you to view the thousands of job offers showing the results on a single web page. It is easy, convenient and fast and allows you to filter the search results to give you the most relevant offers. You can select city, working hours, type of contract, publication date, salary and much more to search for your dream job. It is available for Android and iOS mobile devices,