Here is a list of the best Acer notebooks reliable, economical and with first-rate performance.
Acer stands for convenience, offering budget-conscious buyers great options at reasonable prices in line with its devices.
This means that i best Acer notebooksWhile boasting enough power to keep professionals and gamers happy, they are also great laptops for students and casual users alike. You also find many other options, from lightweight Chromebooks to portable Ultrabooks, to gaming notebooks.
Which Acer notebook to buy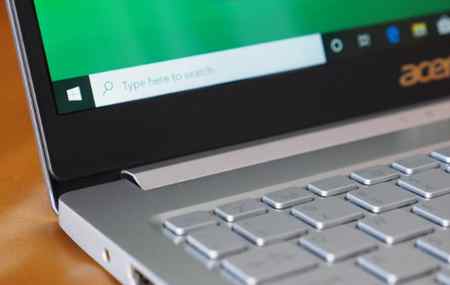 Here are the various lines proposed by the Acer company for laptops:
Acer Swift is the premium line of Acer notebooks. These are laptops made with quality material and are distinguished by an elegant and slim design.
Acer Spin are 2-in-1 convertible notebooks suitable for portability.
Acer Switch e One they are hybrid products convertible between notebook tablets (or 2 in 1 tablets), and have a central unit that includes screen and hardware. These are portable devices to which you can attach the keyboard as if it were a dock.
Acer Aspire it is the most classic line and suitable for basic consumers. Acer Aspire notebooks are economical and powerful.
Acer Chromebook they are Acer notebooks with Chrome OS operating system. They are used as an alternative to Windows notebooks.
To help you choose an Acer laptop, we have selected the i best Acer notebooks available at the moment. Each of these laptops has been considered with performance, reliability and design in mind. Let's see our ranking together.
Best cheap Acer notebooks (max 500 euros)
Acer Aspire 1 (14 inch)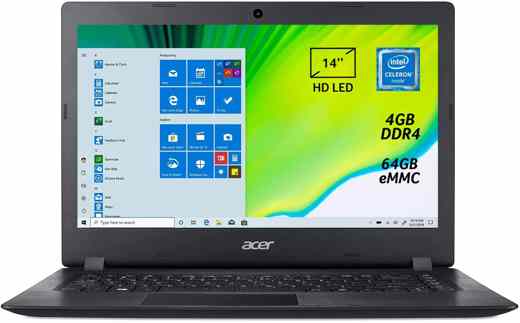 Best budget Acer notebook.
CPU: Intel Celeron N4020 | Screen: 14 ″ HD LED LCD with resolution of 1366 x 768 pixels | Graphics: Intel UHD 600 | RAM: 4 GB | Memory: eMMC 64 GB.
For
Many doors
Design
Responsive touchpad
BlueLightShield technology
Good Webcam
Cons
Acer Aspire 1 it is suitable for those on a budget but at the same time want to have an elegant, slim and practical notebook. In addition to having a nice tactile finish, this device features a responsive and precision touchpad to allow you to work faster and more effectively. Under the hood we find a processor Intel Celeron N4020 supported by 4 GB of RAM and 64 GB of memory soldered directly on the motherboard. As for the screen, here we have a 14-inch LED LCD display with tech BlueLightShield, convenient for reducing blue light exposure and allowing brightness and color tone adjustment.
With this device, you will have many ports available, including UBS 3.0, USB 2.0, HDMI and many more. Plus, there's no shortage of all the benefits of a stable wireless signal with 802.11ac wireless antenna. It supports Bluetooth 4.0 and mount Windows 10 Home in S Mode with Spanish keyboard. S Mode stands for "Safe", it means you can't download everything you want, but you can anyway eliminate the "S mode" function.
To do this, go up Settings > Update and security. Here click Activation. In the section Switch to Windows 10 Home o Passa Windows 10 Pro select Go to the Store. On the page Disable S mode e premium pulsating Download then follow the instructions.
Buy on Amazon
Acer Chromebook 314 (14 pollici)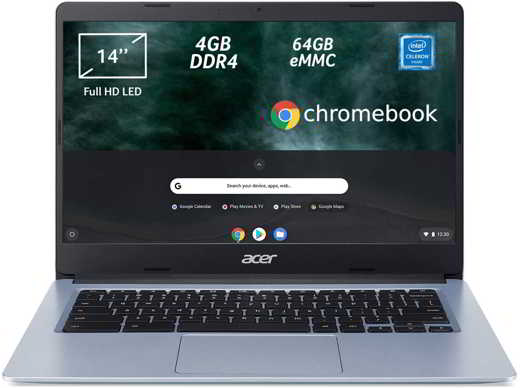 One of the best budget Chromebook PCs.
CPU: Intel Celeron N4000 | Screen: 14-inch (1920 x 1080 pixels) high definition LED | Graphics: Intel UHD Graphics 600 | RAM: 4 GB | Memory: 32 GB eMMC.
For
Battery life
Bright and clear screen
App Family Link preinstallata
Cons
The screen is not touch
No fingerprint reader
Non-backlit Spanish keyboard
No HDMI (you can use the USB-C port for connections)
If you've never had anything to do with Google's operating system, Chrome OS, it's a good time to try the cheap Acer Chromebook 314. Not only is it easy to use, but it is also reliable and convenient to take with you at all times (weighs approximately 1,5 kg). The strength of this device is the battery life which, according to the manufacturer, should guarantee 12 hours of productivity and continuous entertainment.
Another element not to be underestimated is the 14-inch LED display detailed and bright. Even the touchpad is responsive and reacts quite well to all commands that are given to him with his fingers. There are many ports available: 2 USB Type-C, 2 USB 3.1 and Micro SD card slot.
Buy on Amazon
ACER TravelMate B311-31 (11.6 inch)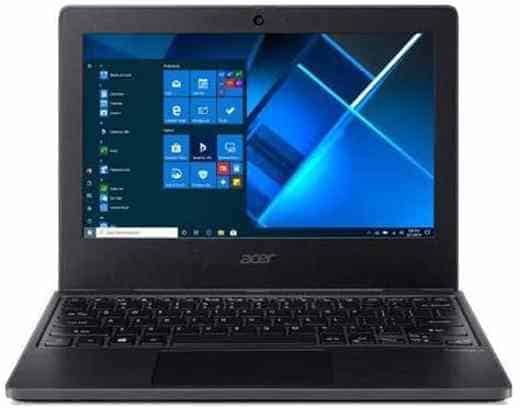 CPU: Intel Celeron N4020 1.1GHz | Screen: 11.6 inches with 1366 x 768 Pixel resolution | Graphics: Intel UHD Graphics 600 | RAM: 4 GB DDR4 SDRAM | Memory: SSD 128GB.
For
Monta Windows 10 Pro
It has the LAN / Ethernet port
Weight about 1,5 kg
It has the webcam for DAD lessons
HDMI port
Spanish keyboard
Cons
RAM is not expandable
It has no CD / DVD player
Performance suitable for web browsing
THEAcer TravelMate B311-31 is a low cost 11.6 inch product with 1366 x 768 resolution and it is perfect for home DAD. It is easy to use and is suitable for basic working needs. It is equipped with processor Intel Celeron N4020, 4 GB of RAM e 128 GB of SSD. The graphics card is integrated and the operating system included is Windows 10 Pro.
Like all small products, it has some problems mainly related to battery life and performance. Overall, however, we can say that it is a perfect Acer laptop for those who do not have great expectations and want to spend little.
Buy on Amazon
Acer Extensa 15 (15.6 pollici)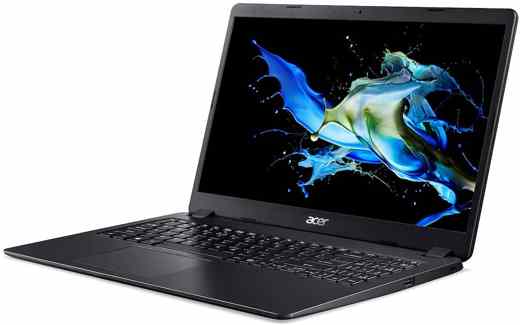 CPU: Intel Celeron N4020 (2 cores, 1,10 to 2,60 GHz frequency, 4 MB cache) | Screen: 15.6 inch HD LED LCD with 1366 x 768 pixel resolution | Graphics: Intel UHD Graphics 600 | RAM: 4 GB DDR4 SDRAM | Memory: SSD of 256GB.

For
Price
Great for browsing the web
Cons
Performances
FreeDOS
Not suitable for editing
Extensive 15 is an unassuming Acer laptop with display da 15.6 pollici LCD LED HD with resolution of 1366 x 768 pixels and technology ComfyView (reduces glare and blue light). Mount a processor Intel Celeron N4020 2-core with frequency ranging from 1,10 GHz to 2,60 GHz. The storage space is 256 GB with SSD, While the RAM is 8GB DDR4 SDRAM.
The graphics card is the Intel UHD Graphics 600 while the Windows 10 operating system is not installed. This version is FreeDOS, a more advanced operating system than MSDos. You will then need to install Windows 10 yourself and download any drivers from the official Acer website.
No products found.
Best mid-range Acer notebooks (500-1.000 euros)
Acer Aspire 3 (15.6 inch)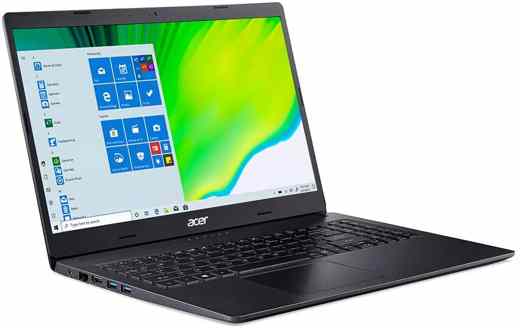 Acer notebook with good value for money.
CPU: Intel Core i3-10110U | Screen: 15.6″ FHD LED LCD | Graphics: Intel UHD | RAM: 8 GB DDR4 | Memory: 256 GB PCIe NVMe SSD.
For
RAM upgrade fino a 12 GB
Light
Great Full HD screen
Excellent performance
Cons
Non-backlit keyboard
Windows 10 installed in version S
Acer Aspire 3 is a mid-range laptop with display from 15,6 inches placed on a thin bezel design to allow you to better view sharp and non-annoying images, thanks to the blue light filter applied by the Acer BlueLightShield technology. It perfectly combines reliable technology and stunning design making it ideal for both work and play.
The shell has clean lines and is very elegant. Aspire 3 weighs less than 2 kg and the long battery life facilitates portability. Inside you will find: a 3th Generation Intel Core i10 processor, 8 GB of RAM and 256 GB of SSD to guarantee you ample storage space. The signal wireless is very powerful and thewide range of doors (including USB 3.2, USB 2.0, HDMI) facilitates convenient connection with other devices for data transfer.
Buy on Amazon
Acer Spin 3 (14 pollici)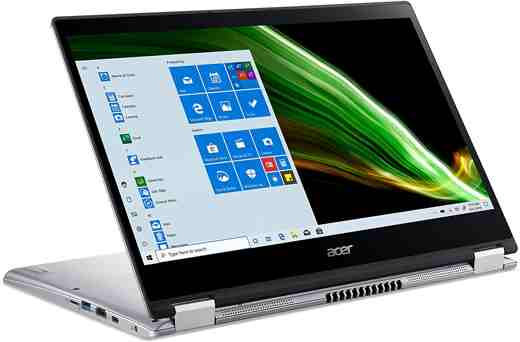 Best budget Acer touchscreen notebook.
CPU: AMD Athlon Silver 3050U | Screen: 14 pollici Multi-touch FHD IPS LED LCD | Graphics: AMD Radeon | RAM: 4 GB | Memory: 256 GB PCIe NVMe SSD.
For
Many doors
Touch screen
Design
Audio
Cooling system
Quick charge
Battery life
Cons
Pen not supplied
RAM not expandable
Acer Spin 3 it is a 2 in 1 convertible (you can use it both as a laptop and as a tablet thanks to the 360 ​​° hinge) suitable for students and workers who travel often. Mount one 14-inch screen with 16: 9 aspect ratio, a long-lasting battery and an excellent ventilation and cooling system. The processor guarantees high performance and is supported by 256 GB of internal memory e 8 GB of RAM to view and edit apps and videos quickly.
With one Thickness of only 16,9 mm and a weight of 1,5 kg the Spin 3 can be taken anywhere. In addition, the many doors, the HD webcam with 2 microphones e Windows 10 Home will make your user experience truly unique.
Buy on Amazon
Acer Swift 3 (14 inch)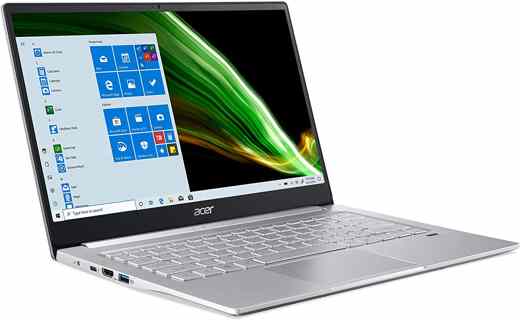 Among the best Acer laptops with premium performance.
CPU: Intel Core i7-1165G7 | Screen: 14″ FHD IPS LED LCD | Graphics: Intel Iris Xe | RAM: 8 GB DDR4 | Memory: 512 GB PCIe NVMe SSD.
For
Superb keyboard and trackpad
Excellent performance
Light and thin
Many doors
Backlit keyboard
Cons
In addition to the modest appearance of theAcer Swift 3, you will find an excellent notebook that boasts plenty of power for work and study. Swift 3 (not to be confused with the Switch 3) is a budget Acer notebook; however, the simple chassis is all aluminum and packed with sturdy components. It weighs only 1,2 kg and the thickness is just 15,95 mm. In terms of performance, it surprisingly comes close to the much more expensive Microsoft Surface laptops.
The 14-inch display with 16: 9 aspect ratio offers a wide view, with thin bezels, thanks also to the technologies Acer Color Intelligence e ExaColor. The battery is excellent and guarantees coverage up to 14.5 hours with quick charge of only 30 minutes to gain 4 hours. THE'Acer Swift 3 it is a very reliable laptop, with its spacious trackpad and the keyboard backlit, it offers a comfortable typing experience useful for your daily commute. If you're going to write a lot, whether you're on the road or in the office, this is one of the best laptops out there. Among the connectivity options we find: 1 Thunderbolt 4 with USB-C, 1 USB 3.2 Gen 2, 1 HDMI and 1 USB 2.0.
Buy on Amazon
Acer Aspire 5 (15.6 inch)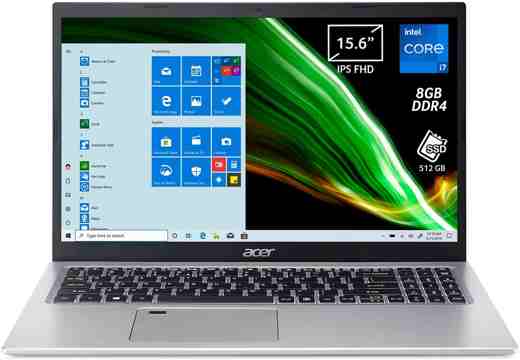 Best Acer office notebook.
CPU: Intel Core i7-1165G7 | Screen: 15.6″ IPS FHD LED LCD | Graphics: Intel Iris Xe| RAM: 8 GB DDR4 | Memory: 512 GB PCIe NVMe SSD.
For
Audio speaker
Design
Display
Spanish QWERTY keyboard
Keyboard is backlit
Battery life
Fingerprint Reader
Cons
There is slot upgrade only for HDD no SSD
Windows 10 Home in S mode
Not suitable for editing programs like Photoshop
For the A515-56-72J0 model the keyboard is not backlit
If you are looking for an office notebook, then the Acer Aspire 5 with 15,6 inch Full HD IPS resolution of 1920 x 1080 pixels could be for you. The bright colors of the screen with thin bezels, are governed by technologies: Acer Color Intelligence e Acer BlueLightShield, the latter also reduces eyestrain.
The look of this notebook is embellished with a stylish cover and one Thickness of only 17,95 mm which support its portability. The wireless signal is strong and stable with the Wi-Fi 6 and with 2 × 2 MU-MIMO technology. The audio sector, the speakers, are also perfect Acer TrueHarmony offer deep, full-bodied bass for enjoying good music. With Cortana e Alexa you can use and apply voice control and connect it to other devices with the wide range of ports available.
Buy on Amazon
Best high-end Acer notebooks (over 1.000 euros)
Acer Swift 5 (14 inch)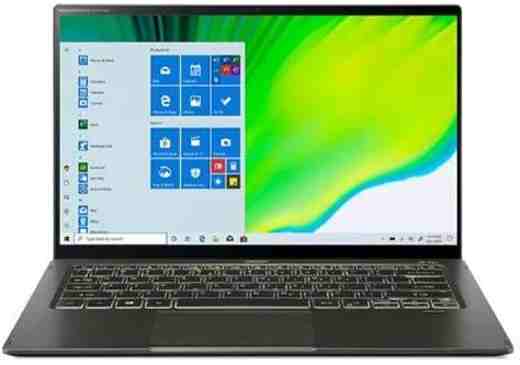 A light but functional Acer ultrabook.
CPU: Intel Core i7-1065G7 | Screen: 14″ FHD IPS LED LCD multi-touch | Graphics: Intel IrisPlus | RAM: 8 GB | Memory: SSD 512GB M.2 NVMe.
For
Incredibly light
Sturdy and slim
Bright display
Crisp speakers
Use of the fingerprint for security
Cortana voice assistant
Backlit keyboard
Anti-glare monitor
Touch screen
Cons
Average battery life
No slot libero per HDD upgrade
Not suitable for gaming
Slightly matte screen
RAM not expandable
THEAcer Swift 5 It features an incredibly light chassis (weighing only 990 grams) but secure enough to handle web design and some entertainment after a full day's work. This is, without a doubt, one of the best Acer notebooks that the Taiwanese company has ever released. But that's not all: in addition to its performance, there is also its stunning display on which every movie or game is gorgeous. It is one 14-inch multi-touch FHD IPS screen with thin bezels on three sides. The graphics card is very powerful and is backed by a battery that guarantees 12 hours of activity with 30-minute quick charge and extension of another 4,5 hours.
The processor is a XNUMXth generation Intel core with faster performance than previous versions (3 times faster). Same goes for the graphics performance and wireless connection. Connectivity side we find: a Thunderbolt 3 port with USB-C and a USB 3.1 port.
Buy on Amazon
Acer Nitro 5 (15.6 inch)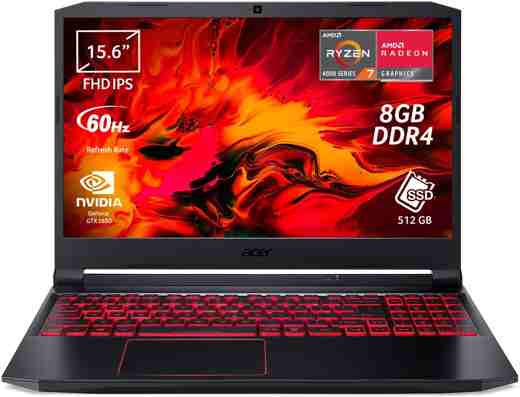 Best Acer gaming notebook of the moment.
CPU: AMD Ryzen 7 4800H | Screen: 15.6″ FHD IPS LED LCD | Graphics: NVIDIA GeForce GTX 1650 4 GB | RAM: 32 GB DDR4 | Memory: 512 GB PCIe NVMe SSD.
For
Extraordinary display
Cooling system and fan speeds
Powerful processor
Backlit keyboard
Slot libero per upgrade HDD
Construction quality
Cons
RAM to expand
Some users complain about the Backlight Bleeding effect (halos in the corners of the panels)

60hz video refresh rate
The graphics card does not support ray tracing
Acer Nitro 5 is a portable PC with incredible sharp display graphics. We are talking about 15.6 inches with 45% NTSC gamut and incredibly realistic colors. The bezel is super thin and allows for unmatched visual intensity. The powerful processor AMD Ryzen 7 4800H it is flanked by a graphics card NVidia GeForce GTX 1650 and guarantee maximum speed with the help of the memory compartment: 8 GB of RAM (with a maximum supported speed of 32GB) and two slots for M.2 PCIe SSDs.
The speed of the fans and cooling is increased by the application Acer CoolBoost, while with NitroSense it is possible to manage and monitor the system in real time. The gaming keyboard of this Acer notebook is backlit in red and all WASD keys and those with arrows are well lit (you can also find the dedicated NitroSense button). On the connectivity side, we find a whole range of ports: HDMI and USB 3.2 and the possibility of having network control with Killer Ehternet E2600 and Intel Wi-Fi 6. Mount Windows 10 Home.
Buy on Amazon
Acer Predator Triton 500 (15.6 inch)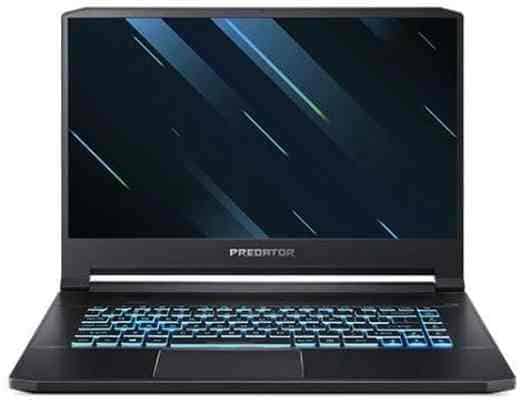 A very competitive gaming laptop from Acer.
CPU: up to Intel Core i7- 10750H | Screen: 15.6 "Full HD (1920 x 1080) 16: 9 IPS | Graphics: GeForce RTX 2070 Super 8 GB | RAM: 16 GB – 32 GB | Memory: SSD up to 1TB.
For
Extremely powerful
Beautiful display
Surprisingly long battery life
Cons
THEAcer Predator Triton 500 it's not exactly cheap. Still, considering it's one of the best Acer laptops on offer - not to mention, among the most powerful gaming machines - it's definitely worth breaking that piggy bank.
It features XNUMXth and XNUMXth generation Intel chips and Nvidia RTX cards, which give enough power to handle the most intense and processor-consuming AAA games. The lid is a bit flimsy, but this won't impact its overall performance.
Buy on Amazon
Acer Spin 5 (13.3 pollici)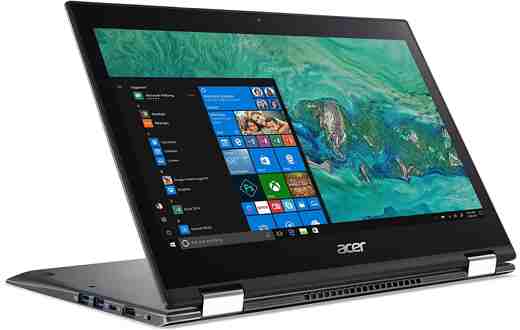 The best convertible Acer notebook with touch screen.
CPU: Intel Core i5-8250U | Screen: 13.3″ Multi-touch FHD IPS LCD | Graphics: Intel UHD Graphics 620 | RAM: up to 16 GB | Memory: 256 GB SSD.
For
Solid performance
Decent battery life
Build quality and design
Cons
Display mediocre
Matte speakers
Acer Spin 5 is designed for productivity and multimedia. It is equipped with several features that will allow you to have decent performance combined with a nice design and decent battery life. You can use it in different ways according to your needs: how laptop, tablets o .
Lo screen is Full HD with good resolution and technology Acer Color Intelligence for sharp images. Technology IPS, present, allows to obtain bright and uniform colors with wide viewing angles. The battery guarantees 10 hours of autonomy he Acer TrueHarmony speakers take advantage of a paper cone design to give you full-bodied and delicate sounds.
Buy on Amazon
Acer Swift 7 (14 inch)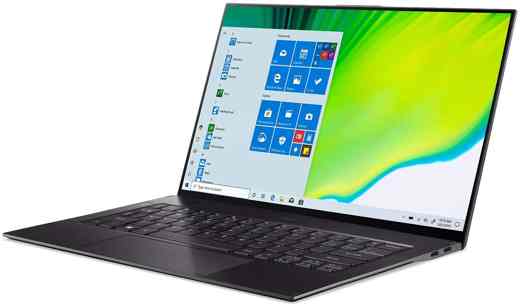 Among the thinnest Acer laptops.
CPU: 7th Generation Intel Core i8500-8Y | Screen: 14″ FHD IPS LED LCD Multi-touch | Graphics: Intel UHD 615 | RAM: 16 GB | Memory: 512 GB SSD.
For
Nice design
Improved touchpad
Incredibly light
Backlit Spanish keyboard
Fingerprint Reader
Cons
Expensive
RAM Upgrade fino a 8 GB
The location of the webcam isn't great
It has no Ethernet port
Acer Swift 7, the latest Acer notebook on this list, presents itself as a compact computer with a refined design. Like the others of the same family, described above, it is an easy to carry device (weighs only 890 grams), infrequently (just 9.95 mm) and with performance Great decent. It costs a lot but the build quality makes it a premium notebook.
The 14-inch IPS FHD display appears to have no bezels and thanks to the screen-to-chassis ratio offers a remarkably wide view. Performance isn't bad either. The processor 8th generation Intel Core i7 is supported by 16 GB of RAM e 512GB PCIe SSD. The long battery life facilitates daily activities and the many ports make connectivity more efficient. In addition to a signal powerful wireless (Gigabit Wi-Fi with 2 × 2 MU-MIMO technology) we also have: 2 USB-C ports supporting Thunderbolt 3, Display Port 1.2 and USB 3.1. Mount Windows 10 Home. If you're willing to pay enough for maximum convenience, this device is absolutely worth the splurge and is perhaps the most ideal combination of all. best Acer notebooks.
Buy on Amazon