Here is our ranking of best PC Gaming. After we reveal the best gaming notebooks and gaming monitors, below you will find a selection of desktop PCs with the highest performance, for an incredible gaming experience.
Fixed PCs are usually bulky and flashy but still manage to give excellent satisfaction even with the latest generation games. Not only that, you can keep them updated by easily replacing their components, perhaps buying the latest video card on the market, but you can also update them from a software point of view.
Fundamental elements of a gaming PC are the monitor to buy, choosing it according to the dimensions e resolutions. Resolutions can be HD, Full HD, 2K Quad HD, 4K Incredibly HD.
The gaming monitor must have a refresh rates high, 120 or 144 Hz, and a time response bass (usually 1 millisecond is preferable). Support for technologies should also be considered nVidia G-Sync e AMD Freesync.
By purchasing a gaming PC you can have the best PC gaming games available right now and take advantage of the best processors and the best graphics card (for example the Nvidia Turing) for your needs.
Index
Best Fixed Gaming PCs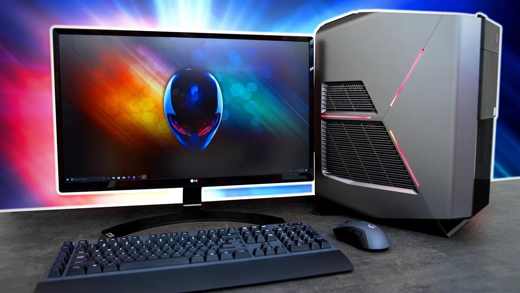 If you want to put consoles aside, like PS4 and Xbox One X, and want to get busy playing with one of the best gaming PCs around, below you will find a good selection of devices provided by famous manufacturers such as Alienware, MSI e Lenovo.
I hope you find what you are looking for, which is the best gaming PC of the moment.
Best high-end gaming PC (over 2000 €)
Corsair one i164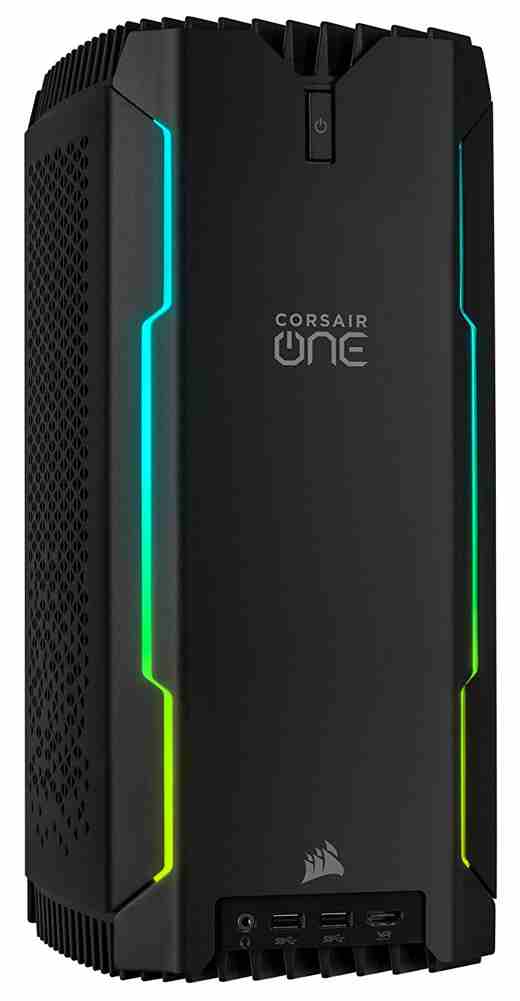 The best gaming PC.
CPU: Intel Core i9-9900K | Graphics: NVIDIA GeForce RTX 2080 Ti | RAM: 32GB Memory: 960GB SSD + 2TB HDD
For
Extremely powerful
Nice design
Cons
Very expensive
It is not possible to upgrade without going through Corsair
Il Corsair one has been among the best gaming PCs since its debut. The Corsair one i164 takes it to the next level with incredible performance, quiet fan operation, during low load operations, and compact size. The small form factor designed to put it on the desk and the 2mm thick sandblasted aluminum frame make it a minimalist case. In addition to the eight-core processor and graphics card, the Nvidia GeForce RTX 2080 Ti, are cooled through a liquid assisted convection system, this to reach a high clock speed.
This model offers an impressive processor Intel i9 9900K Supported by SSD from 960 GB it's a 2 TB HDD. RAM is from 32GB DDR4-2666. All this allows it to easily handle modern games in 4K and is also suitable for heavy rendering, CAD and other workstation-style applications. To conclude it is a sort of hybrid computer valid both for gaming and for working.
Buy on Amazon
Alienware Aurora R11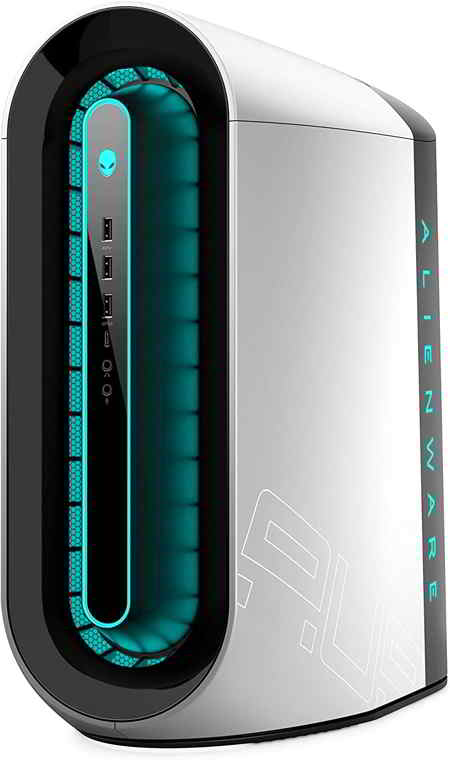 Among the best Alienware on the market.
CPU: Intel Core i5 10400F – i9 10900K | But by the full GPU acceleration tech: Geforce GTX 1650 – RTX 2080 Ti | RAM: 8 GB – 64 GB | Memory: 1TB HDD - 2TB NVMe SSD.
For
XNUMXth Generation Intel Core Processors
Striking new case design
Easily upgradeable
Many options to customize
Cons
THEAlienware Aurora R11 is among the best Alienware computers that comes with a brand new design and 5th generation Intel Core processors. It's a fantastic option no matter your budget, you can choose specs ranging from the basic i1650 / GTX 9 machines all the way up to the monster i2080 / RTX XNUMXTi.
Aurora R11 features Alienware's brand new desktop chassis design, dubbed "Legend". It is currently available in two colors, a silver called "Lunar Light"And a dark gray called"Dark Side of the Moon", Both with fully customizable RGB lighting. Like the previous cases, this new design, which is based on the R9, is completely modular and is perfect for easy tinkering.
Buy on Amazon
MSI Infinite A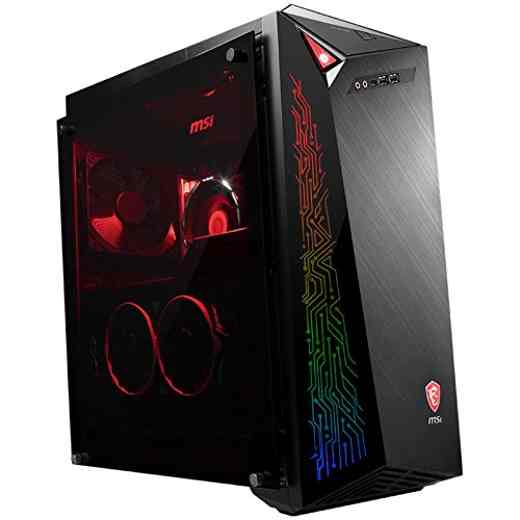 The best gaming PC ready for virtual reality.
CPU: Intel Core i7-7700 | Graphics: Nvidia GeForce GTX 1060 - 1080 Ti | RAM: 16 GB | Memory: 2TB HDD; 128GB SSD - 2TB HDD; 512GB SSD.
For
Very powerful game system
Many doors
Cons
It's not uncommon for PC makers to brand their pre-built desktop platforms as VR-ready. What is unusual is to do this with a computer that is also ready to conquer any game at over 60 frames per second. This is exactly what MSI has achieved with theInfinite A, a tower whose graphics efforts aren't hindered by its preparation for virtual reality, is also not that expensive either.
Buy on Amazon
Lenovo Ideacentre Y900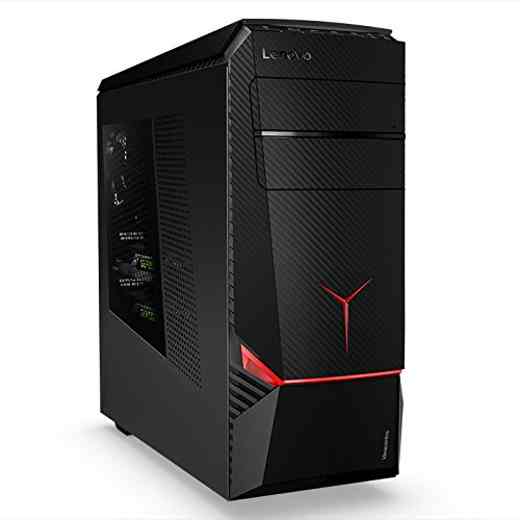 Gaming PC with a red light chassis.
CPU: Intel Core i5-6600K – i7-6700K | Graphics: Nvidia GeForce GTX 1070 – 1080 | RAM: 8 GB – 16 GB DDR4 (2133 MHz) | Memory: 1 TB HDD – 2 TB HDD, 256 GB SSD.
For
GTX 1080 GPU available
Mouse and keyboard included
Cons
If you're buying a pre-built PC, upgrades should be straightforward, right? This is the philosophy behind the Lenovo IdeaCentre Y900. Embellished with red lights throughout, the front of the frame features several textured patterns. In addition to offering support for a VR-ready GTX 1080, the Lenovo IdeaCentre offers SLI support and space for 64GB of RAM, which are thankfully complemented by a convenient design.
Buy on Amazon
MSI Trident X Plus 9th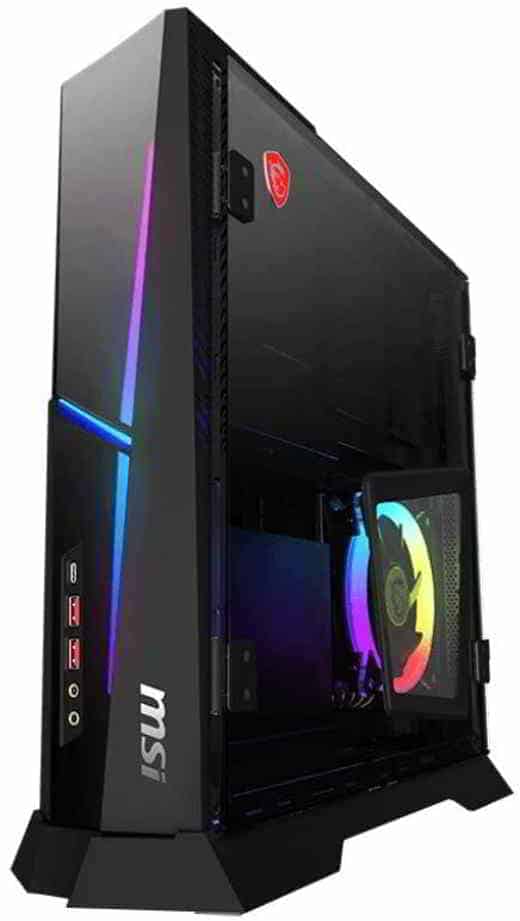 World performance gaming PC.
CPU: 9 Gen Intel Core i9900-9K | Graphics: fine and Nvidia GeForce RTX 2080 Ti | RAM: fino a 64GB | Memory: up to 2x 2.5 "SSD / HDD.
For
Insane game performance
Sizes
Cons
MSI Trident X Plus 9 is a gaming PC with elegant design and incredible power. You can set it up with powerful processors and video cards in a chassis that fits neatly into small spaces. It offers a remarkable cooling system called Silent Storm Cooling 3 in order to keep temperatures low and adequate for the game situation.
Buy on Amazon
Best mid-range gaming PCs (over 1000 €)
MSI Trident 3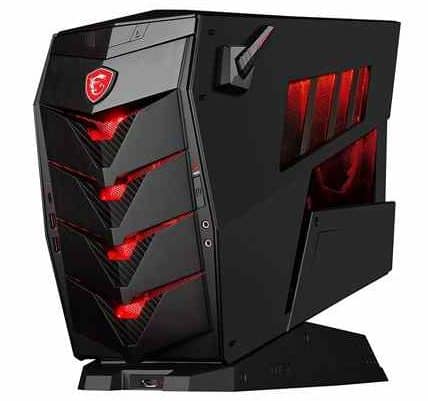 A mini PC for your gaming station.
CPU: Intel Core i5-7400 – i7-7700 | Graphics: Nvidia GeForce GTX 1050Ti – 1060 | RAM: 8 GB – 32 GB DDR4 (2400 MHz) | Memory: 2TB HDD; 120GB SSD - 2TB HDD; 1 TB SSD.
For
Compact dimensions
Quiet and cool operation
Cons
330W external power supply
THEMSI Trident 3 it looks a lot like an Xbox One S and is more powerful than a PS4 Pro. Complete with all the ports you could ever dream of, the benefits of the MSI Trident 3 PC are clear. However, in an effort to be as thin and light as possible, MSI Trident 3 it features a 330W external power supply, similar to some of the less interesting console models.
Buy on Amazon
HP Omen Obelisk Desktop PC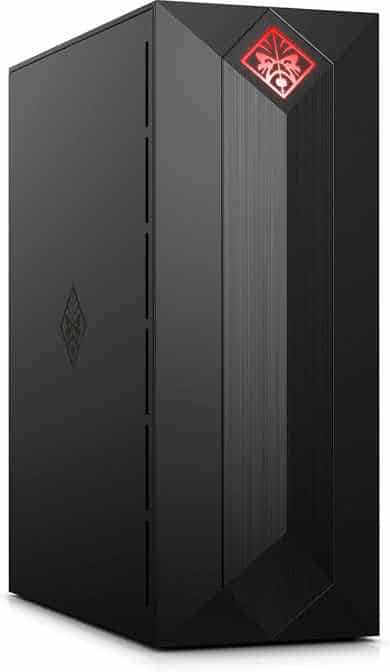 The best gaming PC at a good price.
CPU: Intel Core i5-8400 2.8th Generation XNUMX GHz | Graphics: NVIDIA GeForce GTX 1060 | RAM: 8GB Memory: HDD 1 TB + SSD 128 GB.
For
HP Omen Desktop is an easily configurable PC. You can get cheap components that deliver impressive performance, or you can go for expensive components with enough power to play all AAA titles. You will be able to build the PC according to your needs with a brand, Omen, reliable and guaranteed, when it comes to gaming.
Buy on Amazon
MSI Trident A Plus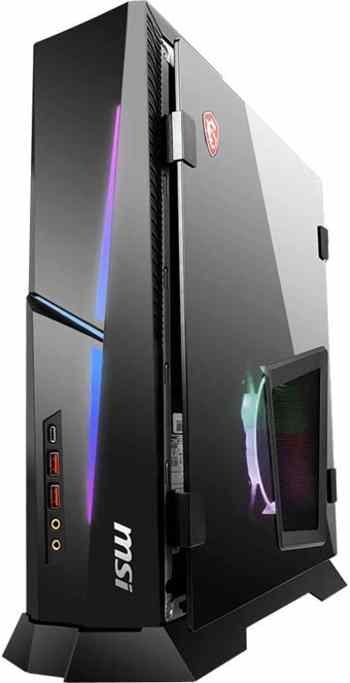 CPU: Intel Core i7-9700 9th Generation | Graphics: Nvidia RTX 2070 Super-8 GB | RAM: 16 GB | Memory: 512 GB SSD e 2 TB HDD.
For
Thin
Incredible performances
Upgradeable
Cons
MSI Trident Plus A boasts incredible power considering the small and slim form factor. It is a very compact gaming desktop PC with dimensions of 13 x 39.6 x 38.3 cm for a weight of 7.5 kg. The performance is exceptional thanks to a 2080th generation Intel Core processor and an Nvidia GeForce RTX 16 graphics card, flanked by XNUMX GB of RAM.
It offers a valid 4K gaming experience, Mystic Light RGB LED design and Silent Storm Cooling 3. The latter creates dedicated air flows to the different components of the system, allowing you to play at your best for many hours without being disturbed by the noises generated by the fans. spinning at high speed.
Buy on Amazon
Best budget gaming PCs (under $ 1000)
Zotac Mek Mini
CPU: Intel Core i5 9400f 6 core | Graphics: GeForce RTX 2060 SUPER 8 GB | RAM: 16 GB DDR4-2666 | Memory: 2TB 2,5 inch HDD, 2GB M.240 NVMe SSD.
For
Small in size
Good selection of ports
Cons
Two external power supplies
Difficult to update
Lo Zotac Mek Mini is a small desktop gaming PC. It has a chassis that can accommodate an Nvidia RTX 2060 or RTX 2070, and the case has many ports available. The small size makes it perfect for a small desk as long as you have room for its two 330W power bricks. Otherwise, it offers full power at a decent price (many others only come in at an RTX 2080) and frankly it is well done.
Buy on Amazon
Intel Hades Canyon NUC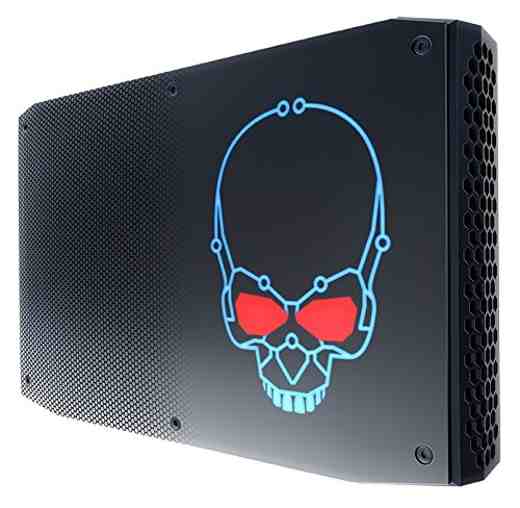 The best inexpensive and small-sized gaming pc.
CPU: Intel Core i7-8809G | Graphics: Radeon RX Vega M GH graphics (4 GB HBM2 VRAM), Intel UHD 630 graphics | RAM: N / A | Storage: N / A.
For
Many doors
Easy to update
Cons
If you are looking for the best gaming PC and have a budget of around a thousand euros, the Intel Hades Canyon NUC is for you. This tiny gaming PC isn't just cheap, it takes up little to no space, looking more like a set-top box than a gaming PC. Don't be fooled by its size because it packs all the power of the best gaming laptops, with a processor Intel Core i7 eighth generation and graphics AMD Radeon discreet.
Buy on Amazon Buy on Amazon
Best assembled gaming PCs
Megaport PC-Gaming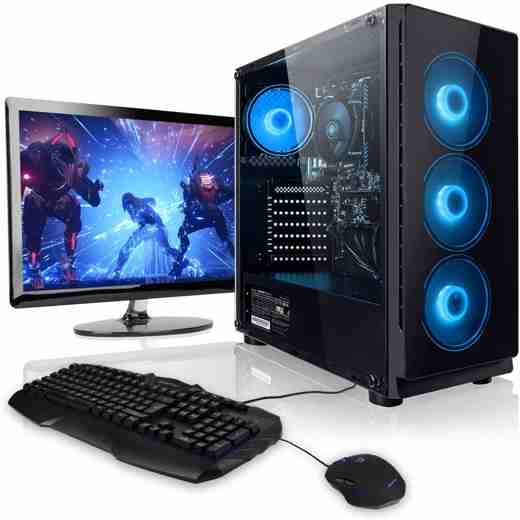 At a great price this assembled gaming PC from Megaport, with RGB lighting case, features an AMD A8-9600 processor with 4 x 3.10 GHz flanked by 8 GB DDR4 2400 MHz, a 1000 GB HD and AMD Radeon Vega 3 video card. It mounts an ASUS 24-inch Full HD LED display ( 1920 x 1080 pixels) with keyboard and mouse set. The operating system is Windows 10 already installed with all drivers.
Buy on Amazon
PJ-DIGITALSTORE Assembled gaming PC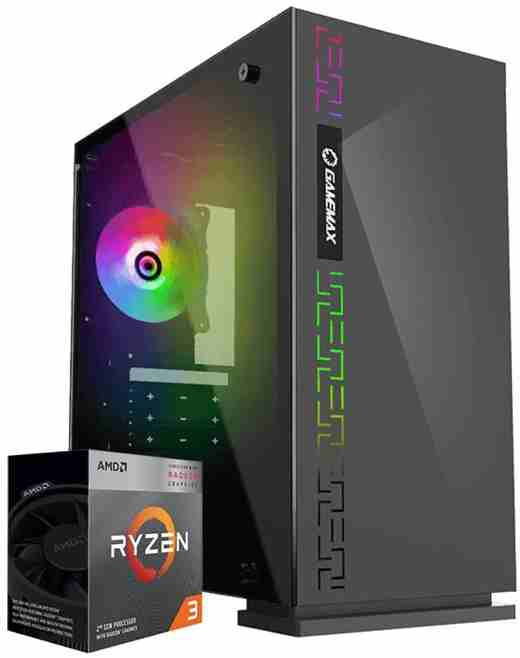 PJ-DIGITALSTORE provides gamers with computers at really cheap and very good prices. In the configuration of this case we find a 3 GHz quad-core AMD Ryzen 3.50 CPU, an AMD Radeon Vega 8 video card, supported by 8 GB of GDDR4 RAM and a 2 GB M.256 SSD. The computer will be delivered ready to use with the operating system is Windows 10 pro and 24 months warranty.
Buy on Amazon
Fierce EXILE Gaming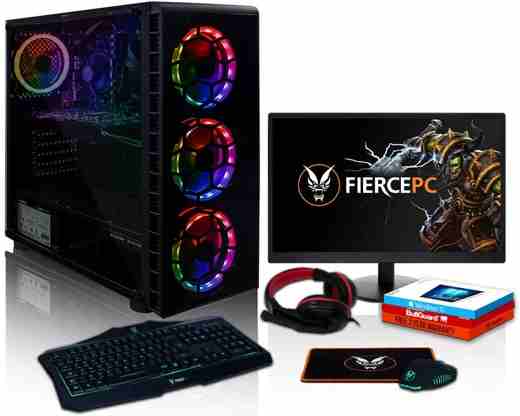 The gaming desktop computer of Fierce EXILE will allow you to play all the latest AAA games. It is equipped with an uper-Fast 3.9GHz Quad-Core AMD Ryzen 3 3100 processor supported by 16GB of 3000MHz DDR4 RAM, 1TB of HD and an NVIDIA GeForce GTX 1650 4GB video card.
The motherboard is an ASUS AM4 PRIME A320M-K while the ports are: HDMI, DisplayPort, DVI, USB 3.0, 600 Mbps Wi-Fi for lag-free gaming. We also have: a 21.5-inch 1080p Full HD display, a set of RGB LED backlit gaming keyboard and mouse and a large stereo gaming headset. The pre-installed Windows 10 operating system closes the picture.
Buy on Amazon
Most purchased Mini ATX computers on Amazon
Read also: Best PC Gaming Headphones: Buying Guide