There are still a few days left until the Amazon Prime Day 2020 event to be held on 13 and 14 October, but despite everything, some offers are already active in Spain. Many products are already available at discounted prices and the Amazon Prime Day 2020 page has already been opened with the first initiatives.
Offerte Anticipate Amazon Prime Day 2020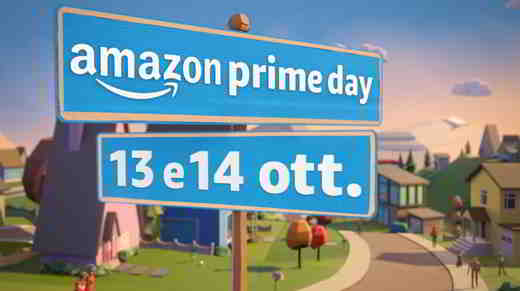 At the time of writing the active promotions are different and very interesting. Of course, you can view them and take advantage of the discounts only after logging in with an account with an active Amazon Prime subscription.
Discounted Amazon services
Amazon Music available € 0,99 for 4 months: If you are an Amazon customer, you can sign up for Amazon Music Unlimited to enjoy over 60 million ad-free songs from September 28th through October 14th.
Discount coupon of 5 euros for trial period with Audible: by subscribing to the service, in addition to a 5 euro discount coupon, you will also get 12 months discounted at 20%.
Kindle Unlimited on offer at € 9,99 for 3 months: if you are a Prime customer you can subscribe to Kindle Unlimited and have access to a vast catalog of books from October 1st to October 31st.
Prime Video: film a rental for € 1,99 o discounted at € 4,99, starting today, and for the duration of Prime Day.
Prime Now: from 1st to 25th October Prime customers will receive € 5 discount for every 5 products purchased.
Amazon Fashion: discounts up to 40% on some products of Amazon Fashion brands, including Auric, Iris & Lilly, find. and Truth & Fable.
Amazon Business: From September 28th to October 9th - New Amazon Business customers will receive a 30% discount on their first order up to € 200. For each eligible customer who signs up for Amazon Business, you could earn € 20 in flat fees.
Prime Student: from 2 October to 14 October - 10 € discount coupon for new members of Prime Student. You can earn a € 3 bounty for each eligible Prime Student membership.
Amazon brands: discounts up to 20% on Amazon branded products, including consumer electronics products AmazonBasics, household, baby products of Mama bear, products for health and personal care.
Home: discounts until 20% discount on products for the home and furniture including Kare, Kartell, Varier, Foppapedretti, Lagostina, Yankee Candle.
Prime Day Advance Offers
Amazon eero mesh Wi-Fi system (3-device pack)
The new Blink mini smart indoor security camera
The Ring Spotlight Cam Battery compatible with Alexa.
Read also: How to subscribe to Amazon Prime