Amazon books on offer from 0 to 5 euros, from 5 to 7 euros and from 7 to 10 euros and with a discount of up to 35%. Used books and free books.
Amazon is offering tons of books to choose from: offers, new releases, bestsellers, Amazon children's books, cooking, fiction, comics and much more.
The introduction of theAmazon Kindle, the electronic book reader, has allowed evolution in the way of reading books. The reduction of purchase costs and the advantage of consulting and buying books online in the vast Amazon store has created a valid alternative to paper books.
In this article, however, you will find information on the best paper and digital books to buy on Amazon at discounted prices. Please note that if you own a Kindle by subscribing to Kindle Unlimited you can download free ebooks for 30 days. You will then pay a subscription of 9,99 euros per month. Otherwise, for those on offer, the cost is € 1,99.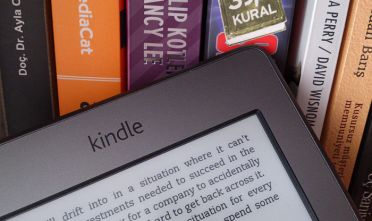 Also if you own the teacher's card, assigned to teachers of state educational institutions, you can take advantage of the nominal value of 500 euros per year for purchases in the categories Books, Kindle eBooks, Kindle e-Readers, Tablet Fire. To use this card, you must register on the cartadeldocente.ificazione.com site with your digital identity (SPID). On the same site you can create a voucher and convert it into Amazon code on the amazon.bonus-docenti.com site.
READ ALSO: How SPID - Public Digital Identity System works
Remember that if you want to have 1-day deliveries on 2 million products and at no additional cost, you can sign up for the Amazon Prime service, also available for Amazon Locker collection points.
THE MOST SOLD AMAZON BOOKS FROM 0 TO 5 EURO
The little Prince by Antoine de Saint-Exupéry. It is the best-selling book on Amazon to date. It is the story of the encounter in the desert between a funny character dressed as a prince and an aviator. It is a surreal but at the same time wise and philosophical book where things are seen with pure eyes and beauty, without prejudice, reaches the hearts of children and adults.
1000 recipes of desserts and cakes by Olga Tarentini Troiani. It is a collection of a thousand recipes of desserts from Spanish and international cuisine. Seasonal cakes, simple cakes, ice cream cakes and many recipes with evidence of doses, ingredients, preparation and cooking times. In addition to delighting the palate, the guide is enriched with suggestions to make the desserts truly appetizing.
Prodigious mandalas. Anti-stress coloring books by Jenean Morrison. It is a coloring book whose purpose is to release stress to improve mood. The book is suitable for all ages.
Dragon Ball Super: 3 by Akira Toriyama and Toyotaro. Martial arts manga, after the great battle between Goku and Blue Majin, the world is in danger again. The enemy comes from the Sixth Universe. The new chapter of the Saiyan saga is having a resounding success in the entire manga world and beyond: the anime, broadcast on Spain 1, has recorded incredible record ratings, also involving the clothing and food sectors.
See on this page also the other books on offer on Amazon from 0 to 5 euros

AMAZON MOST SOLD BOOKS FROM 5 TO 7 EUROS
An easy way to learn letters and numbers, by Roberta Fanti. It is a book full of exercises to learn numbers and letters in a playful way. You will find that doing homework like grown-ups will be really fun for your child. Well structured book with attention to drawings and details.
Tokyo Ghoul: 2, by Sui Ishida. It is the sequel to a successful manga that is becoming popular in Japan and Europe. It is the story of a young man whose organs of a Ghoul are transplanted on his deathbed, a fantastic character who feeds on corpses by absorbing their strength through black magic.
Take a look at all Tokyo Ghoul manga.
Secondary school. The worst years of my life, by James Patterson and Chris Tebbetts. Aimed at an adolescent target, it is the story of bad boy Rafe Khatchadorian, an introverted and bad-looking kid who actually hides a good and generous soul. Gifted with imagination and a fervent intelligence, Rafe represents the distance between the world of adults and adolescence, in memory of the great classics Tom Sawyer by Mark Twain.
200 funny jokes for kids, by W. Brian P. Losito. This is a really fun book with jokes aimed at teenagers and children. Lots of laughs for a gift idea to recommend.
See on this page also the other books on offer on Amazon from 5 to 7 euros.
AMAZON MOST SOLD BOOKS FROM 7 TO 10 EUROS
Harry Potter and the Philosopher's Stone [Fourth Reprint], by JKRowling. In this edition edited by Bartezzaghi, Harry Potter, the wizard of Hogwarts, discovers that he is a predestined one. It is the first chapter of one of the greatest publishing phenomena. Discover the world of Harry Potter, the lightning bolt-shaped scar on the forehead, the school of wizardry, witchcraft, flying brooms, letter owls and much more, will take you to a fantastic world to live an experience where magic is an important element of daily life.
The 2018 horoscope, by Paolo Fox. If you are fond of this kind of books you cannot fail to buy it. What will 2018 be like? Lots of pages with advice on love, work and much more. In addition you will find instructions on how to calculate the ascendant and the cusps of the new year.
Ten little Indians, by Agatha Christie. Agatha Christie's thrillers are back in vogue. It is the story of ten strangers invited to stay in a villa on Nigger Island, without knowing the name of who is hosting them. In reality, there is no landlord waiting for them, but a framed poem in each of their rooms and an inhuman voice accusing them of all being murderers.
Assassination on the Orient Express by Agatha Christie. Another historic book by Agatha Christie on offer on Amazon that has climbed the sales charts after the release of the film directed by Kenneth Branagh. Detective Hercule Poirot must deal with a heinous crime after boarding the legendary Orient Express train. Mr. Ratchett was stabbed to death and the killer is hiding among the travelers. It will be a complex investigation with a thousand twists.
See on this page also the other books on offer on Amazon from 7 to 10 euros.
AMAZON BOOKS WITH UP TO 35% DISCOUNT
The number of books on offer is limited, some titles may not have a 35% discount during the offer. The final price will be the one that will result before confirming the order. The promotion is valid for books sold by Amazon.com and for all books in the store Book offers.