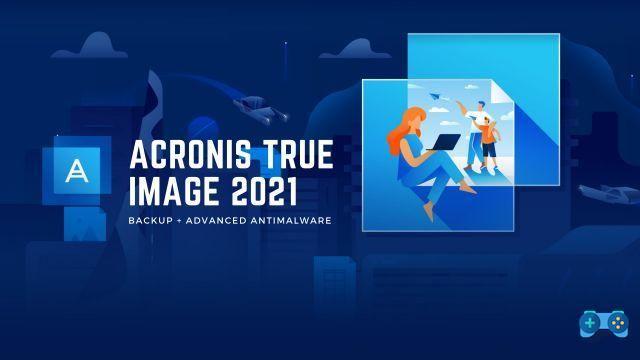 Acronis True Image 2021 it was presented about a month ago (here our news) and in these days we had the opportunity to deepen its features and review it for you. Acronis' all-rounder software for protecting your PC and performing backups is available as a subscription for both personal and business use and on-platform Windows and MacOS.
In this article we will deal with the version dedicated to private users and in particular, the version for OS Windows 10 (build 2004)
As anticipated, Acronis True Image 2021 is not just a backup program, it is a complete cyber protection solution that includes:
Antivirus (which offers real-time protection against viruses and allows you to check the security of your data at any time)
Antimalware (offering real-time protection against ransomware and other malware that could harm your system or personal data)
Web filter (system protection from potentially harmful websites) e
Security of videoconferences (protects you while using Zoom or Microsoft Team to make video calls)
Offering a comprehensive antivirus / antimalware / web filtering and video conferencing cyber protection solution, this one-stop solution fully protects all of our assets from today's internet threats and accidental data loss, operating system errors and cyber attacks, including feared ransomware.
licensing by Acronis True Image 2021
The product can be purchased on the official website - the prices refer to an annual license for a single PC - at a price of € 49,99 - Essentials plan; Advanced plan, currently on offer at € 69,99 (instead of € 89,99); piano Premium for € 99,99 (instead of € 124,99). All packages offer the following features:
Flexible backups: from complete image to single file
Cloning of active disks
Quick reset / universal reset
Ransomware protection
They differ in some features:
Essentials plan:
Malware protection for device and backup data (3 month trial version)
Technical support via phone, email and online chat
Advanced Plan:
Malware protection for device and backup data
Backup and cloud functionality
Automatic data replication in the cloud
Microsoft 365 backup
Technical support via phone, email and online chat
Premium plan:
Malware protection for device and backup data
Backup and cloud functionality
Automatic data replication in the cloud
Microsoft 365 backup
Blockchain certification of files
Electronic signatures of files
Ability to get up to 5 TB of cloud storage
Priority technical support via phone, email and online chat
If you need protection for several PCs, Acronis allows (at a rather affordable price) to select up to five devices on which to apply the license.
Purchased the version you like, installation is really easy. It takes a few minutes and basic computer skills. In addition, the producer "initializes" the user with a series of introductory slides that offer a detailed overview of the cornerstones of True Image 2021.
Should you need one, Acronis also makes one available free trial version limited time to test the features of the product.
Backup and restore
With Acronis True Image 2021, backup and recovery couldn't be easier. The user can easily schedule when to perform a full backup, perhaps by setting it weekly every Friday at a set time, or by selecting the automatic start mode after a certain number of hours of inactivity.
Since we don't keep the PC on 24/24, 7 days a year, we've happened to miss the discharge with a couple of scheduled incremental backups, but every time we turn the PC back on, Acronis started automatically and started the procedure for performing lost backups.
The system used is equipped with a six-core AMD Ryzen 5 3600 processor with 16GB of RAM and a 1TB drive + a 256GB SSD. Then, the first full backup performed by Acronis took approximately 12 hours to complete. It was expected that the first backup would take a long time. Instead, incremental backups didn't take anywhere near that long. And, as expected, the first incremental backup after the full backup took about 25-30 minutes. It is up to the user whether to make a backup through the cloud or in "physical mode" on HDD or SSD.
If you want you can activate or deactivate the button CRYPTOGRAPHY and even the backup sent to Acronis Cloud will be encrypted or not. This is a rather important and very welcome feature because it allows us to prevent our data from ending up in the clear on a cloud, or on an external disk and can be easily controlled by third parties. Acronis uses a cryptographic system AES-256 (Advanced Encryption Standard), a block encryption algorithm used as a standard by the government of the United States of America and therefore complying with the highest international security standards.
Access to the reserved area
Accessing the Cloud storage area through your services is extremely easy. Obviously, to access this interface you need to enter your account credentials before you can access the backups.
You can click on the Acronis True Image link to be taken to the cloud storage area or alternatively directly via the Account section - which will also indicate the program version and type of license held.
Real-time antivirus / antimalware / web filter protection
In addition to being a superior software product for backing up and recovering data and Windows 10 or MacOS systems, Acronis True Image 2021 offers a complete suite of cyber protection, which includes antivirus, antimalware, ransomware, and web filter protection che works perfectly in real time in the background.
After installing the latest version of the product, we ran a full system scan and were happy to see that no viruses or malware, including ransomware, were found. This scan took approximately 20 minutes to perform. While scanning, you can close the interface and let the scan continue in the background, so it won't interfere with your workload.
While browsing the web, Acronis True Image 2021 protects you from potentially malicious websites through your web browser interactions, including downloads. We have not been warned of any problems while using this latest software product, and we are confident that we are protected from cryptomining along with other possible attacks such as phishing and code injection that could be performed while browsing the Internet.
As you can see in the screenshot below, we ran several AV / Antimalware scans on the system and no viruses, no malware were found and nothing was quarantined. The real-time protection of the My Web filter was also active. Should it detect anything, the system will send the files it deems malicious to the quarantine folder and exclusion lists.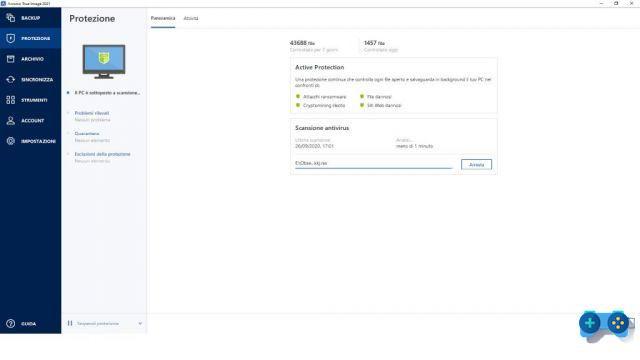 Other features by Acronis True Image 2021
As for the other features offered by True Image 2021, we have:
archive - which allows you to archive files (even large ones). It is available in both cloud and physical format on HDD and SSD and supports AES 256-bit encryption
Synchronize - which, as the word indicates, allows you to synchronize content between various PCs.
Finally, we have a whole series of very useful tools: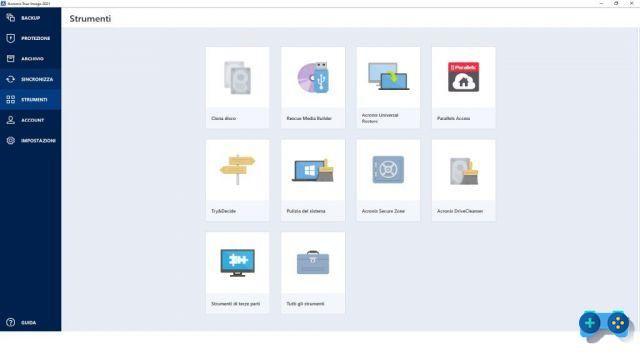 Clone disk - which allows you to clone a disk with its contents. The new disk will be identical to the previous one and will retain system boot functionality;
Rescue Media Builder - which allows you to create a media to restore your PC if it no longer boots;
Acronis Universal Restore - allows you to create an image of the system;
Parallels Access - to access the remote PC from mobile devices;
Try & Decide - to perform operations in safe mode and then decide whether to apply the changes
System cleaning - through which to clean the PC by deleting its history including any saved passwords;
Acronis Secure Zone - A special and safe partition for your protected backups;
Acronis DriveCleanser - which allows disk cleaning and the ability to delete all data from a partition or a complete disk.
Final comment
In short, with Acronis True Image 2021, Acronis has created the definitive suite for the protection of your data with an advanced management of backups against accidental damage and loss and a 360 ° security software against external attacks by malware, viruses and ransomware. So far, we are extremely satisfied with the performance of Acronis True Image 2021 on desktop PCs, also because all activities are carried out in the background with a minimum and residual waste of our PC resources.
Furthermore, the one-year subscription that is currently in place not only offers complete backup and recovery capabilities of the Win 10 system and data on the Acronis Cloud, but also gives the possibility to protect four other systems of our choice; because it is only by protecting the entire family PC ecosystem that we can be truly safe.