5 best Wfi hard drives. A buying guide to help you find the best wireless external hard drive valid for all devices.
The best wireless units offer some advantages that their wired counterparts cannot and therefore occupy an important place in the configuration of certain users. It is true that a wired external storage drive still dominates the market today, especially in terms of speed and reliability. However, i best wireless external hard drives are increasingly gaining ground when it comes to convenience, versatility and a cleaner, cable-free setup.
If you need to store and access your files without thinking about connecting a drive to your best notebook or desktop computer, the best wireless drives are the ideal solutions. Not only that, but they also allow you to connect other devices that typically can't connect to an external storage, such as smartphone e tablets. You will be able to keep your space free from clutter and permanently get rid of bulky cables.
Which wireless external hard drive to choose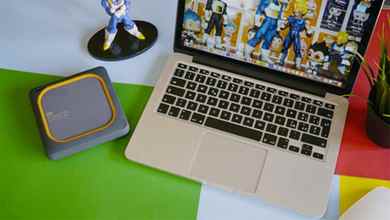 Wireless portable hard drives can offer a double benefit: backup to a secondary storage drive and computer memory extender. Some of this type of Wifi hard disk use flash memories and being very resistant they protect data from shocks and stresses, while others are mechanical units with many more gigabytes available.
But let's see what are the elements to consider before making the purchase of a wireless portable hard drive.
Battery life
It is an important parameter since you will have to take into account the usage time of the wireless external hard drive. Bear in mind that the larger the units, the more battery capacity they will have.
Most of these units still guarantee approximately 6 hours of operation and 20 hours of standby time.
Memory capacity
Wireless external hard drives are capable of offering a storage capacity between 500GB and 1TB. You will also find 2TB and 3TB models on the market but the cost will be higher. Carefully evaluate what your real space needs are before launching into a huge purchase.
SD Cards
To facilitate access to memory cards, some of these units have MicroSD card slots. If you are a photography enthusiast or a professional it could be an important element.
Connectivity
In a household, using a device that can be connected to at the same time could be very helpful. That's why a wireless external hard drive could be an excellent solution for archiving from different locations: music, videos, documents and much more.
5 best Wifi hard drives
Now that you have a complete overview of the elements to consider before buying an external hard drive
Below we have collected all the best wireless units around for you. To help you in your choice, we have included different options for some products that are valid for all purchasing needs.
1. Western Digital My Passport Wireless SSD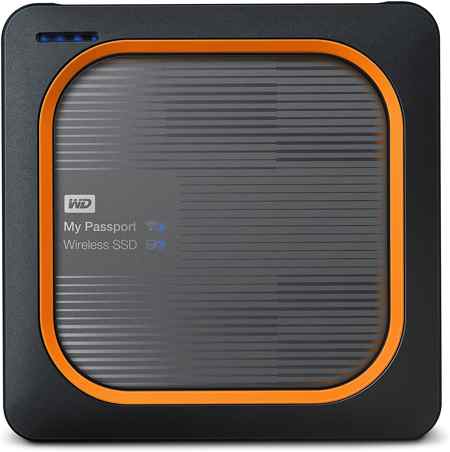 Best wireless external hard drive.
Capacity: 250GB, 500GB, 1TB, 2TB | Interface: USB 3.0, Wi-Fi, slot SD.
For
Built-in SD card reader
Fall-resistant rubber bumper
Cons
Expensive
Useless SSD extra speed over Wi-Fi
Western Digital is building a good collection of wireless units as well My Passport Wireless SSD it's an excellent addition. As the name suggests, it has an SSD (Solid State Drive) which means it is an excellent performer when it comes to data transfer speeds. However, it's worth noting that when used wirelessly, it doesn't offer the full advantage of SSD speeds. Solid-state technology means it's more rugged than traditional hard drives, and with a drop-resistant rubber case, the My Passport Wireless SSD is a sturdy external hard drive to carry your data with you. Its wireless connection is useful and it also includes a memory card slot, making it a perfect choice for photographers.
Buy on Amazon Buy on Amazon Buy on Amazon Buy on Amazon
2. Asus Travelair N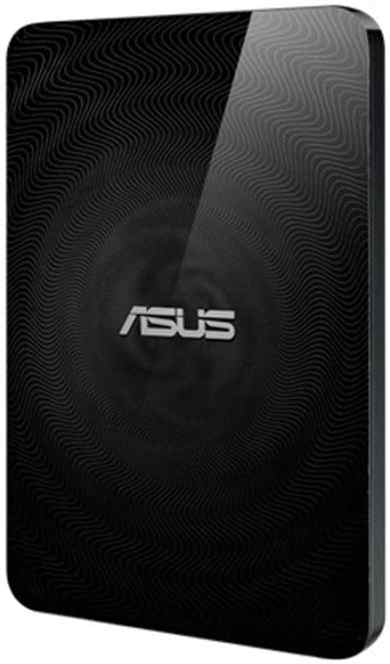 Hard disk wireless veloce.
Capacity: 1 TB | Interface: USB 3.0, Wi-Fi, NFC, scheda SD.
For
Compact design
Fast hard drive
Cons
It is not the device with the longest battery life
Not only does Asus make fantastic notebooks, monitors, and gaming components, they also have a fantastic wireless unit called Asus Travelair N. It offers 1TB of capacity, comes with a built-in 3300mAh battery that offers up to 8 hours of streaming, and even has a water-resistant design that protects your data on the go. Up to five devices can be connected simultaneously to access data on the drive, and there's an SD card slot for quick and easy photo backup. The 7.200-rpm drive is faster than many other Wi-Fi units, which often stick to 5.400 rpm.
Buy on Amazon
3. LaCie Fuel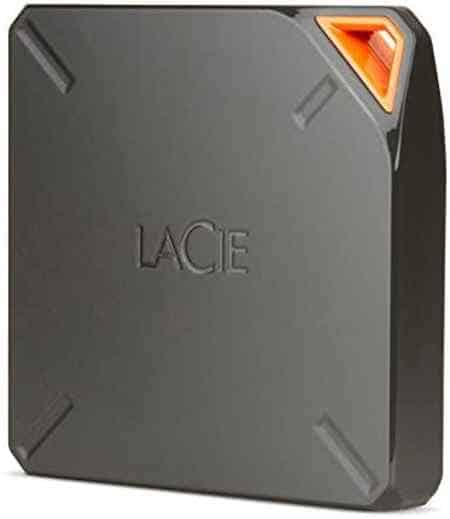 Reliable wireless outdoor HD.
Capacity: 1 TB, 2 TB | Interface: USB 3.0, Wi-Fi.
For
Fast USB 3.0 performance
Good battery life
Cons
LaCie is a company that has made several consumer-favorite external hard drives. LaCie Fuel it's the company's first attempt at a Wi-Fi unit. It is a device with a square design and a modular design that allows it to be used with a variety of ports. It has a battery life of 10 hours, which is essential if you want to use it wirelessly. Use an app that allows you to stream content on the unit to compatible devices, such as smartphones.
Buy on Amazon
4. Western Digital My Passport Wireless Pro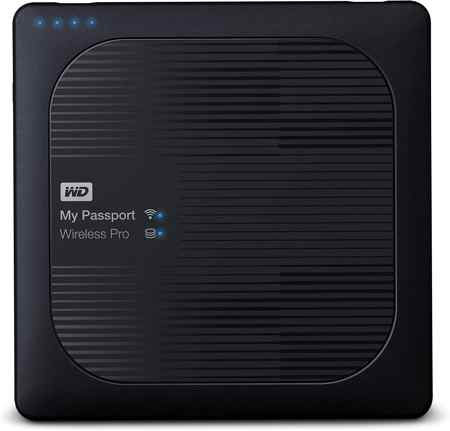 Among the best wireless external hard drives with good battery life.
Capacity: 2TB | Interface: USB 3.0 and Wi-Fi.
For
AC wireless
USB 3.0 support
Good battery life
Cons
Although we have had mixed feelings about previous versions of the My Passport Wireless, the variant "pro"2016 of the external HDD restores trust in the name Western Digital. The design, for example, has been overhauled and no longer resembles My Passport Ultra or My Passport for Mac. In this new version there is a more premium touch with the presence of an integrated SD card slot.
There is also a huge 6.400 mAh battery integrated into the device. This allows the unit to be used completely cable-free on 2,4GHz or 5GHz channels. When wired, however, don't expect state-of-the-art connection technology, as My Passport Wireless Pro it only uses USB Type B to Type A. Completely absent is the USB-C connection.
Buy on Amazon Buy on Amazon Buy on Amazon Buy on Amazon
5. Seagate Wireless 500GB Mobile Storage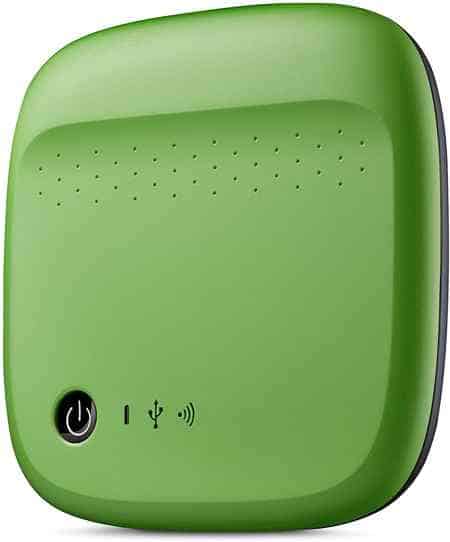 Best compact external hard drive.
Capacity: 500 GB | Interface: USB 3.0 e Wi-Fi.
For
Support three devices at the same time
Compact
Cons
Battery life of just six hours
Seagate it's a well-known brand when it comes to storage, and it's LaCie's parent company, which has its own wireless drive on this list, so it's not too surprising to find that Seagate has its own very good wireless drive too, Seagate 500GB Wireless Mobile Storage. At 500GB, it's not the largest wireless drive on this list, but it's one of the most affordable.
If you don't need a lot of storage this device is a great choice. It comes with a 6 hour battery and is compatible with iOS, Android, Kindle and PC and Mac.
Buy on Amazon
Best Wifi hard drives on Amazon
Below is a selection of the best-selling wi fi hard drives on Amazon. Before buying, always check the ratings of those who have already bought the product and especially the negative reviews, if any.