Nowadays the weather is close at hand. What are the best weather app for android and iphone? In the following article you will find the complete list of the best weather apps.
If you are planning a weekend or you simply have to leave the house for work or to run errands, it is always convenient to inquire about the weather conditions. To do this it is not necessary to turn on the television and wait for the weather forecast to be broadcast, as you can do it in total autonomy directly with your smartphone or tablet.
Best weather forecast apps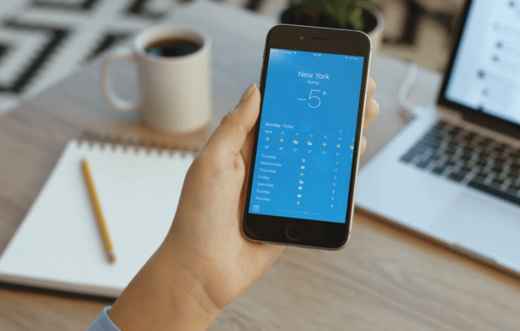 Let's see what the best weather apps which guarantee the most reliable weather forecasts and which are compatible with Android and iOS operating systems.
Read also: Best Weather Site
1. Meteo & Radar (Android, iOS)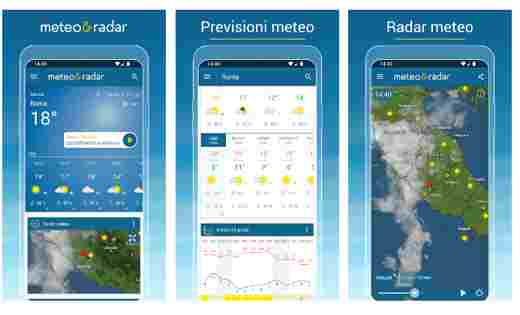 One of the free weather app and the most reliable of all Meteo Radar, available for Android and iOS smartphones. This app has a classic and easy to understand interface. It is rich in information and is also suitable for knowing the sea temperature, if it is used near a coastal location.
2. 3B Meteo (Android, iOS)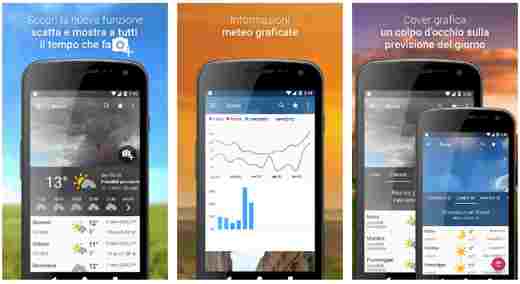 Another better weather app that is highly rated by users is 3B Weather. In addition to offering excellent weather forecasts, it allows you to choose multiple features and gives you the possibility to know the weather in a specific location by taking a photograph. It is available for Android and iOS mobile devices.
3. Yahoo Meteo (Android, iOS)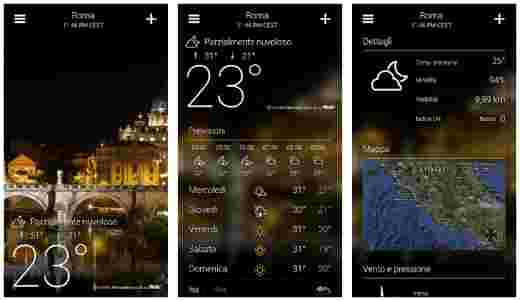 One of the most popular free weather apps is Yahoo Weather. Provides good weather forecasts by also showing pictures of the place you are visiting. It offers tons of features, including being able to add a widget to your home screen so you always have the latest weather data in sight. It is compatible with Android and iOS.
4. Tempo – Weather (Android)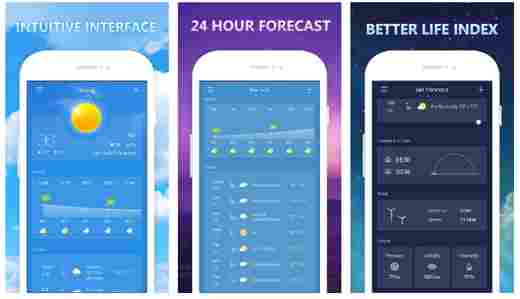 Those who have to travel abroad can choose the app Time (Weather). It is one of the best apps for Android that allows you to know the weather forecast in major European and world cities. The design is aesthetically very attractive and the interface well designed. It offers the weather conditions of tens of thousands of cities and towns.
5. AccuWeather – Weather for Life (Andfoid, iOS)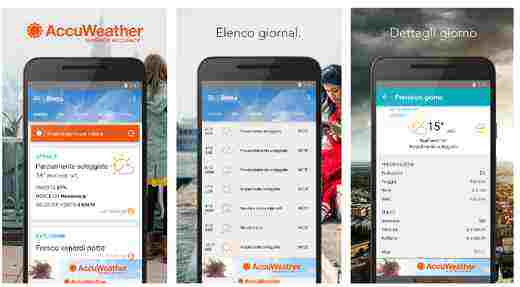 An excellent service to know the weather is offered by the AccuWeather app downloadable from the Play Store and App Store. This app allows not only to know the weather forecast, but also to know the humidity rate, wind speed and cloud cover.
6. ILMeteo (Android, iOS)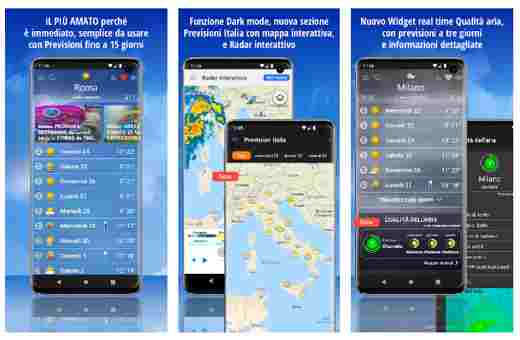 L' app The weather it does not need particular presentations, being one of the most consulted platforms for weather forecasts. The application is the most downloaded free weather app and stands out from the others for its very intuitive graphical interface, for its widgets and for the notifications that are obtained in case there is a weather alert. It is available for Android and iPhone.
7. Aviation weather (Android, iOS)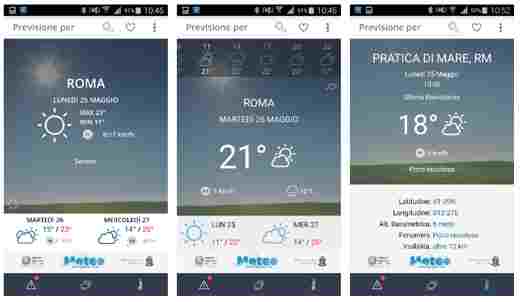 The Air Force Air Force Weather app is one of the best and is compatible with both Android and iOS .. This app is able to guarantee very accurate weather forecasts. It is also recommended to receive information on winds and sea conditions. One flaw: it is not aesthetically beautiful.
8. Windytv (Android, iOS)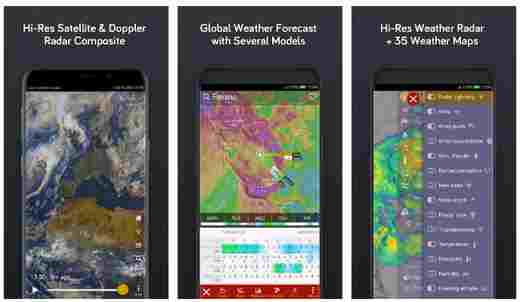 L' app windytv, available for Android and iOS, falls within the weather app best. This is a very precise app that allows you to get weather information that is guaranteed by the European Center for Weather Forecasts.
Thanks to its numerous radars, Windy TV is able to cover so many countries and areas that it has become a reference application for sportsmen around the globe: from surfers to paragliding enthusiasts, everyone loves this platform, which is one of the most used in the weather sector.
9. Linea Meteo Live (Android, iOS)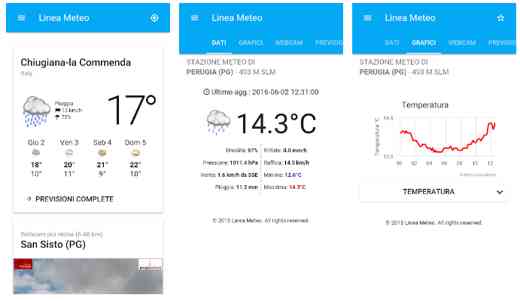 Live Weather Line is an application free weather for Android and iPhone very original and innovative. In fact, it is the first app dedicated to the meteorological sector to allow the reception of updated data in real time.
The application connects to about 1500 weather stations, located not only in Spain but also in some European countries and around the world. Users are also given the opportunity to consult a forum, updated with valuable news.
10. Weather Pro (Android)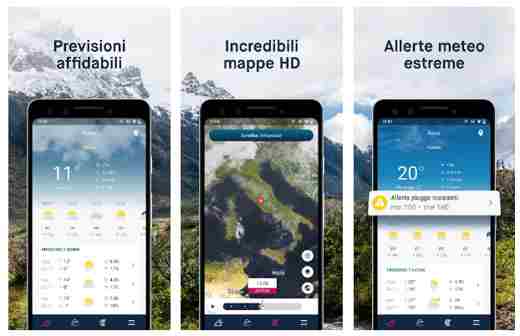 Weather Pro it is instead an app for Android born from a project of the Meteo Group. The latter provides the user with forecasts capable of covering approximately two million cities and 800.000 tourist sites throughout the rest of the globe. Weather Pro is preferred for its clean interface and the ability to access satellite images from around the world. Recently the application has also included a Premium version.
11. YoWindowWeather (Android, iOS)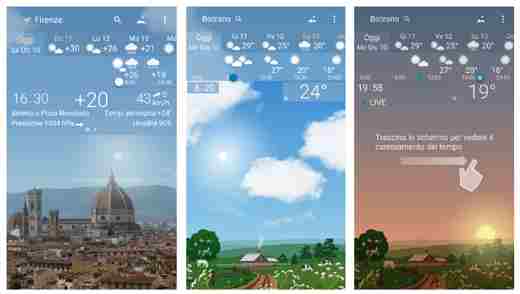 Another app to download to get the weather forecast under control and in general to get a forecast reliable weather è YoWindow. It is an innovative app, fresh and original in graphics, which presents a different background depending on the weather conditions. Very beautiful are the graphics that intend to represent the moment of dawn and that of sunset, which manage to return the exact atmosphere of these two times. It is available for Android and iPhone.
12. Meteogram for iPhone (iOS)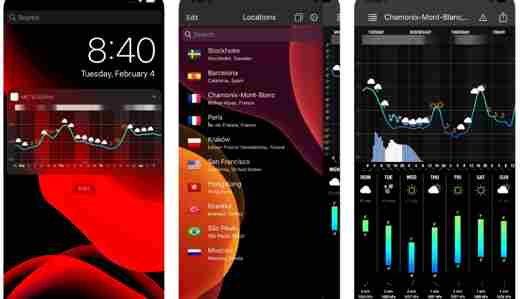 Those who use the iOS operating system can find an excellent application in Meteogram for Iphone. The application is available for iOS 11.0 and later versions. Although reserved only for Apple systems, it can be downloaded from the App Store on iPhone, iPad and iPod touch.
Other useful articles