Today, smartphones have reached characteristics very similar to those of computers. Among these, that of surfing the web through some applications that function as real browsers. This new feature allows you to connect anywhere and without the necessary presence of a PC. To browse the contents, however, these must be designed for mobile browsing. In this regard Libero provides a service that allows you to convert a site into a mobile view, choosing and customizing a series of features.
We just need an account at Libero and click on Register. In this way our site will be displayed on all mobile phones, regardless of the phone operating system. All sites configured in their mobile version are reached in the Libero Mobile archive.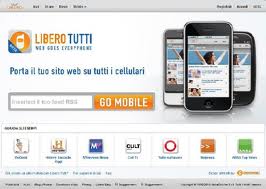 But let's see how this service works:
Let's connect to Libero Mobile at http://liberomobile.libero.com. On the Home Page we see the sites divided into some categories: Libero sites, Recommended sites, Most viewed sites, Partner sites, Most recent sites. Choose one by clicking on it.
After selecting one, we immediately see the preview display on the mobile phone. There is the URL to use to see the site on mobile. We can send it to our phone by clicking on Send to your mobile. We indicate our telephone number to receive it via SMS. Click on Send link.
Let's connect to the site to be included in the Libero Mobile archive. We scroll down the page and find the feed RSS. By clicking on the appropriate command, another page opens in which to copy the URL that constitutes the feed.
Let's connect to the Libero Tutti service page, precisely at the link http://tutti.libero.com, insert the feed just copied in the field Insert your Rss feed located in the center of the page and then click Go mobile.
We insert data relating to our site (RSS feed, title to display, mobile site address, description, category, tag) and our data, which necessarily require a Libero account. After we are done, we click on Forward.
In the area layout we choose a template for the home page among those proposed (combining images and text). In the area Subject there is a preview of the layout, in which to choose the color, with Icon we choose a predefined or customized one. Let's click Forward.
On the last page we can see a preview of our site in the mobile version. We check if the display is correct or we like it. So we accept the terms of the contract by activating the voice Yes To finish everything we click on command Complete.
The last step is to check our site via mobile, it is important to know that, by logging in with our account on Libero, we can manage the mobile sites, modify them or remove them through the area Your sites.