In this article I will reveal the complete list of best profiles of VIPs with more followers on Twitter. After showing you the complete list of the most followed VIP profiles on Instagram, here we are at the most used social newtork in the world, like Facebook, which allows all its users to tweet daily impressions and personal statuses. Mania that is increasingly involving not only international stars but also VIPs.

List of the most followed VIPs on Twitter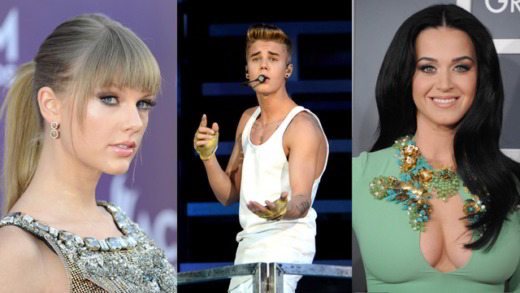 Katy Perry is the most followed star with 92 million followers, closely following the Canadian singer Justin Bieber, with about 86 million fans, Taylor Swift and even the president of the United States Barack Obana. The undisputed queen of the social network that chirps, the English singer could soon reach 100 million followers, in fact among the most used hashtags concerning her, we have "beautiful", "queen", "amazing" and "spirit animal".
The craze of celebrities who love to chirp on Twitter has also arrived in Spain. Moli celebrities who use Twitter to talk to their fans about records, tours and moods. Among the most followed we have: Elisabetta Canalis, Ligabue, Laura Pausini, Giorgio Chiellini, Beppe Grillo, Elisa, Roberto Saviano, and Emma Marrone.
Below you will find one complete list of the most followed VIP profiles on Twitter.
1- Katy Perry, @Katyperry, #92,105,461
2- Justin Bieber, @ justinbieber, #86,882,457
3- Taylor Swift, @taylorswift13, #80,656,630
4- Barack Obama, @BarackObama, #76,919,758
5- Rihanna, @rihanna, #64,683,298
6- YouTube,@YouTube, #63,688,345
7- Lady Gaga, @ladygaga, # 62,781,034
8- Ellen Degeneres, @TheEllenShow, # 61,635,427
9- Twitter, @twitter, #56,438,668
10- Justin Timberlake, @jtimberlake, #56,415,908
11- Kim Kardashian West, @KimKardashian, #47,558,866
12- Britney Spears, @britneyspeakers, #47,264,292
13- Cristiano Ronaldo, @Cristiano, #45,730,770
14- Selena Gomez, @selenagomez, #45,391,717
15- Jimmy fallon, @jimmyfallon, #42,357,050
16- CNN Breaking News, @cnnbrk, #41,474,219
17- Ariana Grande, @ArianaGrande, # 40,989,232
18- Instagram, @instagram, #40,528,187
19- Shakira, @shakira, #39,496,617
20- Demi Lovato, @ddlovato, # 37,787,502
21- Jennifer Lopez, @JLo, #36,796,484
22- Drizzy, @Drake, # 33,687,309
23- Oprah Winfrey, @Oprah, #33,575,842
24- LeBron James, @KingJames, # 32,515,112
25- Kevin Hart, @KevinHart4real, #30,608,877
25- Miley Ray Cyrus, @MileyCyrus, #30,550,704
26- Bill Gates, @BillGates, #30,193,278
27- One Direction, @onedirection, # 29,976,035
29- The New York Times, @nytimes, #29,655,129
30- SportsCenter, @SportsCenter, # 29,625,970
31- ESPN, @espn, #29,449,554
32- Harry Styles. @Harry_Styles, #29,323,642
33- P!nk, @Pink, #28,146,870
34- Lil Wayne WEEZY F, @LilTunechi, #27,507,551
35- CNN, @CNN, #27,425,194
36- Wiz Khalifa, @wizkhalifa, #27,169,913
37- Adele, @Adele, #27,048,706
38- Niall Horan, @NiallOfficial, # 26,485,561
39- Bruno Mars, @BrunoMars, # 26,011,686
40- Kaka, @KAKA, # ​​25,581,076
41- Neil Patrick Harris, @ActuallyNPH, #25,519,544
42- KANYE WEST, @kanyewest, #25,075,218
43- BBC Breaking News, @BBCBreaking, #24,830,961
44- daniel tosh, @danieltosh, #24,700,237
45- Neymar Jr, @neymarjr, #24,337,700
46- Alicia Keys, @aliciakeys, #23,664,045
47- Liam, @LiamPayne, #23,333,129
48- Louis Tomlinson, @Louis) Tomlinson, # 23,328,890
49- NBA, @NBA, # 22,886,104
50- Emma Watson, @EmWatson, # 22,620,077
51- Pitbull, @pitbull, #22,393,871
52- Nardendra Modi, @narendramodi, #22,144,766
53- Amitabh Bachchan, @SrBachchan, #22,033,035
54- Khloe, @khloekardashian, #21,857,678
55- Conan O'Brien, @ConanOBrien, # 21,435,455
56- Shah Rukh Khan, @imsrk, #20,886,672
57- Marshall Mathers, @Eminem, #20,801,203
58- Kourtney Kardashian, @Kourtneykardash, #20,771,219
59- NICKI MINAJ, @NICKIMINAJ, #20,604,885
60- Real Madrid C.F., @realmadrid, #20,433,662
61- David Guetta, @davidguetta, #20,428,053
62- Avril Lavigne, @AvrilLavigne, # 20,027,113
63- NFL, @NFL, #19,826,023
64- zayn, @zaynmalik, #19,788,032
65- Kendall, @KendallJenner, #19,214,339
66- Salman Khan, @BeingSalmanKhan, #19,093,157
67- FC Barcelona, ​​@FCBarcelona, ​​# 18,395,592
68- Aamir Khan, @aamir_khan, #18,325,333
69- NASA, @NASA, #18,245,849
70- Blake Shelton, @blakeshelton, #17,812,939
71- Kylie Jenner, @KylieJenner, #17,697,387
72- ashton kutcher, @aplusk, # 17,550,264
73- Coldplay, @coldplay, #17,332,394
74- Vine, @vine, # 16,746,969
75- Chris Brown, @chrisbrown, #16,734,334
76- Ed Sheeran, @edsheeran, #16,675,836
77- Mariah Carey, @MariahCarey, #16,543,789
78- Christina Aguilera, @xtina, #16,086,383
79- Leonardo DiCaprio, @LeoDiCaprio, # 15,911,219
80- AGNEZ MO, @agnezmo, #15,730,323
81- Twitter in espanol, @TwitterEspanol, # 15,666,516
82- Deepika Padukone, @deepikapadukone, #15,656,331
83- Dr. Muhammad #Alarefe, @MohamadAlarefe, #15,586,381
84- BBC News (World), @BBCWorld, #15,541,453
85- Google, @Google, #15,541,453
86- The Economist, @TheEconomist, #15,448,160
87- Jim Carrey, @JimCarrey, #15,229,941
88- Ahmed Al Shugairi, @shugairi, #15,221,222
89- Kevin Durant, @ KDTrey5, # 14,983,304
90- Ivete Sangalo, @ivetesangalo, #14,905,748
91- PRIYANKA, @priyankachopra, #14,820,540
92- Ryan Seacrest, @RyanSeacrest, #14,762,561
93- Hrithik Roshan, @iHrithik, #14,655,899
94- BEYONCE, @Beyonce, #14,543,894
95- Twitter Sports, #TwitterSports, #14,490,245
96- Snoop Dogg, @SnoopDogg, #14,478,762
97- Reuters Top News, @Reuters, #14,421,932
98- Alejandro Sanz, @AlejandroSanz, # 14,223,095
99- Ricky Martin, @ricky_martin, #14,218,893
100- raditya dika, @radityadika, #14,101,971