Looking for offers or promotions on the web, then I recommend that you read this guide you will know what the sites and apps to find flyers with offers and discounts.
I guess you've already wanted to buy a smartphone or computer and look for the offer on the paper flyer of the technology megastore or go to the supermarket, near home, and look for the paper flyers with the products on offer. It happened to me several times. That's why today I want to help you find digital flyers with offers, directly online and sitting comfortably in the armchair of your home.
Where to find flyers with offers and discounts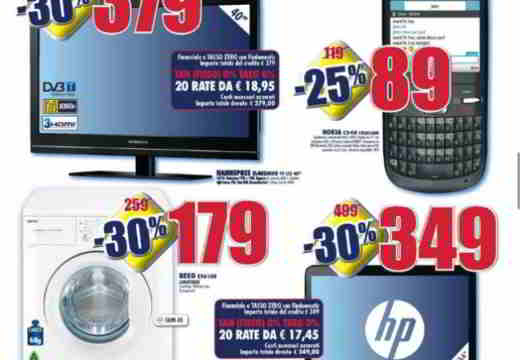 Enter the sites and apps listed and browse the flyers to find deals and discounts from nearby stores. They will help you know where to buy.
Dove Convenience (Android, iOS, Online)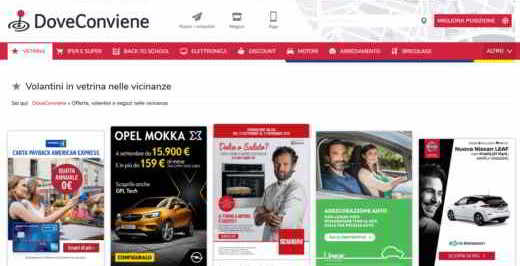 Where it is convenient it is one of the most important flyer sites with best offers and discounts of all kinds: electronics, furniture, food, motors, DIY and so on. The platform, also available for Android and iOS, allows free browsing of many digital flyers distributed by the most famous supermarkets and electronics stores, such as MediaWorld, Unieuro, Expert and so on. You can also narrow your search by city, so that you only see flyers with local offers.
Easy Flyer (Android, iOS, Online)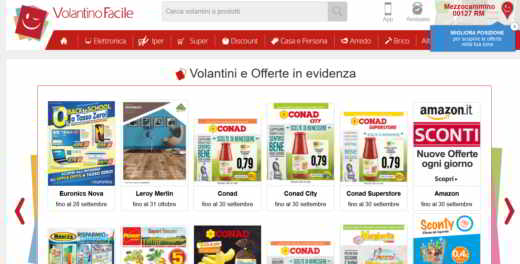 Are you looking for unmissable offers and bargains, then you have to take a look at Easy Flyer. It is a portal, also available for Android and iOS, where you can find flyers distributed by electronics stores, furniture stores, hypermarkets and much more. The flyers distributed are valid both nationally and locally. At the top of the platform you can choose the category of the flyer you want to consult, while the search bar is used to find the products on offer in the individual flyers.
Tiendeo (Android, iOS, Online)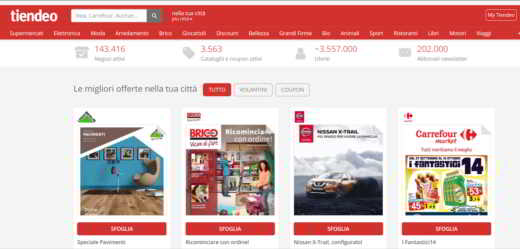 Tiendeo Unlike the most renowned portals with flyers full of offers and promotions, it offers not only flyers but also coupons for restaurants, books, travel and the purchase of sports and beauty products. The search bar has the function of finding: products, flyers and coupons with the possibility of customizing the search also by city. The top categories of the moment are also in evidence. Tiendeo is also available for Android and iOS.
PromoHere (Android, iOS, Online)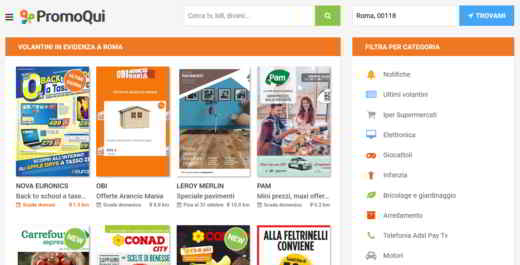 PromoHere is a portal that collects promotional flyers belonging to different categories. Layout and structured with care, the site presents flyers divided by category, at the top, for the latest news and a search bar useful for finding information. PromoQui is also available for Android and iOS.
Ultimoprezzo (Online)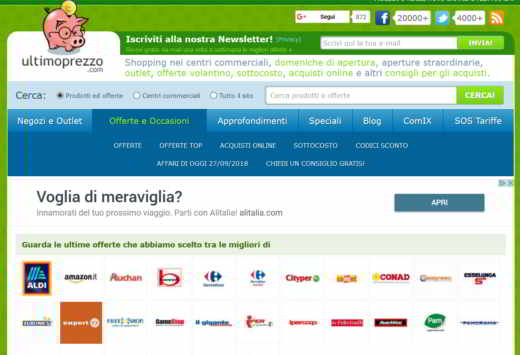 Ultimoprezzo offers flyers with the best offers in supermarkets, shopping centers and various shops. It integrates sections dedicated to below cost products, discount codes to use online, prices of outlet stores and stores open on summer days. Ultimoprezzo is also available for Android and iOS.
World Flyer (Online)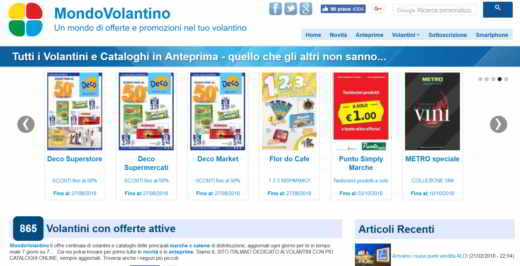 World Flyer is an Internet site with hundreds of flyers and catalogs of the main distribution chains in Spain with live updates. No registration is required to view catalogs and flyers by category or by shop.
CentroVolantini (Online)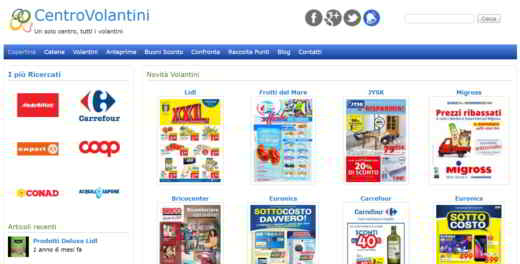 CentroVolantini offers flyers of all kinds referring to the largest chain stores. It also integrates a specific section dedicated to discount coupons and one to the collection of points. It is also possible to compare the most interesting flyers with each other.
SuperVolantino (Online)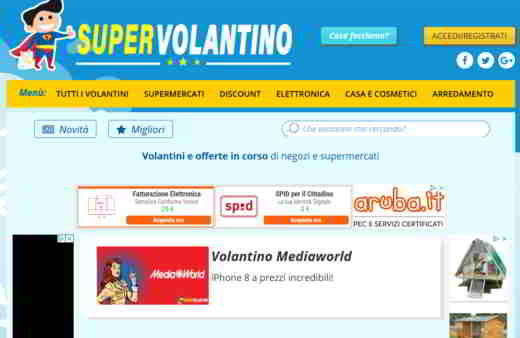 SuperVolantino unlike other sites in the same category, it requires you to register for an account for free to use its flyers for offers and discounts. It is less equipped than the other portals but still useful for finding flyers with promotions.
VolantinoWeb (Android, Online)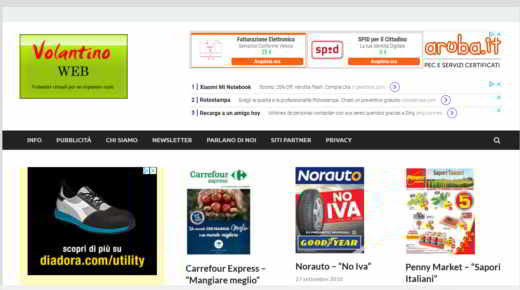 VolantinoWeb presents not only digital flyers but also paper flyers. Once you have identified the flyer of interest, just click on it to browse it comfortably from your browser. Alternatively you can also download it in PDF. FlyerWeb is also available for Android.