You are perhaps looking for how to connect Alexa with Spotify? Here is the guide to connect Spotify to Alexa in the fastest way and without making mistakes.
The ease of use of a voice assistant allows multiple devices to interact with each other. In addition to turning on the house lights or online searches for your favorite recipe, it is possible to implement voice commands that allow additional functions.
These features include connecting your voice assistant to applications installed on your smartphone or other smart devices in your home such as Amazon Echo. And what better link than the one on a music application?
You will surely want to start some background music and maybe if you were busy you didn't do it so as not to waste time. Thanks to voice commands you can eliminate this problem and enjoy your favorite music. Today, in fact, we will understand how to connect Alexa with Spotify.
Read also: How to connect Alexa to TV
Guide to connect Spotify to Alexa in the fastest way possible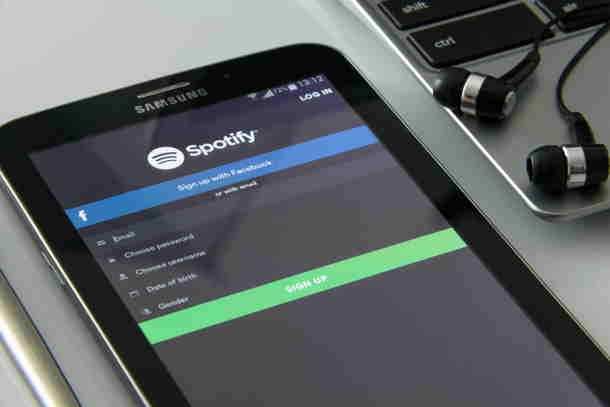 Although it may be obvious information, we warn you that you necessarily need a Premium account to connect Alexa to Spotify. Spotify's standard cost in its Premium version and of € 9,99 per month, but if you have never signed up for a subscription you will have the possibility to use it for thirty days for free or for three months for € 1,99.
Once in possession of the Premium version, let's see how to connect Spotify on Alexa both from your smartphone and from your computer.
Read also: How to download Spotify Premium for free
Android and iOS
If your desire is to connect Alexa to your tablet or smartphone then the first step is to download the app Amazon Alexa for Android or iOS and immediately afterwards start the app.
Now go to the section Settings, reachable by pressing on the three horizontal lines superimposed at the bottom right with the voice Other, and select the option Music and Podcast.
Here you will see several solutions, if Spotify is not present, in the section Services, tap the option Connect a new service and on the next page step on Spotify.
To listen to Spotify music and podcasts on Alexa, press the button Enable to use.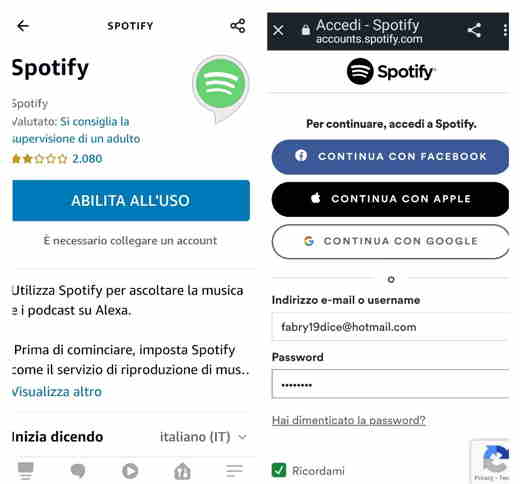 At this point a window will open Login on the page accounts.spotify.com where to log in by entering the data of your Spotify account or directly those of Facebook, Apple or Google. Press on Log in and authorize the connection between Alexa and Spotify.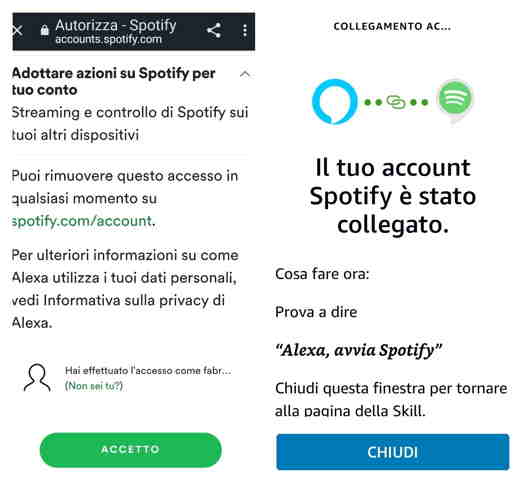 However, you are not fully connected yet, in fact Spotify is not the default music software for the Amazon Echo. To change the startup software you need to go to the section Settings> Music and Podcasts and in the Settings section, tap on Default Services. Choose the voice Spotify and premium tasto end.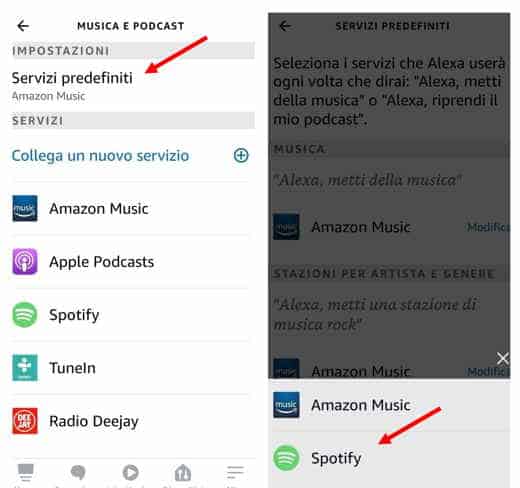 computer
The procedure for connecting Alexa to Spotify is very similar even on a computer; then, we will outline the guidelines faster to get you to reach the goal right away.
Open your browser, be it Firefox, Google Chrome, Microsoft Edge, Safari or Opera and go to the Amazon Alexa. Log in with Amazon data and open the section Settings on the bar located on the left. Scroll the webpage to the named area Pref Renze on Alexa and double click with the left mouse button on Music and multimedia content.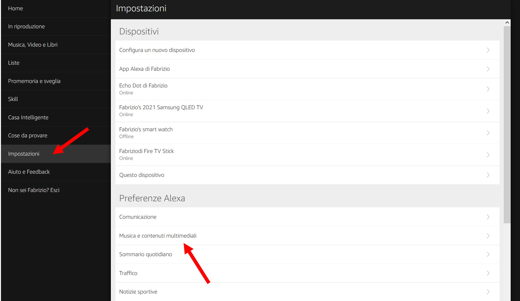 If between Music Services Spotify is not there, go to the left menu on Music, Videos and Books and search Spotify. Click on it and then press the button Attiva. Connect your account on Spotify.com by entering the login data of the music app and then press the button Accept.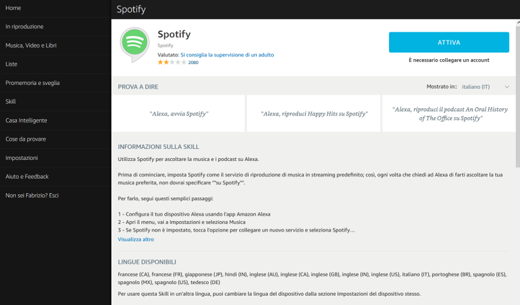 At the end, Amazon Alexa will confirm that the Spotify skill has been successfully connected.
At this point we have to make Spotify default as an application, just go to Settings, then on Music and multimedia content, press the button Select predefined music services. Now choose Spotify and click on end.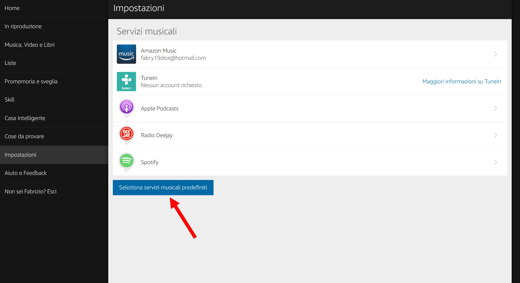 How to play a playlist from Spotify on Alexa
Now that you've connected your voice assistant to Spotify and set it as your default program, you can start using it to play your favorite songs and playlists.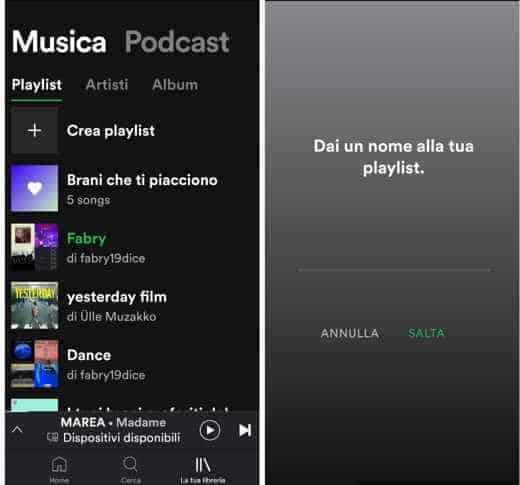 First of all it is necessary create a playlist on Spotify, you can do it quickly by starting the application, pressing on The library at the bottom right and then select Create playlist in the music section. Name the playlist and tap the entry Crea. To start it, just say one of the following sentences:
Alexa, start playlist -playlist name-;
Alexa, start personal playlist -playlist name-;
Alexa, play songs from my playlist - playlist name.
Try to give your playlist simple names to avoid receiving problems.
Link two Spotify accounts to Alexa
Maybe you are a well-rounded music lover and have more than one Spotify account, how can you link two accounts to Alexa?
Unfortunately, there is no good news on that. Spotify, even in its best version, allows you to connect only one account at a time to forward voice commands. You can still add multiple Spotify accounts to Amazon at the same time, but you can only assign one that accepts the commands. As seen above, Alexa accepts a single default software from which it draws information.
Useful commands for using Spotify with Alexa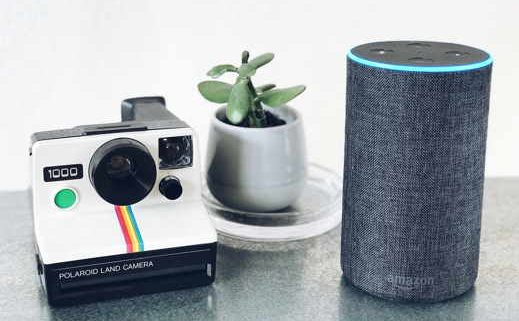 Using Alexa is really very simple, but as you well know, the secret to perfect operation is more in the way you formulate the question and the commands than in the tone of your voice. For this reason, as for other applications, there are particularly useful commands to pronounce to get the maximum performance from Alexa connected to Spotify. Here are the most interesting ones.
The phrase Alexa recognizes most easily is:
Alexa, put on some music.
Alexa, via Spotify
The songs will start at a supersonic speed.
You can also use:
Alexa, what song is this ?;
Alexa, play the Lo-Fi playlist;
Alexa, change song;
Alexa, play the last song by Caparezza (or another singer of your choice).
How to disconnect Spotify from Alexa
We have analyzed the procedure on how to connect Alexa with Spotify, but if you don't need them anymore how can you unplug them? The resolution is really very fast, let's see it in detail.
Android and iOS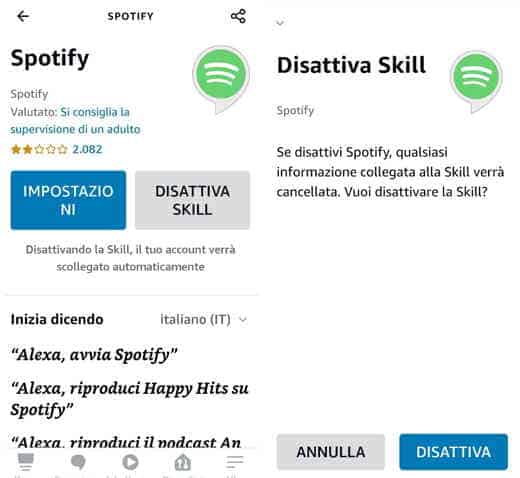 Open the app of Amazon Alexa for Android or iOS and go to Other, bottom right, then up Settings and subsequently in Music and Podcast. Press on the Spotify option and then on the button disable Skill, confirm the command by pressing again on disable.
computer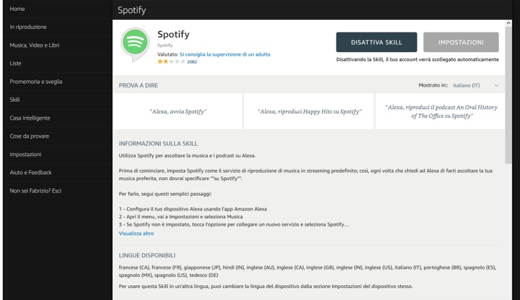 Connect to the page of Amazon Alexa from your browser and go to the section Settings that you find in the dashboard on the left. Now click with the left mouse button, in the Alexa Preferences section, its Music and multimedia content. Click on the option Spotify and then on the button Disable Skill. Click again on Disable Skill per confermare l'operazione.
Why Spotify Doesn't Work on Alexa
Not all smart devices respond perfectly to your commands, so you'll need to be ready when your Echo doesn't cooperate. Here are the most common reasons for an Alexa malfunction.
Ambient noises: Most of the communication problems with Alexa are due to ambient noises that do not allow the internal microphones to capture the sound of your voice correctly. Among the most annoying noises are those of the fan and the air conditioner; therefore, move your smart device away from these sources of disturbance.
Alexa offline: Alexa software may sometimes experience a momentary freeze due to a failed update or network disconnection. In this case, restarting the device is a solution.
Alexa activates by itself: in this case there is interference, do not keep the voice assistant close to radio waves, such as microwaves, or an older generation radio.
Alternative a Spotify per Alexa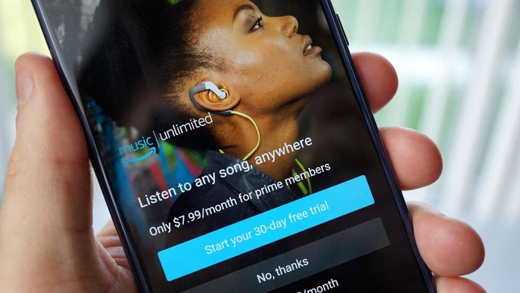 The cost of Spotify Premium maybe it can limit you in wanting to use it all year round. In case you are looking for valid alternatives, fortunately there are several and quality ones too. In addition to Amazon Music, the most popular alternatives are: Deezer, Tim Music and Apple Music.
To connect them to your Alexa account, just follow the procedure we analyzed previously, choosing one of these as the default application instead of Spotify. If you have an Amazon Prime plan we recommend that you give it a try Amazon Music Unlimited, is the most complete solution to compete with Spotify.
You may also find the articles: How to connect LED lights to Alexa and What to ask Alexa.