What is the Dark Web and how to enter. Here is a guide to the dark side of the web and the tools to navigate it.
It is common knowledge that our Internet activities are tracked by Google, Facebook and others, who collect our habits on the sites and places we visit. Data that these large companies need to provide us with the services we need. Then there are the governments that spy on the activities of internet users in the name of national security and the cyber-criminals who steal our data through so-called online scams.
That's why many are starting to gear up to surf incognito in the name of their privacy, how? Through browsers such as Tor, a tool that can keep your web activities safe from cybercriminals and advertisements.
With Tor you can send private photos without the danger of being intercepted, write an article on a blog while maintaining anonymity, circumvent government censorship and much more.
Tor also allows you to access the Dark Web where you can find many sites that carry out illegal activities. However, there are also legal sites, whose sole purpose is to make information accessible freely and without being monitored. Tor protects our identity and prevents our data from being collected for scams, advertising and spamming.
Tor also comes with dangers, but with the advice in this guide, you'll be able to stay safe while browsing the Dark Web.
Difference between Dark Web and Deep Web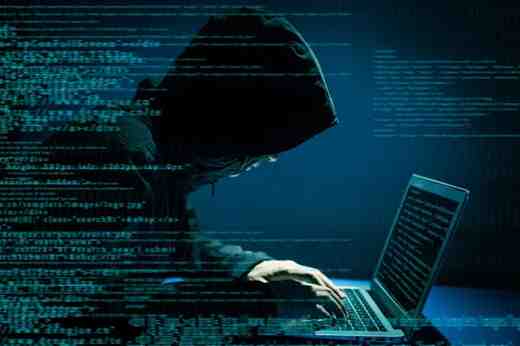 Often the terms Dark Web e Deep web. they are interchanged and used in the same way, but in reality they have two different meanings.
With the term Deep web. o Web Invisible we mean all that portion of the Web that is not accessible through normal search channels. In practice, these are sites and information that are hidden behind a firewall and that are: corporate networks, web archives, databases, forums, password-protected sites and so on, which are not indexed by any search engine, including Google. This dark channel is said to be 500 times larger than the known web.
Il Dark Web instead it is a portion of the Deep Web and it is a network that can only be accessed through specific software. The various are part of this network Tor, freenet and others. Dark Web sites are not indexed and can only be accessed with programs capable of masking the IP address.
How to enter the Dark Web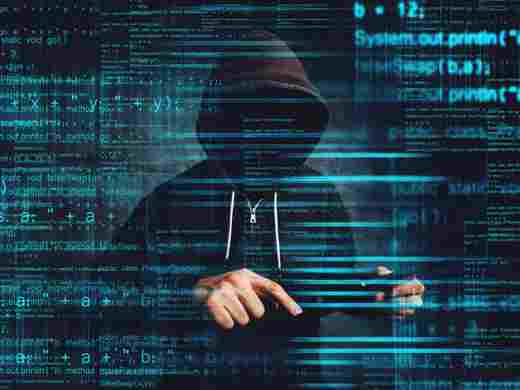 As mentioned, enter the Dark Web it is only possible through a browser speciale or with darknet, a virtual private network in which users connect only with people they trust. The darknet most famous are: Tor, freenet e I2P.
There is a tendency to associate the Dark Web with crime and lawlessness, but in reality darknets are not illegal. Tor, for example, is used to browse anonymously and hide the IP address.
How to enter the Deep Web
The first step to enter the Deep Web from a computer is to install Tor by going to its official page and downloading the package Tor Browser. Be careful because you can take serious risks, my advice before starting to browse is to darken the webcam of your computer, to prevent you from being spied on, and beware of portals that sell weapons, drugs, violent videos or other worse things. There is no shortage of viruses and malware but also scams with the possibility of theft of personal or banking data.
What is Tor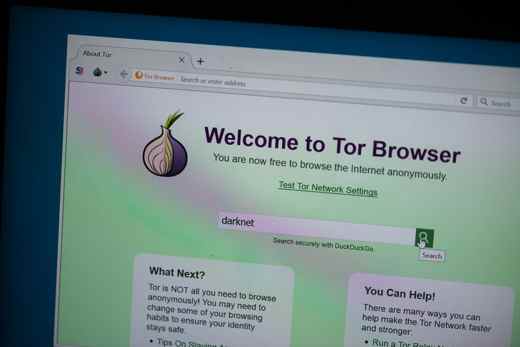 Tor is an anonymous network that allows you to hide your identity when you browse the Internet, share your content and do your online activities. Basically it encrypts all the data you send to your PC so that no one can see who you are and where you are connecting from.
Tor stands for The onion router, and was developed by Paul Syverson and Michael Reed for the US NAval in the mid-nineties. Its purpose was to create a system capable of protecting the communications of the American secret services.
Today Tor is free software and available to everyone for Windows, Mac e Linux. You can start it directly from a USB flash drive, without having to install it on your PC. The Tor browser is a modified version of Firefox. It also does not conflict with other browsers or other programs, but you may need to configure antivirus and firewalls to allow it to access the Internet. There is also a mobile version called Orbot to access the network Tor da Android, and which can be downloaded directly from Google Play.
Tor is not an illegal tool, but it is the use that is done in a way that is not appropriate to be. Tor does not incite illegality, but its developers are aware that many criminals use it to act anonymously.
What not to do with Tor
The Dark Web has many pitfalls, and using Tor badly can create more trouble than good. Here's why you should follow these tips on what not to do with Tor.
Do not use the P2P network such as BitTorrent you will lose Tor's anonymity and protection.
Don't put Tor full screen, Dark Web sites may identify the actual resolution of your monitor.
Don't use Google to search. Better to use the default search engine: DuckDuckGo or Startpage.
Do not register your email on any site Web on the Dark Web. There are many services that allow you to create a temporary email. In this regard, read the articles: how to create a temporary email and how to send self-destructing emails.
Tor does not encrypt traffic outside its network. Do not browse on HTTP sites, but on sites HTTPS. The component is already integrated in Tor HTTPS Everywhere to switch to HTTPS browsing for websites that support it.
What you can do to protect yourself is always create new identities clicking on the onion-shaped icon at the top right and confirming the creation of a new identity to delete the old one. Then check that Tor is always up to date and protect your PC data using applications such as AES Crypt or FreeOTFE.
How to use Tor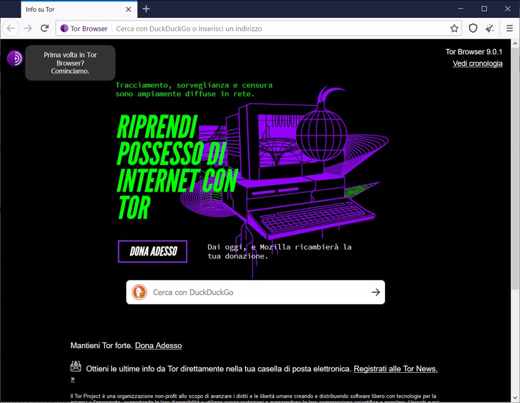 Once you have downloaded Tor from the official website, choose the language from the drop-down menu and click on Download Tor Browser and then on the icon of Windows if you are using Windows or on link Download in another language or platform to search for the file suitable for your operating system.
After downloading the installation package torbrowser-install-win64-x.x.x_it.exe, double click on it to start the installation process and follow the instructions.
Once the installation is complete, go to the folder Tor Browser, created on the Desktop of your PC (if you have not changed the path) and click on Home Browser to start Tor. The screen will appear Connect in Tor. Click on Configure, if you are in a country like China or Egypt that blocks the use of Tor, or on Connect to start browsing with Tor.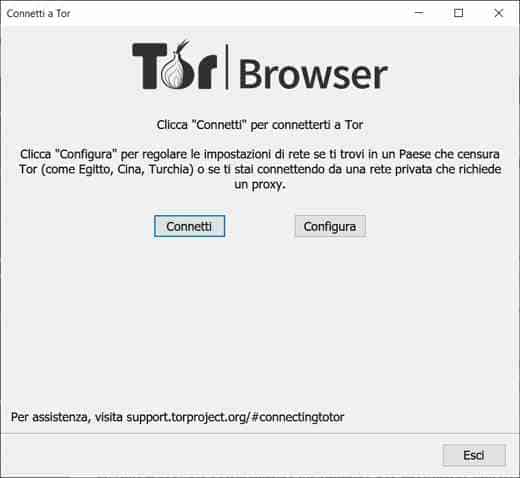 Once the browser is started, you can start using Tor by performing a keyword search in the central bar of DuckDuckGo.
Your IP will be masked with a fictitious address that refers to a server around the world. Tor uses a particular network circuit called Onion, in Spanish onion, to indicate a system structured like a bulb made in layers.
To avoid being located the network Onion it uses a set of nodes that guarantee anonymous traffic. The connection does not communicate directly with a website server, but passes through a set of routers that create a layered circuit. In this way it will be impossible to ascend to your identity.
If you want to change the settings, just click on menu (the three horizontal lines), top right, and then press on options. Choose the command Privacy and Security to set its level to Standard, Sure e Molto sure. Furthermore you can also change the permissions in Location, Camera, Microphone e Notifications, and block deceptive content and software at risk.
In the left menu you can click on Research and change your default search engine while on Extensions and themes check for the extension NoScript, ensures maximum protection by allowing active content only for the trusted domains of your choice.
To learn more about this topic, you can open the Tor Browser features page and browse the list of information.
How to use Tor on Android and iOS
If you want to enter the Deep Web from Android smartphones and tablets, you must download, as already mentioned, Orbot Tor for Android from Google Play. This is a free proxy app that allows other apps to use the internet securely. Orbot uses Tor to encrypt web traffic and then hides it by passing through a number of PCs around the world.
Orbot allows you to establish an anonymous connection to the network TorTo surf the Internet, you need to install the browser separately Orfox, no longer downloadable on Google Play but available on this page. Orfox was also developed using the same code as Tor Browser. However, it does not include add-ons: NoScript e HTTPS Everywhere.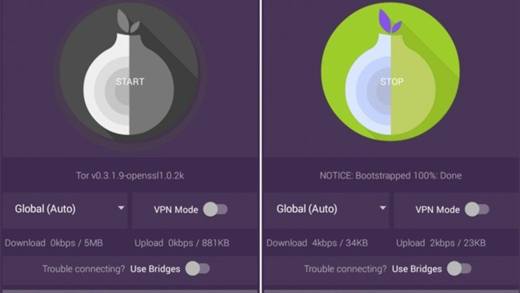 After downloading the app Orbot Tor for Android you will be notified that your smartphone internet browsing will take place without any tracking and without any censorship. After a few guided steps, click on starts at the center of the page to proceed with navigation. To disconnect from the network, press on Ferme.
Below you can see the Tor enabled app, by clicking on the homonymous item.
If you want to enter the Deep Web with a iPhone you can try the free Onion Browser app. At its start you will be able to browse immediately. You can also try Tob, it still allows you to access the Tor network from iOS.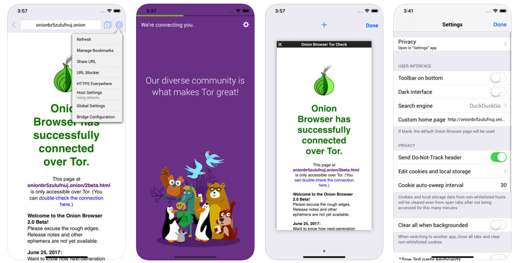 The best legal sites on the dark web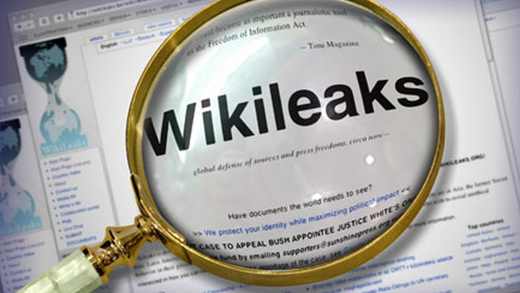 On the dark side of the Net you can also find sites, also called Black Market or Darknet Markets where an attacker can give vent to his shopping with the personal data of unsuspecting users: credit cards, email accounts, identity documents and much more. There are also markets where weapons, drugs, software and confidential documents are sold. The price of these products, identified after a specific search, are indicated in Bitcoin, the electronic money of the Internet.
The advice is to try to access sites that are always legal through the Tor network, which is why I want to show you the best ones to try on PC, smartphone and tablet.
The Hidden Wiki: reference point for those who go to the dark web. You can find links and services of all kinds, as well as providing guides and articles on the invisible web. Use with caution, many links are dangerous.
WikiLeaks: is the site created by Julian Assange and collects secret documents stolen from various governments and made available to users in the name of truth.
Privacy International: the site aims to discover the governments that secretly monitor their inhabitants and to unmask companies that allow it. It also explains the dangers we face with Big Data.
Hidden Answers: looks a lot like Yahoo Answers. Users can ask a question on any Dark Web topic to get an answer.
Flashlight: collects various kinds of news on the Dark Web. For example, information ranges from cryptocurrencies, to the trend of their prices, to issues related to security and anonymity on the Internet.
Blockchain: bitcoin is the best known virtual currency but there are also others. To manage this type of money, we do not turn to banks but to an electronic wallet and blockchain is one of the most popular. It is also available as a .onion domain and offers an HTTPS connection. It also offers useful information on the value of the exchange, on transactions and graphs on mining activities, the operation to create bitcoins.
DuckDuckGo: is a search engine to guarantee anonymity. It does not track searches and the results are transparent. It is Tor Browser default search engine. The .onion version allows you to carry out your searches with the same convenience as other search engines while being connected to the Tor network.
Intel Exchange: it is a forum that deals with all kinds of topics. It is one of the reference points for fans of conspiracy theories, of what governments do not say and of urban legends. There are threads dedicated to telekinesis, or about how to build a spaceship and many other fun things.
How Will You Tell The World?: site as dark and enigmatic as the Dark Web, is about diagrams, sound phrases and audio snippets created to really hide something.
Other useful articles