Customizing products for promotional purposes is a very common business practice. Today big brands, but also small businesses, to launch new advertising campaigns or promote their business, invest in online orders for their promotional items, which is why it might be useful to know that among the online stores in the sector Giffits, is certainly one of the most popular in Spain and Europe.
Giffits offers more than 37 thousand printable ideas with a service team able to support you for every need and give you suggestions. You can choose i classic promotional gifts, such as: notepads, ballpoint pens, calendars, USB sticks, coffee mugs, or particular objects such as: knife sets, mini speakers. All the objects with your company logo that you decide to print will be able to affirm your image in the target market.
- promotional items from Giffits they will increase customer loyalty. Consider that high quality gifts guarantee a winning and lasting advertising effect. Just think of the ballpoint pen with your logo printed and how it can become a life partner for your customer. The ideal is to move towards high quality gifts with the personalization and engraving not only of the company logo but also of the customer's name with relative ticket. But let's get practical and see how they work promotional items on Giffits.
What is Giffits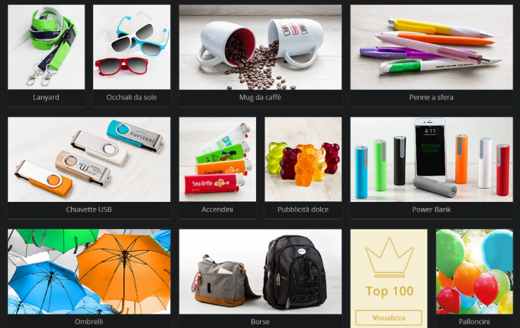 Giffits was founded in Germany in 1998 by two employees, Thorsten Schmidt e Marcus Schulz who immediately had the intelligence to recognize that the future of promotional items would be the Web. This pioneering spirit made this online store a market leader in Europe.
Today Giffits has 100 employees and provides personalized promotional items to eleven European countries in the national language with approximately 40 loyal companies.
Based on the parameters you indicate, you will get a series of promotional items that you can further customize. You can choose many types of colors for each product and decide how to print your logo.
In the same search screen, you will also find a special section where upload your logo and see a preview on the chosen product. You can apply it with the original background or without background. This way you can continue browsing the site and see a preview for any product with your branding applied.
On each article you can indicate in detail: the type of packaging amount typology print and even you can order a sample. Finally you can discover the delivery time, who will carry it out, and obtain more information on the article, both technical and descriptive.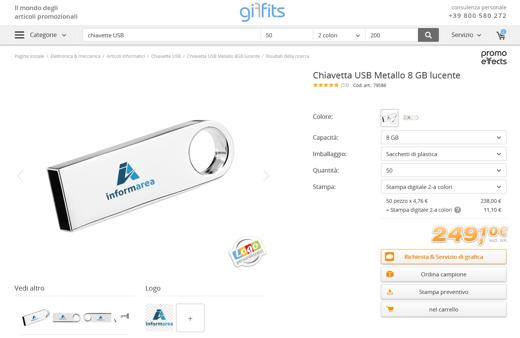 Always in the search mask, in the section Categories, find the button Creator which will show you different options to find out for which sector you are looking for promotional gadgets by generating useful ideas for your needs. The button is also interesting Specials, where you can consult the 100 most requested articles, the news, the Offers and prodotti Made in Germany.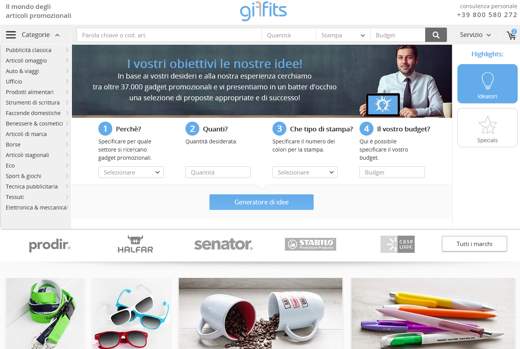 Giffits offers a complete service that will accompany you in all phases of purchase including thetelephone assistance from the dedicated team. As you will have understood, it is possible to independently create the promotional article with the logo but you can also send the logo themselves and rely on the designers for the creation. The print preview is also completely free.
You just have to experience the effectiveness of best promotional items on Giffits and don't miss the chance to promote your business.