The new iPad will have a 9,7 ″ retina display but with a resolution of about 1 million higher than an HD TV.2048 × 1536 pixels, for a total of 3,1 million pixels
The processor will be the brand new A5X a bespoke, high-performance dual-core with quad-core graphics, about 2 times faster than the previous A5.
The new camera iSight captures video at 1080p (HD) and is a 5 megapixel camera, with a 5-element lens. The camera will have an integrated stabilizer inside, to be able to record videos like on a real movie camera.
Thanks to the new software support the new iPad can be used as a personal hot spot, as already happens on the iPhone.
A great feature will be the Voice Dictation, that is, the keyboard of the new iPad supports a new dictation key that allows us to transcribe our thoughts (just like for Android). As for Siri, initially Spanish will not be understood in the languages ​​spported.
La battery, one of the things that has always given Cupertino engineers a lot of problems has been improved and will have ben 10 hours in duration, 9 under 3G coverage.
As regards the design the tablet is identical to the previous one with 9,4 mm thick and 6 hectograms in weight.
Last feature is the new connectivity option: LTE. The new iPad supports the network HSPA Plus finishes at 21Mbps, but it is also an LTE radio up to 73Mbps on the American network.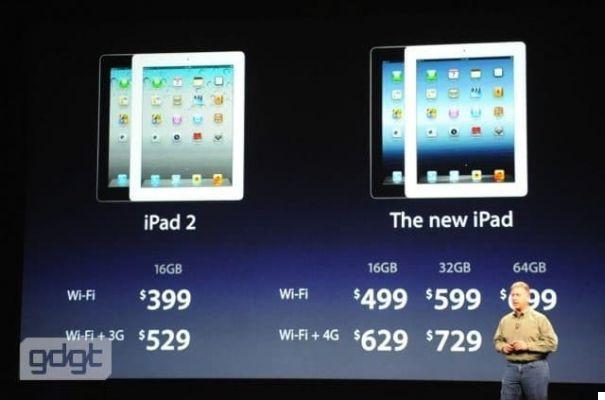 Good news comes from price. The new iPad will be sold starting from $ 499 in the 16GB version. The other models will cost 599 in the 32 GB version, 699 for the 64GB. The other prices will start from 629, 729, and 829 with support for 4G technology.
For those who want to take a look, the video of the keynote is available on the official website Apple.