Best sites to make money by writing online. Do you want to write articles online and make money? Would you like to make money by writing reviews? Then read this guide and the large selection of sites to make money.
The paid to write or content marketplace is a great solution to make money on the web, that's why I want to reveal to you in this guide the best sites to make money by writing online. If you are a blogger or if you are a writing enthusiast then you could become a freelance columnist and make money online writing articles of public interest or register on specific sites and become an author.

Below we see in detail how to earn by writing articles online through two different paths: content marketplace freelance or paid to write columnist.

Read also: How to make money by buying with the cashback formula
Index
Best sites to make money from home by writing online in Content Marketplaces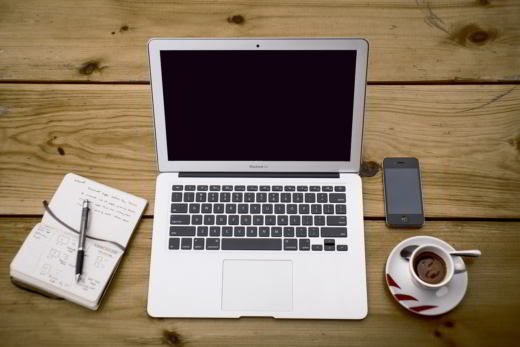 Content marketplaces are websites that connect supply and demand, that is, those looking for articles with those who write them. These are great tools for gaining experience and above all for adding new skills to your resume. Over time this business could bring you clients and allow you to make a career as a freelancer for extra income.
O2O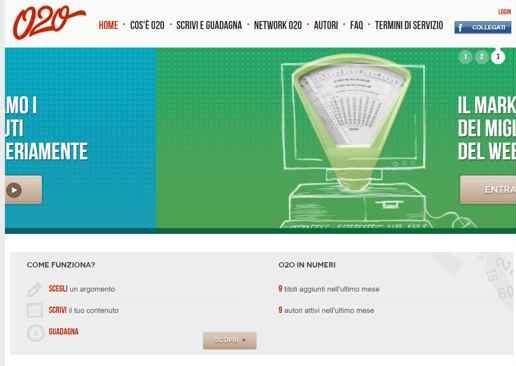 O2O – is a web content marketplace of Arnoldo Mondadori Editore SpA that offers the possibility of earn by writing online original articles suggested by you or recommended by the other authors of 020. Once you have registered for free on the site, by entering your email and password, you will be able to write content of your interest and earn based on the category and quality of the proposed article.
The site pays upon reaching a threshold of 25 euros. The value of each content varies according to the typology, category, Author rank and Quality badges or awards obtained for the written article. The time you will have to write a required article is 6 hours.
For more information take a look at the O2O Authors FAQ.
Write me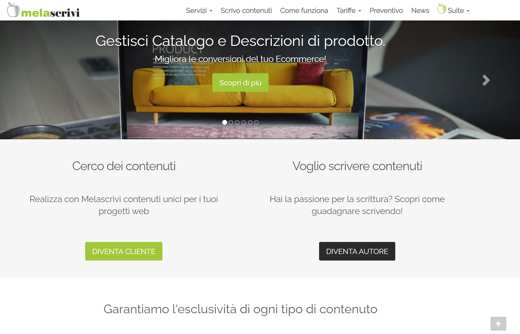 Write me - is a Marketplace that favors the meeting between supply and demand of articles with original content. To become an author on this platform you must register by clicking on the button on the Homepage Become an Author and insert Email e Password then click on the button SUBSCRIBE. Once you have completed the registration process, you can start writing on a variety of topics and already know how much you will be paid.
To be rewarded you will have to accrue 25 euros and have a Paypal account. When drafting the article you will need to follow guidelines and avoid negative feedback that could lead to exclusion from the platform. There are quality levels with stars that you can increase after obtaining positive feedback and quality level of the articles.
For more information, take a look at the Authors FAQ - Write to me.
GreatContent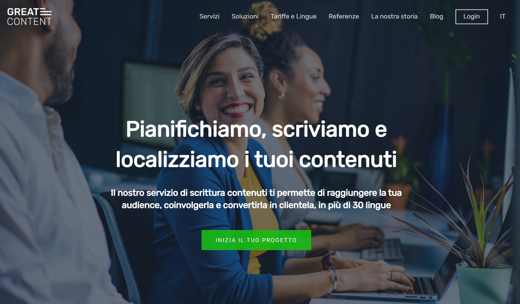 Greatcontent – is a web Marketplace with a slightly different philosophy from the previous ones just described. First of all, to become an author you must be admitted with an admission test. The positive result will give an initial evaluation and will allow you to be categorized for certain articles. Your earnings will go up based on the quality and recognition of your articles.
On the site, the publisher can choose the author based on his references, the latter will have the possibility to establish the price of writing the article. To apply as an author you must register and enter the information necessary for registration and complete your profile. For the payment of the articles, Greatcontent has a price list and pays the amount due to the author on his account no more than 4 times a month.

Scribox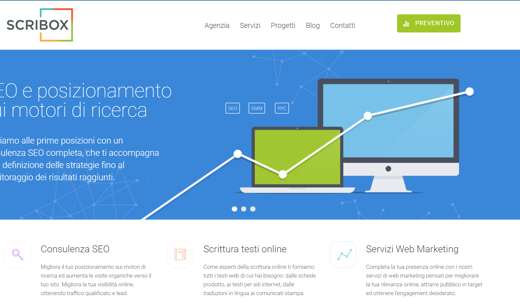 Scribox - is a consumer to consumer Marketplace of editorial content that helps put authors and publishers in contact by using a system of announcements and applications to make them work together. It works like a virtual marketplace where there are job offers and applications. In this way the freelancer or the one looking for job opportunities will be able to respond to the request to write an article or create content to be sold.
Payment is made via Paypal or bank transfer. You can apply for a job and set the price you want to receive. To subscribe to Scribox go to this page and Becomes an author. The site is suitable for those who are freelance writers, columnists and copywriters.
Textbroker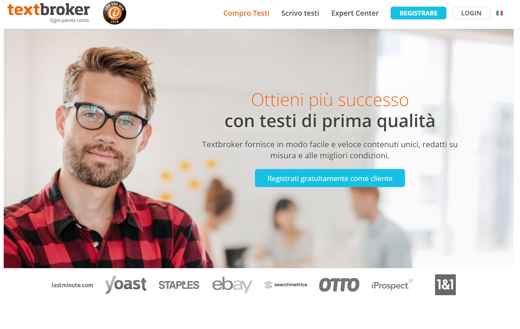 Textbroker is a Marketplace that pays off your talent as a writer. The site offers authors various offers (related to the level of quality) which consist in independently deciding whether to take delivery of one of the OpenOrder (you can choose the order according to your classification) at your disposal, a DirectOrder (decide your price and negotiate it with the client) of a client you have already worked with, or a TeamOrder and take part in a team designed to carry out a project (the client determines the price for the group).
By writing a test text, the Textbroker editorial team will assign you a quality level and give you all those useful tips to improve yourself. To subscribe to the site click on the menu at the top and click on I write Texts then press the button Sign Up for free like author. On this page enter all the data required for registration and at the end click on the button Sign Up.

For all these platforms it is advisable to avoid rejecting articles and above all to deliver copied and non-original articles.
For more information, take a look at the Compensation Conditions for Authors.
Best Sites To Earn By Writing Paid To Write
Another solution for earn by writing online it is through paid to write. What is a paid to write? THE paid to write are sites that allow you to write articles online on their platform and earn either with Adsense (with the Revenue Sharing system) or with Paypal payment.
All you have to do is sign up to these sites and start writing unique and quality articles. Below is a list of the most popular paid to write sites.
Fidelity House
Fidelity House - is a site where you can make money not only by writing articles but also by sending photos, videos, stories and even making money by writing recipes. It is a paid to write community where by subscribing you can choose the categories to be treated in writing your articles. Connect to the official page and click on the button SUBSCRIBE.
On the next page, select your passions (e.g. cooking, travel, nature and animals, fashion, cars, football and many others) and click on NEXT. Then log in with Facebook or fill in all the data required for registration and confirm by following the steps proposed by the site. At the end you can write and upload content on one of the Fidelity House platforms: Fidality News, Fidality Woman e Fidality Man.
Once the article is finished, you can publish it by clicking on Upload Content (from PC or tablet), you will get Fi points, the virtual currency of Fidelity House, for each view received.
By accumulating Fi points you can request the rewards available in the catalog Fidelity Gift, consider that 10 thousand Fi correspond to 1 euro.
I conclude by saying that the remuneration is decided by the staff of Fidelity House on the basis of periodic advertising revenues.
Read also: What is the Revenue Sharing Model
Blasting News
Blasting News - is an online social journalism magazine, paid to write, which allows you to write articles online and earn up to 150 euros for each published article. Subscription to the platform is free and the salary varies according to the quality of your articles. The remuneration is linked to the number of shares and views obtained by reading your content.
With Blasting News you can not only publish articles, but also photos and videos and reach more than 100 million readers. Adsense is not needed.

To register and start writing for the portal, you need to visit this page and click on Subscribe now. In the window that appears you can log in with Facebook or enter Name, Surname, Email and Password, check the privacy policy and the portal contract and click on Log in.
With Blasting News you can not only write but also share and earn by becoming a social blaster. However, the opportunity is limited to social media experts or industry agencies. Before joining the project, your profile will be carefully evaluated. Consider that by sharing an article you can earn up to 150 euros. To find out more about earning with Blasting News, I recommend that you take a look at the Blaster Guide.

Altri Paid To Write gratis
I conclude the article by proposing other paid to write portals that adopt an Adsense revenue sharing or direct payment system:
We-News - is a paid to write newspaper without Adsense. It offers direct earnings based on points accumulated for the visits obtained by your articles.
TextPlace - is a platform that connects publishers with those who want to earn by writing articles. Periodically you will be sent emails indicating the topic to be discussed, in this way you can book and write the article to be paid.
What are you waiting for? Earn money by writing articles too, I'm sure you will get great satisfaction!
Other useful articles
How to make money with video games
How to make money with photos
Selling used items online