Here the best apps to pay with your smartphone. A guide on mobile payment apps to have on your mobile.
There are more and more methods for making purchases and payments on the go. Over the years the Mobile Payment (the method of payment or money transfer via smartphone) has grown dramatically. The purchase of products and services through the app or through the smartphone by exploiting NFC, QR code e geolocation, has reached very high altitudes.
The only drawback in using the smartphone as a payment tool is the lack of security. Fortunately, manufacturers are developing solutions to ensure peace of mind and that is: fingerprint authentication and facial recognition.
The best apps to pay with your smartphone
Below is a list of the apps you can't do without to make payments with your smartphone.
1 PayPal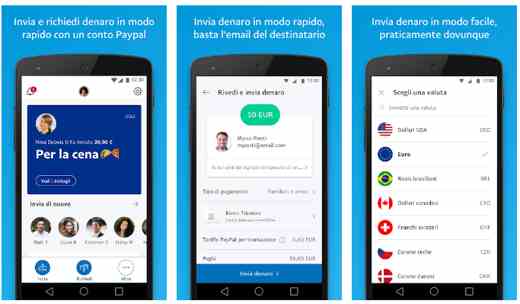 Easy to use and very safe, PayPal allows you to receive money in more than 100 countries: just the recipient's email address or mobile number. It also allows you to manage your cards and linked bank accounts in one place, to send or receive money and to shop online. When you carry out any of these operations, you will receive a push notification from PayPal, so you can always stay up to date.
With PayPal you can associate a maximum of 8 credit cards, a prepaid or current account. You can receive money from friends, relatives or strangers and it also works on mobile.
Read also: How to block unauthorized PayPal payment
2. Apple Pay
Apple Pay, was launched by Apple in 2014 to pay in shops, hotels, restaurants, supermarkets and so on. It is a contactless payment system developed by the Cupertino house for its mobile devices (iPhone, iPad, Apple Watch), using the virtual wallet Wallet and NFC technology to speed up payments.
Apple Pay supports credit and debit cards from Mastercard, Maestro, America Express, Mediolanum, Unicredit, Visa and so on. To make a payment, all you have to do is place your smartphone near the reader POS and authenticate yourself via touch ID. By uploading your credit card details to your device's electronic wallet, you can make secure and fast payments at any time. Also if your iPhone is stolen, you can disable the service Apple Pay through the app Find my iPhone.
3. Satispay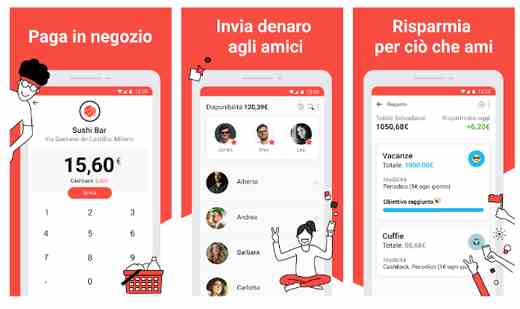 Satispay, is an app created for those who prefer to travel without cash and for those who do not want to bear the costs of owning a credit card. It allows you to make micro payments through your mobile phone, by sending money to affiliated shops or to your contacts. It is an independent network that guarantees free services to the private individual and competitive prices to the operator.
With Satispay you can make phone top-ups but also earn, thanks to the option Cashback, which consists in the immediate reimbursement of a percentage of the expenditure incurred. A way to incentivize the adoption of the service, which already boasts more than 300 users and about 22 merchants, such as Coop and Esselunga.
4. Google Pay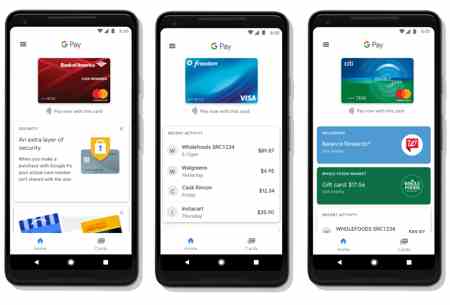 Google Pay is another service that offers the possibility to pay online in a simple and fast way. Already preloaded on Anroid phones, it allows you to add your credit card in the app and book a trip, buy a product or buy a ticket for a concert. With Google Pay you can speed up payments with your mobile and view information about recent transactions, nearby shops and much more.
If your Android smartphone (from Lollipop onwards) is with NFC, with Google Pay you can pay in physical or online stores that support both payment via the application and contactless POS. Hold the back of the phone close to the screen for a few seconds and once the payment is complete, you will see a blue check mark on the screen.
5. Samsung Pay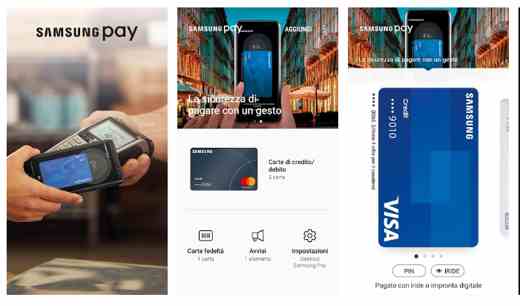 Samsung Pay is a useful mobile payment app, limited to Samsung phones. It is supported by all of the latest top-of-the-range Samsung smartphones, such as the Samsung Galaxy S9, but not on phones from other manufacturers.
The app connects to credit and debit cards from different banks. The good thing about Samsung Pay is the near universal acceptance as merchants don't need to join the program. Works with conventional credit card readers, using the latest technology EMC o NFC, or even older ones through magnetic stripe technology: by holding the phone next to it, the credit card information contained in the magnetic stripe is transmitted via a technology called magnetic secure transmission (MST).
This flexibility in interacting with the credit card reader allows Samsung Pay to seamlessly replace all those credit cards in your wallet.
6. Jusp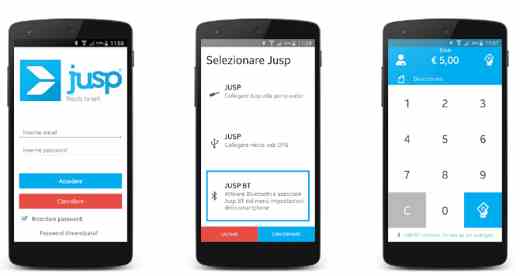 Jusp turn your smartphone into a POS with no fixed costs. It is designed for those who own a business and allows you to receive payments with credit and debit cards of the major international circuits and PagoBancomat with your smartphone, tablet and PC to your bank account. It works via a device to be connected, via USB cable or Bluetooth, with an Android smartphone or tablet, paying only 0,99% commission on the transaction.
7. TIMpersonal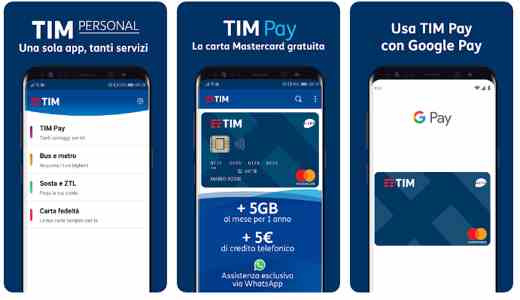 TIMpersonal allows you to pay with your mobile phone using the payment card among those of BNL, Hello bank!, Intesa San Paolo, Banca Mediolanum. Among the various offers we have the purchase of transport tickets, parking tickets on the blue lines, loyalty cards to discover coupons and offers to shop with discounts.
How to pay with your smartphone in stores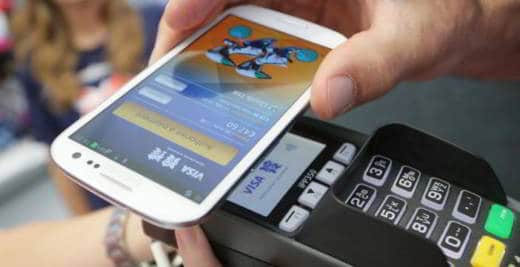 Paying with your smartphone as if it were a real credit card or debit card is now easy. All you have to do is bring your phone close to an enabled POS.
The smartphone must be NFC compatible and have one SIM 4G anch'essa NFC. Once the SIM has been inserted, you need to download the telephone operator's app (for example TIM Wallet or Vodafone Wallet) and enter your credit card details.
The system works by exploiting technology NFC (Near Field Communication) which allows data exchange wirelessly over short distances. In this case, the smartphone sends the payment data to the POS, which is enabled to receive them. At this point you will need to find one of the shops enabled for contactless payment whereas no PIN needs to be entered for purchases of less than 25 euros.
Read also: Best Android smartphone
Transfer money between smartphones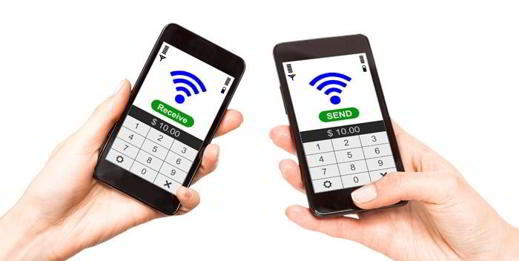 Another method of payment with the smartphone is the so-called Peer to Peer, or the passage of money from one user to another. This is an easy and useful solution for micropayments and can be used to repay a small loan.
PayPal it is ideal for this type of transaction. It allows you to send and receive money from your smartphone through the app that you can download from the stores. To work, the recipient's email address or mobile number is sufficient, as long as he also has a PayPal account.
The transaction is free if you have an active balance on your account while, if you use a prepaid card, sending the sum involves a fee of 0,35 euros plus 3% of the amount transferred.
In this regard, PayPal has also created a link to receive payments, it is called PayPalMe.
Pay with telephone credit
If you don't have a credit card or PayPal, you can make payments through your phone credit: the operation is also called Direct Carrier Billing.
What is Mobilepay
All telephone operators have created a shared platform called mobilepay and allows you to purchase digital content and services using your credit, with a rechargeable SIM or by charging your telephone account in the case of a subscription.
For example with Vodafone you can activate an option that allows you to buy on the Android store by paying everything in the bill. The option can be activated by sending an SMS with the message PLAY to the number 422460.
What is Digital Pay
Another digital payment system is the Digital Pay. It is a cloud platform that guarantees digital payments for goods and services through the use of smartphones, tablets, computers and even Smart TVs.
With Digital Pay you can choose to pay for items or services by selecting the Digital Pay icon among the payment methods. The app will take care of sending the charge request to the telephone operator and, after checking the availability, will send you an email or SMS notification of the purchase.
Finally, Digital Pay provides a service to monitor all purchases made in real time.
Other useful articles