The best apps to download free music on smartphone Android and iOS. A selection of the most interesting ones.
To download and listen to music from your smartphone there are some completely free and easy to use apps, the only price to pay is the presence of boring advertising banners visible within the applications. Here are the free music apps that you can't miss on your mobile device.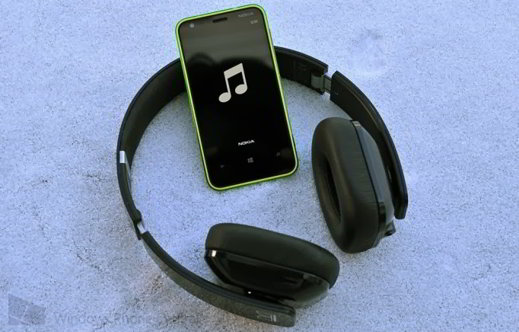 SIMPLE MP3 DOWNLOADER
If you use one Android smartphone, we recommend Simple MP3 Donwloader free. It is an application that allows you to download the MP3 songs on the Internet using the database of services dedicated to free music.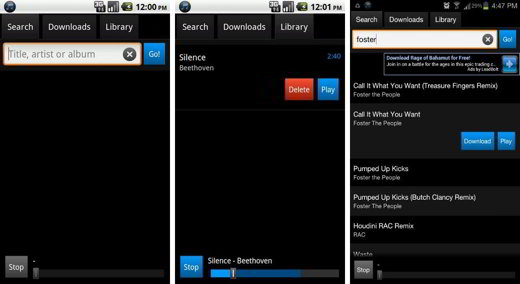 Through the button Search you can, by typing the title of the song, find what you are looking for. By selecting the identified song you can listen to it in streaming or download it to your smartphone. Once the download is complete, all you have to do is go to the section Downloads and, after locating the song, press the button Play.
MP3 DOWNLOADER COPYLEFT
Another very interesting app is MP3 Downloader CopyLeft. It is a great source of free MP3 downloads with creative commons license. CopyLeft is a form of license and can be used to maintain copyright conditions. In essence, an author can give permission to reproduce, adapt or distribute while requesting that all copies be bound by the license agreement. It is ideal for those looking for the classical music by authors such as Mozart, Bach or Beethoven.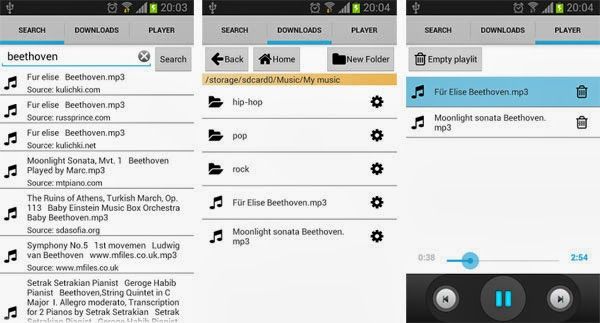 In addition to the ability to create beautiful playlists, MP3 Downloader CopyLeft comes with a integrated player with which you can listen to the track identified in preview.
MP3 MUSIC DOWNLOAD
MP3 Music Download it is added to the list, proposing features very similar to the apps described above, with the possibility, however, to decide in which folder to download the songs.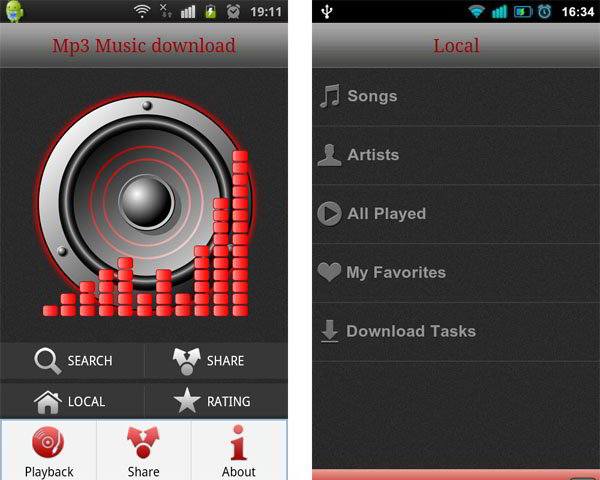 MP3 MUSIC DOWNLOADER FREE
If you use a iPhone I advise you MP3 Music Downloader Free. It is an easy to use and free application that allows you to legally download music from other websites to play without any restrictions.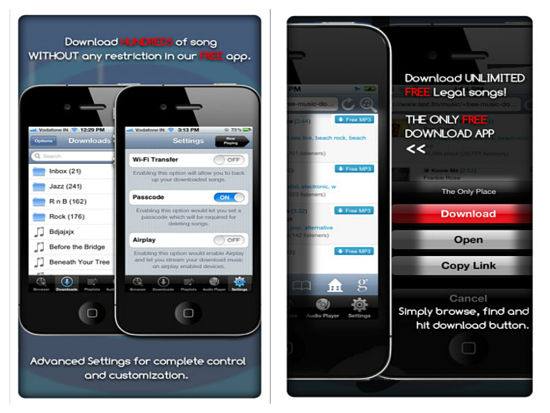 The sites from which to download free music (eg. Jamendo, Free Music Archive, Last.fm) are listed under the heading Free Legal Music Sites. After identifying the song, chosen by the site from which to download, you can make the download for free with the relevant button from the site and then on Download of the app. At the end you can listen to it, even offline, in the tab Download.

The application is equipped with a browser to search for free music and allows you to share your MP3s on Facebook as well.
Here are the other best apps to download free music on iPhone
Free Music Download- Mp3 Downloader is a free application that allows you to download music for free and legally directly from your iPhone. With Free Music Downloader app for iPhone, iPad and iPod, you can legally listen and download music, videos and audiobooks directly from your device.
Free Music Download PLUS is a tool that allows you to download an unlimited number of files. You can search and download mp3 music from a large database. Simple and easy to use, all you have to do is find the name of the file you want to download. The interface is very intuitive. Without doubt one of the best applications of this type in iTunes.
Free Music Download is one of the iPhone applications to download free and legal music. With this application you can create playlists and search for your favorite music easily. The application instantly plays songs with its built-in player.
Caution: the indications I have given you are for informational purposes only. Do not download music pieces protected by copyright as it is illegal and because you would be committing a crime punishable by law. It is not my intention to encourage original piracy, so I take no responsibility for how you may use the information given in the article.