You want to give cancellation of your subscription Infinity TV and then deactivate your account? In this post we will explain chow to cancel Infinity TV and unsubscribe. You can also block the automatic renewal that Infinity enables by default.
Read carefully the instructions I will give you and you will see that you can continue watching movies, TV series and much more until your subscription expires.
How to unsubscribe from Infinity TV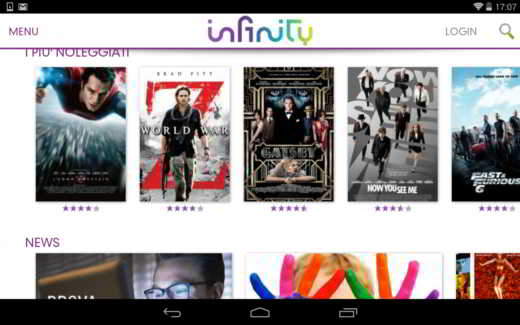 To cancel Infinity TV by suspending the monthly payment, all you have to do is go to the official Infinity website and search above, by clicking on it, the item "Login". Once clicked you will be directed to a page where you can fill in the fields indicating your e-mail associated with your account and your password. Then press the button Login.

After you log in, go to your name, top right, and choose Manage account from the menu that appears. Press on the voice Subscription details and then on the button Modification, located at the bottom right, and choose the option Suspend automatic renewal, At the bottom of the page.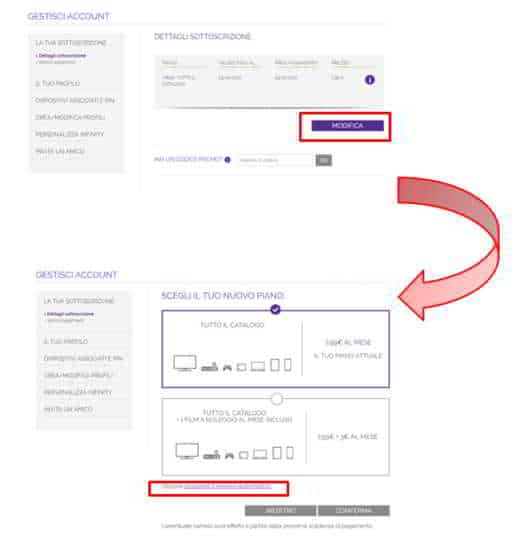 Infinity will certainly offer you a subscription renewal at a discounted price. You can decide whether to accept the offer by clicking on the button Si, I accept, or continue with the deactivation by pressing on No, thank you. In the latter case, your subscription is permanently suspended and at the end of the period of use there will be no automatic renewal of the service.
Cancel Infinity with Mediaset Premium
If you have subscribed to the Infinity offer with Mediaset Premium and you want to deactivate Infinity unfortunately you will have to deactivate the entire Mediaset Premium package. Read carefully this tutorial how to cancel Mediaset Premium, to have clarity on what to do.
How to reactivate Infinity subscription
If you wish to reactivate your Infinity subscription you must go to Manage Account and click Details Subscription. Cheap with Reactivate Time and the game is done.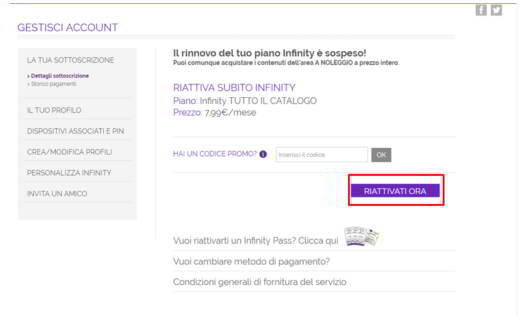 By clicking, your subscription will be reactivated and you will be able to immediately access the catalog and contents.
How to cancel an Infinity TV account
To cancel an account from Infinity connected to the official page of the service and access your account always from the button at the top Login. Position the mouse on the you don't know, top right, and then choose Manage account give the menu that appears.

On the next page choose Your Profile and then click on Settings Privacy. Click on "Click here to find out how to cancel your account"; when the pop up opens, click on "Book account cancellation"And then on"Cancel Account".
Following this request you will receive a confirmation email.
If you do not have an active subscription, your account will be deleted immediately, otherwise it will be deleted when the subscription expires. With the cancellation you will have to take into account that you will no longer be able to reactivate the Infinity account and therefore recover your library, favorites and so on.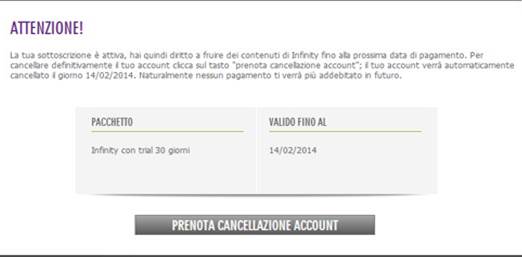 Do you pay for the cancellation?
Cancellation is free.

Is it possible to try and deactivate the Infinity TV trial period at the end of the 30 days?
A period of TRY AT ZERO COST of the service, usually of 30 days. At the end of the 30 days for only € 7,99 per month you will continue to enjoy the Infinity service. In the phase of subscription to the service we give the authorization of 0,01 on the payment method to verify its effective validity. In reality, no actual charge is made, everything is carried out only for security reasons.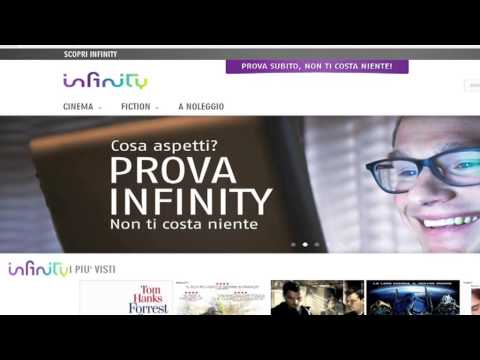 But what is Infinity TV?
Infinity TV is one new video on demand platform supported by the Mediaset group and which provides a catalog with thousands of movies, TV series and cartoons to be displayed in streaming.
How does Infinity TV work?
To use Infinity TV you need a broadband connection, even with 3G or 4G with devices such as: PC, Mac, Tablet, Smart TV, Android, Digital Terrestrial and Satellite, games console, Chromecast. Activation of the Infinity service is FREE SHIPPING. Charges will be made and billed each month on the same day as the first charge. Paying for rental content is even easier. The invoice will be sent to you by email with all the details of the transaction.
On Infinity you can find thousands of content including movies, TV shows, fiction and many more. Also in 4K UHD / 4K HDR and with original language audio and subtitles. You can also download offline content in the "Rent"Find hundreds of films, from films just released in theaters to great classics, which you can rent from € 1.99 each.
To rent a movie you must enter the PIN protection on purchases (set by default to 0000) and click on Confirmation. The film will be available for the next 48 hours, during which time you can see it as many times as you want.